Quick Drive: 2012 Mercedes-Benz GL550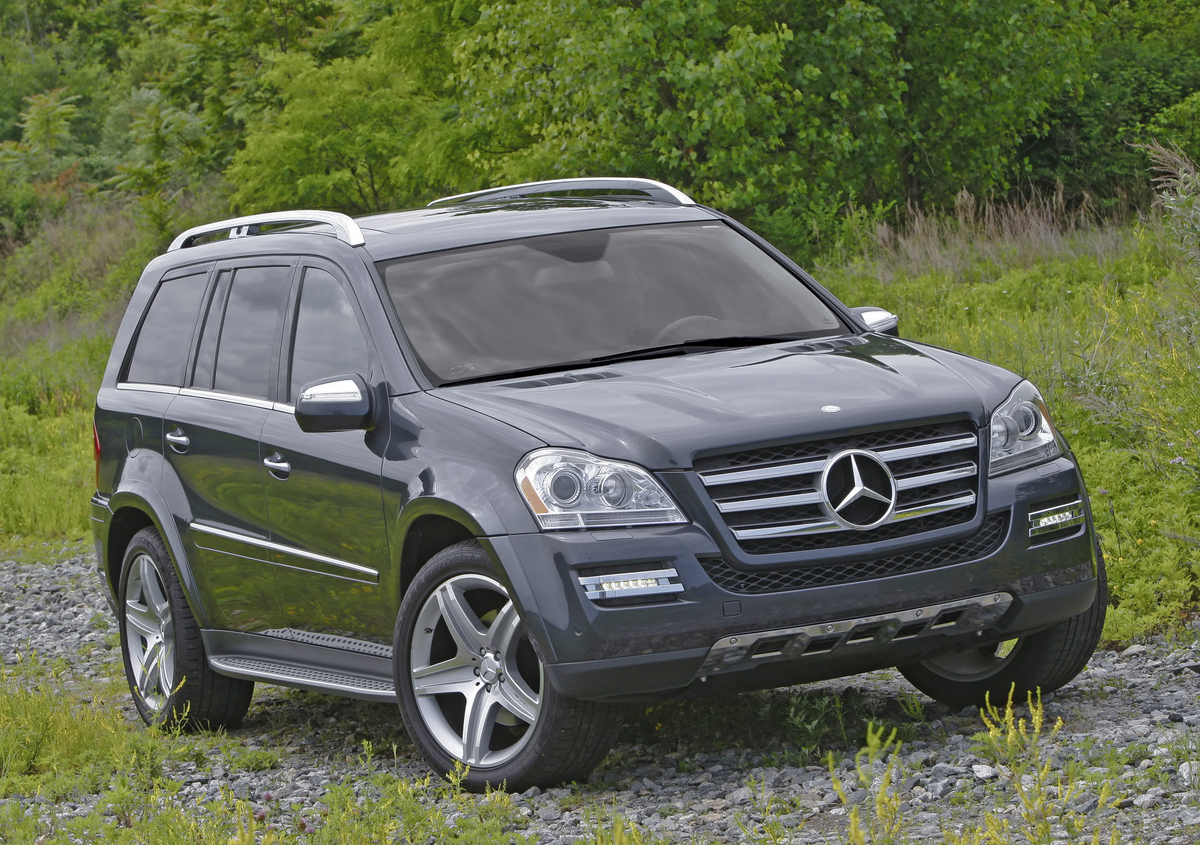 As much as I want to like this big Mercedes, there's no way I'd buy it. It's not a bad vehicle to drive, despite being related to the generally poor last-generation ML (it's built on the same line in Tuscaloosa, Alabama, and is essentially a stretched ML). The ride is comfortable enough, although you'll still feel bigger imperfections. The naturally aspirated 5.5-liter V-8 sounds good, but with 382 horsepower hauling around 5545 pounds, it's hardly the quickest SUV you can get. No, the biggest issue I have is with the pricing, and the competition.
Before you get on to the options, you'll be shelling out $85,300 for the privilege of driving home in our V-8-powered GL. To put that in perspective, you can get the GL's primary competitors (the
Land Rover LR4
and
Cadillac Escalade
) for less or equal money than a base GL550. If you are willing to drop a size class, you can also get the
Audi Q7
and
BMW X5
, which while being a size class smaller, are going to be far cheaper and better to drive.
This isn't necessarily the GL's fault though. It's due for a replacement, with the first-generation having been in production longer than any of the aforementioned cars. If you absolutely need a three-pointed star on the front of your super-sized SUV, then take solace in the fact that the new ML is a massive improvement over the old one, and that when the new GL arrives in the next few years, it'll likely represent a similar improvement. Or, you know, you could just pick up one of the awesome competitors.
—Brandon Turkus, Online Editor
I actually felt like the GL550's V-8 felt totally appropriate for the class, orientation, and performance expectations of a full-size SUV. We've driven so many newer, more powerful vehicles here—benefiting hugely from the still ongoing horsepower wars—that sometimes I think we get a little bit carried away with the "This isn't as fast as the last thing I drove," type of talk. I'd classify the GL550 as "pretty quick," which is high praise for a mammoth SUV.
Nor would I completely agree with the statements above and below about the less-than-luxurious accommodations inside the GL's cabin. I guess I took the experience in as being "about right" for my M-B expectations (and memories), without, to be fair, being especially wowed by the fit and finish, or technology on hand.
In fact, as far as big honking SUVs go, I quite liked driving this Mercedes.
What would truly scare me off, were I shopping in this segment (and Gods please stave off the queer turn of events that would have to occur before I found myself shopping for high-end, three-row, SUVs), would be the
Infiniti QX
. Sure, the QX may look like an inflatable raft compared to the much sleeker GL, but increases in MPG rating, engine power and torque, passenger space, and cargo space would almost certainly make up for it.
Now, let's not discount the fact that if you're driving an Infiniti you're not driving a Mercedes-Benz—which could make all the difference in the world at this price and class.
—Seyth Miersma, Editor-In-Chief
The GL had a button for different suspension settings: Sport, Normal, and Comfort. While it was hard to feel much of a difference between Normal and Sport, either feeling about as comfortable as the ride gets (okay, there was a tiny bit more communication from the suspension in Sport), I'd argue that Comfort doesn't live up to its name. In this softest setting, there is simply too much motion transferred into the cabin, whether it's from undulations in the road, from turning, or from braking and accelerating. "Bouncy" would be a better name for the setting. I did myself and my passengers a favor, and just left it in normal when I wasn't trying to figure out the car's various nuances.
A lot of M-Bs have really impressive interiors that feel ahead of the game and especially opulent. The GL isn't really one of them. Materials are nice, but the layout just feels dull, like it has been dumbed-down to make it feel like a true SUV. A bit of work on the interior design could make this feel a lot more special, and befitting of the $85K price tag. Until that happens, Brandon has pointed out some more appealing competition above, if you're looking for a comfortable luxury ute.
—John Beltz Snyder, Senior Editor
Pros
M-B has a stronger brand image than anything else that plays in the full-size luxury SUV space
There really is a lot of space in this vehicle, and it feels roomy throughout
Engine specs may show it slightly below the competition, but this powerplant still feels strong on the road
Cons
The current model is feeling pretty long in the tooth, inside especially
Fuel economy is woeful compared with newer competitors
Suspension can feel overly boundy at times