The Mullin Automotive Museum Immortalizes the Grandeur of French Pre-War Car Culture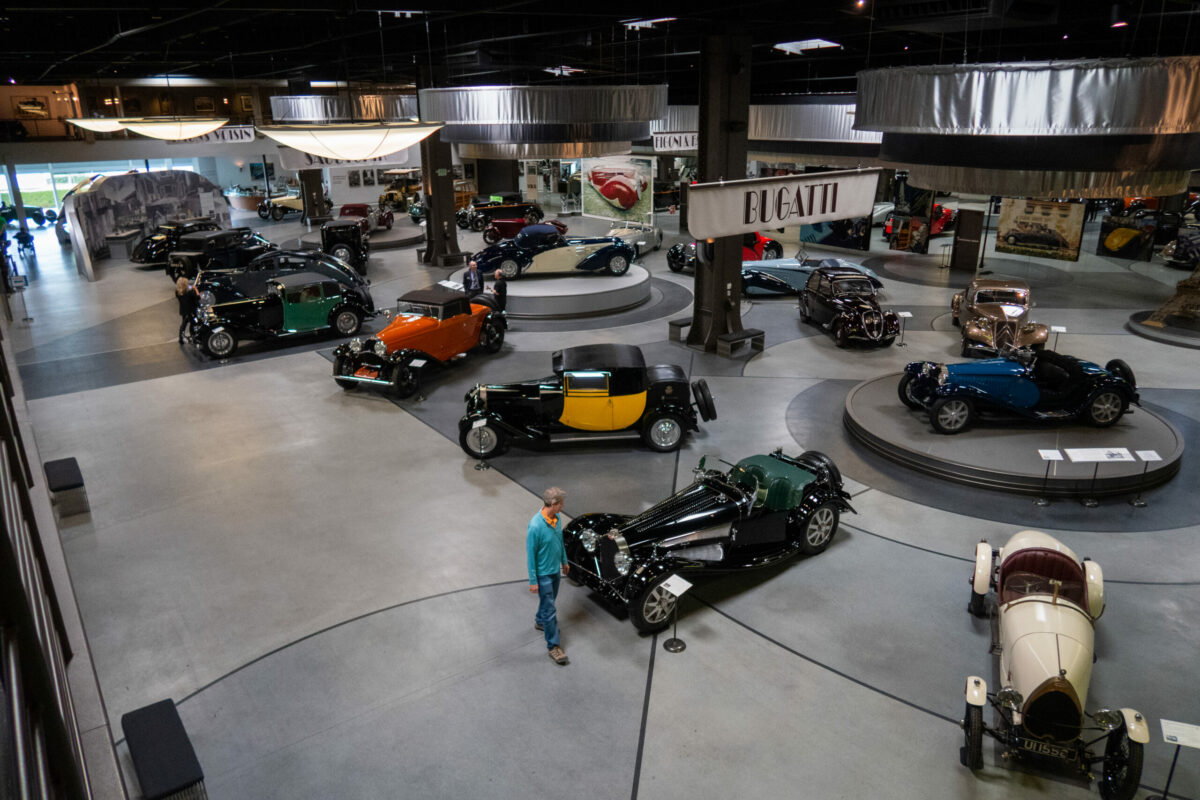 The Art Deco Age may as well be a period of myths and legend to me, a time long before Ferrari's and Porsche's terrorized circuits and when blue-collar drags down Woodward Avenue was nothing more than a glimpse of a distant future. It was a polarizing age that's as equally smeared for its economic downturns as it is romanticized for its glamor and glitz. But as grand as it seemed through Dr. TJ Eckleburg's glasses, certain aspects continuously drift into obscurity with every year – even the car culture. But thanks to a cozy little warehouse saddled in Oxnard, California, its works of mechanized artisanry will be immortalized. Enter the Mullin Automotive Museum.
Born in 2010 from the collection of Peter W. Mullin, a philanthropist and founding chairman of M Financial Group, the Mullin Automotive Museum exists for one sole mission: to preserve, display, and honor French automobilia from the 1880s to the 1940s with the same prominence with which these cars had when they first stormed onto the scene. Its collection is vast and ever-changing, brimming with luxury cars, boutique furniture, and art of the era, many with concourse-winning pedigree.
Some vehicles on display may be far newer or not in any restored condition, but as long as they carry the spirit of French design and ingenuity, they have a place here.
Simplicity is the key to the Mullin Museum's presentation, as the building hides among similar-looking concrete slabs in an Oxnard business complex. It's denoted only by the metal wall art on its side and the French and American flags waving proudly out front. The building is one main floor, with a small loft area upstairs and a few rooms for smaller exhibits. And that's the beauty. It allows the gathering of ancient automobilia to dominate the museum with authority.
Every car was a dormant peacock in this sanctuary. But before the cars, it'd be an injustice to ignore the museum's latest tribute.
Currently on display along the mirrored walls stands the ArTexture art gallery by LA-based artisan, Keith Collins. It serves as both a showcase of pre-war cars and car culture-themed works and a testament to Collin's broad spread of talent through multiple mediums. I'm far from being any sort of art connoisseur, but even I couldn't help myself from drooling over every detail.
But you know. Not, like, actual drooling. We wouldn't want to taint the tapestry with my inferior DNA. And yes, I said tapestry.
Because every canvas needs a happy little friend, Collins doesn't limit himself to one discipline of art. As vibrant a person as the car collection surrounding his work, his art spans oil paintings, woodwork, and perhaps most notably, tapestry. Most of the featured works on display are, in fact, love letters to '20s and '30s French cars and coachbuilding painstakingly stitched into massive wall rugs. Some pieces achieve great realism through raised carpeting, creating a three-dimensional effect. Reflections of studio lighting or sunlight are perfectly blended into the tires or fenders of the featured cars, and you'd be fooled into thinking they're among the oil paintings from a distance. In fact, as you come to appreciate Collin's works, you'll notice the flagship piece is a massive carpet wall tapestry depicting a burgundy Delahaye 165.
But sure to impress the most will be Collin's oil-painted woodwork of a 1934 Voisin Type C27 Aérosport. Going beyond the textured look of some of his tapestry, the C27 wood art greatly captures the exaggerated shapes and depth of the real car with carefully cut and raised wood. The illusion is nearly as breathtaking as the reality once you step forth and catch a glimpse of the woodwork from the side.
Perhaps best of all and acting as the perfect tribute to French design and the Mullin itself is Collin's painting of a 1935 Voisin Type C25 Aérodyne stealing the stage at a concourse event. I can't think of a more fitting companion exhibit for the real Type C25 Aérodyne sitting dormant across the room, breaking necks with grandeur and presence that not even Bugatti's on this side of an Atlantic can match.
In honesty, it was this exact trip to the Mullin that taught me the existence of French boutique automaker, Avion Voisin. The brand had eluded me in my years chasing this passion, and now I've stood among a fleet of them. Call it biased or just being starstruck, but there's no denying the gravity of the Aérodyne's presence, from its elongated silhouette to its artsy interior upholstery, which also adorns the insides of many of its stablemates on display. The body, interior detailing, and metalwork all blend seamlessly into these rolling marvels that could fluster the likes of Horacio Pagani.
Of course, the star attraction to the Mullin is arguably the vintage Bugatti collection, one of the largest in the world. Its dizzying array of cars ranges from an incomplete, one-of-three Type 64s, the stillborn successor to the 57 Atlantic, to the comparatively humble Type 40, Bugatti's entry-level product at the time, which bore more resemblance to a Ford Model A than any ancient Bugatti I had ever seen.
Against the farthest side, tucked behind a dividing wall, rests a lineup of unrestored Bugattis in all their patina and glory. Among them sits the aforementioned Type 40, which sat right next to its much rarer roadster sibling. Fenders were rusted, soft tops were torn, and windows were dusted with enough grit to sandblast what was left of the paint right off.
Nearby sits the Lady of The Lake, an unrestored 1925 Bugatti Type 22, its materials reclaimed by nature after seven and half decades submerged underwater – and the one exhibit I regrettably forgot to photograph. According to the Mullin Automotive Museum, legend tells of how it was disposed of by local authorities into Lake Maggiore during the 1930s when a Swiss dilettante won it as a gambling prize off a GP driver but was unable to pay import duties. He was forced to leave it behind, and apparently, the authorities had no better use than to test its buoyancy.
If you ask me? I don't think it floats. Just a feeling.
A lot of value and heritage rests on these museum floors. I read "Concourse Winner" on any placard and immediately tensed up, fearing my camera might bump into a headlamp worth more than my life. But hey! If you fancy something a little more down to Earth, you're in luck!
Among glamorous Bugatti's and Delahaye's also stand one of the largest gatherings of Citroëns I've ever seen in the United States. Some of them may very well be in the realm of affordability for you and me, should we want to one day capture a piece of French car culture ourselves. Seriously, go take a peek at Traction Avants!
Maybe it's just the youngin in me. But I instantly clicked with the 1974 Citroën SM, perhaps the newest and only automatic car on display, which ironically made it the most standout. Bold car to have parked across the walkway from the Le Mans racers exhibit, which includes several many-time Goodwood Festival of Speed participants I'm sure are only here to rest and recuperate.
Okay, so the newer metal may be less fabulous than the rest of the gallery. Even the 2CV upstairs is from the mid-1980s. But that doesn't detract from the history and prestige the Mullin Automotive Museum has to show. And if their website is anything to go off of, what was on display hardly scratched the surface.
Overall, I was left breathless by the Mullin Automotive Museum. It's certainly a niche within a niche, hidden in a distant corner of SoCal where the hubris and vanity of Los Angeles are left behind. What's behind those doors aren't just cars but works of art in every shape and form, each with a tale to tell of an era long gone and almost forgotten. Almost. There are stories not to be passed up regardless of age or taste, as to witness relics of this period in the flesh is an opportunity that grows ever rarer. But that only makes it all the more sensational.
So, the next time you're in southern California, have your reservations set and hitch a ride up the Pacific Coast Highway to this cozy little beach city. Even if you never were a pre-war or a French car person, I promise you will be when you walk out. I wasn't. But now, I guess I'm both, all thanks to this place, un bel endroit pour de belles voitures.