Quick Drive: 2011 Land Rover LR4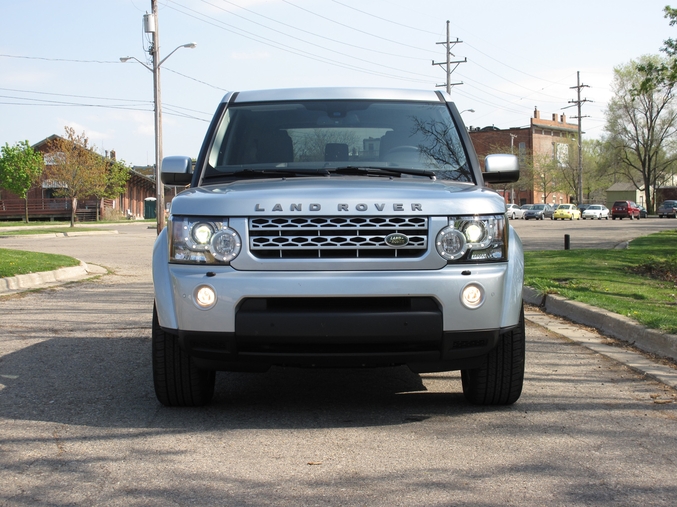 Three things stood out about the LR4, and these could make it the SUV to beat in the mid-sized class.
1. The LR4 has the great new Jaguar/Land Rover 5.0-liter V-8. What this means in practice is that—almost uniquely among 5000-plus-pound SUVs—the LR4 never feels underpowered. This isn't to suggest that you should sell the Z06 or the 911 Turbo, but that for such a large car the LR4 really moves gracefully and with little strain. You can easily adjust speeds on the highway and the LR4 simply goes faster. Accelerating away from light or executing a pass is almost never accompanied by the thought, "Gee, I wish this thing had a bit more oomph." The BMW X5 has a similar feeling; though I didn't feel that the drivetrain there was quite as seamless in its power deliver as it is on the LR4.
2. Land Rover deserves every bit as many kudos as Audi for interior styling and materials. The oeuvre of the LR4 is naturally different than what Audi does, the Land Rover aiming for a modernized rendition of the traditional, which works out brilliantly because the LR4 is "old school" without being "old man." Land Rover's execution of this aesthetic is helped along by its unabashed functionality, with lots of knobs and switches for off-roading. But it isn't just the design that is attractive, the materials and the colors are about the best in the under $100K world. Frankly, this car makes some Audis look a bit drab and plasticky.
3. The driving dynamics of the LR4 are pretty good. The car feels rather massive, which it is, but it doesn't wallow or pitch or roll unnecessarily. Just as important, the steering feel is decent, with good on center directness and reasonable feedback. Overall the LR4 feels well damped and stable. I would put it just a tick behind the BMW X5 in this area, the only comparative shortfall being a small amount of lateral slop in the suspension. This puts it miles ahead of most other medium sized SUVs.
—Tom Martin, Editorial Director
Even if you didn't love the LR4 combination of luxury and usable power (and make no mistake, I do), you'd almost have to give the SUV a look if you were in the large, premium market—if based on nothing other than value.
LR4 starts at $48,500, which is about $12K less than Infiniti's new QX, $18K less than a 4X4 Escalade, and $30K less than Lexus's big LX570. Of that competitive set, only the Infiniti (with another great motor, better fuel econ, and more space overall) comes close to being a real match for the Land Rover, though we don't particularly care for the exterior styling of the QX. The LR4 is downright handsome.
I'm hoping to put together a comparison test with some of these premium, big-box SUVs this winter. Stay tuned.
—Seyth Miersma, Editor-In-Chief
Pros:
5.0-liter V-8 feels more than strong enough for this heavy SUV.
Clever and stylish interior treatment. Forward-looking mix of traditional and modern cues work well for the functional LR4 cockpit.
Extraordinary luxury-for-dollar on offer here.
Cons:
Competitive SUVs offer slightly more fuel-efficient engines.
Suspension feels a little soft in the lateral motion department (still better than most SUVs, though).
BMW's X5 is still a better benchmark for a "driver's SUV," though the Bimmer is quite a bit more dear, too.