Quick Drive: 2010 Audi Q7 TDI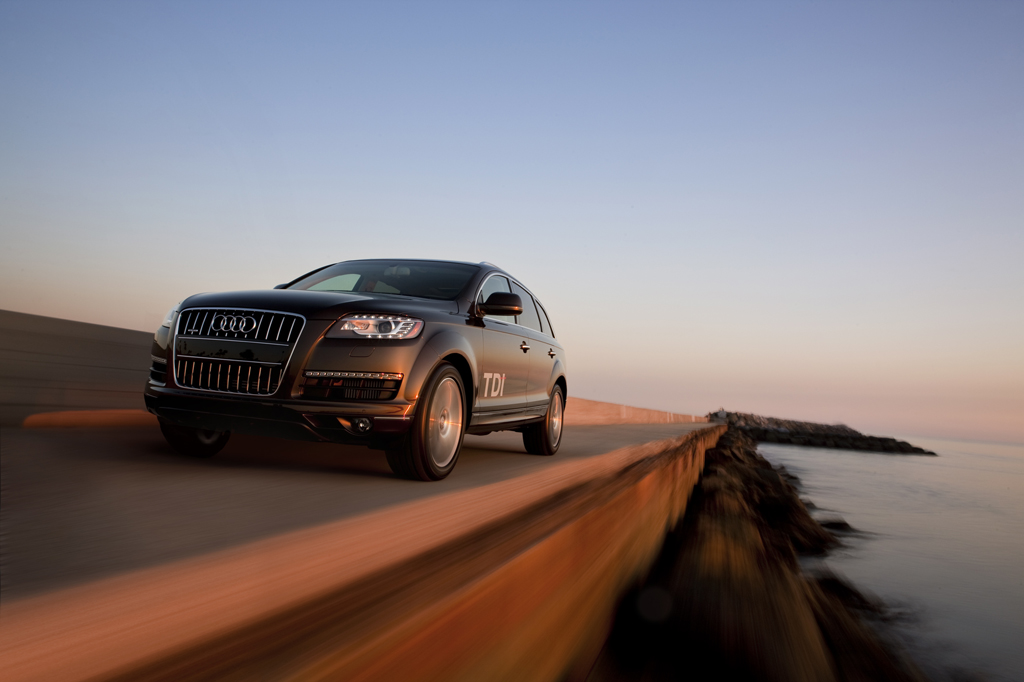 The last time I was in Audi's diesel Q7 a rather unfortunate set of circumstances—summer performance tires left on the SUV well after Ann Arbor had been covered with snow—left me with a rather incomplete conception of the vehicle. Thankfully, with no snow to be found right now, this loan proved to be a little more illustrative for me.
The huge torque from this 3.0-liter TDI engine, coupled with Audi's Quattro system, gives the Q7 the ability to get up and go with great quickness. Accelerating with a smart start, and building easy speed through low to medium revs, the Q7 feels quite athletic both around town, and on the freeway.
Steering has been tuned for quick turn-in and rotation—quick, at least, relative to the massive size of the SUV—and has the sort of lightweight action that makes the Q7 feel nimble when hustling through suburbia. It's fair to note here though, that when actually pushing the Q7 at higher speeds through hard corners or twisting roads, it quickly becomes clear that the nimbleness does not extend to sporting driving. The Audi will lean a bit too much, and plow straight ahead for a second when asked to turn too sharply. Still, for its intended use and probably users, the Q7 has better than average handling traits.
The problem is, as far as I'm concerned, that the BMW X5 35d does everything that the Q can, but does it just a little bit better. The Bimmer's motor is more powerful, with more torque, and still gets slightly better fuel economy. The X5 also feels more buckled down on the road, though I might give Audi a slight edge in terms of feeling very stable at highway speeds. Prices are about the same, too.
There is an argument to be made for the Q7 being a more strikingly styled vehicle—several complete strangers told me how cool the LED lamps were, Audi's styling masterstroke yet again. I tend to prefer the X5's look, though will at least admit that the Q7—color-sensitive with its massive profile and length—is a bit more fetching in dark colors than it is in light ones.
—Seyth Miersma, Editor-In-Chief
I have always been a big fan of Audi's diesel motors, and the 3.0-liter V-6 under the Q7's hood is no exception. While it makes decent power and gets adequate fuel economy, its real attribute (and indeed a major attribute of most good diesels) is how quiet it is. Unless you are really pushing this engine at wide open throttle or up around red line, its diesely exhaust note won't disturb you.
The Q7 isn't the dynamic driving machine that the X5 xDrive 35d is, but it is a considerably more luxurious and comfortable way to get about. At no point during my time with it did I feel uncomfortable. The ride was surprisingly smooth, despite the twenty-inch wheels. There was no crashing about on Michigan's damaged roads, and vertical movement was well controlled, although I do agree with Seyth that body roll could have been better controlled, especially during higher-speed cornering. The interior was typical Audi excellence, with high-quality materials in abundance. More importantly, it felt like it was put together well. I never got the sensation that five years from now, the interior would just begin to fall apart.
It seems like Audi realized that the majority of people that would drop $60,000 on a seven-passenger, diesel-powered SUV are more concerned with luxury than sportiness, and it shows here. The Q7 doesn't try to offer a car like driving experience, or offer sporty handling through a backbreaking ride. It is just a genuinely comfortable luxury SUV.
—Brandon Turkus, Fleet Manager
Pros
3.0-liter TDI V-6 makes lots of torque without lots of noise
Luxurious interior is full of top-notch materials
Surprisingly good handling for such a big boy
Cons
BMW's 3.0-liter diesel I-6 makes more power and gets better fuel economy
Better roll stiffness would be nice
Lighter colors make it look considerably larger than it already is