Review: The G80 M3 Manual is a Lovable Driving Machine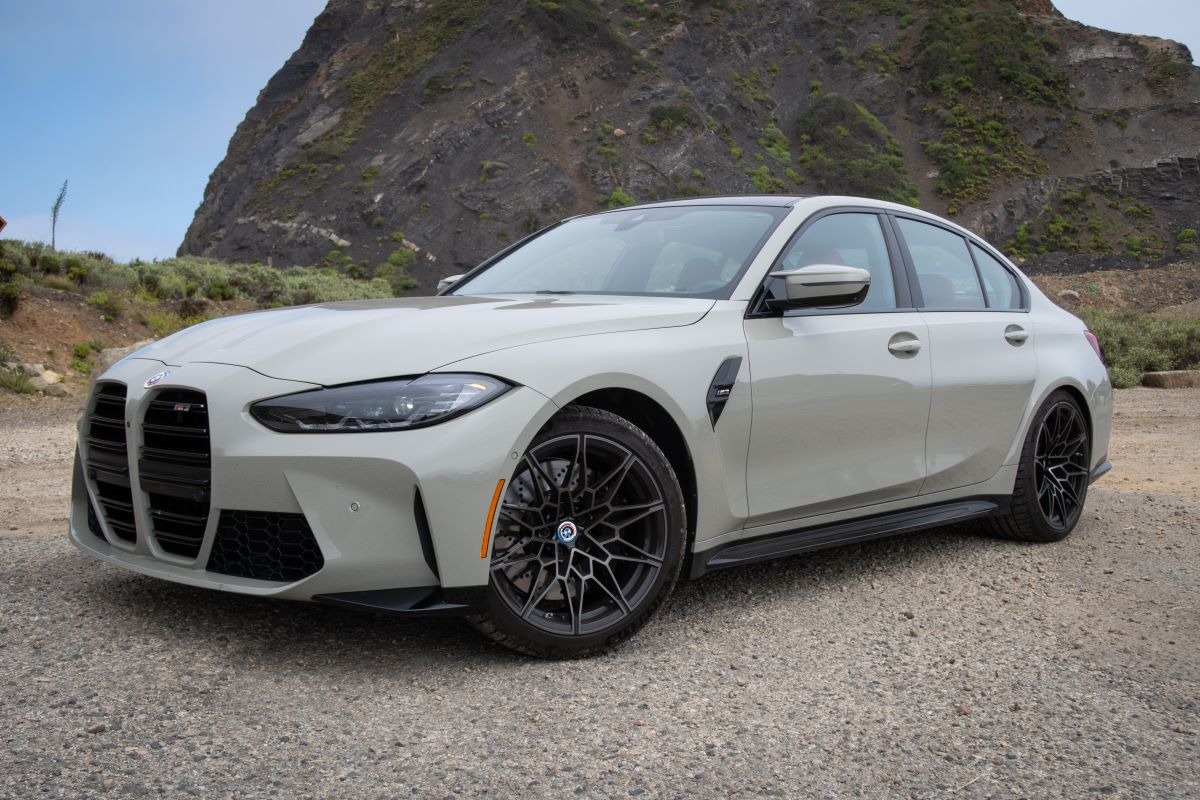 Nowadays, it's fair to say the M brand has somewhat devolved into more of a status symbol and fashion statement rather than a marque of true enthusiasts. Still hoots to drive? Of course, I'm not that big of a cynic. But you'll always know the bean counters in Munich have been chipping away at the original M ethos to create more marketable cars with a farther-reaching appeal. So where does that leave the recently refreshed 2023 BMW G80 M3?
First, a refresher course.
The new-generation G80 M3 and G82 M4 sibling, the latter of which another contributor previously tested, launched for 2021 and have since spawned Competition, Competition xDrive, M3-only CS, and M4-only CSL models. All variants sport a specially-tuned eight-speed auto, but the bottom rung M3, like my tester, can be spec'd with a six-speed stick for those who care not to participate in sheet drag races with crypto hype beasts at Cars N' Coffee.
A 2023 G80 M3 starts at $72,800 before destination. Add Fashion Grey (Nardo Beige, really) paint, extended leather, a litany of parking assistance toys, and the M Driver's Package, and this tester's MSRP inflates to $86,745. Not egregious but certainly steep once you've peeked at enough rivals.
Yes, it's ugly. You either hate the face, or you hate it a little less. At least the rest of the car is repentant, with a chiseled rear fascia, bulging wheel arches, and that signature carbon roof. But damn, that face. It must be some conspiracy by body kit companies who've infiltrated BMW to sabotage the design department so they can later sell new front fascia's.
To establish a clear performance hierarchy and to better pair with the available manual, the base M3 outputs 473 horsepower and 406 pound-feet with just 18.9 pounds of boost from its 3.0-liter straight six. M3 Competitions push 24.7 pounds, resulting in 503 horsepower and 476 pound-feet. Competitions also receive a few sportier suspension tweaks but are automatic only.
Regardless of trim or gearbox, the BMW M3 remains a commendable daily and can easily serve as the perfect only car. The interior is cavernous, with rear passengers receiving their own climate controls. The standard seats are soft, laterally supportive, and heated with optional ventilation. The throttle is lackadaisical in Efficient mode, and the suspension is compliant if a tad firm in any mode. Additionally, the middle rear seat folds down, revealing a passthrough to the generous, hatchback-nullifying trunk where you can stuff an abundance of five-foot-six-inch Filipino auto journalists – not that I would know.
Not as accommodating, however, is the fuel efficiency. It's merely okay, depending on what you're used to. EPA figures are 16 mpg city, 23 highway, and 19 combined. I averaged 20.1 in mostly highway travel and a few rambunctious canyon-runs mixed in. The longest calculated range I've seen from its 15.6-gallon tank was 380 miles.
New for the refreshed M3 and M4 is a rectangular infotainment/digital gauge combo. Those who bemoan the tacked-on screen trend will stay seething here, and yes, it's unapologetically derivative. See the new S650 Ford Mustang, Nissan Ariya, and the Hyundai-freaking-Elantra. But hey, at least it all works pretty damn well. BMW's iDrive is as straightforward as ever, but members of Anti-Scroll Knob Associated will better appreciate the touchscreen functionality with Tesla levels of responsiveness.
Hm, shocking! The family sedan half is made of family sedan, but what about putting the "sport" in sport sedan? After all, there's no masking the bone-crushing weight the M badge forces onto the shoulders of any Bimmer it adorns.
And I'm pleased to report that this is indeed still a proper driver's car, through and through. Of course, a G80 M3 will never evoke memories of E46s or E30s, and subsequent generations never will. But it sure as hell is a better F80 M3.
Crank up the wick with a smorgasbord of individually adjustable drive settings, and the M3 transforms from Grandpa Car to All-Star. Thanks to the Michelin Pilot Sport 4S tires measuring 275-wide up front and 285 in the rear, there's enough grip to send that G-meter screen into a sporadic frenzy. The dampers effortlessly keep body motions in check, allowing the M3 to feel like it shed a hundred or more of its near-3,800 pounds. You can chuck this thing into bends, gently or brutishly, and it'll play, even responding well to trail braking if you're coming in too hot trying to outrun an LA local in a track-built E46 – also, not that I would know.
The standard steel brakes are stout and confidence-inspiring, although keep that gimmicky brake feel mode in Comfort for the natural pedal travel and ease of modulating. Sport mode will catapult you right through the windshield if you so much as cough on the pedal. Track rats will also appreciate that carbon ceramics are available for roughly the cost of your firstborn child.
The steering, however, lacks some feedback and doesn't tighten up as much as I'd like diving hard into the twisty stuff. But what's there are leaps and bounds beyond the ill-tuned game sim that was the F80's steering, which felt artificially heavy in every mode. While still less than ideal, the current M3's rack is far more organic in its behavior.
So, it seems like the BMW steering engineers are finding their way again, as are the powertrain engineers because this S58 straight-six is nothing short of divine.
The G80 M3's twin-turbocharged heart is a tribute to the smooth, sonorous BMW sixes of old. Ramped up to Sport or Sport Plus, it'll happily rip to its 7,200-rpm redline. Best of all, power delivery is more progressive, creating a less intimidating experience than the F80's explosive S55. There's more perceptible lag, but snappy gearing keeps you in boost when at full-send.
And hey, a little lag can be characterful, no? Lug it, floor it, and feel that surge gradually build, like ripping a Beyblade. That's how you do a turbo engine! Overall, it's more controlled while retaining some of that edge that made the preceding generation a modern cult classic.
The light-yet-rubbery manual transmission is geared refreshingly short. Sadly, haters of BMW shifters will find nothing else redeemable, but I enjoy how it softly notches into gear almost identically to a friend's E36 M3 but with tighter bushings. Critics can call it crap (they're probably right), but I'll call it a faithful homage.
Notably absent is the blatty, farty chainsaw exhaust of the F80's S55 in favor of a sweeter tone as smooth as the S58 itself, silky with a faint tinge of metallic rasp and a hint of overrun burbles. What a shame you can hardly hear it through the layers of coddling insulation. And that leads to the G80's overarching problem.
Contrary to the keyboard warrior purists, this is still a fun driver's car in many ways. But the luxury side of the M3 bleeds into its better half just enough to keep it from being a proper disciple of its sub-brand's original teachings.
No M3 should ever weigh close to 3,800 pounds, even if it can deceive you into feeling svelte. The sound deadening snuffs out the sweet-but-humble exhaust, and the steering, while improved, still fails to send enough feedback through your arms and therefore shivers down your spine. Tingles? Sure. It's thrilling enough for that. But more focused machines like a 911, Cayman, GT350, Camaro 1LE, or even BMW's own M2 may have a G80 M3 beat, especially for this tester's near-$90k sticker.
Tough call. But I get it. At least for now, this must've been the best possible compromise, where the M engineers could create a more polished and honed-in iteration of the last car while still delivering the execs a commuter that wouldn't beat them to death in one pothole.
Even so, I've come to adore the current BMW G80 M3, flaws and all. What a fantastic revelation and a crying shame all in one. Such a capable driver's car, as it somehow manages to be endearing and honest in the way it delivers performance despite its shortcomings. It's less intimidating and easier to drive fast than the last car while making all the right sounds and shifting all the right gears. Its personality is just far too muddied, but at least what it's courageous enough to express is well-sorted excellence. It's a lovable driving machine, even if it's not the ultimate one.