Driven: 2023 Toyota GR86 Compliments the Curves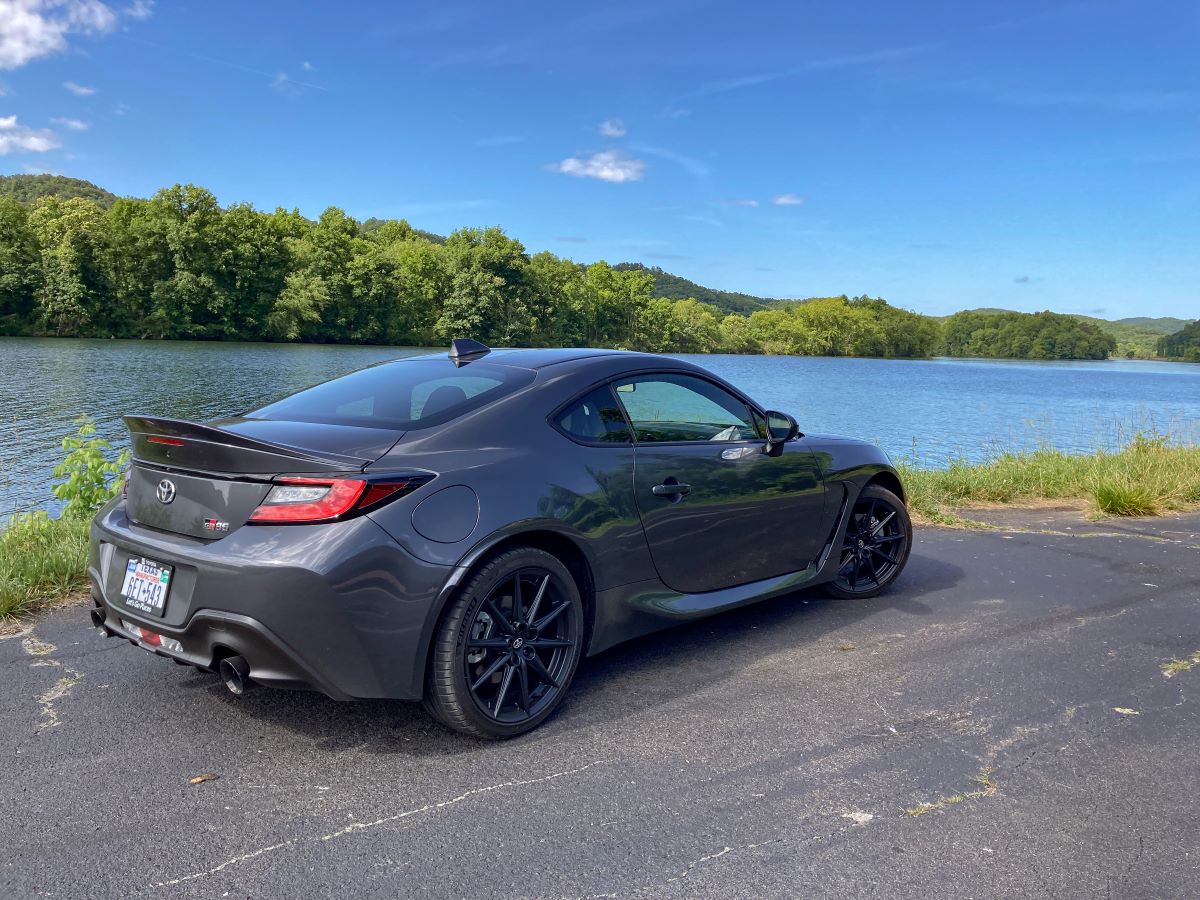 The sports car doppelgängers from Toyota and Subaru have received continuous accolades since going on sale in 2013. Search "best affordable sports cars" and you'll undoubtably find multiple pages of articles spanning the past decade naming the Toyota 86 (previously the Scion FRS) and the Subaru BRZ in top ten lists of excellent modern drivers cars.  So how does the 2023 Toyota GR86 fair?
Toyota's second generation GR86 has also had its fair share of press, both positive and negative. If you were just now hearing about the Japanese brands' collaborative sports car creation via content from the past six months, then you wouldn't be wrong if you assumed they had failed to make a reliable car. While this car is marketed as being track ready from the factory, multiple accounts have been reported of owners blowing their engines at track days and in instances of high lateral load. Fingers are being pointed at the flaws of the Subaru designed FA24 flat-4 engine, but it's hard to deny the improvements that have been made compared to its older relative, the FA20. The 2023 Toyota GR86 is better in all the right ways.
Exterior & Interior
This successor fixes the ugly face of the last 86 and the FR-S. I felt as if the original car didn't share much in the way of family resemblance. Overall, the 2023 Toyota GR86 acquires more flowing body lines that make it recognizable as a Gazoo Racing performance model like its GR Supra and GR Corolla cohorts.
The Premium trim level I'm driving has the optional TRD performance exhaust which offers an off-putting drone from 2-3k rpm. Road noise is already pretty high above 65mph, an expected trait in a car that costs a little over $30,000. It doesn't help that at 70mph in 6th gear the engine is indicating 3,000rpm, right where the exhaust is the most deafening. If you tick the TRD option box you'll be committing to the less worse of two major inconveniences: driving on the interstate either slower than 60mph or faster than 80mph. Each way you're outside the worst of the drone, but that's a pretty big window to try to avoid when cruising in 6th. If it were my money, I'd skip the exhaust.
Interior appointments haven't changed drastically from the old car. Materials have been improved a bit, and some new design choices have been made with the dashboard and instrument panel. You now have access to Apple CarPlay and Android Auto in every variant. A very welcomed addition, indeed. But Toyota and Subaru really did hit the bullseye a decade ago and have kept its best attributes this time around:
Fantastic seats that grip you while still providing good comfort for longer trips
A small, uncluttered steering wheel that fits perfectly in the hands
Good visibility with large side mirrors negating rear three-quarter blind spots
Perfectly spaced pedals for someone with a US size 11 foot to heal-toe easily
A satisfying shifter with unmistakable 1st through 6th gears, and a welcomed Reverse lockout
A mechanical parking brake positioned in the right place, and
Enough cubbies to store multiple drinks, a phone, a purse or wallet, and more without having to open the glovebox
The redesign gets the stamp of approval.
The Road
A well known stretch of Highway 129 that connects North Carolina and Tennessee will be the perfect place to drive the new 2023 Toyota GR86. Most know this place as the Tail of the Dragon. The humidity this morning reminds me of the feeling when you accidentally walk through a spider web. You try picking and peeling off the sticky stringiness, albeit usually with little success. I was hoping for one of those crisp, foggy, misty mornings that are common in the foothills of the Appalachian Mountains. Today isn't one of those mornings.
It's Summer after all; this is the Dragon's busiest time of year. May through September might as well be open season for Harley heroes and crotch rocket crusaders, each looking to brush their exhausts and foot pegs on the already torn up asphalt. I know I'd love a motorcycle, but I won't allow myself to have one. I don't want to be subject to our motorcyclist-blind drivers here in America. The Tail—most call it the Dragon, but I've heard "The Tail" used as well—isn't just a motorcycle paradise, however. Its seemingly never-ending bends attract crazed sports car owners from around the country too. I grew up driving this road, all the while thinking how cool it would be for OEMs to use it as a test track. In high school I pretended it was a shorter, tighter Nürburgring and wished it wasn't a public highway. Days like today, though, I'm happy it's open to all.
Before you begin, a few unspoken rules about Tail of the Dragon are shared among those who call this neck of the woods home. Like most rules, these are shared for a reason. Also, and unfortunately, like many rules they're often not followed. The most important of these rules being you DO NOT cross the double yellow, no matter the circumstance. That's what the numerous pull-offs are for that are littered along both sides of the road. It's up to the vehicle in front to let others behind them by. 129Photos.com and killboy.com are a couple of the outlets who capture each car and motorcycle that drive by and share the shots online for purchase. The photographers will also share the increasingly common occurrences of folks crossing the double yellow and paying the price. It's sad. Fatalities at the Dragon are increasing. My Instagram algorithm will show me a couple posts per week of someone else being injured up there. It's a road that demands respect and restraint.
Choosing to bring a supercar to the Dragon is like trying to properly enjoy a delicate plate of escargot using a meat tenderizing hammer. This is exactly what Todd and Paul, hosts of the Everyday Driver Car Debate podcast, are referring to when they talk about having tools for jobs. What's the ideal horsepower you want at the Dragon, then? My friends and I from our university car club have wrangled this topic many times. The consensus seems to be that 350-400 horsepower is the maximum that most people would actually be able to use on this challenging stretch of road. In that case, with power numbers generously south of 300 hp, the 2023 Toyota GR86 should be well at home here.
Initial Impressions
The Dragon's curves are relentless. After three to four minutes of exercising the shoulders of the tires you begin to wonder if you'll ever get to push the throttle pedal past 50 percent. When I do have a chance to churn out all 228 horsepower at a reasonably lofty 7,400 rpm it's an exhilarating experience. Subaru received complaints from internet commenters and some prior generation FR-S/86/BRZ owners for the new car not offering a turbocharged variant of the boxer four. However, many who have now driven the revised car, myself included, are realizing that Toyota and Subaru have made it possible to have your naturally aspirated cake and enjoy it too.
Early impressions of the FA24's power and torque delivery give me hope that the 2023 Toyota GR86 will be even more popular to potential buyers than its predecessor. Peak torque of 184 lb-ft over its predecessor's 156 lb-ft doesn't sound like a huge gain, but it's accessible at 3,600 rpm, an astounding improvement over the first generation car's 6,400 rpm requirement. In practice it's the perfect amount, easily pulling the 2,833-pound car (a lightweight by today's standards) through the uphill corner exits with fulfilling pace.
Driving the Dragon properly and with the right tool for the job should translate to very little brake use. Every 20 corners or so I have to keep reminding myself this isn't a racetrack. It's okay to use the brakes. The 11.6-inch front and 11.4-inch rear ventilated discs are a pleasure to use. I made a handful of passes, end to end, and I never experienced any fade or pedal squishiness. I'm sure if I were pushing through multiple sessions on track I may start to feel some degradation, but that's to be expected in most any factory stock vehicle. Here, the pads and fluid hold up well.
Bringing Car and Road Together
These days it's rare that a new car's dynamics, driving tactility, and design work together to produce this thing we call "driving perfection." Nor is it often that we review a road like we review a car. However, some automotive writers seem to dissect the road they're driving more than others. Henry Catchpole and Sam Smith first come to my mind. Read their work and you'll get a sense they drive to experience the road as much as they drive to experience the car. When a certain route's road surface, scenery, and topography begin to harmonize it can be an almost unreal experience for a driving enthusiast.
Those of us who appreciate driver focused cars yearn to notice the steering wheel fidget as the tires roll over pavement imperfections. We want to feel the controlled compression and rebound of the suspension when encountering undulations and camber changes in a corner. Many of us also enjoy adjusting the throttle pedal and feeling an immediate response in the load on the engine that only a normally aspirated engine provides. These are some of the marks of a good drivers car, so what happens when these marks in the 2023 Toyota GR86 are paired with those of a good drivers road? Brilliance.
318 turns in an 11 mile stretch of road translates to approximately 30 times per mile that I'm moving the perfectly sized three-spoke steering wheel away from center. The car's 13.1:1 steering ratio makes connecting the corners a quick but rewarding job. Two curves after what's locally known as "The Dip" you enter a sharp right hander, hoping to carry speed up a hill as the radius of the turn decreases. As the road begins to straighten out again, it crests, and the car experiences an abrupt, unsettling camber change. It tosses the 215/40/R18 Michelin Pilot Sport 4 tires off kilter for a moment. Luckily, the conversation between my inputs and the car's stellar balance and feedback make it easy to catch before it becomes an uncontrolled slide.
This is the first rear wheel drive experience I've had on Tail of the Dragon since owning my AP1 Honda S2000. Honda designed that car in the 90s with upper level drivers in mind. Perfect 50/50 weight distribution with a front-mid engine layout and—I'm going to say it—practically unforgiving rear suspension combine to make the S2000 one hell of a ride. The S2K is simply sublime at the absolute limit, but get one input wrong and you could easily find yourself in a ditch. Ask me how I know. As amazing as the S2000 can be after days and weeks of driver training it's not a car for rear wheel drive beginners.
Unlike the Honda however, I'm happy to report that Toyota and Subaru seem to have designed the 2023 Toyota GR86 with a higher tolerance for entry level drivers who are getting to know the unique dynamics of a rear wheel drive setup. It's a rewarding experience for moderately skilled drivers and advanced drivers too. I see why the car's balance, suspension tuning, and predictability have received such high praise. And on a road that demands every teaspoon of your attention like this section of Highway 129 it's wise to bring a car that allows you some room for error.
Final Thoughts
The Toyota 2023 GR86 succeeds as one of the last simple, affordable drivers cars because it brings out the personality of a road so well. Driving it on one of America's most engaging roads is an experience I'll surely look back on, especially as new offerings with naturally aspirated engines, rear wheel drive, and manual transmissions are dwindling.
The Tail is a facilitator of learning, growth, friendship, and community. Though the area ultimately still feels quite remote, I'm grateful for businesses like 129HUB and Deal's Gap Resort. They offer places to engage and places to rest. I'm thankful for the locals whose southern hospitality always brings a smile. The Dragon remembers those who have been lost there, and it entices the rest of us to come back again and again. Don't drive it just to say you did it. Drive it to find out more about your car. Drive it to find out more about the area. Drive Tail of the Dragon to better understand what it is you appreciate most as a car and driving enthusiast. Just be sure to bring the right tool for the job. The 2023 Toyota GR86 is precisely that.