Quick Drive: 2011 BMW X5 xDrive35i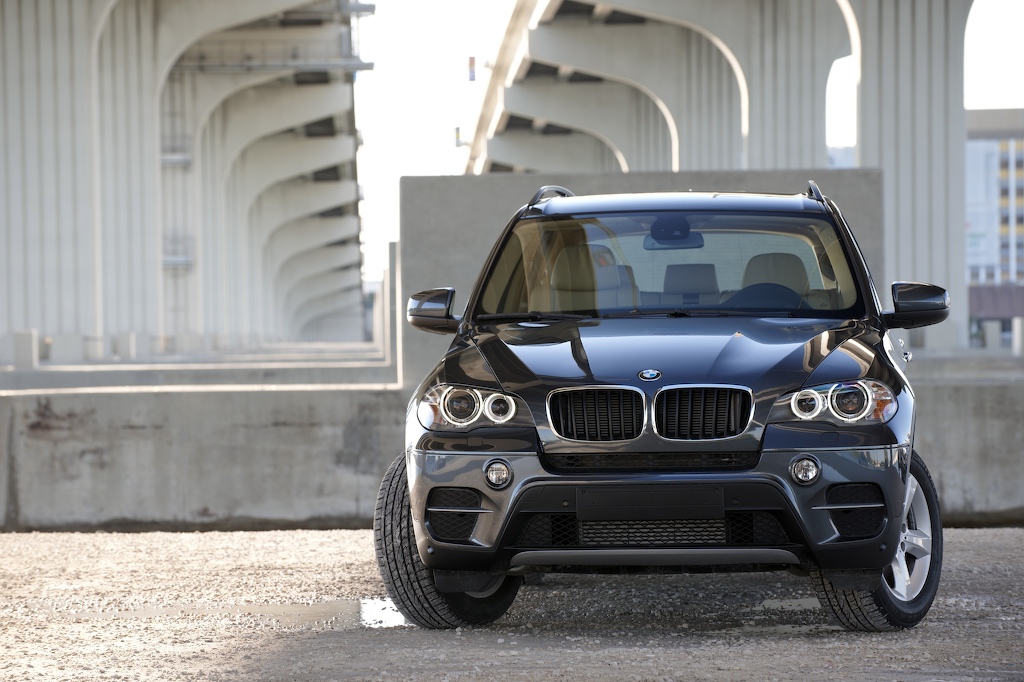 The BMW X5 has long been one of my favorite "sporty" SUVs, which is to say that it's really just one of my favorite SUVs to drive, period. The X5 manages to be a big, useful vehicle while still seeming categorically car-like in terms of driving experience. With the roundel out front I'd guess that's what most potential buyers will expect, too.
Of course, most of the X5s I've driven over the last year have had pretty powerful engines to reinforce that sporting expectation. The X5 35d has got massive diesel torque to play with, the 50i a potent, 400-horsepower V-8, and the X5M is, of course, a true rocket ship of the freeway. Stepping in to the X5 35i then, powered "only" with the new, 3.0-liter turbocharged inline-six, I fully expected the SUV to feel somewhere between "slightly heavy," and "underpowered." To my happy surprise, it didn't.
The twin-scroll turbo motor is a whopper, after all, and it had no problem delivering the large X5 to highway speeds with appropriate, BMW-like acceleration. The early-onset torque certainly helps a ton here, as does its application to the road via all-wheel drive, and a significant contact patch. Unless potential owners are truly speed demons they're not likely to miss the added power of the V-8 here.
What's more, the six-cylinder X5 strikes me as seeming just a bit more nimble, not quite so nose-heavy, as its larger displacement brothers. This is a subtle difference, but one that would become more apparent on twistier roads.
—Seyth Miersma, Editor-In-Chief
I've had a lot of seat time in BMW's V-8-powered X5, both here at Winding Road, and in previous lines of work. It is an excellent vehicle, capable of hauling you about in extreme comfort and style. On a ten-hour drive from New York City to Detroit, I was cosseted by the supremely comfortable (and near-infinitely adjustable) sport seats, while the large leather-wrapped steering wheel was a beautiful piece to work.
I did, however, get a bit tired of stopping for fuel. Considering it was in the middle of January in the snowy northeastern Appalachian Mountains, this is even more understandable. Yes, as much fun and as comfortable as the X5 xDrive50i is, it isn't what one would consider a frugal beast.
Which is where the X5 xDrive35i comes into play. Featuring two fewer cylinders, and one less turbo, the 35i, to me, is the thinking man's X5. Weighing in at over 400 pounds less (which likely contributes to the less nose heavy feeling Seyth describes), but only losing 100 horsepower and 150 pound-feet of torque, the 35i has a not insignificant three-mile-per-gallon bump over the 50i on the freeway (23 mpg in the 35i, 20 in the 50i). It may not seem like a lot on paper, but those sixty-odd miles afforded by the 3.0 liter can be the difference between stopping for fuel in a blizzard or in sunny skies.
While it does skimp a bit on performance in favor of economy, the 35i certainly doesn't short you on content. Pretty much every option BMW offers is available on the 3.0-liter X5. You can get the much-improved iDrive, a fancy heads-up display, heated front and rear seats, as well as several other high-tech luxury items. You'll also be saving about $4000 by buying the more economical 3.0 liter.
While I do love the big V-8 power that the X5 can offer, I'd much rather have the total package that is the X5 xDrive35i.
—Brandon Turkus, Test Fleet Manager
Pros:
Turbocharged six offers enough power and torque to help you forget the more expensive V-8
xDrive AWD system has a rear-bias that helps to deliver smooth, sporting handling
Features many of the same creature comforts available on more expensive BMWs
Cons:
With low ground clearances and no low range, those who live in really rugged areas might want harder-core 4X4 ability
Standard third-row seating is for emergency use only (re: the neighbor kid needs a ride)
Can get pricey in a hurry—our tester retailed at over $65,000 despite a MSRP of $54,100 for the highest-trim X5 35i