Driven: 2011 Infiniti QX56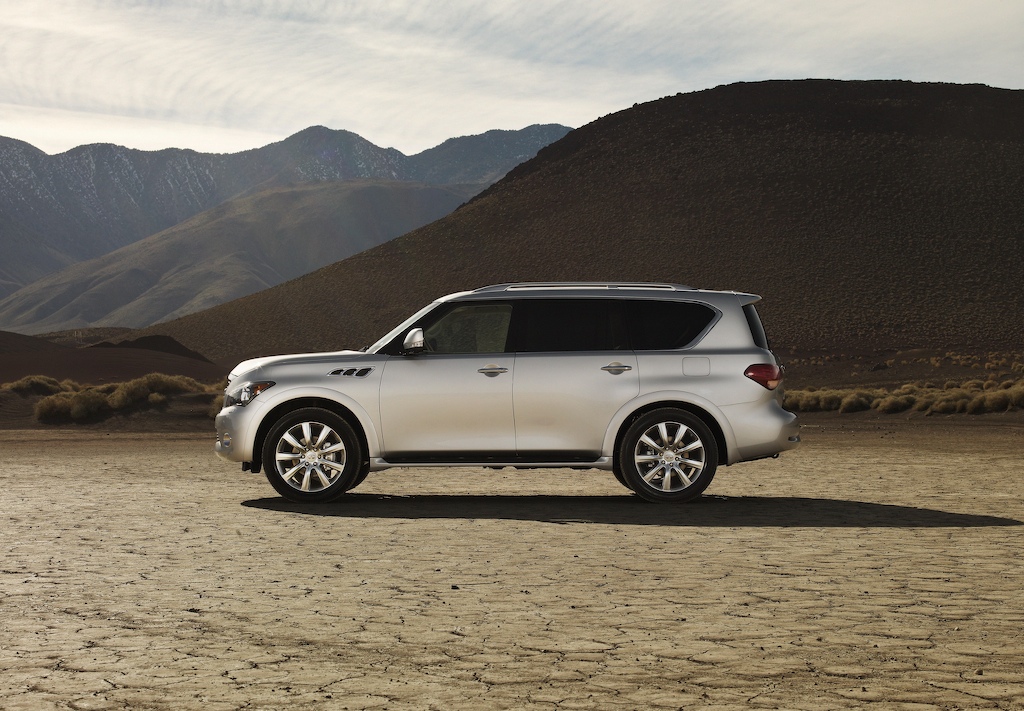 Generally speaking, when we attend a media drive event for a new vehicle we can expect to have a solid fifteen minutes to a half-hour section of the initial presentation devoted to vehicle design. This is where executive level design guys can really go to town, telling the assembled media about subtle heritage cues, the hiding of mass or height, and exotic themes or shapes integrated into the vehicle's aesthetic. If the new car in question is particularly provocative or progressive of design, the explanations can go on for still longer.
So, when were finishing up our breakfasts and waiting for the presentation to roll on the 2011 Infiniti QX56, a vehicle which has met with some strong initial reactions to its iterative redesign, we made sure that our coffee cups were full and settled in to have our minds bent with style-speak. It never came.
What we got instead was a few words about this version of Infiniti's double-arch grille (mirrored in back by the shape of the license plate frame), a nod to the very large, optional twenty-two-inch wheels, and a few modifiers like "rugged" and "broad-shouldered." That was a minor disappointment for us, as we were really hoping for some kind of justification for this very strange design. The new QX attempts to strike a balance between the necessary proportions of a very large, eight-passenger SUV, and a rounded, flowing corporate design language. Individual tastes will determine just how successful the final compromise is, but allow us to mention that our original impressions didn't change very much after seeing the thing in the metal.
Thankfully the Infiniti interior designers have continued the great work they started with the M in this new SUV. Interior appointments, even in the very base model, feel lush. All of the seating surfaces in the QX have been carried off with real attention paid to comfort over the long haul. The second-row chairs are both wide and deep, surrounded by leather-draped armrests that give passengers a lovely sense of secure cocooning. They really do feel more like well-made armchairs than they do car seats. Third row passengers won't be punished as long as they're slightly shorter than six feet.
We couldn't help but compare the seating in the QX56 to the similarly sized and priced Land Rover LR4 that we've driven very recently. LR4's third row is hard to beat, especially with separate audio controls for each side and all that glass for a great view. But, while hip- and legroom feel close enough to be a dead heat between Land Rover and Infiniti here, the QX wins the day on the (significant) amount of cargo capacity behind the third row. LR4 offers a space about as thick as a brief case, unless you fold the seats down. The Infiniti has got enough space for at least a few suitcases along with its many passengers.
Things aren't too terrible for the driver, either. The QX56 has got a really beautiful instrument panel, with speedometer and tachometer backed by a cool blue "weave" pattern. We found the wood accents in the front to be understated and nicely finished, though not quite as original as the stuff of the M56 sedan. Seats, again here, were comfortable and trimmed in very soft leather. We would, however, move some of the padding found here into just slightly higher bolsters on the bottom cushion. The QX is not a sports car, but these flat seats don't give us much purchase, and we found ourselves sliding a bit, even on highway ramps.
Being a large SUV, we didn't have particularly high hopes for a driver-involving experience from Infiniti, but the QX does have a few tricks up its sleeve. The massively good 5.6-liter V-8 is the same basic unit that we slavered over in the M56 when we drove it a few months back, with the QX mill being shorted by 20 horsepower and 4 pound-feet of torque versus the M. That still makes this a 400-horsepower truck—something that would have seemed utterly wild not so many years ago—and a very quick one. The motor lays down the power smoothly and progressively via Infiniti's very good seven-speed automatic transmission. Acceleration is ample, even without calling up downshifts via the central gear lever.
Another worthwhile piece of optional kit on the QX is the new hydraulic body control system, which uses a series of chambers for hydraulic fluid, integrated with each shock absorber, and a set of nitrogen-charged accumulators which manage the fluid flow. The system replaces the standard anti-roll-bar setup, with the goal being a reduction in overall body movement. After sampling both systems (anti-roll bars come on the base models), we found the hydraulically modulated QX to be a good deal stiffer through corners at speed, and lot more comfortable for passengers as well.
Be it with standard or new-tech roll-mitigation technology, there's little question that the QX was not meant to have spirited driving as its core mission. Levels of feedback for the driver are very low, with lightweight steering being a particular let down. The QX rides smoothly and effortlessly across highway surfaces, but it's no great joy in or around the kind of hilly driving route we sampled in Kentucky. That's too bad, but not unexpected either, for a truck whose real goal is to carry a lot of stuff and to look impressive.
QX will tow, haul, and rough it up, too. Tow rating is maxed at 8500 pounds for both front- and four-wheel drivers. You won't find the hitch receiver in any of these photos though, as Infiniti has hidden it in the rear bumper to create a smoother silhouette. It's too bad they made the rear bumper weirdly protruding in the process, but we digress.
If the looks impress you, there's a decent value here within the luxury SUV set. Price, power, and space are all very attractive when compared with the likes of the Cadillac Escalade, Audi Q7, or Lexus LX570 (LR4 is a lot harder to beat). The package Infiniti has put together here is worthy of a look from shoppers in the segment.
2011 Infiniti QX56 AWD
Engine: V-8, 5.6 liters, 32v
Output: 400 hp/413 lb-ft
Weight: 5850 lb
Fuel Economy, City/Hwy: 14/20 mpg
Towing Capacity: 8500 lb
Base Price: $60,750