Quick Drive: 2013 Hyundai Santa Fe Sport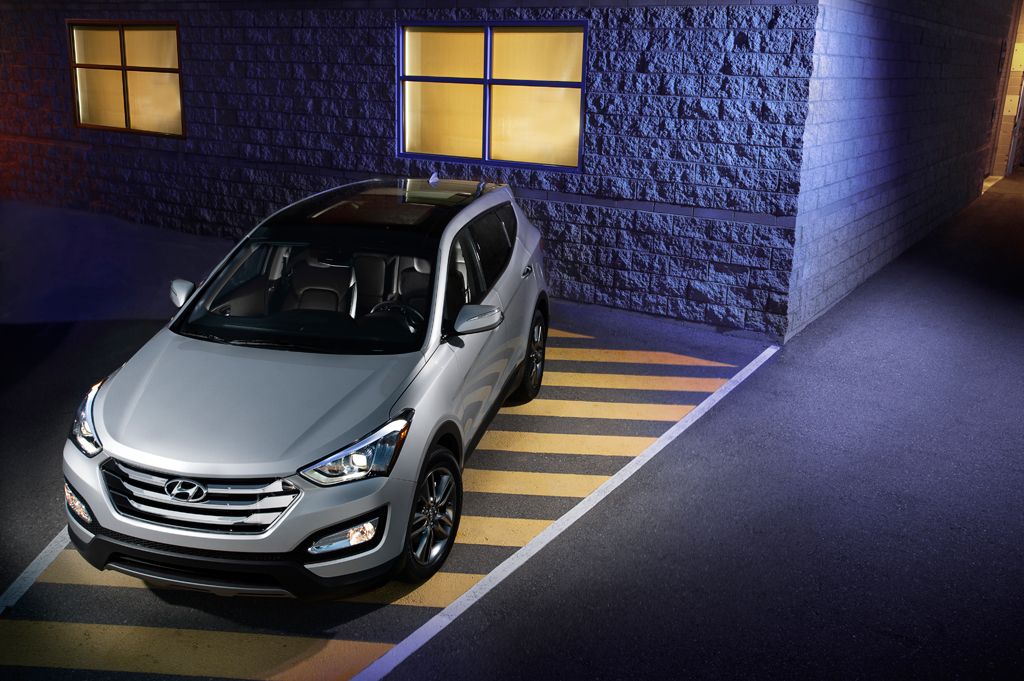 —Ann Arbor, MI
Our
2013 Hyundai Santa Fe Sport
was powered by a 2.4-liter. Its 190 horsepower peaks at 6300 rpm, with 181 pound-feet of torque available at 4250 rpm. It's not particularly fast, but It's lively enough and far from sluggish. Power comes on smoothly as you feed in input to the right pedal, and there's no problems with jerky driving. This Santa Fe would be a great car for driving guest or clients to dinner and around town for that reason. The brakes are firm, too, but are still easy to modulate and use smoothly.
An Eco button to the left of the steering column helps to save fuel, and doesn't make the engine bad to use. It actually creates a quiet driving experience, as it keeps the motor from getting too rev-happy. This makes for calm hill climbing, and smooth acceleration at highway speeds.
The steering in the Santa Fe has three selectable modes: Comfort, Normal, and Sport. You choose between them via a small button on the steering wheel that is easy to identify and access. As you might guess, Comfort mode lightens up the feeling in the rack, and Sport gives it a bit more heft. Unfortunately, the added weight in the steering feels particularly unnatural, not very smooth, and doesn't feed in any more communication. Comfort mode was surprisingly the best to use, with feeling the least artificial, despite the abundance of boost.
The suspension in the Santa Fe really smoothens out the ride, even over the crunchy winter roads we're plagued with here in Michigan. Passengers are almost completely isolated from what goes on between the tires and the road surface. It's clear what Hyundai is going for here, and we think it's definitely working. The Santa Fe truly rides like a more expensive luxury vehicle.
The bigger downside to the suspension is that it didn't really keep things in check laterally. We experienced a fair amount of body roll in the corners, making the Santa Fe feel a bit top-heavy. Even at a stoplight, the wind from passing cars was enough to rock our vehicle from side to side. A second possible complaint is that the car can feel a bit bouncy over larger undulations. Neither are huge concerns, though, considering the overall comfort level here is actually quite high.
Our tester was particularly cozy, equipped with the Popular Equipment Package, Leather And Premium Equipment Package, and Technology Package. For an extra $950, the Popular Equipment Package adds roof side rails, front fog lights, automatic headlight control, heated side mirrors, power driver's seat with lumbar support, and heated front seats. The Leather And Premium Equipment Package costs an additional $2950, and includes leather seating surfaces, power front passenger seat, sliding and reclining second row, heated rear seats, dual auto climate control, 4.3-inch color display, backup camera, and a couple other goodies.
The Technology package is what finally pushed our tester above the $30,000 mark. It adds a giant panoramic sunroof, eight-inch touchscreen with navigation, Dimension premium audio, a heated steering wheel, and rear side window sunshades. All in, our loaner totaled $32,175, and felt far more comfortable and luxurious that its price tag would suggest. It looks nice inside, too. It uses a lot of hard plastics, but they are interestingly textured, and the interior design is fresh yet mature.
Fuel economy is advertised at 21 miles per gallon in the city, and 29 mpg highway, for 24 mpg combined. During our time with it we found it easy to best the combined rating when trying, and even with our heavy right foot, we still were averaging just over 24 mpg with a good mix of city and highway driving. If you're willing to sacrifice a bit of oomph to stretch out your tank of gas, there's that Eco button to the left of the steering column.
Even without all the extras on our car, the Santa Fe Sport is a quality vehicle that also happens to be very practical. At a base price of just $24,450, it feels like an incredible deal. If you've got a little extra to spend on some added comfort and convenience, you have a great affordable crossover that has just about everything you could want.
2013 Hyundai Santa Fe Sport FWD 2.4
Engine: Inline-4, 2.4 liters, 16v
Output: 190 hp/181 lb-ft
Weight: 3459 lb
Cargo Volume: 71.5 cu ft
Fuel Economy, City/Hwy: 21/29 mpg
Base Price: 24,450