Driven: 2013 Toyota RAV4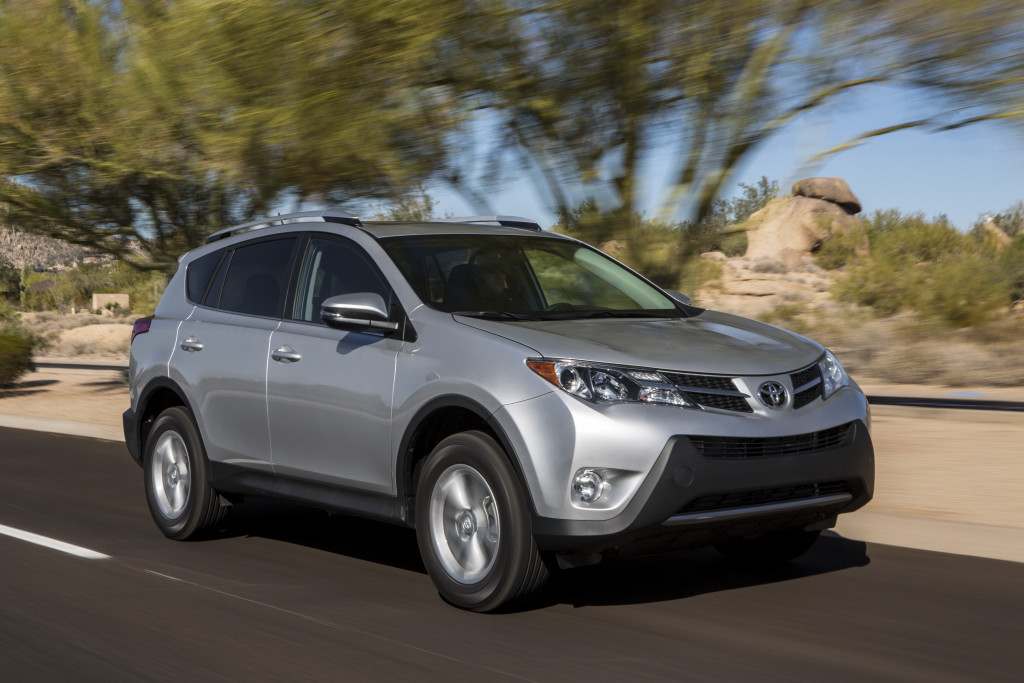 (photo credit: David Dewhurst)
—Scottsdale, Arizona
Sometimes, covering the conventional requires the unconventional. Cars don't get much more conventional than the
Toyota RAV4
. This is bread-and-butter, basic, crossover transportation. If that's all you really need, then we strongly suggest you go out and look at the RAV. However, if the RAV is a bit too jack-of-all, master-of-none, we're going to outline three alternative takes on the RAV4's crossover formula.
First, the basics. The 2013 RAV4 is powered by a 2.5-liter, direct-injected four-cylinder with 176 horsepower and 172 pound-feet of torque. The 3.5-liter V-6 from the previous RAV4 has been dropped for 2013. Don't start mourning yet, though. While the RAV has lost the V-6, it's gained a slick new six-speed automatic. Replacing a four-speed auto, the new slushbox allows the RAV4 to net 24 miles per gallon in the city and 31 mpg on the highway.
All-wheel drive is available, and includes a first for the RAV4: dynamic torque control. DTC automagically transfers torque from the front wheels to the rear wheels when needed. It measures several different sources of information, including wheel speed, steering angle, yaw rate, and brake force. Toyota claims DTC will deliver better fuel economy, more stable handling, and improved take-offs by optimizing the distribution of torque.
The last powertrain goodies are the new Sport and Eco modes. These are pretty standard fare by now: Sport sharpens throttle response and tightens steering, while Eco does the opposite while recalibrating the climate controls for improved fuel consumption.
So, what do you do if you find that the RAV4's blend of attributes isn't for you?
The Mazda CX-5 is the most engaging, poised, agile, and smile-inducing small crossover on sale today. To be fair, the RAV4's handling is much improved in the 2013 model. It still can't hold a candle to the Mazda, though. There's a fair degree of roll in the Toyota, and it's very difficult to ascertain grip levels through the chassis. Even in the sport seats of our XLE-level tester, the Toyota held us at arm's length.
The CX-5, on the other hand, openly endorses fun and urges you to drive it hard. It feels much more pinned down than the RAV, and is more willing to communicate its intentions to its pilot.
Toyota did a fair job on the RAV4's steering. It's electric, which means feedback is virtually non-existent, but the weighting is surprisingly well done. Even Eco mode has some degree of heft to it. Again, it's not as good as the Mazda, but this is an area where these two are actually close.
Toyota's strategy regarding V-6 buyers is this: get them to buy a Highlander. What if a buyer doesn't want a bigger and significantly more expensive crossover? A base V-6, two-wheel-drive Highlander starts at $31,150 while the most expensive RAV4 Limited AWD starts at $28,410. The Venza is even worse, with a V-6 starting at $36,095. So where should you go if you want a more powerful small CUV? Ford.
We'll ignore the Escape's base engine, and instead focus (no pun intended) on Ford's EcoBoost offerings. The
1.6-liter EcoBoost
, despite its reliability issues, delivers a solid 178 horsepower and 184 pound-feet of torque. That's only two more horsepower and 12 more pound-feet of torque than in the RAV4. Where the Ford jumps ahead is with its lower power peaks. Peak torque for the 1.6 is at 2500 rpms, while peak horsepower is at 5700 rpm. Compare that with a 4100-rpm torque peak and a 6000-rpm power peak for the RAV4.
If you really need more power, the Escape is available with a brawny 2.0-liter EcoBoost that's shared with the Focus ST hot hatchback. With 240 horsepower available at 5500 rpm and 270 pound-feet of torque available at 3000 rpm, the 2.0T in the Escape will deliver performance that RAV4 buyers can only dream of.
That's not to say the RAV's engine is bad. It's a shockingly smooth and refined piece of engineering; with a city fuel economy rating that bests both of the turbocharged Ford's (24 mpg in front-wheel-drive trim). It sounds rather good as well, with a sort of buzziness that is present but not obnoxious. If, though, that 176 horsepower is a deal breaker (and we're willing to bet it will be for a lot of people), then Ford has you covered.
Really, we can't see this being too much of an issue. The RAV is quite reasonably priced, starting at $23,300 for a base, front-drive LE. You can land an XLE for $24,290, which adds 17-inch wheels, a power moonroof, fog lamps, dual-zone climate control, and sportier seats. A top-spec Limited starts at $27,010 and adds a power liftgate, SofTex (faux leather) seating, power driver's seat, and heated front seats. All-wheel drive adds $1400 to the cost of admission, regardless of trim level. If you're looking for a better value, Kia is one of the few places to find one.
The Sportage may be beginning to show its age, but it's still one of the best looking and most affordable crossovers out there. The base car starts at $19,000, but a very well equipped Sportage EX starts at $24,200 and adds 18-inch wheels, fog lights, dual-zone climate control, and the UVO infotainment system. Drop another $3100, and you'll be getting push-button start (only available on the Limited), heated/air-conditioned seats, and a panoramic sunroof. It's a little bit pricier than a RAV4 Limited, at $28,100, but we think the extra items on the Kia are worth another $1000. Tacking on all-wheel drive would add $1500.
Perhaps the most important reason not to buy a RAV4 is this: it lacks character. Each car above has its own set of flaws and imperfections that make it a unique member of the market. The RAV4, meanwhile, is so competent in so many different areas that it just numbs its owner to the overall experience of driving. Anyone that buys a RAV4 will probably be really happy with it. For us, though, it's just too good to be any fun.
2013 Toyota RAV4 XLE AWD
Engine: Inline-4, 2.5 liters, 16v
Output: 176 hp/172 lb-ft
Weight: 3585 lb
Fuel Economy, City/Hwy: 22/29 mpg
Cargo Capacity: 73.4 cu ft
Base Price: $25,690