Quick Drive: 2012 Nissan Murano LE Platinum AWD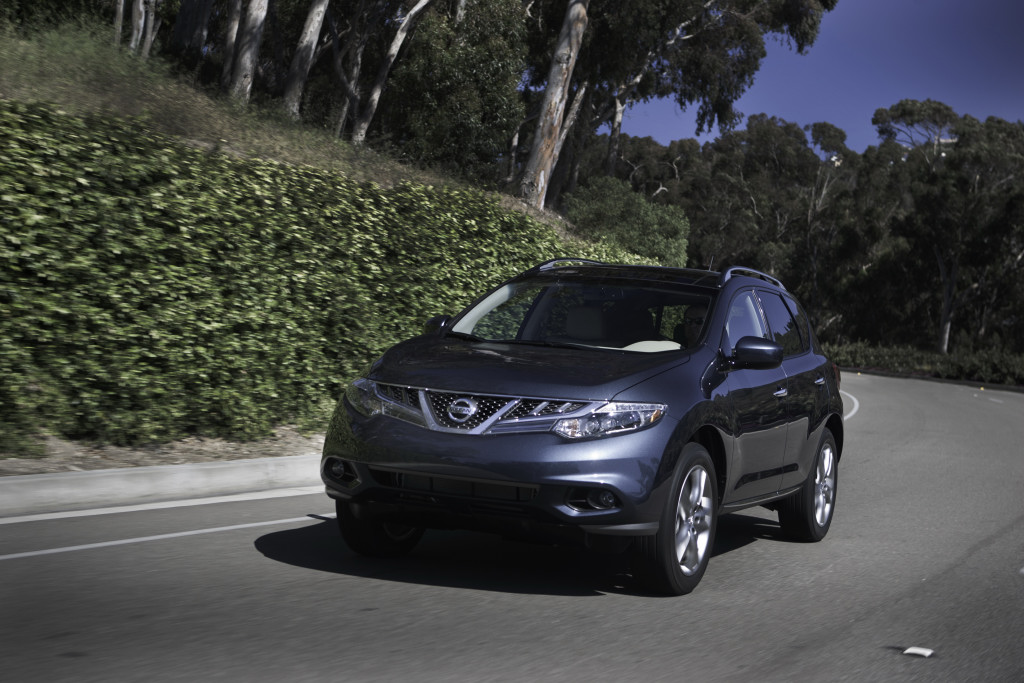 Look at that! A CVT that is actually not completely objectionable! Yes, the Nissan Murano (as has been the trend for Nissans of late) features a continuously variable transmission, that, when mated to a 3.5-liter V-6, could actually be considered fun. I knew the whole CVT/V-6 bit worked just fine in the Nissan Maxima, but I was unsure of how it'd feel in the heavier (by about 600 pounds) Murano.
In short, it was just fine. While 600 pounds isn't anything to scoff at, the combination of the 3.5-liter V-6 and CVT was such a delightfully good odd couple that the drop in outright acceleration didn't seem nearly as severe as it looked on paper. This engine has a decent amount of pull all over the rev range, and the fact that it sounds pretty decent as well, especially in the higher reaches, meant that the CVT wasn't able to penalize the driving experience the way it would in something like a Versa.
Dynamics aside, it's interesting to see what Nissan has done with the Murano in terms of refinement and kitsch. Our LE trim tester was outfitted with the Platinum package, meaning it packed a near Infiniti level of equipment. The downside of the hard-drive based nav system, xenon headlights, and other grandiosities was the price.
At over $44,000, I found the Nissan a tough pill to swallow. At that rate, you're in the price point of smaller CUVs like a neatly equipped (but admittedly slower)
BMW X3
xDrive28i or the equally jellybean-looking Audi Q5 2.0T. The Murano driving experience is good, but at this price point, the competition is better.
—Brandon Turkus, Online Editor
Ahhhhh.
That was my first thought as I slipped into the driver's seat of the Murano on a bitterly cold evening and fired the ignition. This was the car I should have taken home for the weekend. I don't even care that the steering is numb, the acceleration totally average, and the CVT not engaging. This sucker is comfortable.
If you ask me, this is clearly not a Winding Road-style driver's car. I'm pretty sure that matters not one bit to customers who buy the Murano. These are people who want a really comfortable vehicle with some space and utility, who care neither about taking it out to their favorite back roads (unless it's for the scenery), nor about drawing attention to themselves. It's a pretty big group, I'd imagine, and the Murano is a very practical option for those who are willing to pay a little extra to stay nice and cozy. For these folks, the Murano covers all the bases.
The Nissan Murano isn't a crossover you drive. More accurately, at least in spirit, it shuttles you. There's very little in the way of communication from the suspension, nor is there really much of a floating sensation. It's just numb. The steering doesn't offer feedback, but the car responds pretty well to inputs. Really, the experience is about being inside the car, with its nice leather, comfortable seats, and host of convenience features that take the rawness out of using a machine for transport.
—John Beltz Snyder, Senior Editor
Taking price point, overall capacity, fun-to-drive factor, and style into consideration, the Murano has some stiff competition at this ($40K) high-spec level. It's fair to say that, like most vehicles, when you shop Murano in the middle of it's pricing spectrum, you get a far better value for each dollar you plunk down than you can expect at the top trim level. As my fellows above point out, there's a lot to like about Murano, but how does it stack up against the significant competitors?
Jeep Grand Cherokee
– For the same forty-something price tag, you can have a full-fat Murano or a V-6 GC in Limited trim. The Jeep loses one mpg of city fuel economy to the Nissan, but you get back an extra 30 horsepower and 20 pound-feet of torque in the balance. The bigger, heavier Jeep is far more accomplished off-road. All-in, this is kind of a coin-flip choice, and one that will most likely come down to a preference for styling.
Kia Sorento
– The AWD Sorento is more powerful, has better fuel economy (by just one highway-mpg), and has a lot more cargo space than Murano, despite being the smaller vehicle based on exterior dimensions. You could make a credible argument that the Nissan is better looking than the Kia—though Sorento is no ugly thing—but you're going to have to believe in those looks to the tune of almost ten grand. I'd take the Kia here; any day of the week and twice on Sunday.
Ford Explorer
– Ford's bigger Explorer offers seating for two more people, comparable fuel economy, and more power. It's a lot heavier though, and a bit slower than the Nissan due to the weight. At a carbon-copy forty large for the AWD Ford, I'd call this one another toss up versus the Nissan—if you need the space you'd go with the Explorer, if you'd prefer a smaller footprint the Murano is a bit more attractive overall.
—Seyth Miersma, Editor-In-Chief
Pros
LE trim with the Platinum package wouldn't look out of place wearing an Infiniti badge
The CVT works nicely with the V-6
Still makes a good argument for itself, years after launch (especially at middle trim-levels)
Cons
At $44,000, there are better-driving, larger, or more rugged options to be had
The CVT, as OK as it is, is still a CVT—a proper automatic would feel more upscale
Narrower than class-average body is good for maneuverability but also makes the cabin feel kind of cramped with passengers along for the ride