Quick Drive: 2010 Buick LaCrosse CX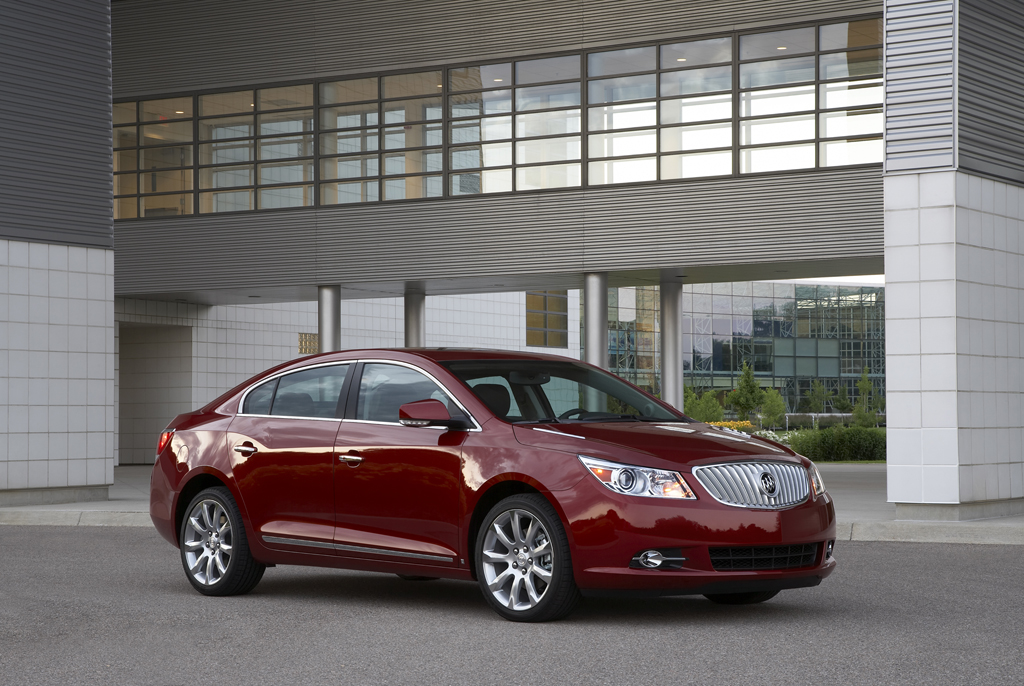 In many ways, I'm happy that Buick offers the 2.4-liter four in its CX trim LaCrosse. The EcoTec four is pretty refined, even for those who've grown accustomed to smother, V-6 motors, and offers usefully better fuel economy at 22/30 mpg city/highway, versus the next-step-up 3.0-liter V-6's 17/26. Of course, having four-cylinder power does nothing to detract from the extraordinarily comfortable cabin that Buick has put together for this car, nor the ultra-smooth ride characteristics, nor the handsome sheet metal.
But (you saw this one coming, right?), if you're looking for any sort of dynamism to go with your comfortable sedan, please look elsewhere. You can even just look up-range at the V-6 LaCrosses.
While the four-cylinder car is a little lighter (100-200 pounds, depending on trim) than the V-6 cars, its 3800 pounds still feels like an awful lot of car to ask 182 horsepower to haul around. Making things worse, Buick has most certainly programmed the transmission to eek out the best possible fuel economy numbers, making the engine feel both underpowered, and lazy in most situations.
You don't get much of a deal for opting down into the I-4 motor either. The 2.4-liter CX starts at just $800 less than the CX with the 3.0-liter engine.
I don't doubt that there is a market out there for folks who want a nice-looking, spacious luxury car with good fuel econ (that 30 mpg number should close a few deals for the Buick guys). That said market isn't likely to be peppered with enthusiast drivers shouldn't come as a surprise to any of you.

—Seyth Miersma, Editor-In-Chief
Reading my notes, my initial conclusion on the LaCrosse was this: library-like quiet, comfortable ride, plush interior (even in base trim), and an engine that could use an extra 40 horsepower. As I drove, these traits kept running through my head.
This is the same overworked 2.4-liter I-4 that powered the GMC Terrain I took to Indy, and it suffers from the same problem; 182 horsepower in any car that's almost 4000 pounds is going to feel underpowered. Strangely, I wasn't that bothered by the lack of power. Sure, you have to think a little about maneuvers that require actual acceleration, but the LaCrosse is so comfortable that making a pass to cut some time off of your drive doesn't seem like such a big deal.
On a dynamic level, I would have a very hard time buying a LaCrosse, mainly because I could have a Hyundai Sonata or Suzuki Kizashi for less money. I imagine, however, that most LaCrosse buyers don't care about driving dynamics and that they do care for a vehicle that is more well-rounded.
—Brandon Turkus, Test Fleet Manager
The Buick LaCrosse is not a driver's car. If you are looking to tackle your favorite backroads with any measure of enthusiasm, definitely look elsewhere than this car, especially with the four-pot engine. It was not designed with this sort of driving in mind.
That's not to say it doesn't have its loveable qualities. Many folks will love the comfortable, squishy ride. To me, it's numb. Most will appreciate the amount of space in the Lacrosse for passengers and cargo. In my mind, that's just room for extra weight. You get the idea: it's more practical than fun. There's certainly a market for that, but if I wanted practicality, I'd check out some other options (Ford Fusion, Suzuki Kizashi, etc.) for something with a bit more feeling in the steering and suspension.

— John Beltz Snyder, Production Editor
Pros
Smaller I-4 means a nice bump in fuel economy
This blend of luxury, space, and high mpg is rare
Road noise is nearly nonexistent, drivetrain is refined, too
Cons
I-4 feels underpowered, likely due to the LaCrosse's high curb weight
Squishy suspension isn't confidence inspiring
The I-4 is only $800 less than the more powerful V-6