Road Trip: 2010 GMC Terrain And The Indy 500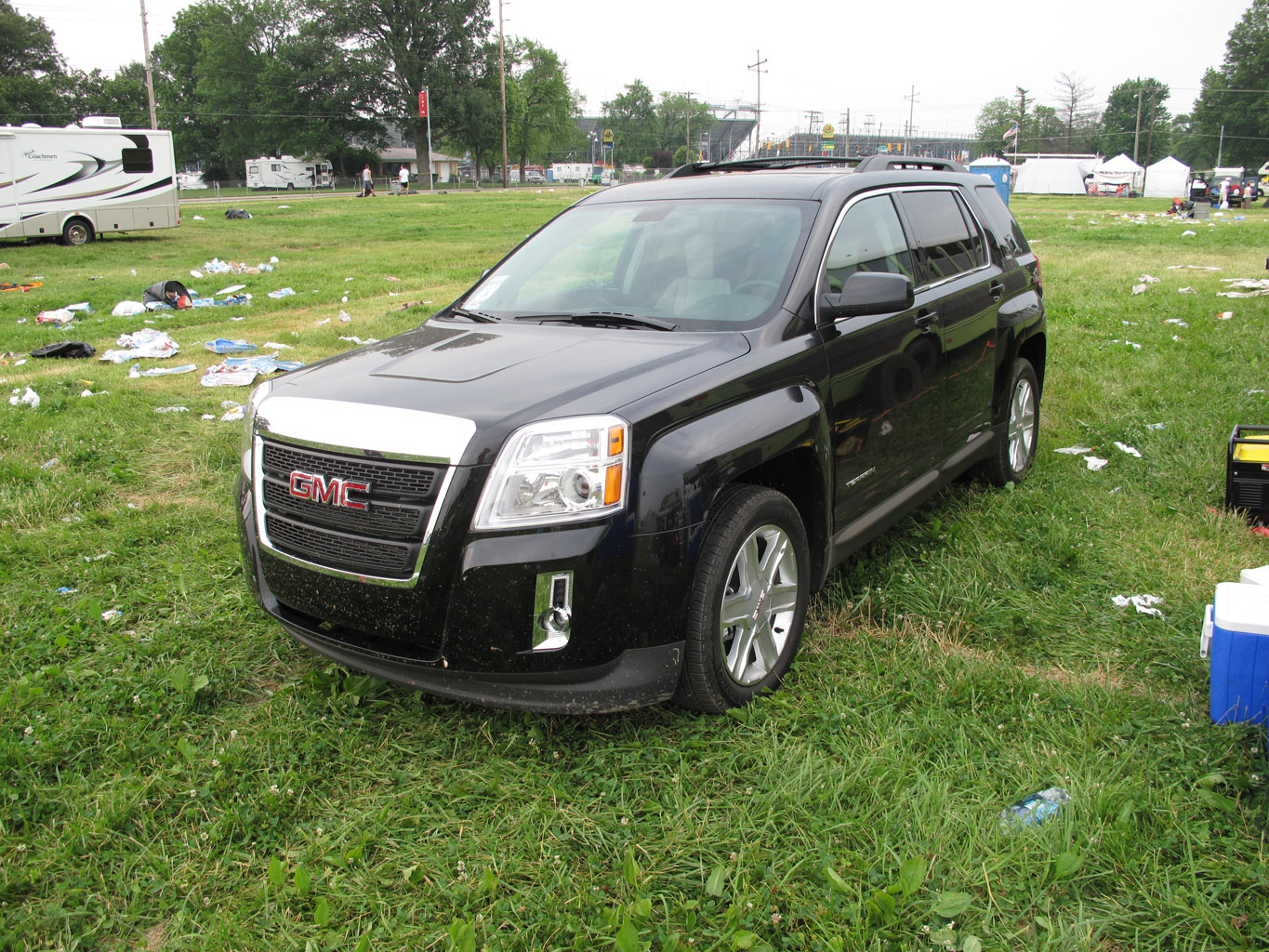 —Indianapolis, Indiana
There are certain things that a gearhead should experience. One of those things is a professional motor race. The bigger the race, the better. We can think of no bigger race on American soil, than the Indianapolis 500-Mile Race, or the Indy 500. Held Memorial Day weekend, this year marked the 94th running of what is the crown jewel of motorsport. Winding Road ventured down to the Indianapolis Motor Speedway (IMS) to take in the sights, sounds, and smells of the race and on our trip we spent some time with the 2010 GMC Terrain.
Our Terrain was trimmed out as an SLT-1, with all-wheel drive and a direct-injection, 2.4-liter four-cylinder that produced 184 horsepower and 174 foot-pounds of torque. Our tester had an impressive amount of standard equipment, including Bluetooth, heated leather seats, a Pioneer stereo, XM satellite radio, and a rear-view camera. It was fairly light on the options though, with a cargo management system, sunroof, power liftgate, tow package, and metallic paint.
We set out from Auburn Hills, Michigan, on the Friday night before the race. Once loaded up, we struck out and began dodging construction over a route that took us along Interstate 94, past Ann Arbor and Jackson, until we hit Interstate 69. Travelling down I-69, we would pass Fort Wayne, Indiana, before hopping on a local highway and entering Indianapolis.
Upon entering the highway, one thing was apparent—the Terrain is seriously underpowered. This is a 4034-pound, all-wheel-drive SUV that produces 184 horsepower and 174 pound-feet of torque. To put that in perspective, Toyota's Highlander weighs in at 3845 pounds, and produces 187 horsepower and 186 pound-feet of torque from a 2.7-liter I-4. Ford's Edge tips the scales at 4288 pounds, and its 3.5-liter V-6 produces 265 horsepower and 250 pound-feet. The Terrain needs more power (GMC does offer a V-6), or it needs less weight. We would opt for a diet. The DI 2.4-liter makes a decent amount of power, feels torquey at freeway speeds (where it really matters for most drivers) and under the right conditions should get 30 miles per gallon. There is really nothing wrong with it, it is simply overburdened in this application.
The transmission, a six-speed automatic, is a great piece. Stomp on the gas, and the transmission quickly swaps through the cogs, dropping into the most appropriate gear. Running away from a light, the Terrain shifts smoothly and quickly through the gears. When something is working properly it shouldn't get noticed—that's exactly the case with this gearbox.
We expected the four-banger/six-speed auto combination would be good on gas. According to the EPA, we should have gotten 20 miles per gallon city, and 29 on the highway. We (driver and one passenger) averaged 25 miles per gallon over 700 mostly-freeway miles. Keep in mind that we got that number while averaging almost 70 miles per hour, with two passengers, assorted stuff, running the air conditioning on full, charging two phones, keeping a radar detector plugged in, playing the radio, and keeping the headlights on. Although the Terrain didn't get the numbers advertised, we hardly made things easy on it.
After the initial annoyance over the lack of power, we settled into the highway groove. The Terrain proved to be extremely comfortable. The two-tone Light Titanium leather seats are wide, and shallow, but with just enough bolstering to still hold the driver in place. They are heavily padded and feel firm, without feeling uncomfortable. On a six-hour drive, the seats did an excellent job of keeping fatigue at bay. Equally comfortable was the four-spoke steering wheel, which was wrapped in soft leather with just enough padding.
The Terrain has a strange ride for an SUV. It transmits bumps and imperfections in the road, but rarely in a way that will annoy driver or passenger. In many SUVs, a Michigan pothole is like a punch in the back of the head, but in the Terrain, its more like a tap on the shoulder. For a $32,000 car, the Terrain rides as comfortably as SUVs that cost twice as much.
During our nighttime driving, we did wish for bi-xenon lights, as the standard units just didn't do a good enough job of illuminating the roads ahead. That is a bad thing when travelling through the country, with forests on both sides at 70 miles per hour. In the cabin though, the interior was bathed in red lights, with gauges illuminated in white. The cabin is sporty while being luxurious, thoughtfully laid out, and easy to adjust to. It is a nice place to spend time.
We rolled into Indy at roughly 1:00 a.m. on Saturday morning. Our plans involved camping outside of IMS, along with a group of about 40 friends who travel down annually for the four-day-long party that is the Indy 500. We were in the Coke Lots, a vast area of ramshackle camp grounds that during the rest of the year make up the front, side, and back lawns of the Coca-Cola Indianapolis Bottling Plant. After catching up with some friends, we turned in for the night.
Race day arrived, and brought with it a 96 degree air temperature, and a 128 degree track temperature. It's difficult to describe the sound of 33 Indy cars at wide-open throttle. Picture several million hornets, all of which are the size of bald eagles, swarming around your head. That is what Indy sounds like, and it is arguably the most beautiful sound man has ever created.
The day was capped off by watching Dario Franchitti take the checkered flag, and by Mike Conway's horrific last-lap crash. Racing is an exceptionally difficult spectator sport, and you will quickly figure out that you don't go to the race to actually watch the race, you go for the spectacle.
Making the trek to Indy is also just a great excuse to get out on the open road and do some summer road tripping. With the exception of the lack of power, the Terrain was a great companion in this enterprise. It provided levels of comfort, convenience, luxury, and utility that are difficult to match in this price point.
Race Photography by Chris Rabior