Quick Drive: 2011 Hyundai Sonata Limited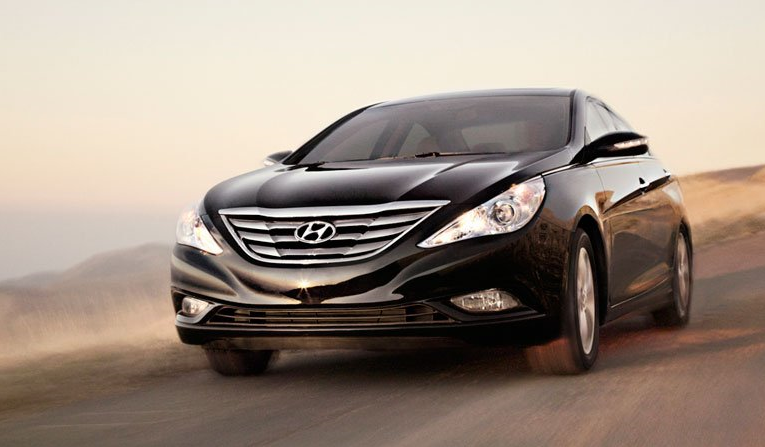 I've been a huge fan of Hyundai lately. It seems like the company is in a sort of automotive golden age where it just can't put a foot wrong. The Genesis sedan and Coupe, and Tucson have been well received in their respective marketplaces, but the ultra competitive mid-size sedan segment is a different kind of monster. The Sonata was going to need some big chops to even be considered against stalwarts like the Camry and Accord.
Upon climbing in the Sonata, my first thought was that there was no way this was a sub-$30K vehicle. The Sonata's interior easily outclasses most of the competition. Our tester came in the Limited trim level, and was equipped with XM Radio, heated leather seats (front and rear), Proximity Key Entry, and an iPod/USB hookup standard.
On the road, the Sonata was a comfortable, if somewhat disconnected, ride. The steering just felt too vague and too light, especially when looking at competition like the Suzuki Kizashi and Mazda6. My other big gripe was with the transmission. A six-speed automatic is great, but it isn't so good if those six gears won't cooperate with each other. Stepping on the throttle resulted in an annoying wait, and then a jerk as the transmission sorts itself out. The steering and transmission just didn't have the level of refinement that I have come to expect from Hyundai lately.
The Sonata has huge potential in a highly competitive marketplace. The arrival of turbocharged and hybrid models is only going to help that. But those will remain relatively niche vehicles. The bread-and-butter model is going to be the naturally-aspirated, gas-only Sonata, and with a bit of improvement, Hyundai has another game changer on its hands.

—Brandon Turkus, Fleet Manager
The Sonata, as a full package, was really impressive. I really like its exterior styling, particularly its arched lines. The chrome strip running from the C-pillar down along the bottom of the hood doesn't even bother me. Inside, the car feels a lot higher quality than its price tag would suggest. This car could handle like crap and still be really competitive.
But it doesn't handle like crap. While it may not be the most engaging steer, and it feels like it could use just a touch more power (a problem likely solved by the new 2.0T), it certainly isn't bad. It feels well balanced, pretty responsive, and generally stable, planted, and capable. A few tweaks here and there, and it could actually be a real sleeper.
I'm eager to get a chance to drive this and the Suzuki Kizahi back to back. Two value sedans, from underappreciated brands, that are actually good to drive—that's a great recipe for a truly useful comparison test.
—John Beltz Snyder, Production Editor
First of all, I'm not sure it really matters what I think about this new Sonata—I'm seeing scads of these things on the roads around SE Michigan already. In fact, I've been seeing them since just a few weeks after I attended the launch event for this car back in March. That's praise of the highest order for Hyundai.
As Brandon and John have pointed out, the new Sonata may be an out-of-the-park homerun for car buyers in general, but it's more like a ground rule double for enthusiasts. The car is totally competent, even when I turn up the wick a little, but it doesn't really want me to share in the fun that's going on under tire. And, while the 2.4-liter four is a nice motor versus the standards set by Camry and Accord, it isn't quite ballsy enough to offer real depth of character.
—Seyth Miersma, Editor-In-Chief
Pros
Outstanding interior for this price point
Exterior styling stands out against the competition
Optional extras turn the Sonata into a near-luxury car
Cons
Transmission could use some refinement
2.4-liter engine is good, but we want the turbo already!
Steering feel and suspension tuning create an uninvolving experience