Update: 2013 Jaguar XF 2.0T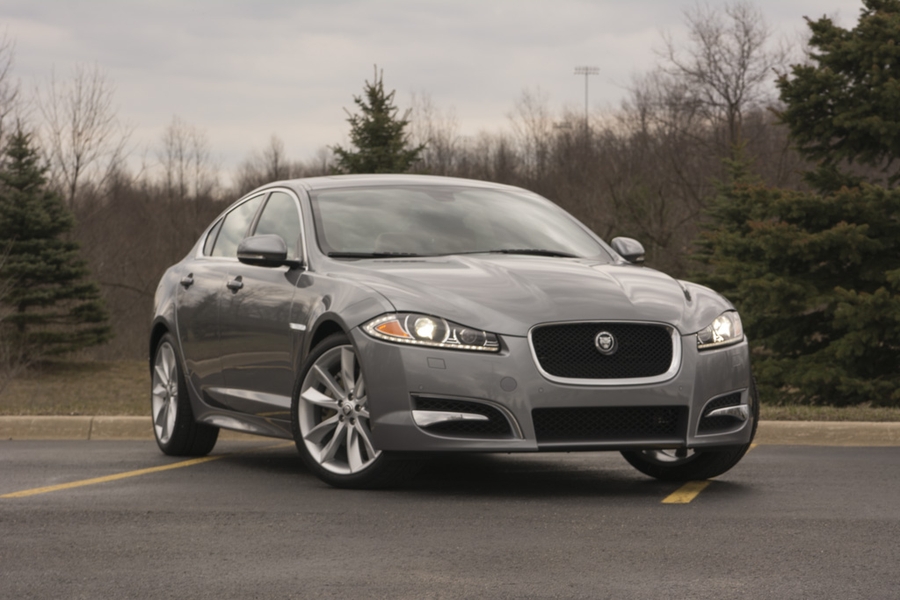 —Lake Orion, Michigan
Jaguar's XF is a dark horse. In a segment where deciding on a car generally means deciding which color of gray your
Audi
,
BMW
,
Mercedes-Benz
will be, the XF is quietly confident sitting in the background. It's almost certainly the best looking car in its segment, and its interior is a delightful departure from the black, aluminum, and modernist interiors of the competition. The material choices are warm and inviting, and most everything feels good to the touch.
It's a poised vehicle as well, conveying a sense of balance and comfort when cruising down the road. Jaguar's suspension engineers struck a balance that's difficult to achieve, tuning the XF to cosset its passengers even on rough roads, without isolating them from what's happening with the tires and chassis. It's a car that we'd happily pilot for hundreds of miles, whether they are on a freeway or racetrack.
The Jag fell short on its powertrains, though not for the reasons you might think. For its first several years on the market, you could choose from a spate of 5.0-liter V-8s, and that's it. Sounds good, right? We've been passionately in love with
Jaguar/Land Rover's 5.0-liter V-8s
for quite some time, heaping praise on them at every opportunity. So why would an all 5.0-liter range be an issue in the XF?
The simple answer is because of fuel economy. Every single one of its competitors offered smaller engines beyond individual V-8 offerings, and most of the time, these six-cylinders and eventually four-pot turbos were quite a bit cheaper to buy, along with being more affordable to run.
This could explain the lack of XFs and the proliferation of BMW 5ers and
Audi A6s
on the roads. Thankfully, Jaguar has a pretty keen interest in selling more vehicles, and has seen fit to revamp its entire range of engines. Gone is the standard 5.0-liter V-8, and while we might be sad to see it go, its legacy is being carried on by both the 470-horsepower and the 510-horsepower versions of the
supercharged, 5.0-liter V-8
(there's also the
550-horsepower XFR-S
, but that's a whole different beast).
In place of the naturally aspirated 5.0-liter is a new, supercharged V-6, displacing 3.0-liters (we'll be reviewing that engine in good time). Today, we've got the smallest engine offered by Jaguar in quite some time—a 2.0-liter, turbocharged four-cylinder.
Before we dive into the driving impressions and performance metrics, we need to explain why Jaguar's approach to the 2.0T is so damn good. This is not an economy offering. The 2.0-liter XF is available with all the same goodies as a full-tilt
XF Supercharged
. It offers the same interior quality, the same tech items, and the same comfort. The only sacrifice is performance. That's a boon to those considering a 2.0-liter Jag.
If you value a quiet ride, this is a tough engine to beat. Our first time out, we fired it up, and were caught off guard by the lack of drama and the subtle noise coming from under the hood. When cruising, it's barely audible. It takes some hard acceleration to really get the 2.0T's soundtrack to play.
Pumping out 240 horsepower and 251 pound-feet of torque, its lower output doesn't have nearly as dramatic an impact on the XF's driving experience as one might expect. With peak torque spread from 2000 to 4000 rpms, and an eight-speed automatic that is seemingly always ready for action, the XF feels perfectly adequate in nearly every driving situation.
The 2.0T suffers a small degree of turbo lag, but being a bit more judicious with the skinny pedal is all that it takes to negate the spooling turbo. At freeway speeds, it feels plenty capable of executing quick passes, and it'll scamper away from the lights at a respectable pace, running up the tachometer in a quick and smooth fashion.
And yet, the XF feels slower than the car it borrows its engine from, the
Land Rover Range Rover Evoque
. This isn't just a butt dyno thing—the XF is four-tenths of a second slower to 60 miles per hour than the Evoque. Blame the eight-speed auto and its propensity to shift gears. The six-speed box in the Evoque can simply hold its gears longer, requiring fewer shifts on the way to 60.
The eight-speed isn't a bad gearbox, though. It shifts quickly, both up and down, and will happily drop multiple cogs if you dive deep enough into the accelerator. The manual mode, operated via a discreet set of paddle shifters on the back of the wheel, is responsive and enjoyable to use. Its only handicap is that its shorter gears take away a bit of the 2.0Ts performance.
The flip side is that this is far and away the most economical Jaguar on sale today. It'll hit 30 miles per gallon on the freeway, 19 mpg in the city, and will average out to 23 mpg on an 18.4-gallon tank. Our mainly city journeys returned a figure only slightly below 19 mpg, although this can likely be attributed to our aggressive use of the throttle. Our last stint in the Jag, before turning it over to
Multimedia Editor Chris Amos
, saw a steady improvement in overall mileage, which has us think that the XF is certainly capable of attaining the higher EPA numbers promised by its window sticker.
That window sticker, much like the old 5.0-liter-only engine range, is a blessing and a curse. The 2012 XF 5.0 started at $53,875. Our tester retails for $46,975, which is a healthy savings of $6900. This should allow most buyers to be considerably more liberal with the options sheet.
Those who can't get over the performance sacrifice demanded by that savings may find issue, though, especially when they arrive on Jaguar's showroom floor.
The XF with the 3.0-liter, supercharged V-6 offers 100 more horsepower and 81 pound-feet of torque. It'll get to 60 in just 5.7 seconds instead of 7.5, and like the 2.0T, demands the same premium fuel. The cost of all this? $3025 and a two-mpg drop in city, highway, and combined fuel economy. To us, that's an easy pill to swallow.
2013 Jaguar XF 2.0T
Engine: Turbocharged inline-4, 2.0 liters, 16v
Output: 240 hp/251 lb-ft
0-60 MPH: 7.5 sec
Top Speed: 121 mph
Fuel Economy, City/Hwy: 19/30 mpg
Base Price: $46,975