Driven: 2012 Jaguar XKR-S Convertible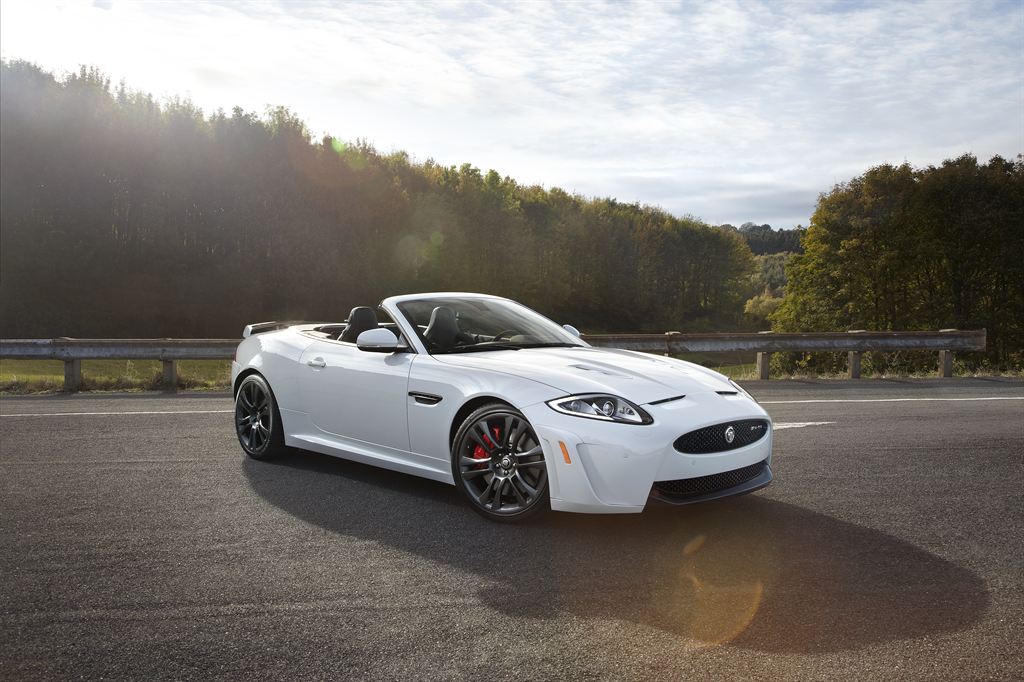 —Ann Arbor, Michigan
The Jaguar XKR-S represents a kind of supercar that is, at once, both strange to conceive and utterly approachable. That is has legitimate supercar credentials is undeniable: massively fast, quick off the line, spectacular handling both on a track and on the road, gut-churningly beautiful to behold, and significantly more rare than even other fast Jags. And yet, there's nothing intimidating about the driving experience, unless you happen to be scared off by loud internal combustion engines (in which case this isn't the article for you, anyway).
We like that duality in this, the highest performance Jaguar to ever exist, as it bridges the gap between the two things that the company is expected to excel at: delivering an original and luxurious experience, and offering really exceptional ability. If you consider the lineage of the British company's two pole stars, the XK-E (E-Type) and the
XJ
range—one with racing heritage and raw-thrill potential, the other a sporting luxury sedan of impeccable breeding (if somewhat flawed execution, in most eras)—you'll see what we mean.
We'll start with the sound then, as, with many high-performance Jaguars these days, it does a fair job of summing up the whole character of the car in one, ten-second rip snort. When Sport mode has been engaged, even a modest foot-full of throttle will result in a neighborhood-alerting blat from the rear pipes, and when fully wailing at speed, the sound feels racetrack-ready. And yet, the
XKR-S
is fairly civil when driven in normal mode, and with a soft right foot. It's just a little louder than a normal V-8 purr, that'll sound a lot like money to anyone lucky enough to be riding shotgun at the time.
As in just about every other Jag we've reviewed in the past few years, the V-8 in question is a version of the company's meaty 5.0-liter mill. In this supercharged instantiation, the engine creates 550 horsepower and 502 pound-feet of torque. That level of power makes the car very quick in almost every gear/speed combination, though the sense of speed is clearly greatest at the top of the rev range (over 5500 rpm) and pulling from 50 or 60 miles per hour up to speeds that will make you famous at the local lockup.
The power delivery is very linear here, with no real "moment" of thrust provided by the supercharger. And, while the car is probably quicker off of the line than Jaguar's stated 4.2-second 0-60 time would indicate, it did take a few heartbeats worth of accelerating before the Jag was pushing us back in our seats with real force.
Thankfully, those seats did a great job of holding us in place as we fussed with the very serious powerplant. Both side and bottom bolsters fit like a glove (and are adjustable), while still having enough padding not to pinch. Fit and finish in the cockpit feels near onto exceptional, with the leatherwork and steering wheel standing out in our test notes as being particularly good. We still can't stand the rotary shift knob, especially in a performance application like the XKR-S, but we made do. A further and familiar nitpick is with the touchscreen infotainment system, which is finicky and best ignored whenever possible.
Moving up past (and then well past) posted speed limits on local Michigan highways and the back roads of our test route, we found the wind-suppression of the XKR-S to be quite good, if still a little bit behind the Mercedes-Benz class leaders in this area. Conversation is possible at slightly strained volumes when driving at highway speeds—though you wouldn't want to dictate notes in the environment—while the rush of wind was kept largely off of our faces. Meanwhile, the Bowers & Wilkins audio was well up to the pumping of high-speed tunage, though we generally preferred to listen to the 5.0-liter while at speed.
Steering feel and feedback was found to be a bit of a two-headed beast. In Normal mode, and at lower speeds, the effort from the tiller was light, as was the total level of feedback via the rim of the wheel. When Dynamic mode was engaged, steering feedback still wasn't off-the-charts good, but it was better. What's more, the weight of the wheel increased noticeably and positively, offering a reassuring heft at quickened pace.
The XKR-S was eager to corner, too. Fast steering inputs would loosen up the rear end without much effort, but the car was quick to settle into balance and grip again. We've no doubt that those with a penchant for drifting could smoke the hell out of the rear tires around a track, but the rubber was wide enough (285/30ZR20 tires in back), and the steering quick enough that we had more fun than fright around the tighter corners.
Over very bad roads and the occasional smooth one, the Jaguar offered well tempered ride quality that was, nevertheless, quite a bit firmer than that of the last standard XK we drove. Front and rear spring rates are higher in the XKR-S, but the active suspension does a nice job of undenting the road surface in real time as one drives. A recent drive in a
Corvette Grand Sport
over the same test roads was far more punishing than this Jag, for instance, though the extra comfort wasn't delivered at the cost of a floaty or disconnected feeling. Certainly we weren't able to discern any bad/soft behavior through the windingest of roads, try though we may.
And, though you'll undoubtedly suspect that the Jag engineers have figured this out, we can report that there were no unhappy "convertible" issues either. Nothing flexed, or shook, or rolled that wasn't supposed to, and nothing but our own dynamic limits hindered our cause of fast cornering.
All in, this is one hell of a good, fast, sexy car. It's all and more that we'd want from a high-performance Jaguar convertible. Trouble is that, this is far from an empty part of the automotive world these days—even a car as special as the XKR-S has got some serious competition.
Let's ignore for just a moment the "value" added by this limited edition Jag's preordained rarity (only 100 will come to the US in total), and consider the car's price-to-performance equation versus the some of the competitive set.
Jaguar will happily sell you an XKR-S Convertible for a base price of $138,000. For that sum you'll own the vanity stats of 550 horsepower, a 4.2-second 0-60 mph time (probably underreported, by the way), and a top-speed of 186 mph.
So, the XKR-S performance-per-dollar case slots neatly between
Audi's two R8 Spyders
, with the 5.2 V-10 going for $162,700/525 horsepower/3.7 sec/196 mph, and the 4.2 V-8 offering $127,700/430 horsepower/4.6 sec/186 mph. Likewise, the Jag falls right between two Porsche 911 droptops, the
Carrera GTS
Cabriolet ($112,900/408 horsepower/4.6 sec/190 mph) and the
Turbo
Cabriolet ($149,000, 500 horsepower/3.6 sec/194 mph). The XK is a clearly a bit of a value compared to the
Mercedes-Benz SL63 AMG
($141,315/530 horsepower/4.2 sec/155 mph), and is well behind BMW's new M6 Convertible offering ($113,100/560 horsepower/4.3 sec/155 mph), which, by this blunt calculus, is the dominant player in this stratospheric segment.
Of course, there's something about the Jaguar look, and feel, that doesn't translate completely to statistics—something that this XK droptop has in spades. So perhaps the most pertinent comparison is with Jaguar's own XKR Convertible? That stupendous-looking machine can be had for $103,500, is down on the "S" model by a mere 40 horsepower (for a total of 510), and has a cautiously estimated 0-60 mph time of 4.6 seconds. What it lacks versus its harder-core stablemate is not likely to be missed anywhere other than on the track, at least in terms of performance. And in terms of appearance, its only deficit to its brother is found in visual aggression.
And there's the truth: the XKS-R is ultimately only worthwhile to those buyers who care about $35,000 worth of sticker price like the rest of us care about $5 lattes. The brutally sexy Jag is hardly justifiable versus the XKR based on performance alone, but it is the best thing, in an absolute sense, that Jaguar makes today. If you care about the company, its history, its legacy, and really fast convertibles, this may mean enough to you to overcome the rational want of this special model.
We suggest not thinking about it too hard. If you can afford the XKR-S, and you love the silly fun of open-top driving at illegal speeds, you're a candidate for this spectacular machine. We should all be so lucky.
2012 Jaguar XKR-S Convertible
Engine: Supercharged V-8, 5.0 liters, 32v
Output: 550 hp/502 lb-ft
0-60 MPH: 4.2 sec
Top Speed: 186 mph
Weight: 4079 lb
Base Price: $138,000