Quick Drive: 2012 Land Rover Range Rover Sport Supercharged Limited Edition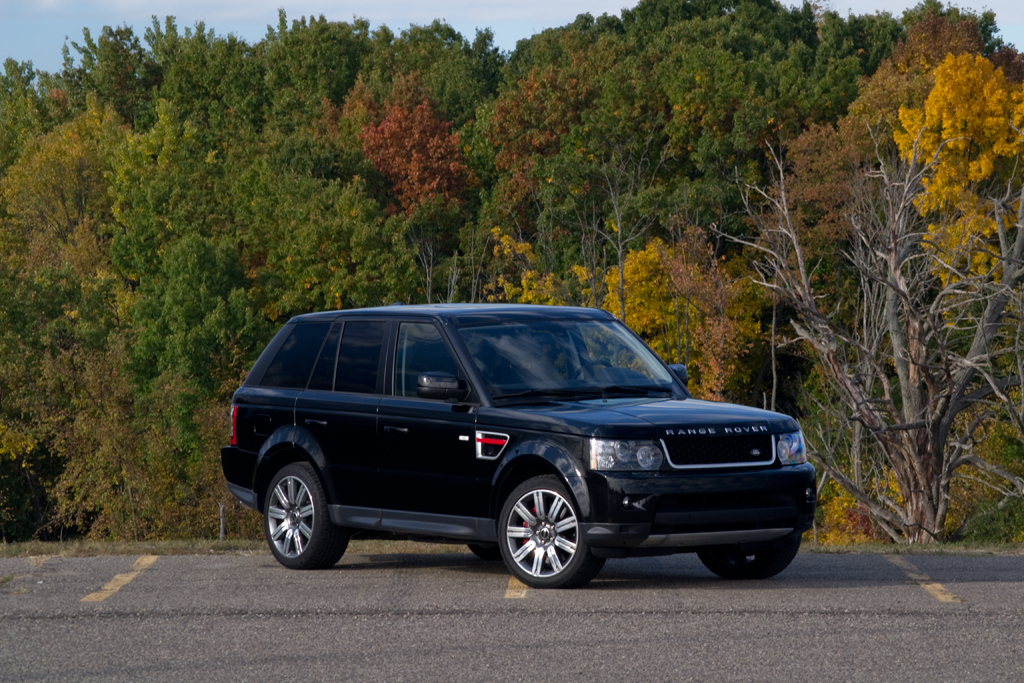 —Lake Orion, Michigan
How do you keep a model fresh? If we had an answer to that question, well, we'd probably be running a car company rather than just telling you fine folks what a certain car is like to drive. What we do know, though, is that special editions are a popular method of extending the life of a particularly old model (shame people can't do that, otherwise we'd eventually get a Brandon Turkus Limited Edition or a John Beltz Snyder Exclusive Series).
By and large, these special edition vehicles feature some cool trim or exterior treatment that sets the old model apart from other old models. Think of it as an automotive toupee. In Land Rover's case, keeping some of its models fresher than others is difficult. Over the past year or two, the Indo-British brand has come out with the frankly stunning
Range Rover Evoque
, and has just recently unveiled its
new Range Rover
. So where does that leave the middle-child Range Rover Sport, a car that's been on sale since George Bush's second term?
Well, the answer is this, the Limited Edition. Available only with the 510-horsepower, 5.0-liter supercharged V-8, the Sport Limited Edition is the Range Rover you want if standing out is important. The Limited Edition tacks on $3500 to the $75,645 base price of the Range Rover Sport Supercharged.
That $3500 premium includes unique perforated leather seats finished in contrasting leather, a full carbon-fiber trim package for the interior, black carpeted floor mats with red piping, a unique black grille, and side vents that feature a distinctive red stripe. Practical equipment includes a set of shadow chrome 20-inch wheels and a LOGIC7 audio system.
It's a reasonable level of equipment for the price, and is certainly something we'd consider were we in the market.
As for the Range Rover Sport driving experience, it's just as good as
we remember
. Jaguar/Land Rover could slot this 5.0-liter, supercharged V-8 in every vehicle it made, and we'd be happy as clams. Even in this heavy SUV, it is supremely quick. The run to 60 happens fast, but climbing from highway speeds is what's really impressive. After some harassment by an overzealous Toyota Corolla, we dipped into the skinny pedal and found ourselves clipping along well into the triple digits. When it came time to slow down, a set of Brembos brought us back to legal speeds.
There are faster SUVs out there, particularly the Mercedes-Benz ML63 AMG,
BMW X5M
, and
Porsche Cayenne Turbo
. But those turbocharged Germans do straight-line speed with much more flair and drama (arguably not a bad thing). If you just want to go fast without all the histrionics, then go with the Range Rover.
The air suspension does an excellent job of keeping cabin occupants comfortable. Even with the big 20-inch wheels, there's not much that can disturb the poise of the Sport's ride. Bumps are soaked up well, barely making their presence known in the cabin. The ride is remarkably quiet as well, with little secondary noise, which is what we'd expect on such a sporty SUV. It's just a very comfortable place to spend a drive.
Part of that is down to the interior. The jet-fighter cockpit, with the high center console and the generally narrow cabin had more than a few passengers remarking at how small this big SUV was inside (we found it quite charming and intimate). But if you're in the front seats, you're treated to soft leather and very supportive chairs. Legroom is quite good in the front, even though the pedal box is rather small. There's plenty of adjustability in the seats, though, making the process of getting comfortable an easy one.
Still, the Range Rover Sport is beginning to show its age. The navigation screen is too small by today's standards, and the plastic strip that sits below it feels flimsy and isn't befitting of an $80,000 luxury SUV. The instrument cluster hasn't transitioned to the excellent TFT display found in the full-bore Range Rover, and feels somewhat antiquated by comparison.
There's also the matter of fuel economy, which is estimated at 12 miles per gallon in the city and 17 on the highway. We generally hovered around 14 mpg, which is admittedly rather poor. Hopefully the future RRS can bump those numbers up.
Exclusivity is built-in with the Limited Edition; only 500 were made, and by this point have probably all been spoken for. Sorry folks.
If you happen to be in the market for a sporty SUV with more than a touch of luxury, then the Range Rover Sport represents a slightly quirky alternative to the Germanic trio. With its effortless power and handsome, James Bond-ish good looks, it'd make a fine way of wiling away the miles. The fact that it's unstoppable off road certainly doesn't hurt, either. Still, were it our money, we'd be waiting to see what the future holds for Land Rover's sportiest model. Hopefully we'll see a new Range Rover Sport in the next few years, one that will solve the few problems of this current model.
2012 Land Rover Range Rover Sport Supercharged Limited Edition 4X4
Engine: Supercharged V-8, 5.0 liters, 32v
Output: 510 hp/460 lb-ft
0-60 MPH: 5.9 sec
Weight: 5816 lb
Fuel Economy, City/Hwy: 12/17 mpg
Base Price: $79,145