Driven: 2012 Land Rover Range Rover Evoque Coupe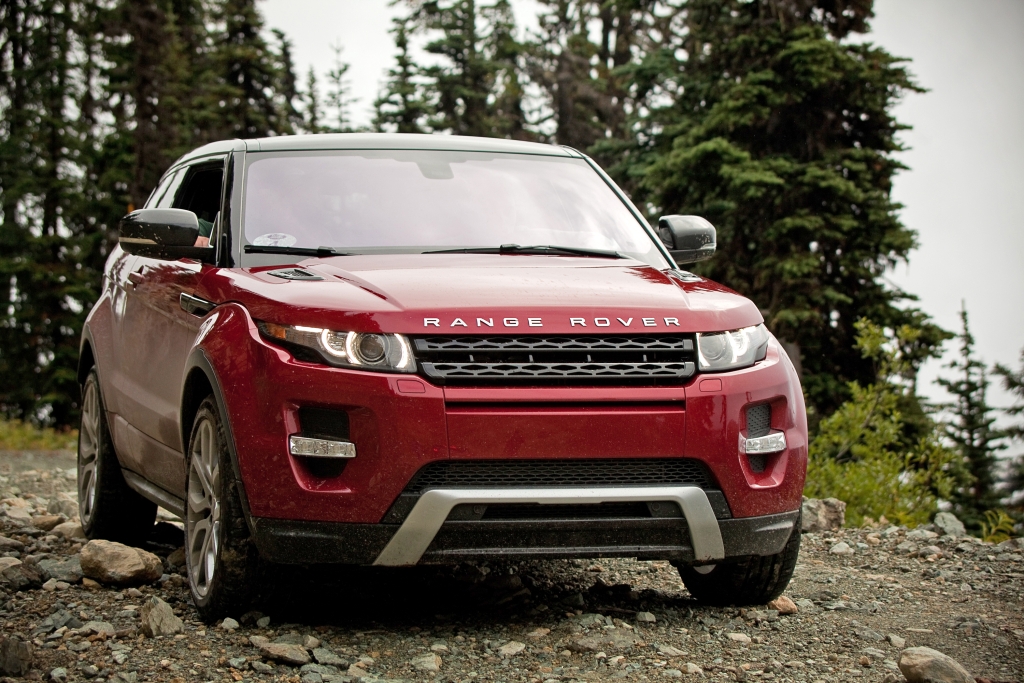 —Vancouver, British Columbia
In an ideal world, one not governed so strictly by physics and economic considerations, crossovers would truly offer the best aspects of both cars and SUVs. That means uncompromised on-road handling, good fuel efficiency, and relatively low curb weights, along with excellent off-road ability, and loads of room for people and things. To date, the best blending of these two, often opposing, vehicle types have been found in smaller CUVs, whose smaller dimensions at least help out in the lightness/fuel econ/lower center of gravity departments. True off-road prowess is almost universally eschewed in favor of above average grip in low-traction, but on-road situations—think Audi's Q5, BMW's X3, Acura's RDX, et al.
The Range Rover Evoque arrives on the scene just as beholden to the less-than-ideal real world as its premium CUV competitors, then, but also with much more of a mandate to (self-imposed, to a large extent) to have go-anywhere ability. This is, after all, a Land Rover. The British company may have just a precious few total models spread out over its roughly 60-year history, but none, as yet, has been anything less than a bulldog off-road. That's an imposing history for a crossover to live up to, let alone one as sleek and (sometimes) two-doored as the slinky Evoque Coupe.
Has any CUV yet looked this tantalizing? Way back in concept form in 2008, when it was still called the LRX, the thing had just the kind of big-wheeled, wide-stance, low-roof look to ensure that it would get its picture taken—a lot. We were, and still are a bit, blown away at just how close to the concept the production Evoque has turned out. Everything about the sheet metal makes good on the many photos we've seen of the small Range Rover, and we were hard pressed to find an angle by which the Evoque seemed ungainly. Be it as a coupe or five-door, this is an attractive vehicle. (We actually prefer the five-door, but found ourselves in the minority opinion among our fellow testers in that regard.)
You want to know something that's not sacrificed for that low, sexy roofline? Interior room. Yeah, we were pretty shocked, too. We, who have written often about cramped cabins (especially up front) in other Land Rover products, found the cockpit of the smallest Rangie to be pretty damned comfortable. (Clearly the designers have been listening.) Head and legroom for the driver are downright luxuriant, and width won't be an issue for the wider bottoms among us, either. There's far more space up front in the Evoque than can be found in, for instance, a Range Rover Sport. Five-door versions offer even more headroom, too.
Not to be out done, the back quarters of the Evoque offer far more space than expected, too. During the entirety of our test drive up the side of the jaw-dropping Blackcomb Peak, we had four adults onboard, including two guys who measured well over six-feet tall. Thusly peopled, the backseat was a tight, but not untenable place for us to spend an hour or more. Access to the rear seats is somewhat more difficult in the Evoque Coupe than in the five-door—the front seats slide forward automatically, but slowly—but that's to be expected.
What's more, in addition to actually being very spacious, the Evoque cabin feels awfully open and airy, thanks to the expansive glass roof. The panoramic glass will be standard equipment for the US market, and will more than likely do good work in closing the deal for many Land Rover salespeople. Even we, who sample many a vehicle equipped with big roof glass, were stuck by just how lovely the view from the Evoque's lid really is (no doubt some of this had to do with driving through some of the most gorgeous mountains in the world, but we digress).
It was driving through those self same mountains that we experienced what is, save for its good looks, the full-time all-wheel-drive Evoque's differentiating factor from the premium CUV herd—off-roading chops. Look down and behind the gearlever (automatic only) and you'll see buttons to activate Evoque's version of the Terrain Response system, which allows one to choose between settings for traction-negative situations like grass/gravel/snow, mud and ruts, and sand. Shifted down into first gear, and with mud and ruts selected to slow down throttle response and up grip, we had zero trouble climbing some rocky access paths that service much of Blackcomb's ski area. Steep, slippery, and strangely angled rock faces gave us little trouble, nor did loose surfaces on equally intimidating pitches, or crossing the particularly deep water bars that littered our path. In truth, the Evoque is a little beast on the trail.
The electronically controlled Haldex center differential kept power moving to the correct wheel at any given moment, and the Terrain Response programming was impressive, as we said. But hard-core ORV fans will note that with no true low range, and with it's big wheels and low ride height (though ground clearance is generous for the segment), the Evoque isn't made for truly hard-core off-roading. Which is fine. There's enough ability on offer to not dishonor the Range Rover heritage that the Evoque now becomes a part of, and far more than the mainline competitive set can boast. What's more, there's way more prowess available than, we'd guess, 99 percent of most CUV buyers are likely to use. Considering we drove the trail we did, on twenty-inch wheels shod with performance tires, we've a feeling most folks will be able to make it up their hilled driveway in the snow, with no problem.
Off of the mountain and onto the highway, and Evoque proves to be better than average dynamically, without truly setting itself apart from the crowd as a driver's tool. Our Coupe was equipped with the optional adaptive suspension, which includes MagneRide dampers. The continuously variable damping system offers a noticeable segmentation between the normal and sport-tuned ride modes, though both proved smooth and unfussed on the mostly highway drive that took us up to Whistler Village. Because the on-road driving was largely made up of, at best, gently curving mountain freeways, we weren't really able to get a true sense of the Evoque's at limit behavior, but what we did experience involved good grip, lateral stiffness, roll control, and a smooth overall ride.
We never experienced a particularly sharp response to steering inputs, nor a willingness to rotate that would have us confused with a sports car. Feedback from the steering wheel and suspension was pretty minimal, too. We did quite enjoy the weight of the steering rack, and the flatness with which we were able to take the very few fast corners we encountered, but our opinion will no doubt be more fully informed after our first in-office loan of the car. Our gut feeling is that this is a very composed, but pretty uncommunicative driver—not bad in this class though.
Similar "not bad" sentiments can be applied to the powertrain, whose best qualities are low consumption figures (28 miles per gallon on the highway is super competitive here), and great specific output figures thanks to turbocharging. With a competitive set that mostly utilizes six-cylinders in some layout (at least for now), the Evoque's 2.0-liter turbocharged motor and six-speed gearbox do nothing to make us think we're missing out. No one will confuse this car as being especially fast, but neither with it ever be dubbed underpowered. Turbo torque gets the driver up to highway speeds-plus with no drama, and very little lag. Play with the steering wheel-mounted paddle shifters and you can definitely keep the motor boiling and have a bit of fun, though the quiet overall in-cabin profile doesn't really let the exhaust note play along.
In short then, the Evoque is every bit as good as any other premium crossover we've driven, but with much more ability to drive in difficult off-road situations. An impressive position, to be sure. The problem, if we look for it, is twofold. For one, the ORV ability doesn't come for free—Evoque's lowest starting price (which is for the five-door) of $43,995 makes it dearer than everything in its segment. That's counting even the bigger-engine versions of the X3 and the Q5, too.
The second issue is that, should you opt into the Evoque, you're paying for ability that you might not ever use. Certainly, if you fancy a crossover, and you've got a lot of difficult driving to do on a regular basis, this is a car that will suit your needs perfectly. If, however, you really just want some peace of mind from your vehicle when the snow flies, the rain pours, or the asphalt turns to gravel, you'll probably be just fine with any AWD offering in the segment.
We think that, price be damned, there are a lot of buyers who'll like the smell of what this Range Rover is cooking. Let's face it, it's hot sheet metal alone will move quite a few units (to say nothing of it's plush cabin—maybe best of breed for Land Rover to date). And we do appreciate a company that stands behind it's core values enough to build a product like this; one that costs a bit more in return for capability that fully backs up our expectations of the brand. You'll have to pay for it, but this just may be the least compromised crossover you can have.
VS: Audi Q5
In the segment, the Q5 is the vehicle that probably comes closest to the Evoque in terms of sheer good looks, but it's still the runner up. As we pointed out, the value here is better, especially if you're looking at Audi's 2.0T Q5, but you'll lose out in terms of off-roading. We like the Range Rover's cabin and stereo system better, too, which is saying something.
VS: BMW X3
Take your pick from either the X3 xDrive28i or the 35i; either one is faster and more of an on-road performer than the Evoque. Strangely though, the Range Rover manages to have a roomier feeling cabin, despite it's smaller exterior proportions. Close enough in on-road dynamics, overall, that we'd like to do a proper comparison test, though.
2012 Land Rover Range Rover Evoque
Engine: Turbocharged inline-4, 2.0 liters, 16v
Output: 240 hp/251 lb-ft
0-60 MPH: 7.1 sec
Top Speed: 135 mph
Fuel Economy, City/Hwy: 18/28 mpg
Base Price: $52,895
On Sale: Now