Quick Drive: 2012 BMW 335i Sport Line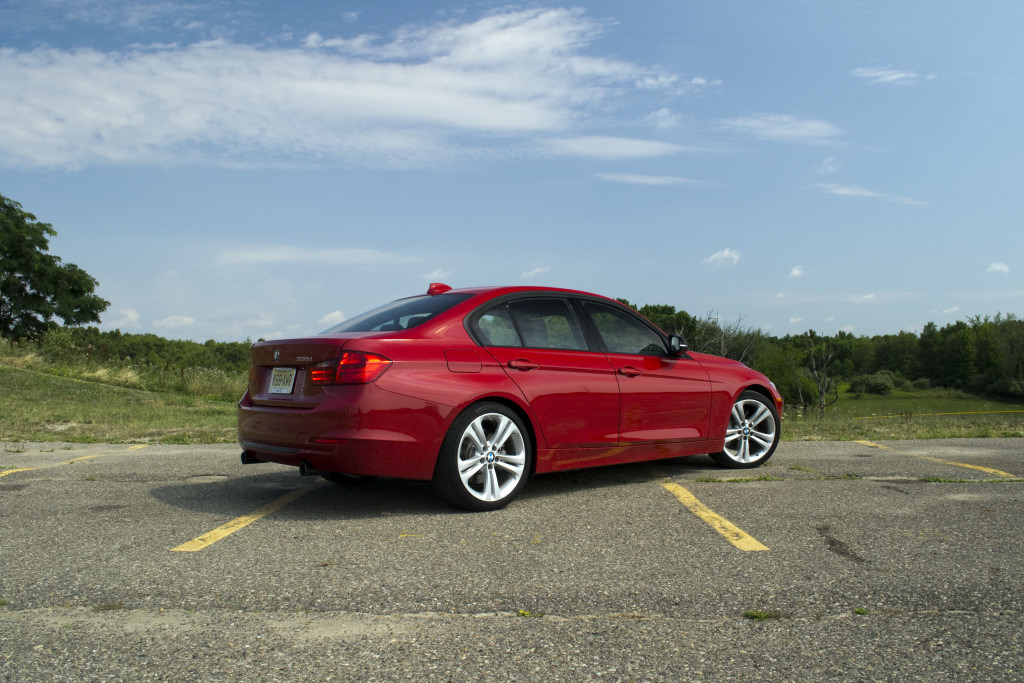 —Lake Orion, Michigan
If you want a small, sporty BMW sedan, this is your only option (at least until
the next M3 sedan arrives
, or if you can live with
the very-good-but-not-overwhelmingly-fast 328i
). Of course, all things considered, this isn't a big deal. The stats for the
335i
are, for the most part, identical to the past several years: a 3.0-liter, turbocharged six-cylinder sends 300 horsepower and 300 pound-feet of torque to the rear wheels by way of a six speed manual transmission (standard).
Not surprisingly, the result of this tried-and-true formula was a very good sports sedan. Adding to this recipe for 2013 is BMW's new Sport Line trim. One of three new pre-packaged trims, the Sport Line added nineteen-inch wheels, an adaptive M suspension, a special Sport+ mode for the Driving Dynamics Control, sport seats, a special leather-wrapped steering wheel, and the regular bevy of trim tweaks (high-gloss black trim outside, and brushed aluminum inside).
The familiar BMW turbocharged six-cylinder delivered an abundant amount of power, easily catapulting the 335i forward. Acceleration was strong throughout the rev range, and the quick-spooling nature of the twin-scroll turbo meant that lag was virtually nonexistent. Planting our foot in any gear at nearly any speed resulted in us scooting forward on a pleasant surge of torque.
Aiding the whole venture was an extremely user-friendly six-speed manual. It feels more refined than the six-cog stick from the last-generation 335i, with less notchiness in each gate. The clutch uptake was smooth and progressive, with a predictable catchpoint. While the power may be difficult to get used to, we'd have no qualms about teaching someone to drive a manual transmission in this vehicle.
The steering can be looked at in two different ways. On the one hand, there was that delightful weight that BMW programs into its tillers. It made the car feel substantial, and gave us the sense that the wheel we were turning actually had something connected at the end of it. On the other hand, there wasn't a lot of feedback coming from the leather-wrapped wheel. BMWs often force drivers to rely on seat-of-the-pants feedback, and this 335i was no different.
Speaking of that seat-of-the-pants feedback, there was a lot of it to interpret in this car. The supportive, well-bolstered sport seats ensured we maintained plenty of contact and could soak up every ounce of communication from the chassis.
Part of what's responsible for all that feedback was the excellent M suspension that's been fitted to the Sport Line trim. It could rapidly adjust to changing situations, and was managed by the mode of the Drive Dynamics Control. In Comfort, it mitigated bumps while avoiding the overly floaty feeling that accompanies some Comfort modes from other manufacturers. In Sport and Sport+, it firmed things up, and really improved the amount of feedback through the chassis. Roll was progressive and predictable, with just enough to inform the driver of lateral grip levels. Squat and dive were kept to a minimum as well, giving the 335i a very neutral, balanced feel front to back.
For fuel sipping, BMW's excellent start-stop system and the Eco Pro mode were there for us. We've seen start/stop on plenty of vehicles before, but what surprised us about its behavior in the BMW as just how invisible it was. There was little in the way of shuttering or drama on start up and shut down. The Eco Pro mode (part of the Drive Dynamics Control) delivered an impressive amount of information on just how economical our driving was, going so far as to show a figure illustrating how many extra miles we'd earned in the instrument cluster. During our week of testing, we netted a respectable 24.2 miles per gallon. Considering that the 335i is rated for 20 mpg in the city and 30 mpg on the highway, and that we have quite the lead foot, our economy seemed rather respectable.
BMW has built another winner with this latest version of its legendary 3-Series, delivering an excellent blend of the driving dynamics and luxury we expect, along with a couple new items that make for an engaging gas-saver.
2012 BMW 335i Sport Line
Engine: Turbocharged inline-6, 3.0 liters, 24v
Output: 300 hp/300 lb-ft
Weight: 3545 lb
Fuel Economy, City/Hwy: 20/30 mpg
0-60 MPH: 5.4 sec
Base Price: $42,400