Driven: 2012 BMW 328i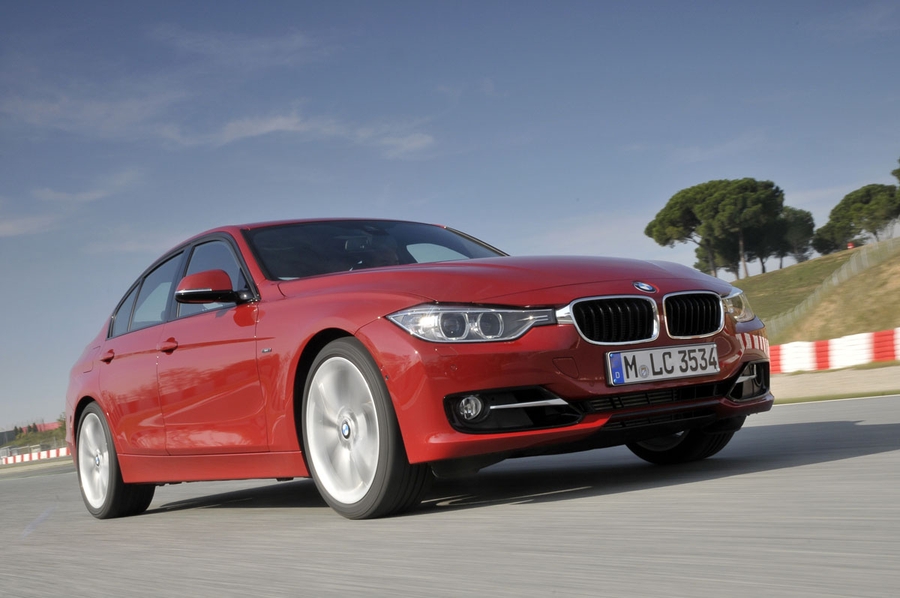 —Barcelona, Spain
There's no getting around it; it's awfully hard to build the next generation of an iconic car. For drivers of sporting sedans, few models hold as much allure, on a fundamental level, as BMW's 3-Series—the car that pretty much invented the sports sedan genre. Conversely, with a reputation so thoroughly well earned by its predecessors, and with legions of fans and former 3-Series drivers caught up in the greatness of models past, few cars have as much to live up to as this sixth-generation "F30" car. Constant excellence has its price; a lesson BMW knows very well.
One could reasonably argue that the base model 328i has got an even tougher row to hoe, too, compared to its more powerful 335i stablemate. The 28i car not only has to deal with the strange penalty associated with new versions of familiar things—car enthusiasts especially seem to dote on models past, while tearing down present offerings—but it must also carry a burden of omission. Gone is the much loved, and supremely characterful 3.0-liter inline-six motor of Bimmer lore, replaced by a turbocharged four-cylinder that, while effective enough on paper, doesn't promise the magic of high revs and song that we loved to wring out of the outgoing mill.
As we set out upon the high-speed autoways and breathtaking back roads that made up our lengthy tour around Catalonia, our fears about the new 2.0-liter turbo not being up to snuff were quickly set aside. As we found when
we first sampled this motor in the new Z4
, the new 28i engine is both completely unlike its naturally aspirated forbearer, and perfectly suited to carry on in its place. The total sonic package, engine note and exhaust, doesn't climb to upper octaves like the old six, but rather bursts forward with a low, mean growl that lacks for neither volume (a pleasant surprise), nor aggressive demeanor. In fact, the one thing that this new engine does have in common with the old one, is that it will make you want to drive your 328i harder and harder as the speed ramps up and the song gets louder.
So, the new engine sounds good. Better yet, it packs a serious punch and makes owning the most modest 3er a faster-than-ever proposition. In 328i trim, the new 2.0T makes 240 horsepower and a stout 260 pound-feet of torque. Those figures represent a gain of 10 horsepower, and a phenomenal 60 more pound-feet. Fed by a single, twin-scroll turbocharger (TwinPower Turbo in BMW-speak), all that twist is available across a broad swath of revs, too. Neither road nor track work in the car found us bothered with any bit of turbo lag. (The broad, flat torque curve did make us less inclined to rev the hell out of the motor on the racetrack, but it also allowed us to access power quickly and efficiently when coming out of a corner.)
Cars equipped with the new eight-speed automatic transmission (all we drove were thusly spec'd) carry a BMW-vetted 0-60 time of 5.9-seconds, which is a full second faster than the outgoing 328. The seats of our pants told us that low-speed acceleration certainly felt more brutal than we'd become used to with the last car, though certainly not so face-deforming as is experienced in the 335i.
Sad as we were to miss out on the six-speed manual experience, especially given the amazing Spanish roads we had to play with, it was hard to find fault with BMW's fancy new 8AT. The ratios felt well spaced and well suited to both back-road and highway driving, with seamless transitions between gears in full auto mode, and reasonably quick shifts when we paddle-shifted for ourselves.
The eight-speed is also, of course, a critical component in the company's multi-headed approach to significantly improving fuel economy in this generation. We don't have any EPA fuel economy figures to report (and BMW wasn't about to estimate for us), but with standard stop/start technology, brake energy regeneration, a new Eco Pro mode (cuts back on power to accessories, and dampens throttle response until you floor it), better aero, and a lower curb weight, expect to see consumption drop meaningfully. Of those fuel-saving technologies, only the Eco Pro mode bummed us out to use—pedal feel simply gets really mushy and non-linear—but it's easy enough to switch off, and plenty of 328i buyers will appreciate being able to save gas when they choose to do so.
The powertrain is more than up to snuff, then, but love for the 3-Series has always depended far more on the car's historic handling prowess than for its engine. The good news here is that, despite being a larger car than ever before (though lighter, as we mentioned), this 328i gives no ground in terms of handling joy. Well, basically no ground, anyway.
BMW was good enough to secure the Circuit de Catalunya for us to test out its new bread-and-butter sedan. The Spanish circuit is a Formula 1 mainstay, and proved well suited to finding the dynamic limits of the BMW. The whole of the circuit, save the long start/finish straight, was ours to play with.
We started our track experience with both traction control and stability control activated. With all the nannies on high alert, the car was, predictably, prone to understeer in when all but full grip was available to the tires, and was therefore a lot more wooden when piloted in and out of the corners. The good news is that the body structure still exhibited a great deal of rigidity when moving through a hard corner, and there was no kind of sponginess or wobbling in evidence from the suspension, either.
As our confidence with the racetrack increased (something that didn't take long, as Catalunya is massively wide in most places, with tons of runoff room) we switched off the electronic aids to glorious effect. When left to its own devices, the 328i proved to be a truly fluid-handing, easy-to-control machine, that was a riot even in the challenging motorsports venue. The suspension telegraphed plenty of information about balance and grip through the bottom of the vehicle, and we had little trouble inducing, and controlling, a bit of lift-off oversteer when we were so inclined. Just really good, basically neutral, rear-drive handling characteristics that are totally inline with what we expect from this model.
Every bit of good behavior found on the track was carried over to the road drive, too. What's more, the positive filtering of bad/broken road surfaces, without compromising at-limit handing, became evident as we traveled through Spain, as well. Don't expect to sacrifice much ride comfort at the expense of athletic ability, if you're considering a 3-Series purchase.
On the downside, we found the steering experience largely lacking in flavor for something styled as the Ultimate Driving Machine. There is a vagueness and a wooly quality to the steering rack, that undermines all the information being given through the underpinnings, and doesn't do a good job of completing the otherwise brilliant sports sedan package. It's fair to say that we noticed the uncommunicative steering more at track speeds than on regular roads—where we are generally less concerned with missing an apex and/or hitting a pylon—but there was never a high level of feedback on offer. The tiller here was a lot like what we've come to know well in the current 5-Series, though not nearly as light or wobbly as is found in the 5-Series GT, and is a strange bit of work for a company that generally works to enthrall enthusiast drivers.
Quibbles with steering mentioned, we have to say that most of the rest of what's new about the 328 is stuff that we like. We drove mostly high-spec cars, with leather surfaces and bushel-baskets full of advanced technology. The interior treatment is well-executed and feels rich, even in the colorways that we'd don't personally care for (just give us all black, thanks), with soft touch points, real cup holders (the flimsy pop-out items of the old car have been banished), cool new accent metal and wood finishes, and seats that support, cradle, and generally pamper the driver. Oh yeah, the backseat area, long a bitched-about portion of the 3-Series world, is decidedly more accommodating now, thanks to the bump in wheelbase.
The newest iteration of BMW's heads-up display is beautifully colored and great to use; certainly it helped us navigate the highway system of a foreign country with remarkable ease. The once-dreaded iDrive system has become one of our favorite such infotainment controllers on the market, as it combines deep, comprehensive system access with an interface that is simple to grasp.
Perhaps one of the most unheralded (before now, anyway) points of luxury for the new 3-Series, is BMW's stop-your-worrying Ultimate Service plan. The plan offers, of course, a new vehicle warranty (4 years/50,000 miles), but the service that you receive as part of the purchase of the car, goes above and beyond. BMW's safety/assist plan will allow your 328i to call the garage when it knows it needs service; roadside assistance is 365/24 and unlimited for the first 4 years of ownership; the comprehensive maintenance program covers BMW-recommended maintenance, and a large host of consumable items (brake pads/discs, wiper blades, drive belts, and more). Drivers like to drive, we find, not worry about calling the tow truck.
As is our wont, we'll mostly leave you alone to figure out if you like the new, evolutionary styling of this F30, or not. We will comment that the sharper nose seemed like the biggest, most obvious difference from the outgoing car, and proved more beautiful to our eyes in real life than it seemed when we looked at pictures. The headlights and lower valence, especially, seemed kind of technical, and cool, and German in a positive way.
As ever with much-hyped, much-discussed, and much-loved models, this new 328i will have its share of irrational detractors, and ardent devotees, right from the start. We think that it's a capable, luxurious, quick, good-looking machine that speaks to its heritage while embracing the fast-moving future. BMW should be as proud of this F30 as it is of its long-standing tradition of excellent sports sedans. We quite enjoyed driving the 328i in Spain, and see it as a fantastic base with which to build the even more compelling 3-Series line of the near future.
VS: Mercedes-Benz C250
In terms of power and pace, the new 328i has got it all over the equally fresh 1.8-liter, turbocharged four-cylinder power of the C250. Sport-hunting drivers should probably stop the comparison right now, and get down to see about a Bimmer. The C-Class does have a bit of Euro gravitas that the edgier 3-Series can't manage, though. Still, all but M-B loyalists will probably prefer what BMW has to offer here.
VS: Audi A4 2.0T Quattro
Both have 2.0-liter turbo motors. Both have eight-speed automatic transmissions. Both cars are neck-and-neck in terms of size and weight, though the BMW has more horsepower and torque to propel it down the road. Audi's A4 counters with all-wheel drive, and better all-weather ability, at a comparable price (a few hundred bucks cheaper) to the rear-drive 328i. This comparison, by design, is almost too close to call, unless you feel strongly about the number of driven wheels your sedan can command.
2012 BMW 328i 8AT
Engine: Turbocharged inline-4, 2.0 liters, 16v
Output: 240 hp/260 lb-ft
0-60 MPH: 5.9 sec
Weight: 3461 lb
Base Price: $35,795
On Sale: February 2012