Driven: 2012 BMW 335i Sedan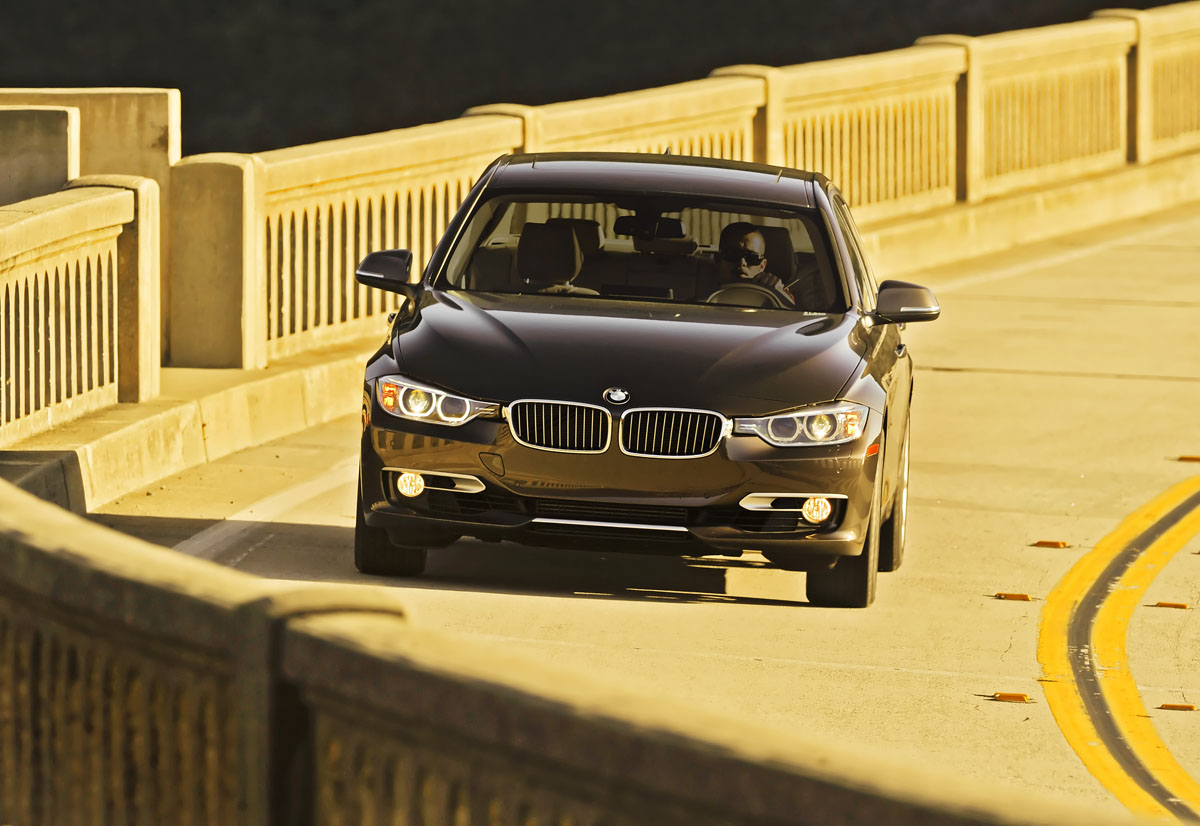 —Monterey, California
"Yes" and "no." Those are the two answers to the basic questions about the new F30 generation of the BMW 335i Sedan (the coupe is at least another year away). We have no intention of playing Jeopardy with you, so we'll supply the questions to go along with our carefully considered, and may we say poetically efficient, answers.
But first we want to point out that the BMW 3-Series is one of the three toughest cars to review on the planet, the others being the Porsche 911 and whatever Marenello decides to call its latest V-8 powered, mid-engine Ferrari (i.e. 308, 328, 348, 355, 360, F430, 458). The challenge in all three review scenarios is the massive amount of baggage/beliefs/experiences/memes/wishes that come along with each car because of its long-term iconic position in the car world. It is a challenge for both reviewer and reader to wipe the slate clean and just look at "what is" and forget about all that other stuff.
If you are approaching the 335i fresh from preconceptions, we think the first question you'll want to ask goes something like, "Is the 335i a very good car?" Note that if you brought your mental baggage along, you wouldn't be asking this question because you already know that the answer is "yes." And, in truth the answer is, indeed, "yes," the BMW 335i is, once again, a very good car, though perhaps it is worth understanding why.
For enthusiasts, one explanation comes very early in our testing. We're flying through Turn Nine at Laguna Seca, and the 335i is impressive. Turn Nine comes right after the famous Corkscrew and is a fast left-hander. When you're first getting used to a car, the toughest situations are these fast corners where you need to carry fairly high speed, but if you get it wrong you may end up in deep, shall we say, yogurt. The beauty of the 335i is that the chassis is so nicely balanced that the car is very progressive and you sense quite quickly that the car can be placed on the track accurately and then modulated with relative ease. It is a wonderful thing to have this composure and control and level of communication. This is not a new element of the 3-Series package, of course, and in fact we've been driving an
E30 M3 (from 1988)
recently, and it had some of the same qualities. But the fact that this on-limit behavior continues to be a BMW specialty shouldn't take away from the fact that it is a very good, and rather rare, thing.
The engine, which carries over from the E90 version of the car, remains a sweetheart. Torque is solid from low in the rev range and there is ample top end oomph. The car is heavy enough that the 300 horsepower here never feels scary fast, but it can certainly get out of its own way. BMW continues, saints be praised, to offer both manual and automatic transmissions with this engine (and with the 328i). We will say that the automatic, with its very nice paddles, works quite well on the track, an observation independently seconded by Bill Auberlen, a factory BMW race driver who was on hand to share insights with us. And while the manual will probably be your choice for entertainment in suburban driving, if conditions demand an automatic, this one is quite good when operated from the console as well as from the wheel.
The other basic element of 3-Series goodness that is in evidence is the luxurious composure of the car when running around town or driving on twisty highways. The suspension is relatively soft, by sports sedan standards, and the ride quality on broken pavement is a nice mix of isolated without being remote. You clearly know when you hit a bump, but it is smoothed out enough to make it a non-event. We drove both the standard- and sport-suspended cars, and we would actually suggest that the sport version has a better ride. That's a matter of primary ride quality (behavior over big swales and dips), where we thought the standard car had a little too much vertical motion to ensure that our lunches stayed completely still. But buyers living in the pothole-infested north might well vote the other way, preferring the standard suspension, because the sport suspension makes a slightly bigger issue of pavement edges.
The 335i sedan is also quiet enough. There are quieter cars, certainly, but the mild sounds that come into the cabin from the road or the engine bay are never intrusive and would hardly get in the way of conversation or listening to the quite competent stereo.
To go along with these ride and acoustic considerations, BMW has issued seats that are similar to past offerings, which is to say quite comfy. BMW doesn't hew to the hard surfaces that Audi insists upon, and yet manages to deliver a firm and supportive foundation for the 3er. We spent hours at a stretch in the car with nary a sore spot to be found on our trim backsides. Seats are important, but one also wants a good driving position (check) and a spacious rear compartment. The latter is newly expanded and finally gets the 3-Series past the, "Oh, well, it is a small car after all" excuse. BMW claims the rear area is as large as the 5-Series from the early 2000s (E39) but we'd say it feels at least as big as the last-gen 5er (E60). Folks around six-feet or so should be happy in the rear, even over long distances. The only issue will be the softness of the suspension under a high load (again, sport suspension to the rescue).
Also on the list of good stuff that BMW has brought to the table, the 3-Series can be had with a host of fancy comfort and convenience features. You have, perhaps, come to expect this, though the German OEMs have often been a bit stingy with the lux options on their entry models. With the Asians and Americans spreading microprocessors willy-nilly throughout the cabin, BMW has had to trickle down the gizmos.
The list of such things is long, but we should mention a few standouts. The 3-Series can now be had with a color heads-up display. This does a nice job of presenting information closer to your eye's natural focusing point while looking down the road. BMW is also trying hard to bridge the app world of the smartphone with the car. This isn't as easy as it might sound, because the user interface in a car is different (more touch, less visual). In any event, BMW offers a range of apps that integrate with iPhones, and probably will offer Android versions in the near future. This means that the application set of your car can be upgraded over its lifetime, something that really has never been true before.
The F30 335i offers many options that are becoming mundane, but may be important to the prospective buyer. Among these are a full set of safety capabilities, including traction control, stability control and front and rear airbags. Beyond that, the 335i has Automatic Collision Notification system from BMW ConnectedDrive that allows emergency services responders to receive detailed information on the type of collision and the likelihood of trauma level injuries before arriving at the scene of the accident. It also offers standard xenon headlights with adaptive light control to aim the headlights in the direction the car is turning.
For convenience, the 335i offers a rear-view camera, park distance control, lane departure warning, blind spot detection, and side-view and top-view cameras. Of course, navigation, Bluetooth, keyless entry, auto dimming mirrors, and real time traffic information are available. As a reminder, this is a BMW, so these items are not free.
Such options are becoming the norm, as is improved fuel economy. That, however, shouldn't diminish your appreciation of BMW's effort on fuel economy. If anything represents the engineering focus of the F30 cars, it is the series of small steps the company has taken toward better efficiency.
The starting point is a turbocharged, direct-injected engine. The familiar N55 3.0-liter six (300 horsepower, 300 pound-feet of torque) is coupled to a new eight-speed automatic transmission, which allows the car to run in an efficient rev range more of the time. BMW has trimmed weight from the basic chassis, so that with all the added features, the new 335i weighs about what the outgoing car did (3571 pounds for the new versus 3607 for the old). To top it off, BMW offers a stop/start system (so you aren't burning as much fuel in stop-and-go traffic). We found this system mildly annoying, but we think we'd adjust after about a week in Los Angeles or New York traffic.
BMW also offers an EcoPro mode. By switch selection from the console, EcoPro dials back the throttle response of the car, essentially enforcing a smoother driving pattern. We didn't hate EcoPro, but honestly, we'd have a hard time using it except on long, boring drives. When you add all of this gizmology up, the 335i should deliver about 23 miles per gallon city, 33 mpg highway, and 26 mpg combined in the EPA cycle. Considering the luxury and performance features on tap here, that is pretty good.
While on the topic of efficiency, a comment is in order about the
F30 328i sedan that we tested earlier
. That car offers a turbo four-cylinder engine with 240 horsepower that we think is more than adequate for many drivers. It doesn't feel underpowered, it handles a smidge better than the 335i, and it delivers 2 to 3 mpg more, with the possibility of edging over 30 mpg combined if you are very careful. And if it isn't good enough, BMW will offer a hybrid 3-Series later in the year.
Now we get to the second basic question we think some 3-Series prospective buyers will be asking: "Is the new F30 Series a special and distinctive car that stands out from the pack and justifies its somewhat lofty price?" And this is where we have to answer, "No."
As we hope you have seen, the 335i is a very good car. But, honestly, we weren't sure we could have distinguished the F30 335i from the outgoing E90 if there were a way to drive them with blindfolds on. BMW, perhaps unsurprisingly, didn't have E90s on hand to allow the open-eyed version of this test. And, technology being what it is, we're pretty sure various tweaks would allow the cars to be distinguished.
What we're saying is that, qualitatively, the F30 isn't a big step forward. The old car drove well and so does the new one. The old car only stepped over the line into the inspired realm when in 335is form or as an M3. The new base car, even in sport form, doesn't join those two cars, and we'll have to wait and see if similar new M versions make that same step.
BMW's problem of course is that the 3-Series is a volume car, and enthusiasts represent a tiny fraction of buyers. BMW, thankfully, makes variants (or will make variants) for this audience. The first of these is the upcoming M Sport package, which includes a lowered M Sport suspension, featuring a 10-millimeter (0.4-inch) drop in ride height, firmer suspension and damping, and larger anti-roll bars. Also featured are eighteen- or nineteen-inch M alloy wheels. The package comes with an attractive M aerodynamics kit featuring special body parts, chrome tailpipes, and exclusive exterior paintwork and interior trim to match.
The other way in which BMW has tried to make the new 3-Series feel special is via design. BMW has moved away from an à la carte approach to a design based on themes. Four themes are available: base, Luxury, Modern, and Sport. Each of these has distinctive materials and colors on the interior, and also involves changes to some exterior parts, especially the front splitter and rear valance. We like this concept because it allows a wider range of design choices, though we can easily imagine some customers being frustrated by wanting some elements from different themes to be mixed. That is life with mass production, of course.
Beauty is in the eye of the beholder, but we will say that after a few days of looking at the new exterior and interior designs, we came away with the feeling that BMW was rather conservative in its approach. The new car doesn't look significantly different from the old car, and where it is different it seems to be for the sake of difference, not for the sake of improvement.
None of this should detract from your view of the basic excellence on offer here. The 3-Series was a very good car, with almost no significant flaws, and it still is. Now it is a more efficient good car. Now it is a good car with more features. And, BMW being BMW, it will eventually be offered in a form that makes it a special driver's car.
2012 BMW 335i Sedan
Engine: Turbocharged inline-6, 3.0 liters, 24v
Output: 300 hp/300 lb-ft
0-60 MPH: 5.4 sec
Weight: 3571 lb
Fuel Economy, City/Hwy: 23/33 mpg
Base Price: $42,400