Quick Drive: 2011 Honda Insight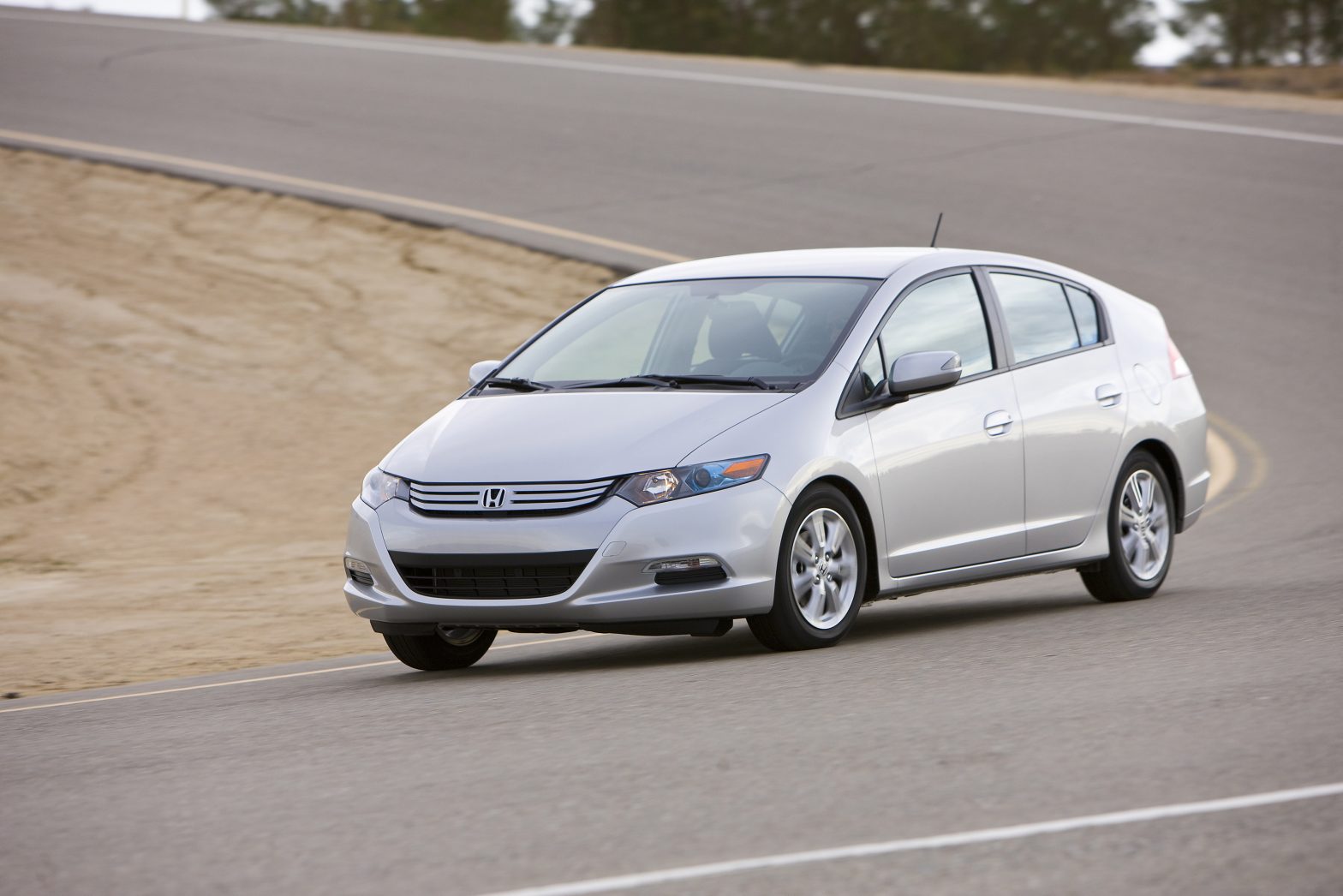 I could sit here all day and bash the Honda Insight, but frankly, it would be a bit too easy. So instead, I'm going to offer some suggestions on ways to make the Insight better. Deep down, I know Honda can build a hybrid that could get the fuel economy of the Toyota Prius, while delivering a better driving experience. Here's how.
1. Cut the weight. Honda used to be renowned for lightweight offerings. Not only would a lighter Insight deliver better fuel economy, but the handling and acceleration would see serious improvements as well. Cutting weight by using things like aluminum would be expensive, but considering that the Insight already has a several-thousand-dollar price advantage on the Prius, it seems doable.
2. Make it more like the CR-Z. The Insight should, for all intents and purposes, be a five-door CR-Z. That means give it styling similar to the CR-Z, give it a manual transmission, and give it the three-door's butt-on-the-floor seating position.
3. Give it more power. Along with number one, adding power is a surefire way to improve the driving experience. And with the reduction in weight, the Insight could add power with only a negligible drop in fuel economy.
4. A push-to-pass button. We saw it on the Jaguar C-X16 Concept, but I can't imagine it would be horribly difficult to implement on the Insight. Give us a button that essentially drains the battery but gives us a temporary boost in power.
5. Stop trying to be a Prius. Honda has an amazing racing and performance heritage, and that needs to be expressed in the marketing and design of the Insight. Don't try to be the Prius fighter; it hasn't worked.
Yes, some of the things on this list might be difficult to accomplish, but Honda has a car that can really be something. By giving it a healthy dose of sportiness, some innovation, and a new approach to the hybrid market, Honda can build the hybrid I know they are capable of.
—Brandon Turkus, Test Fleet Manager
I don't know if I can be as nice as Brandon. I'd rather drive a Civic Hybrid. I'd rather drive a Toyota Prius. I'd rather drive, well, anything else I've ever driven than the Honda Insight. It's noisy, thanks to a buzzy motor paired with a CVT. Its handling is very unresponsive, and getting it to do precisely what you want is a bit maddening. It's slow. The interior feels cheap. Rear visibility if terrible. I could go on.
The thing is, the Insight is not bad in concept. I'd love to drive an affordable hybrid from the maker of some of my favorite compact cars. The Insight just lacks and of the good qualities that endear me to other Hondas. I think Brandon is right: if they made it more like the CR-Z, just a little bigger, it could be exactly the sort of thing that a frugal, conscientious driver could really enjoy. It already has the useful, 60/40-folding second row and a hatchback. If it just had better steering and a manual transmission, it would make an enormous difference in the actual quality of this vehicle, while a design tweak here or there to the cockpit could really enhance the perceived quality.
If a few thousand dollars and respectable fuel economy are your only concerns for your hatchback, more power to you; you'll be hard-pressed to find anything else that will meet your criteria. I'll pass for now, and keep rooting for the Insight in the meantime.
—John Beltz Snyder, Production Editor