Driven: 2012 Hyundai Veloster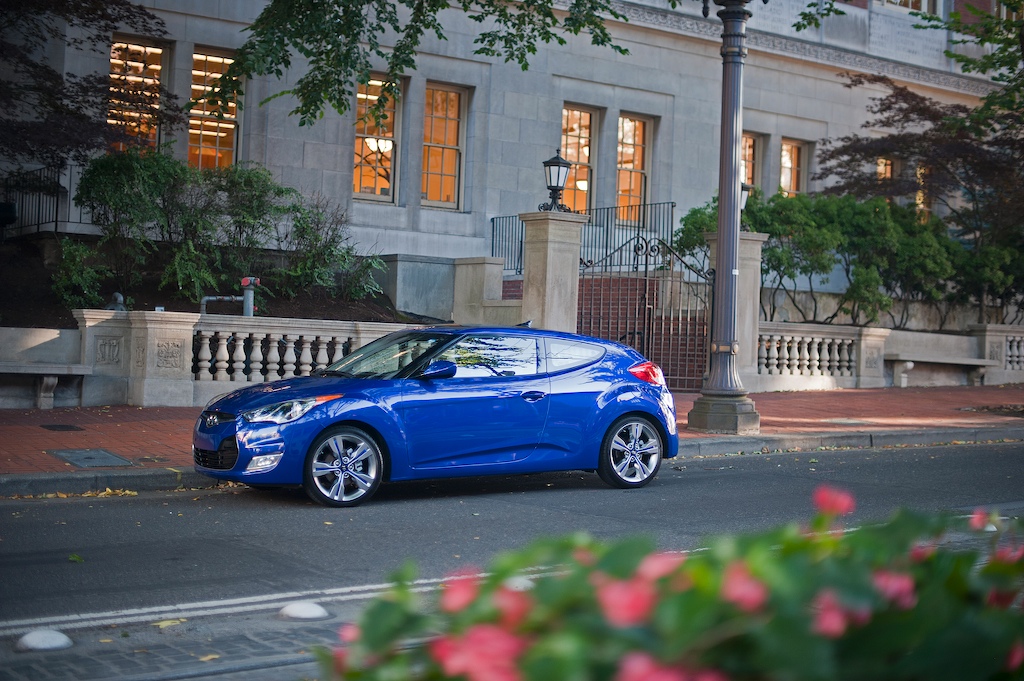 —Portland Oregon
Hyundai can do popular styling—this we know. If we're judging by word on the street, the response of our readership, and our own personal tastes, we can say with some level of confidence that recent Hyundai newbies like the Sonata and Elantra are widely viewed as attractive cars. Even the slightly less well received Genesis Sedan was only really faulted for being anonymous, which is hardly the kiss of death for sales among conservative buyers.
What corporate stylists at the Korean automaker haven't been able to pull off, is anything that is particularly edgy. Not since the quite
polarizing
Tiburon have designers given us much to argue passionately about; be it for good or for bad.
The 2012 Veloster could change all of that. If there's one thing that we can say definitively about the car, after driving it for long stretches of two consecutive days in and around Portland, Oregon, it is that this is a car that gets noticed. Our eyes may see the Hyundai three-door as great from some angles and wonky from others, but the public seemed to go just mad for the thing wherever they spotted it. We had our pictures taken by the camera phones of twenty-somethings, got hollered at by little kids and hipsters, and even worked as ad hoc salesmen for a couple of retirees who were interested in replacing their Acura Legend. (We were ready to close the sale, too, but company PR were real wet blankets about the idea.) The Veloster does not go unmissed.
And that's a good thing, because if people are following their eyeballs all the way into the Hyundai showroom, we think they'll find a car that has a lot going for it beyond curb appeal.
We'll start with the 1.6-liter four-cylinder gasoline direct injection (GDI) engine—as seen in the 2012 Accent. On the positive side for this powertrain, Hyundai was rightfully proud to announce Veloster as its fourth entry in the 40-miles-per-gallon (highway) club. The Korean company is making a major push to cement its reputation as a maker of highly fuel-efficient vehicles, with Veloster being no exception. The new car even stacks up impressively versus some of its main frugal/fun competition, like Honda's CR-Z (37 mpg for the manual) and Fiat's 500 (38 mpg).
Actually, we need to take a pause here to talk about those mpgs. Hyundai pops that "40 mpg" bullet point up there with gusto, but it's only half of the EPA rating, right? Veloster is rated for just 28 mpg in the city and 32 mpg combined, all for the six-speed manual car—not bad. But not as good as some. CR-Z works out to 31/37/34 mpg, 500 Sport to 30/38/33 for city/highway/combined economy. So, unless your driving mix is tilted radically in favor of highway patrol, the Veloster is just a bit less frugal than its mainline competition. Realistically, and in terms of actual dollars per gallon, all three cars are very close. (Before you ask, the DCT-equipped Veloster is not quite as good as the 6MT car (38 versus 40 mpg highway.)
Fuel economy is a positive story then, and we will go ahead and say that that positivity carries over to the driving experience of the powertrain, too. Output for Veloster's four remains stable relative to Accent at 138 horsepower and 123 pound-feet of torque. That's enough to make the car feel peppy, if nowhere near fast. Keep your gear until the top end of the rev range and you'll be rewarded with a very linear deployment of power, but don't expect to be shoved back in your seat at any point. Hyundai won't confirm or deny, but we expect to see some kind of turbo version of Veloster by the next model year (email us
here
to complain if you haven't heard word on this front by September 2012).
Thank the gods of hairpins that, lacking outright power, Hyundai has given Veloster a proper six-speed manual transmission that is worth a damn. Having experienced plenty of low-rent MTs in other sub-$20K cars, our hopes were low for this stick shift, and we're happy to say that we were wrong. The gearbox here is smooth and good to work with—no quicker or shorter of throw than you'd expect, but not fabulously long-legged either. Application of the clutch took a bit of getting used to; we found it to be much higher-effort than we'd expect for a car with small torque output, but ultimately it worked well. The whole system has a weighty feeling that we are used to finding in more expensive cars.
With gear control such a pleasant experience, we found ourselves in a good place with the not-mighty mill under the hood. Keeping the engine spinning in the sweet spot, just over 5000 rpm, was fun to do, not a chore, and we started to concentrate on keeping the momentum up as we wound through the highlands around Portland. The roads here are really good, and with the suspension of the Veloster completely spot-on, qualms about raw grunt fell by the wayside.
This is a slick-handling car. In fact, Veloster feels immediately ready to vault into the company of our favorite hot hatches, despite its lack in that "hot" department. Without ever feeling too harsh, or too stiff—there was enough suppleness and softness to keep the Hyundai from having a punishing ride—we were able to push pretty hard without upsetting the balance of this front-driver. Steering weight was just right, turn-in and rotation were as fast as you'd expect from a small coupe, and overall feedback from the wheel was greater than average. Veloster is a driver's car. Not a great, MKI-GTI-level driver's car, yet, but good for sure.
And, Veloster is a nicely packaged car, too. The "third" door, which accesses the back seats on the passenger's side, is hidden well enough that you'd be forgiven for thinking Veloster a true hatchback coupe. The back seat is made far more useable thanks to the extra access point; six-footers will feel tight in the headroom department back there, but overall size is good. The cargo area fights only a small, weirdly shaped door to be truly useful—even with the back seats raised, there's a lot of volume in the hatch.
The front portion of the cabin finds comfortable seats that need more side bolster, nicely thought-out touch/grab points (most surfaces are plastic, but it's interestingly surfaced and rich looking), and an instrument panel that has been constructed to highlight Veloster's standard-equipment seven-inch touch screen. Said screen is the portal for Hyundai's impressive Blue Link suite of subscription-based telematics technology, which gives owners the ability to get turn-by-turn directions (even if they haven't paid for the proper navigation system), track the car for speed and location (teenagers beware), alert the authorities in case of a crash, speak to send a text message, and about 10,000 other things. We'll do a deep dive into Blue Link when we have more time in the Veloster, never fear.
The cabin is also remarkably quiet. We sensed precious little intrusion into the space from tire, wind, or engine/exhaust noise, even when moving at highway-plus speeds. We count the lack of motor volume as a net negative in terms of driver involvement, but are sure that most small car shoppers will be happy here. If you like it loud, add a bit to your car budget for the aftermarket exhaust you're sure to want.
Yep, from what we saw and drove in Portland, there's a fight brewing in the small stylish car segment. At $17,300 to start, Veloster will easily undercut Mini Coopers and the CR-Z, and will be right in the wheelhouse of the aforementioned Fiat and Honda. Tuning companies have got to be licking their chops at the promise Veloster shows, too, at least until Hyundai makes a go with that turbocharged car.
The audience seems broad for Veloster—from autocrossers to pensioners, if our first drive audience is to be believed—and we like the way the car backs up its looks with its driving chops. Hyundai's getting a bit less conservative, it seems, while building a coupe that appeals to head, along with heart.
2012 Hyundai Veloster 6MT
Engine: Inline-4, 1.6 liters, 16v
Output: 138 hp/123 lb-ft
Weight: 2584 lb
Fuel Economy City/Hwy: 28/40 mpg
Base Price: $17,300
On Sale: Now