Quick Drive: 2011 Cadillac CTS Sport Wagon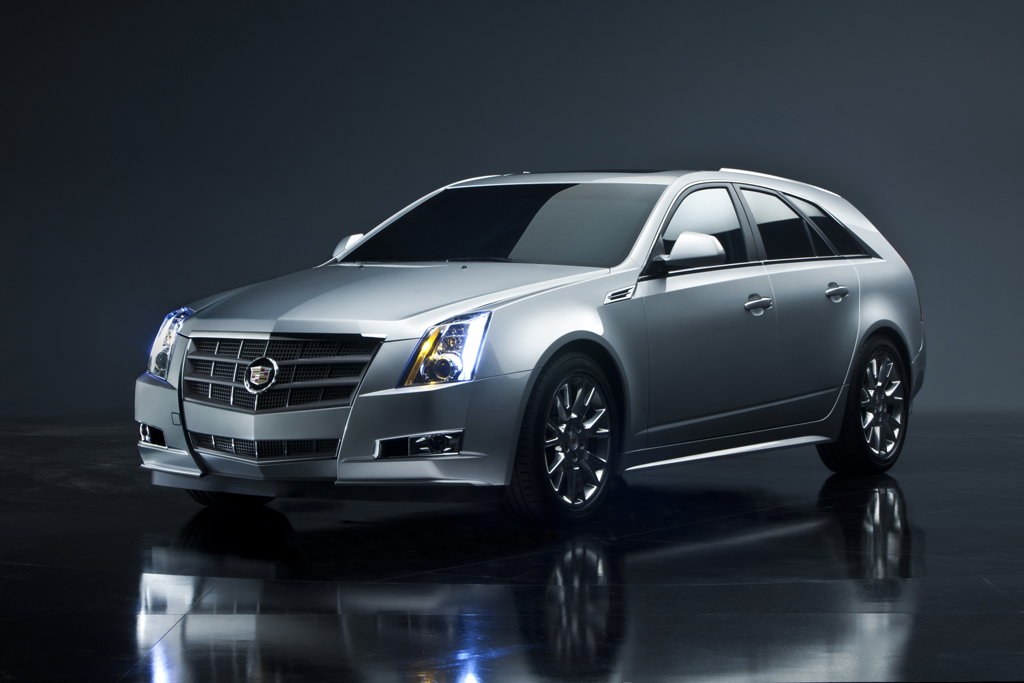 After driving the CTS-V coupe, the Cadillac CTS wagon feels like a completely different car. It feels a lot less like a coffin, to start, and the atmosphere inside the cabin is brighter and much more relaxed. This is partly due to the extra space and breathing room, but also simply because it lacks some of the more hardcore elements of the V. It still has the nice interior, lots of nice touch points, and the comfortable ride which filters out a lot of the feeling of the road.
The engine, even after driving the V, doesn't have a subdued feeling in thrust—it's still plenty potent. However, that rich sound is not there like it is in similarly powered vehicles, which is kind of a shame. The CTS wagon still wants to go fast, and doesn't hesitate to do so, but even (especially?) in a premium Cadillac, I was expecting a bit more of a proud song from under the hood.
Also worth mentioning, the CTS wagon just looks damn cool. It's unmistakable from any angle, and is yet another example of a wagon that bucks the reputation of being a boring grocery getter.
—John Beltz Snyder, Production Editor
This thing can hustle. With 304 horsepower and 273 pound-feet of torque, the CTS is already a pretty quick grocery getter. This engine would have been more than a match for the Mercedes E350 we had a few weeks back. It packs an extra 34 horsepower and feels more enjoyable when going about its day-to-day business.
Unfortunately, the six-speed automatic's dinky "paddle" shifters (little more than difficult-to-access pieces of plastic behind the steering wheel) do little to increase the CTS' driving pleasure. The transmission did a fine job of swapping gears, but the addition of a properly sized set of paddle shifters would be a welcome. Or better yet, how about a six-speed manual?
I really ended up enjoying the long-roof CTS, more so than I did the E350 wagon. It felt sportier than the Benz, and was more willing to be driven hard. I've found that with some wagons (like the Benz) that the back end just feels heavier, which can inhibit harder driving. I never really got this sensation in the CTS. It felt every bit as sporty as a CTS sedan or coupe, which is quite an accomplishment for any wagon.
—Brandon Turkus, Fleet Manager
All of the things that I really like about the CTS proposition are made better with the wagon body style (versus the sedan): there's more room, a classier overall silhouette, and the high-speed handling feels even more planted. I've never quite thought of the CTS sedan as having knife-sharp handling, but it has also been great on long sweeping curves and on the open road—there's something about that driving style that lends itself very well to station wagons, so this is a great fit.
The other guys are right in that the E-Class wagon feels like a natural competitor here, based on the ride quality and overall luxury of the CTS. I've got to say that, for the roughly $20K price difference between the two vehicles, I'd be hard pressed not to opt for the Caddy even though I like driving the E350 just a tiny bit more. (Probably fair to mention that the more expensive M-B is only available with 4Matic all-wheel drive.)
—Seyth Miersma, Editor-In-Chief
It's a wagon! And a Cadillac, no less
3.6-liter V-6's 304 horsepower and 273 pound-feet of torque gives the CTS plenty of grunt
Could be our favorite version of edgy Caddy styling this side of the CTS-V Coupe

Cons
The sound doesn't reflect the soul of the CTS, or the goodness of this engine (great if you're just into a quite ride though)
Can't be had with a manual gearbox
Rakish roofline cuts down on outright utility a little