Driven: 2012 Mercedes-Benz ML63 AMG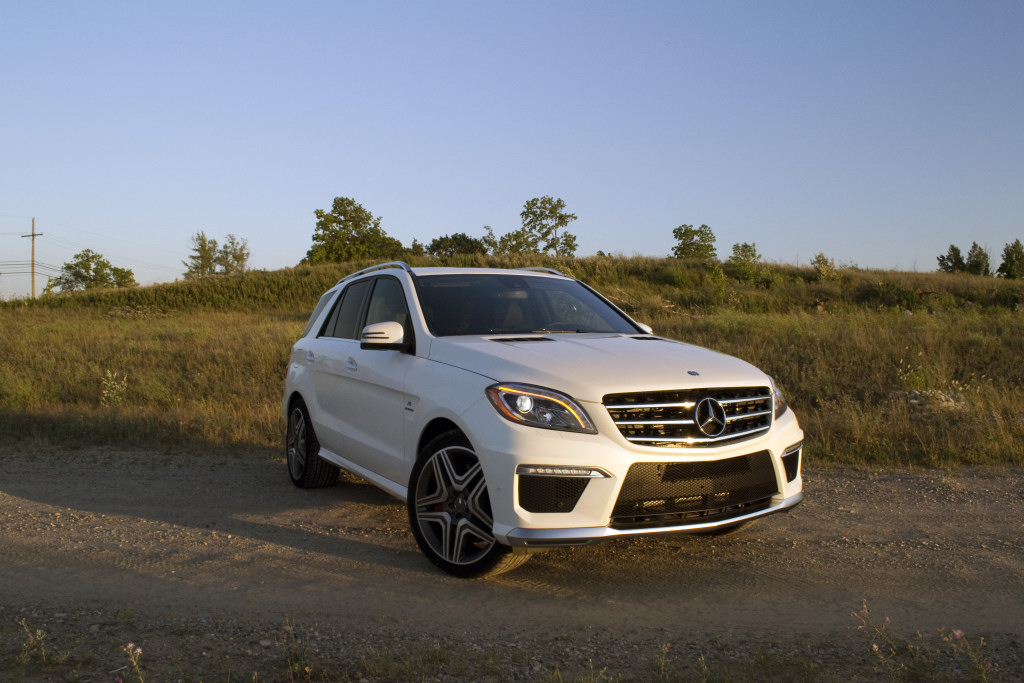 —Lake Orion, Michigan
We love when an auto manufacturer really turns a wayward model around. We last covered the
Mercedes-Benz ML63 AMG in January of 2011
. That model was still powered by
the beloved 6.2-liter AMG V-8
. Despite the motivation of one of our favorite powerplants of all time, our review of the ML63 was less than sterling—more of an issue with the overall car than its brilliant engine. The interior felt substandard, especially compared to the hot SUVs Porsche, BMW, and Land Rover were pumping out, while the suspension seemed torn between trying to deliver some semblance of maneuverability and still retaining the comfortable ride expected of a Mercedes SUV. The result was a wash of jolts and floppiness. In short, there were far more compelling alternatives to the second-gen ML AMG.
Fortunately, Mercedes has released one hell of an upgrade for 2012. This is
the new ML63 AMG
, and it solves almost all of the second-gen ML's problems. It's based off of the new-for-2012 M-Class, which means fresh interior and exterior treatments, along with a host of changes to improve efficiency. The result is an extremely talented fast SUV.
We spent a week testing the ML63, and not a single day went by where we weren't thinking of the dearly departed 6.2-liter V-8. In its place sits AMG's new biturbocharged, 5.5-liter V-8, complete with 518 horsepower and 516 pound-feet of torque in standard form, and 550 horsepower and 560 pound-feet of torque with the AMG Performance Pack (you want this, trust us). It doesn't have quite the addictive personality of the old 6.2-liter V-8, but it feels beautifully suited for its application in a hot SUV.
AMG has seemed to master the big power from its turbos with a minimum of lag. Even though they are pumping out 18.8 pounds of boost, the 5.5-liter V-8 still gets up and goes with little hesitation. Power is abundant in low, middle, and high parts of the rev range, which allowed us to dive into the throttle at nearly any engine speed and get pushed back in the big AMG-spec leather seats. Power delivery, despite the big turbos, is quite linear and predictable, with a broad, accessible torque curve. The throttle response is pleasingly crisp and responsive, as well.
Acoustically, the ML63 sounds like a steroidal Freightliner when revved at idle. The whooshing of the turbos is really something to hear, and feels decidedly more aftermarket than OEM. On road, this is an all-AMG exhaust note. Along with the whistle of the blowers, it packs a deep, showy bass note that turns in a giggle-inducing burble during full-throttle upshifts. It's quite loud, and we mean that in the best way possible. Driven reasonably, it's still very noticeable but not disruptive. Leaving the transmission in Controlled Efficiency forces the computer to short-shift, and in turn keeps the noise down. There's no droning or unpleasantness when the ML63 is just cruising down the highway.
Like the rest of the AMG range, the ML63 features three separate transmission modes: Controlled Efficiency (listed as C), Sport (S), and Manual (M). Controlled Efficiency is the default setting, while pressing the centrally mounted button will cycle between Sport and then Manual. C functions well as the go-to mode for regular driving. Shifts are well timed, and there's not much hesitation when it comes time for downshifts. Sport is the setting if you really want see what this engine can do. It holds gears longer, delivers crisper upshifts and more aggressive downshifts. We strongly recommend avoiding Manual mode.
As exceptional as this engine is, it's handicapped by one of the worst manual setups we've ever tested in an AMG product. Rather than fitting the stellar AMG SpeedShift dual-clutch transmission we've driven in the
CLS63 AMG
(which uses the same engine as our tester), we're left to make do with a seven-speed slushbox automatic. We can only assume this has something to do with requirements specific to the M-Class as a whole (towing or off-roading).
Operating the beautifully crafted paddle shifters is supposed to increase the fun factor of driving the car. Instead, it frustrated us with its unresponsiveness. Two clicks for upshifts and two for downshifts are the norm, and double-downshifts (a hallmark of good DCTs) aren't possible.
The biggest frustration came during our first run through the gears. Expecting the snappy upshifts AMGs are known for, we clicked up around a 1000 rpm below redline. The seven-speed autobox had other ideas, and didn't respond to our input until we'd bounced the engine right off the rev limiter. As the nannies took over to lower the engine speed, it finally upshifted. Not only is this
really
embarrassing, it can't be too healthy for our $109,000 tester. The simple solution to the ML's ills is to just leave it in the hands of the computer, and pretend Manual mode doesn't exist. Which we did.
One area in which we were glad to see improvement was the ML63's ride and handling. With a three-mode, fully independent Airmatic air suspension, the big ML dances better than a vehicle this size should. When pushed hard in Sport and Sport +, it hunkers down and grips well. There are plenty of body motions present (lateral, fore, and aft) but the AMG never feels like it'll get caught off guard. Instead, these motions come on progressively and add to the car's overall level of feedback. Predictably, the all-wheels-driven ML63 is not one to rotate easily or readily. Even with this less-than-ideal drivetrain setup, it still feels balanced front-to-rear when pushed hard.
The ride, when the Airmatic suspension is set to Comfort, wasn't hugely impressive. That being said, we need to consider what it's dealing with. This is an SUV that weighs over 5000 pounds, has twenty-one-inch wheels, and is meant to be sporty. That's not much to work with, but Mercedes has done well. It's fair to say the biggest issue on the comfort front is impact noise from those massive wheels. You might not feel every bump and ripple, but you'll likely hear them. We'd like to think the standard twenty-inch wheels might be a bit quieter, but that's sort of like saying a Quarter Pounder is healthier than a Big Mac.
Perhaps the most impressively overhauled area of the ML63 is the interior. It benefits from the same material and layout upgrades as the standard M-Class we drove last year. The dash is leather with handsome piano black accents, while the dials and buttons feel like they're hewn from solid aluminum und schteel. It feels far more upscale and considerably less creaky than the second-generation ML63. On a functional front, there are all the goodies we associate with an AMG product. The thick, heavily padded, leather-and-Alcantara steering wheel looks good and feels great in hand. Behind it are a pair of real metal paddle shifters, that are at least nice to look at (if not nice to use). The seats—always a strong point with AMG—are well bolstered and extremely supportive over the long haul.
Mercedes has come a long way with its third-generation ML AMG. It packs an engine worthy of the AMG name, along with the fine interior quality that we expect of Mercedes-Benz. The improvement to the ML's ride and handling alone is enough to recommend it over the old model. While we haven't had the greatest experiences with the hottest M-Classes, we suspect the legacy of this third-generation model will greatly surpass its previous iterations.
2012 Mercedes-Benz ML63 AMG
Engine: Biturbocharged V-8, 5.5 liters, 32v
Output: 550 hp/560 lb-ft
Weight: 5169 lb
0-60 MPH: 4.6 sec
Top Speed: 174 mph
Fuel Economy, City/Hwy: 14/18 mpg
Base Price: $94,990