Quick Drive: 2011 Mercedes-Benz ML63 AMG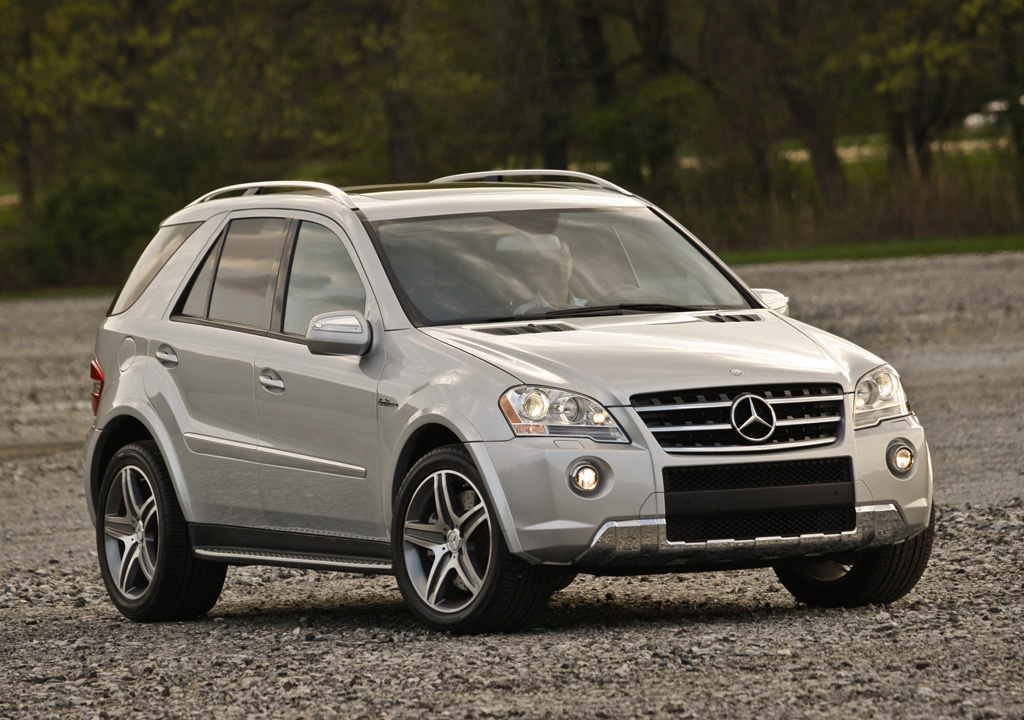 If you ever need any hard proof of the brilliance of the AMG engineers, you should set yourself up in back-to-back test drives of a "standard" ML550, and then the ML63. Night and day. Well, night and mid-morning, anyway.
AMG treatment turns the M-B SUV from an overly soft, vague, vanilla-mobile, into a firmly sprung, rip-snorting thrill machine. I was amazed at the degree to which the performance suspension corrected flaws I'd detected in our last ML loan. With that vehicle, all of us here at WR were shocked at the sort of "wandering" behavior to be found when we were simply trying to drive in a straight line on the highway. The ML63, though clearly not as cosseting over big bumps and expansion joints, tracked straight and true at speed.
I was also pretty shocked at how little this tall SUV leaned when I threw it hard into inviting on- and off-ramps. That stiffness, in concert with the sticky performance tires, gave the ML a cornering poise that felt really unnaturally competent for a vehicle of this height and heft.
Deep front seats that let me (a tall guy) sit low in the saddle, while still having great visibility, were appreciated, too. ML63 makes me feel, all the time, swaddled in good leather, nice metal touch points, and waves of V-8 music. At $90K there are a lot of cars I'd buy before this one, but I've got to say that the ML63 is on my list of guilty pleasures.
—Seyth Miersma, Editor-In-Chief
The 6.2-liter AMG V-8 is such a good motor, but I was worried that it wouldn't feel as juicy in the big ML. Fortunately, my worries were totally gone after my first time getting into the throttle of the ML63. This machine is fast, even when compared to smaller cars. It pushes you into your seat as you blow past traffic. Thankfully, it also has really big brakes that are powerful enough to fight the momentum of the hurtling ML.
I must reiterate Seyth's comments about the suspension, as this is really the big news about the ML63. The ML550, in my experience, felt like it couldn't track worth a damn, and I had to be really on top of it at all times just to keep it in my lane on the highway. It seemed dangerous, even. The AMG version, however, feels completely different. It's firm in a way that is also comfortable, and it really helps make the ML feel lighter on its feet (as much as something its size can, anyway). Combined with the strong motor, this is one big crossover that is truly athletic—something that cannot be said about the non-AMG versions.
—John Beltz Snyder, Production Editor
Like my colleagues, I'm a huge fan of the AMG 6.2-liter V-8. This thing just has a guttural howl under wide-open throttle that can become addicting very quickly. I found myself slotting the big Benz through traffic, and downshifting via the set of silvery paddle shifters, just so I could accelerate and here that engine.
While the suspension is a significant improvement over the non-AMG ML-Class, it's still far from the caliber of something like a BMW X5M or Porsche Cayenne Turbo. Even in AMG form, the ML exhibits too much squatting and diving under hard acceleration or braking, which can be disconcerting when entering or exiting a corner. However, I will echo my colleague's comments about the body roll. This thing feels tightly pinned together when it comes to side-to-side motions.
At the end of the day, I couldn't see myself behind the wheel of an ML when there are vehicles like the Range Rover Sport, X5M, and Cayenne Turbo available. It simply doesn't have the chops to keep up with the current crop of performance SUVs.
—Brandon Turkus, Fleet Manager
Pros
Driver's seat offers a distinct "cockpit" feel—not the norm for an SUV
AMG treatment undoes many of the handling failures of the ML550
Powered by arguably the best V-8 engine not made by Ferrari
Cons
Despite AMG's best efforts, ML63 never comes together as a truly good driver's tool
Big price tag urges patience for the new Jeep Grand Cherokee SRT8, which will be a huge bargain by comparison
Most of the competitive premium, high-power SUVs and Crossovers are newer, and better realized overall