Driven: 2012 Mercedes-Benz CLS63 AMG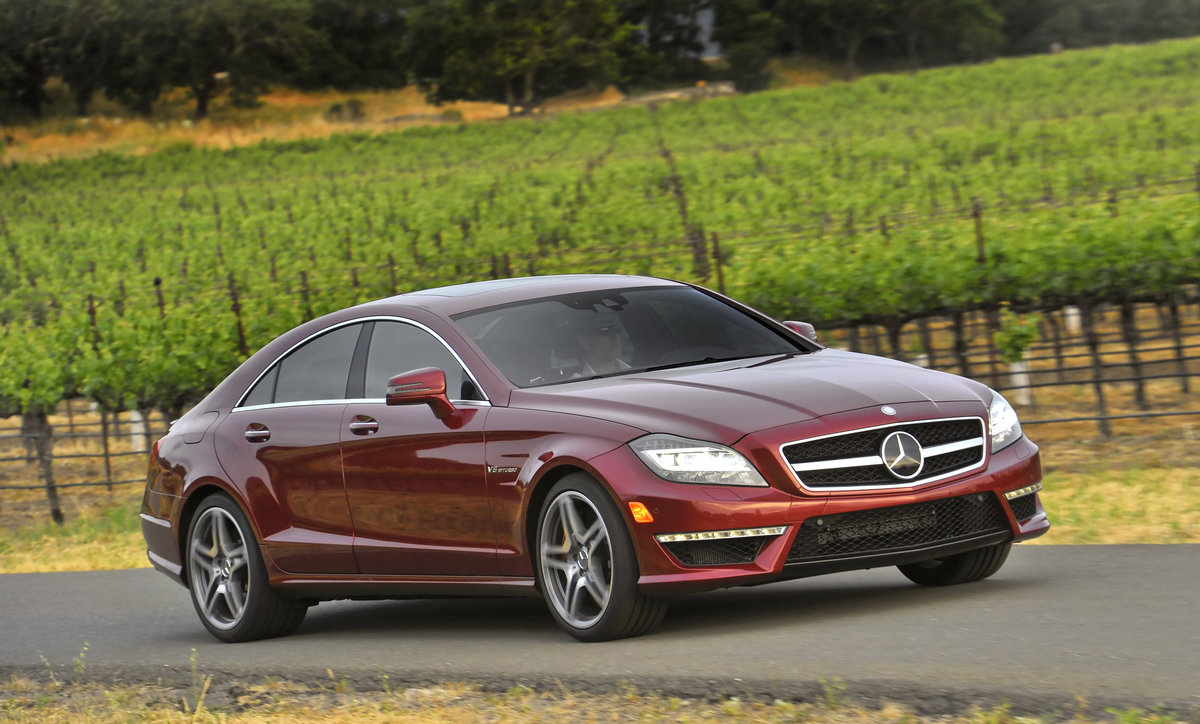 —Rochester, Michigan
Mercedes-Benz has done an interesting balancing act with the CLS63 AMG. On the one hand, it's a lavishly equipped, tech-laden luxmobile for four people, that looks like very few other cars on the road. On the other, it's essentially a street-legal rocket, capable of sending your eyeballs towards the back of your skull with little in the way of provocation. It'll then attempt to remove your eyeballs clear from the sockets when you stomp on the huge carbon-ceramic brakes. This is a bipolar car, stable one minute, and absolutely bonkers the next. Which is exactly the way we like it.
It all starts with the graceful evolution of the already beautiful first-generation CLS. Borrowing cues from Mercedes concept cars and halo models, the new CLS is quite possibly the pin-up car of the Mercedes-Benz lineup (with respect to the SLS AMG). With its headlights on, it would look at home on the set of Tron. LEDs dominate, with twin strips in the headlights, and a long, low strip on each side of the front bumper. The profile features a pair of character lines that meet up with the rear wheel arch, giving the CLS63's silhouette an aggressive feeling to it. Add in the chunky nineteen-inch wheels, and quad exhausts out back, and the CLS63 ups the anger level considerably over the previous generation.
The cabin is, as we said, lavish. Black leather, polished carbon fiber, and aluminum trim pieces feature heavily, with a beautiful flat-bottomed steering wheel taking center stage. That wheel features a nice amount of padding, although it might be a handful for those with tiny hands. The leather-wrapped wheel features Alcantara suede between two and four and eight and ten, making it easy to grip the correct part of the steering wheel.
Affixed to the back of the wheel, a pair of paddle shifters sits begging for wide-open-throttle runs. These shifters fall neatly onto the finger tips when holding the wheel, and have a nice, firm action. And you'd better get used to using them if you want full manual control. The center-mounted shift lever controls reverse, neutral, and drive only. There is no manual mode on the gearshift it self. Park is accessed through a button near the shifter.
The seats in the CLS also bear some special mention, as they are really quite excellent. We've always been big fans of Mercedes's Drive Dynamic Seats and their inflatable side bolsters. The seats adjust themselves during cornering, and counteract the natural g-forces that try to remove you from your seat. With this system (and a proper seating position), we never found ourselves hanging on to the wheel during hard steering maneuvers. The entire setup had about 90 percent of the effectiveness of a CG lock or harness, but without the bulky equipment.
Normally, the 5.5-liter biturbocharged V-8 of the CLS63 produces 518 horsepower and 516 pound-feet of torque. To get the most out of your AMG, though, you need the AMG Performance Pack. This bumps the 5.5-liter's output to 550 horsepower and a 590 pound-feet of torque, ups the top speed from 150 to 186 miles per hour, and adds a bunch of other fun features, including the aforementioned leather/Alcantara steering wheel.
So equipped, the CLS63 goes from merely quick to outright fast, with the extra 74 pound-feet of torque coming into play early on. Mash the throttle from a standstill, and after the initial bout of turbo lag, you can feel the tires struggling to maintain grip as the CLS charges forward. This is one of those great powertrains that never feels out of breath. Charge right up to the redline, wait for the display in the instrument cluster to flash red, and bang off an upshift from the seven-speed dual-clutch transmission, then hang on for another wave of power. Mercedes hasn't published numbers for the AMG Performance Pack-equipped CLS, but based on the standard car's 4.4-second 0-60 run, we can safely assume that our car could hit 60 in the high-three- or very-low-four-second range.
As usual for an AMG product, the CLS backs up all of its bite with a very big bark. From the driver's seat, you are greeted with a angry bellow as you accelerate up the rev range, which turns into a feral bark on upshifts and snapping and popping notes on downshifts. It sounds good, and it makes you want to drive harder and harder just to hear that beautifully brutal exhaust note.
The CLS isn't just a big, stonking engine though. Oh no, our tester was equipped with Mercedes-Benz's carbon-ceramic brakes, which looked too big to fit inside the nineteen-inch AMG wheels. The massive gold calipers (six-piston fronts, and four-piston rears) clasp 15.8-inch front rotors (a shocking 1.6-inches larger than the standard rotors), yet weigh 40 percent less than a standard brake setup. And they allow the CLS to stop like few big sedans can. We'd almost go so far as to say that the brakes are too grabby. That is, until you really need them, at which point they can haul this 4300-pound four-door coupe to a stop with nary a complaint. At $12,625 (more expensive than a brand-new Nissan Versa), these brakes aren't cheap, but as with the AMG Performance Pack, the difference they make in the overall level of performance is undisputable.
We admit to being somewhat let down by the ride in the CLS. Even in Comfort mode, it felt far too harsh, even crashy during simple highway driving. Admittedly, this is a car that seems better suited to being driven with the suspension set for sportiness, not comfort. Set in Sport or Sport +, the CLS turns into one of the best handling cars of this size and weight that we've ever tested. Body motions (both lateral and front/rear) are neatly controlled, although they are a bit too restrained to truly be communicative. Grip from the massive tires is abundant, and you can really feel the car bite down on turn in, which is a reassuring feeling to be sure. The CLS even feels willing to rotate if pushed hard enough, but the safety margin remains quite wide, even with stability programming set to Sport.
The steering was surprisingly fast, but had a nice heft to it. It didn't feel artificial, like an EPAS system, instead feeling more visceral. It was like you could feel the actual parts working when you turned the wheel. On the road, feedback wasn't great, but you did get a pretty decent idea of what the tires were doing when being pushed.
While it's fair to say that we like the CLS63 for all the driving experiences listed above, there's one primary reason that it suits us; it's flexible. This car can haul four people, stomp around a race track at an alarming rate of speed, and still be able to dance around with cars half its size. We can already hear you calling out, "Wait, what about blah blah blah blah blah car?" Sure, there are a lot of cars that can do the track-on-Sunday-office-on-Monday gig. But there are very few that can do that with room for three other people, in utter luxury, all while making a fashion statement to other drivers. For that, the Mercedes-Benz CLS63 AMG is our super-sedan-coupe of choice.
VS: Porsche Panamera Turbo S
Picking up the Panamera Turbo S over the CLS63 isn't what we'd call an affordable investment. At over $173,000 for an optionless car, the Porsche is about $43,000 more expensive than our nearly loaded tester, and that's before you dive into the monstrous options catalog.
Even then, you'll be getting a car that's down 37 pound-feet of torque (although the Porsche matches the Mercedes in torque when it hits overboost) and weighs an extra 120 pounds (although the Porsche is hauling around an all-wheel-drive system).
Then we have the questionable looks of the Porsche, which won it a spot on
our list of the most polarizing cars
. If looks are your thing, then the Mercedes seems like the obvious choice.
VS: Jaguar XJ Supersport
Sure, the Jaguar XJ, even in Supersport trim, won't stand up to the CLS in terms of sheer power. The top-end model boasts a respectable 510-horsepower from its 5.0-liter supercharged V-8. But it's one of the few cars that can match the CLS in terms of looks, style, and comfort. And with a starting price of $111,200 for a short-wheelbase model, it actually represents a pretty decent deal.
That being said, we'd still rather have the CLS, as the Jag's lack of outright performance and involvement is just too big of a pill to swallow.
2012 Mercedes-Benz CLS63 AMG
Engine: Biturbocharged V-8, 5.5 liters, 32v
Output: 550 hp/590 lb-ft (with AMG Performance Package)
0-60 MPH: 4.0 sec (est)
Top Speed: 186 mph
Weight: 4277 lb
Base Price: $94,900
Price As Tested: $129,840
On Sale: Now