Sports Sedans: Audi A4, BMW 328i, Buick Regal, Lexus IS350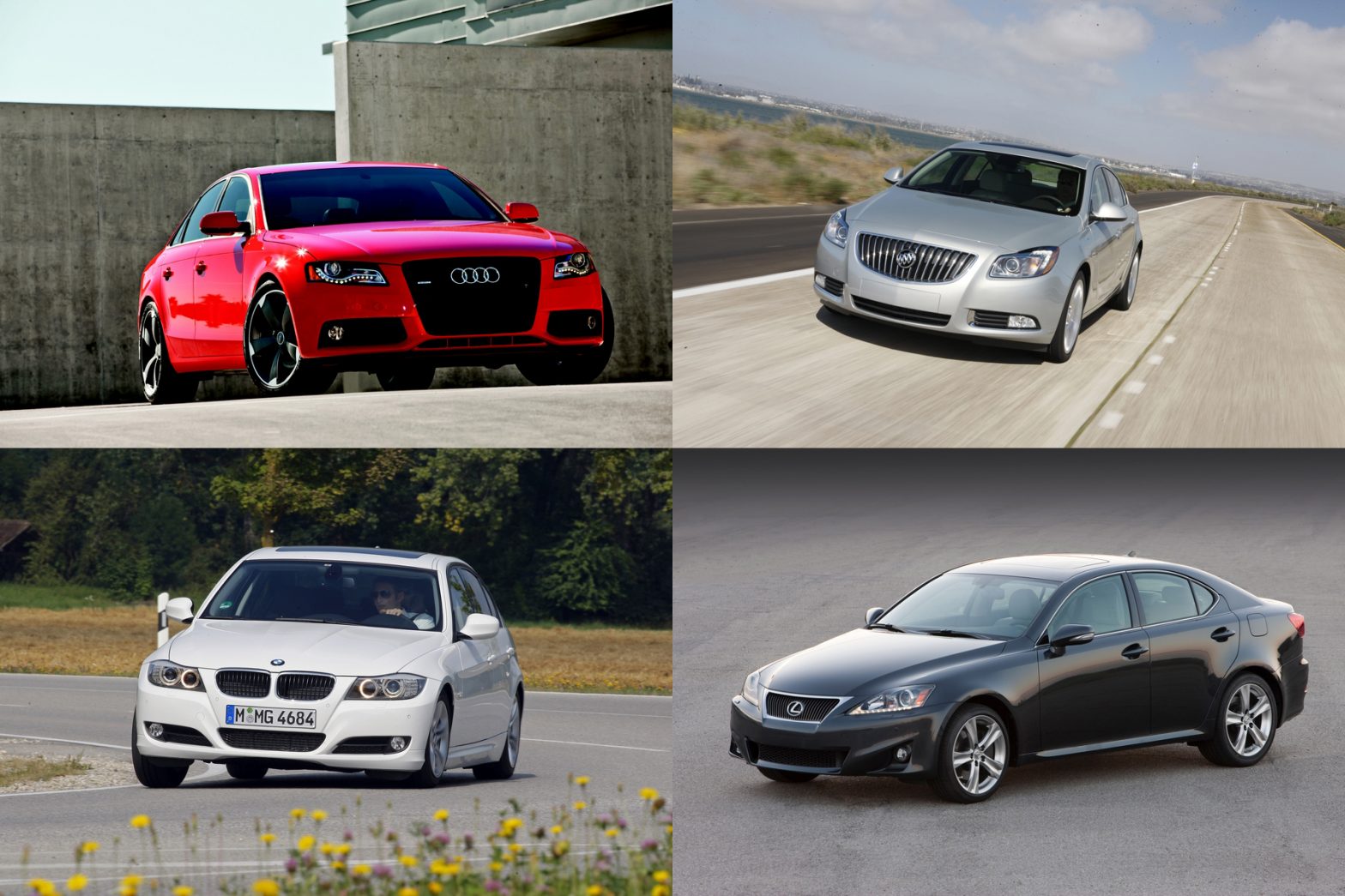 Like your nearest Baskin-Robbins, it seems like there is a car for every person. Nowhere is that more true than in the entry level sport sedan market, where giants like BMW, Audi, and Lexus are taking on freshman entries like that of the Buick Regal. Each vehicle has a unique suite of powertrain options and infotainment systems that follows that brand's particular philosophy, and therefore, caters to a certain sort of clientele. Thankfully, we've recently had some serious seat time in three of the top entries in this segment, and one exciting newcomer.


The Alternative: Buick Regal CXL Turbo
For the person looking to stand out from the crowd, Buick's all-new Regal offers a seriously refined and competent sporting sedan. Sure, it's going to take a few more years of building good-to-drive cars for Buick to completely turn around it's still-stodgy image, but early adopters are finding a lot to love in this new-world Regal.
Based off the European Opel/Vauxhall Insignia, the Regal gets its power from a 2.0-liter turbocharged I-4. Generating 220 horsepower and 258 pound-feet of torque, the Regal has a vigor that hasn't been found in a Buick in over a decade. Power comes on with a slight hint of turbo lag, but once in the rich powerband of the 2.0-liter mill, this thing can hustle. Punching the engine out of a tight turn resulted in a slight delay, followed by a wave of power that made for a surprisingly addicting experience. At the same time, the Regal felt right at home in an urban environment or on the freeway. Once we became accustomed to the lag, it was an easy car to drive quickly, not requiring a good deal of time to master.
Although it isn't quite at BMW levels, the steering had a nice heft to it under most circumstances. It did feel a bit light at low, urban speeds though. In terms of communication, it wasn't earth-shattering, but feel was about average for this segment. The suspension hit the Goldilocks zone in terms of outright handling ability and refinement. There wasn't too much body roll, and what we felt came on quite progressively. The vertical damping is tuned just right, so that there isn't much crashiness, while at the same time avoiding the waterbed-like ride that plagued older Buicks.
In terms of technology, the Regal was pretty run of the mill. Xenon headlights are available, as well as a HDD-based navigation system. Of particular note to enthusiasts is the Interactive Drive Control System. The IDCS functions in a similar manner to other General Motors products, with an aggressive Sport setting, a default Normal setting, and laidback Tour setting. Each mode adjusts the suspension tuning, throttle mapping, steering setup, and transmission settings based on the driver's whims.
The Winding Road-spec Regal would feature the no-cost six-speed manual (a six-speed auto is standard) in the top-end Turbo 7 trim package, which includes the aforementioned IDCS and navigation systems, as well as a handsome set of nineteen-inch wheels. Total cost for our car would be $34,910.
The Sportsman: BMW 328i
Driving enthusiasts need look no further than the simply stellar BMW 3-Series. The 3er has been the default sedan choice for sport-oriented buyers for decades now, and with good reason.
While the top-end engine is the turbocharged 3.0-liter six, with 300 horsepower and 300 pound-feet of torque, we heartily enjoy the naturally aspirated version of this slick six. With 230 horsepower and 200 pound-feet of torque on tap, it provided more than enough hustle and an exhaust note that was both classic and sweet sounding.
This is an engine that simply loves to be revved, be that on a twisting two-lane or when squeezing into an opening on the freeway. Power delivery is linear, and doesn't require a great deal of pedal effort. We do wish for a bit more torque, though, as the 328 can't quite accelerate with the vigor of the turbocharged A4 or Regal.
It can out-handle them, though. The 3-Series, with its rear-wheel drive layout, is still the best handling and most confident car in this segment, with nicely tuned vertical and lateral damping. It does have a firmer ride than some of the competition, but the handling tradeoff is more than worth it. The steering was weighty, possessing the same heft that's been a BMW trademark for years. That being said, we expected to get more communication from the tiller on the 3er.
Tech wise, the 3-Series features the much-improved iDrive system. The menus are easier to navigate, and the display itself is very attractive. Sadly, the standard 3-Series doesn't get any of the adjustable options that we see on other cars in this category, meaning it's simply up to the driver to make the best of what he has.
Outfitted for Winding Road, the 328i would boast BMW-appropriate Alpine White paint, black leather, the M-Sport Package (with the eighteen-inch wheels), the Cold Weather Package, xenon headlights, and of course, a six-speed manual. Total price would be $41,725.

The Tech Geek: Audi A4 2.0T Quattro
Tech-savvy buyers can't really go wrong with the Audi A4. Propelled by a 2.0-liter turbocharged I-4, and with Audi's trademark Quattro all-wheel drive, the A4 delivers a great blend of performance and technology in a stylish and understated package.
Like the Buick, the turbocharged Audi is a bit low on horsepower, with only 211 ponies under the hood, but because of its forced induction, it boasts a massive 258 pound-feet of torque at a low 1500 rpm. The torque peak lasts all the way up to 4200 rpm, giving the Audi some seriously accessible straight-line speed.
Thanks to Quattro, the Audi is a very stable platform, even in inclement weather conditions. The steering is lighter than the BMW, and doesn't communicate as well, but this is still a confidence-inspiring car. We'd like to see body roll tightened up, but it comes on in a progressive enough manner. Vertical damping is nicely controlled, without creating a crashy ride, and we enjoyed the lack of squat and dive as well.
The driving suite on the A4 represents one of our favorites, as long as you opt for the MMI navigation system. We aren't fans of the standard, non-navigation OS, as it seemed too slow to respond to inputs, and wasn't as smooth as we would like. The MMI system is one of the smoothest and simplest to navigate that we have seen, featuring a knob and a series of buttons that allows quick jumping from various vehicle systems.
From a driving perspective, the Audi Drive Select system allows customization of throttle mapping and shift points, suspension settings, and steering tunes to tailor the driving experience to the driver's wishes. There are three presets (Dynamic, Comfort, and Normal) that make global changes, as well as one customizable preset that can be changed in the MMI. This allows the driver a great deal of control over the way vehicle systems behave, for example, setting the steering and powertain options to Dynamic, but keeping the suspension in Comfort when tackling a rough and twisty road.
The Winding Road A4 would be the top-end Quattro Prestige model (the only trim that features MMI standard, and is available with Drive Select) with a six-speed manual transmission (an eight-speed auto is also available), and the slick Titanium Sport Package (black nineteen-inch wheels, a black grille, black leather interior, and black window surrounds). All said and done, we'd be cutting Audi a check for $47,275, making the A4 the most expensive car in our test.
The Laidback Conservative: Lexus IS350
Where the Audi represents radical technology, and the BMW driving purity, the IS350 is more about comfort. Yes, we said IS350, not 250. For an admittedly not-insignificant $6000, you get a 306-horsepower V-6 that is smoother, more powerful, and more refined than the smaller 2.5-liter V-6. This motor guarantees quick acceleration, without breaking the bank the way BMW's manic biturbocharged I-6 would (an almost $8000 option over the 328i). Power is abundant throughout the rev range, and with a base price of $39,720, the Lexus represents the cheapest path to straight-line speed in this segment.
While it's quick as a bullet on a straight road, we didn't feel as confident in the Lexus through the twisties. The steering is the lightest and numbest of our three cars, and the ride is certainly more tuned towards luxury. There is more body roll during hard maneuvers, and squat and dive are more prevalent, hurting driver confidence. That being said, on a rough road, the Lexus felt the most composed, soaking up imperfections with ease. Overall, the Lexus would excel on our new Comfort Index, but doesn't fair so well on the Involvement Index.
Infotainment in the Lexus is pretty standard, much like the Buick, with a simple navigation system. There also isn't much in the way of driver adjustments that can be made, short of the paddle-shifted six-speed automatic (the only transmission available), which isn't particularly quick or intuitive.
Given the option, we'd opt for a plain-jane IS350, with rear-wheel drive. (our tester was a pricier all-wheel-drive model). Forgoing our testers Package B (navigation and Bluetooth), we'd end up with a straight-line missile for just under $40,000.