Driven: 2012 Toyota Prius V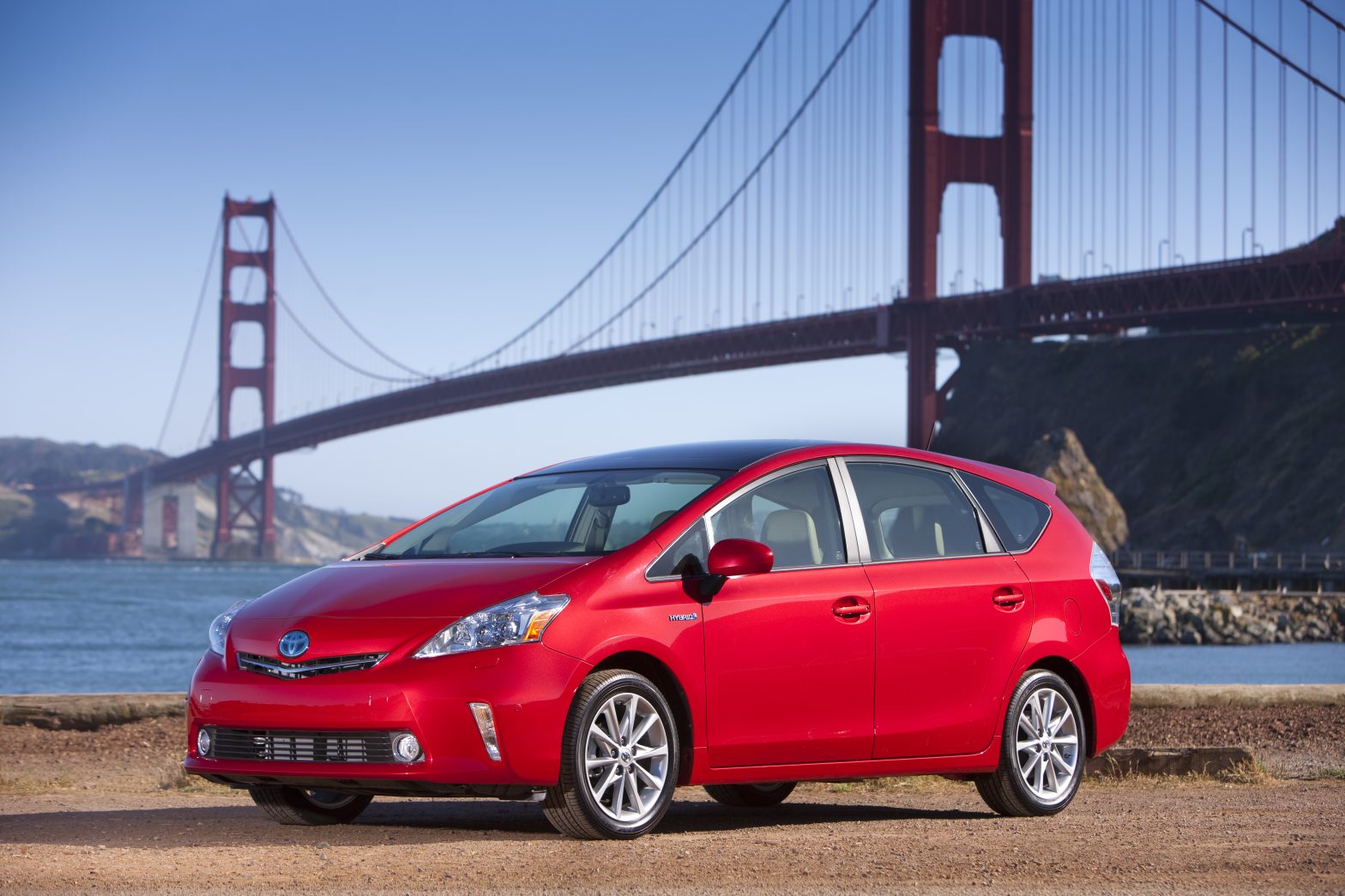 —Half Moon Bay, California
If you want to save yourself the time of reading our entire well-considered first drive review of the all new Prius V, let us sum it up for you right here in the opening paragraph. The only thing truly surprising about the new Prius wagon is that it has taken Toyota this long to offer it for sale. That's not a comment on the Japanese automaker's recent, understandable production flow problems, mind you, but a statement as to the natural, intuitive goodness of adding this variant to the highly successful Prius line. For those who seek out the values associated with Toyota's headlining hybrid—economy, safety, and ease of use—the Prius V is a fundamentally flawless vehicle.
To explain why the V is such homerun idea for the larger Prius family, we must first explain what the car is, and is not. Prius V is a lot roomier than the current five-door hatchback that we all know, and affords its extra space primarily to the people and things that occupy the back section of the vehicle. The taller (up 3.3 inches), wider (up 1.1 inches) V offers an especially nice second row experience, with inches gained in every dimension of the rear seating save legroom (which effectively stays the same). We adjusted the front seat for a proper six-foot, five-inch driving position, and were still comfortably able to slide another six-foot, five-inch body in the seat behind. Thusly positioned in the back, your tester's 98th percentile head was just able to fit under the roof with a straight-backed seating position, so we can confidently say that most normal-sized humans won't have a problem. The Prius V has more than enough space for kiddies or golf buddies.
Here's a list of a few things that the V is not: a crossover, a minivan, or an SUV. Though the car is taller than the existing Prius hatch, it doesn't offer exaggerated ride height or ground clearance. There is no sliding side door; there is no all-wheel-drive option; there is no third row of seats available in the US. (Toyota is offering three-row versions of the V in Asia, but we're told that the extra seating would be seen as absurdly "tight" for us corn-fed Americans.) The Prius V is a station wagon, plain and simple. Toyota doesn't want to say that—it has labeled the car with a "V" for versatility rather than christen it with some permutation of the "W" word—for fear of dimming sales prospects with a name that's uncool. But the fact is that this Prius is about six inches longer than the standard car, with a whopping 67.3 cubic feet of total available cargo space.
That number is nothing to scoff at (by way of comparison, a Volkswagen Jetta SportWagen offers 66.9 cubic feet) and promises a lot of usefulness for potential owners. The second-row seats offer a 60/40 split, can fold to create flat load space, and are covered in a hardwearing plastic that should stand up to assorted golf bags, bicycle wheels, and IKEA boxes over the life of the car. The hatch opening isn't quite as massive as we'd like for this kind of otherwise utile load space, being a bit too short and narrow. But the reality is a lot of functionality for this new Prius.
From the perspective of the driver, one could easily subtract the "V" from the car's nameplate to get a quick understanding of the on-road experience. Despite being larger and heavier than the standard Prius, the V mimics that car's driving dynamics almost completely. Toyota set up some pretty wonderful driving routes on twisting coastal and hilly roads around Half Moon Bay, and the Prius V responded to them with a kind of competent disaffection. The heavier Prius wagon has been tuned for comfort and quiet, but not to dispatch these kinds of aggressive switchbacks with steely confidence. We pushed the V hard for the better part of one twisting loop, and found the car generally unwilling to play—understeer, body roll, and soft suspension settings all told us quickly to slow down. That's not to say that the car felt in any way unstable at speed on a back road, but rather that it does nothing to encourage spirited driving.
On the plus side, despite being overly light when lock is applied, the V turned in quickly when asked, and felt much more maneuverable than we'd have guessed from its length and weight hikes over the smaller Prius. Road feel is lacking pretty completely, but video-game-like handling is tidy enough at moderate speeds.
And honestly, if you're even considering the Prius V, speed, handling, and driver involvement are not going to register on your shopping list. Fuel economy, on the other hand, will likely be at the top of the must-haves. With Toyota's 1.8-liter four-cylinder and patented Hybrid Synergy Drive intact from the Prius hatch, V fuel econ is remarkably good for this larger segment. We're told that EPA ratings should end up at 44 miles per gallon in the city, with 40 mpg for highway driving. That makes for a combined rating of 42 mpg that's not quite as impressive as the smaller Prius's 50, but still massively good relative to the larger motoring landscape. Consider that the frugal Jetta TDI Sportwagen can only manage 30/42 mpg in city/highway driving.
Of course, the tradeoff for that fuel economy is that, at the same total output of 134 horsepower and 153 pound-feet of torque as the smaller Prius, the V is rather slow. Acceleration to 60 miles per hour runs more than 10 seconds or so, meaning aggressive overtaking, even in the car's "power" mode, isn't really in the cards.
Prius V does distinguish itself from its forbearer in terms of in-cabin technology, with Toyota's optional Entune infotainment system (available on the middle-trim Prius V Three model) showing up as a standout new feature set. Entune begins to make a connection between in-car tech and personal mobility tech, by offering a suite of apps that run through your Android, Apple, Windows, or Blackberry smart phone. When paired with your phone, Entune enables internet radio apps Pandora or iHeart Radio, as well as a Bing navigation search engine that's far more flexible than traditional hard-drive-based systems in terms of accurate, up-to-date point-of-interest location. The suite of available Entune apps is still rather small, but is sure to grow larger as the technology sees greater adoption.
Toyota has yet to confirm pricing for the Prius V, but did mention that it was targeting something just higher than the average transaction price of the current Prius—probably around $26,000. Initial takers for the V are likely to come largely from the group of existing Prius buyers. With the Prius V's combination of overall value and utility, though, we see possibility for a lot of interest from the general set of practically minded car buyers. The Prius V is a no nonsense hybrid; with just enough added functionality to lure a significant portion of crossover and small SUV shoppers, we think. In typical Toyota fashion, the V is a conservative and well-calculated addition to the Prius family that should keep the automaker front-of-mind whenever the word "hybrid" is uttered.
VS: Volkswagen Jetta Sportwagen TDI
There's no getting around the fact that Volkswagen's diesel sport wagon is faster, torquier, and more competent a handler than the Prius V. Enthusiasts will usually favor diesel over hybrid options.
But, for the bottom-lining pragmatists of the world (of which many are likely to shop this segment), it's awfully hard to argue with the facts of the Prius V having more space, much better fuel economy ratings, and a hugely better reputation for reliability. Assuming that base prices will put these two into a virtual dead heat at the start, the less-thirsty, less-expensive-to-service Toyota will likely cost less over the lifetime of the vehicle.
VS: Lexus CT200h
With prices for the top-of-the-line Prius V Five probably approaching the $30K mark, there will be some intra-brand competition between these Lexus and Toyota cousins. The CT offers more for the driver, with better handling and a bit more engagement, while the V will clearly win in terms of overall fuel economy and space. Considering the very rich feature set at the top trim level of the V, the still lower price, and the bigger booty, we'd say that one would have to really dig the CT's admittedly cool interior/exterior styling to pull the trigger on the more expensive Lexus. For most typical hybrid shoppers, the Prius V will probably be the winner here.
2012 Toyota Prius V
Engine: Inline-4, 1.8 liters, 16v and electric motor
Output: 134 hp/153 lb-ft
Weight: 3274 lb
Fuel Economy, City/Hwy: 44/40 mpg
Cargo Capacity: 67.3 cu ft
Base Price: $26,000 (est)
On Sale: Fall 2011