Quick Drive: 2012 Honda CR-Z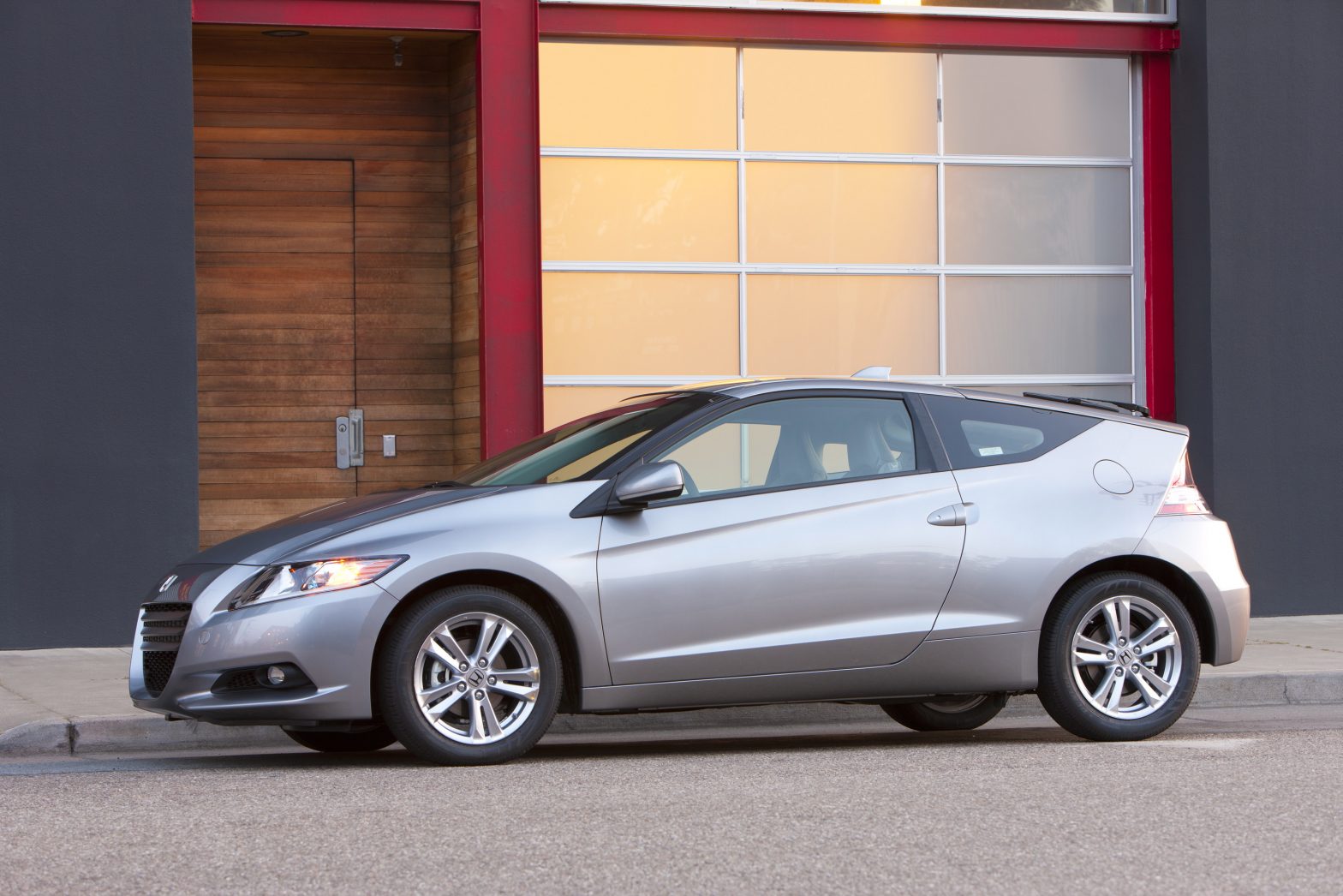 —Ann Arbor, Michigan
The CR-Z is kind of an odd little car. It's vaguely reminiscent of the CR-X from which it borrows its form. It employs a hybrid powertrain, but passes itself off as moderately sporty, too. It offers a six-speed manual transmission—
which we've tried in the past
and enjoyed thoroughly—but our recent tester was fitted with the more efficient continuously variable transmission (CVT). As such, its 1.5-liter gasoline engine and electric motor put out a combined 122 horsepower and 123 pound-feet of torque.
Our CR-Z EX with navigation weighed in at 2734 pounds. It's a nose-heavy little car, with about 60 percent of that weight in the front and 40 percent in the rear. Thankfully, the wheels are pushed out pretty far toward the corners, so the CR-Z earns back a bit of that balance in the turns.
In practice, it's a nicely responsive vehicle, with inputs from the steering wheel enticing quick reaction from the front tires. In slalom situations, though, it takes a while for the nose to swing back around as it fights its own momentum. There's a fairly quick degradation of lateral grip when tossing this small car about, but it's nothing that can't be overcome with a bit of precision and concentration on the part of the driver. In our experience, we had a lot of fun throwing this car about, thanks to good controls and a short wheelbase. It'd be hard to get bored driving this car, and we think most drivers will be happy with the way it handles itself on their favorite roads.
The CR-Z isn't a particularly fast car as one could surmise by looking at its output figures. Still, it has Sport, Normal, and Econ buttons to help adjust throttle response to your intended driving style. Sport lets you command the throttle with sharpness, while Econ keeps the revs from climbing too high, too fast when you're trying to conserve fuel.
This two-seater offers a decent amount of room up front for two people, and in back for luggage. It's a great way to commute or to get your errands done on a Saturday afternoon. You and another person can comfortably zip around on a garage-sale Saturday, collecting things in the back of the CR-Z, taking multiple excursions onto your favorite back roads along the way. Fuel economy is decent for a car this fun, rated at 35 miles per gallon on in the city, and 39 mpg on the highway. Of course, if you drive like us, you can expect to hit well below those marks, but you still won't be making frequent stops at the pump (we averaged about 29 mpg when driving for kicks, and the fuel gauge seemed to stay put).
So, no, it's not the greatest sports car in the world, nor is it the most impressive of hybrids. What is great about is that it blends the values of both types of vehicle in an affordable yet practical way. The base CR-Z with a six-speed manual starts below $20K, at $19,695, or $20,345 with the CVT. The range-topping, CVT-equipped EX-L with navigation isn't too much more, with an MSRP of $23,705. At those rather reasonable prices, it's very accessible for a hybrid, and just about right for the driver who wants a small car with a bit of character.
2012 Honda CR-Z CVT
Engine: Inline-4 and electric motor, 1.5 liters, 16v
Output: 122 hp/123 lb-ft
Weight: 2734 lb
Fuel Economy, City/Hwy: 35/39 mpg
Base Price: $20,345