Driven: 2011 Honda CR-Z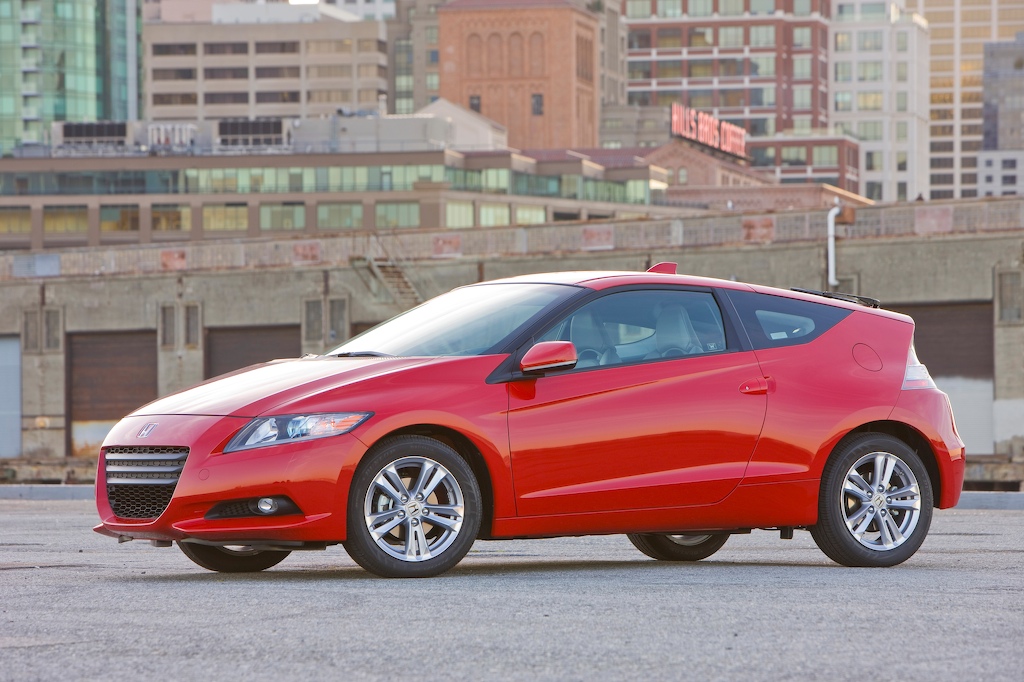 —San Francisco, California
For about a year now, we've been trying our best to rationalize the intersection of cars that are both environmentally responsible (insofar as they consume fewer resources over their life spans) and genuinely fun to drive. We call this intersection Greenformance, and you've probably read at least one or two of Tom Martin's columns on the concept's finer points here in the pages of Winding Road, too. With the auto industry just now starting to produce some of the vehicles that were first conceived of in the sweaty-palmed days of $145-per-barrel oil and $4-plus gasoline, there are more chances than ever before for cars that can hit the Greenformance sweet spot.
Thus far, the most successful of these cars, from a driver's perspective, have been the latest generation of Euro-like diesel sports sedans, the rather pricey Tesla Roadster, and a variety of nearly there, range-extended EV concepts like the slinky Fisker Karma. Notably lacking from the Greenformance cadre have been the far more common gasoline/electric hybrid vehicles that Americans have been purchasing in droves for the last half-decade.
Despite notable, interesting, and very powerful hybrid vehicles being offered up by the likes of Lexus, Mercedes-Benz, and BMW, the bulk of hybrid cars and trucks have been a bit boring—utilitarian, high-mpg machines with aspirations to be as unobtrusively "normal" to drive as something with a traditional powerplant.
Honda's hybrid offerings have been, with the single exception of the original two-seater Insight, as banal as the rest of the lot. The brand's launch of the much more conventional, 2010 Insight may have set up Honda dealerships with the country's most inexpensive hybrid to sell, but it spurned the dreams of enthusiasts by doing away with the sweet-handling characteristics of the decade-old, iconoclastic coupe. This year, Honda has set about righting the ledger with the CR-Z.
Because Honda has gone in such a different direction with the Insight nameplate—effectively deciding that it should now be its signature, volume, stand-alone hybrid offering—the historical context for the CR-Z is really better found in the automaker's rich history of small coupes. CR-X, of course, is the most direct progenitor of this new car, as well as the follow-up del Sol targa, though we also sense DNA from the Z600 of the 1970s and the recently departed S2000. All of those cars were able to make great use of their relatively low power outputs thanks to being real lightweights.
With a curb weight that starts at a respectably low 2637 pounds (top-end trim brings that up by 70 pounds), the CR-Z's 122 horsepower and 128 pound-feet of torque are enough to make the car feel quite spirited. It's important to note, especially for those who tend to shy away from revvy, torque-deficient four-cylinder motors, that this newest version of Honda's Integrated Motor Assist (IMA) brings all of the CR-Z's twist to bear at just 1000 to 1750 rpm. That early torque from the electric motor gives the coupe a lot more early shove than we've come to expect from Honda engines, and gives the driver an immediate indication that this car is designed to play along. Keep your foot down and the revs high, and you'll soon realize that the 1.5-liter four can still howl as is proper for a small, sporting engine. The note is shrill at the redline and pretty buzzy in the middle range—evocative enough to keep us fully tuned in to the driving experience.
Of course, with that level of power, the CR-Z is still rather slow by the stopwatch's reckoning when compared with other sports cars. But, as is the case with low-powered fun machines like the Mini Cooper or the Mazda MX-5 (or even up a class to the RX-8 and S2000), the joy here is really found by carrying speed through the bends, rather than in outright pace.
Honda continues to back up the CR-Z's sporting cred with controls that encourage the driver to wring every last ounce of performance out of the hybrid package. The six-speed manual transmission, standard on the base car, is a strong effort from a company that does stick shifts better than just about everyone else. CR-Z's manual may not have the liquid smoothness of the benchmark gearboxes found in the Civic Si or Acura TL, but it is direct, precise, short of throw, and a general joy to use. The paddle-shifted CVT isn't all that bad either, but the absolute control of the six-speed is too good to pass up.
The small-diameter, thick-rimmed steering wheel feels really good in the hand, backed up with sharp turn-in thanks to a fast rack. CR-Z doesn't quite get Mini levels of quick-rotating ability—the Honda has a shorter wheelbase but is longer overall—but it still managed to show us a fair go-kart imitation on the fantastically bent roads north of San Francisco. Road feel is too low, however, though steering is slightly more communicative when the Sport mode has been activated.
Of course, steering into a turn is one thing, and being able to grip through it is quite another. It doesn't take too heavy of a lateral force before the CR-Z's rather skinny 195/55 R16 tires are pushed into a slide. And, while the car's structure feels rather stiff, the Honda is softer sprung than we'd hope for, with too much roll through the suspension than is great for sports car handling. (The tradeoff there, of course, is a relatively nice ride quality around the city, which is still where we'd expect many CR-Zs will spend a lot of time.)
There is a distinctly "high-tech" sort of styling story in the CR-Z cabin, with metallic touches on the door handles and trim pieces, a cool metal mesh door insert (easy to bump your elbow on, though), and an interesting translation of some other familiar Honda cabin shapes. Fit and Civic owners will definitely notice the family resemblance. The two seats are covered in a silvery mesh that fits the overall styling motif, and offer firm support without being too aggressively bolstered for larger drivers. Bigger bodies might want a few millimeters more head and thigh room, though.
The instrument display is very cool, with blue-to-green modulating lighting (based on how aggressively or economically one is driving), and a rad, 3D projection of one's current speed in the middle of the tachometer. This all sounded a little gimmicky to us, too, before we experienced it first-hand. By the end of the drive we were fans.
CR-Z is a two-seater, naturally, but there is a lot more storage space behind the front chairs than you'll find in most two-place coupes. There are a couple of cubby-like hollows on the bench behind the front seats that would be perfect for purses, laptop bags, or the occasional single grocery bag. Under the hatch there are three distinct cargo area configurations, a two-position cargo cover, and a total load space of up to 25.1 cubic feet.
The tailgate also incorporates the same vertical glass panel that was used on the CR-X, and that can be found on today's Insight, but alas, it's not enough. Thick rear pillars and the low seating position combine to give CR-Z some of the worst rearward visibility we've sampled in some time. The forward view is great though—we'd recommend concentrating on what's in front of you.
You'll probably notice that we've gotten pretty far along in this review without mentioning anything about fuel economy. This is a hybrid, right? The discussion about mpgs can be viewed in two ways, hinging solely on how you decide to organize the CR-Z in your own breakdown of the automotive landscape:
1. The CR-Z isn't very fuel-efficient as far as hybrids are concerned.
2. The CR-Z is very fuel-efficient as far as small sports cars are concerned.
The facts are these: The manual-equipped CR-Z is rated at 31 mpg city, and 37 mpg highway. Up those numbers to 35/39 for cars with the CVT transmission. That level of economy is slightly better than a sporting car like the Mini Cooper (28/37 city/highway), which is less powerful and about the same price. Anything with bigger power gets quickly thirstier. Of course the Prius, Fusion Hybrid, and Honda's own Insight are far more frugal than the CR-Z, but they're also a long, long ways away from being as much fun to drive.
Some have made (and will continue to make) the not unreasonable argument that it would make more sense for Honda to make this type of car with a simple gas engine, and call it a day. We'd contend that, without even drawing fuel economy into the argument, the characteristics of the IMA system in the CR-Z make it more enjoyable to drive, and a more capable overall vehicle.
The CR-Z is a corner case for Honda right now, in any event. Executives claim to expect a very modest sales run of about 15,000 units per year, and can't even really pin down the demographics of the potential CR-Z buyer. In the long run though, we think that cars like this represent a sort of light at the end of the tunnel for driving enthusiasts. As stricter EPA regs take effect and are (no doubt) followed by calls for even more radical changes to the average car on American roads, we see it as fundamentally important that Greenformance-focused vehicles start to take root in the collective consciousness of passionate drivers.
Though admittedly imperfect as a hybrid in the minds of most consumers today, the CR-Z nonetheless stands to be a needle-moving car for Honda, and for car culture in this country.
2011 Honda CR-Z
Engine: 1.5-liter inline-4/electric motor
Output: 122 hp/128 lb-ft
0-60 MPH: 9.0 sec (est.)
Weight: 2637 lb
Fuel Economy, City/Hwy: 31/37 mpg
Base Price: $19,200
On Sale: Summer 2010