Quick Drive: 2011 Toyota FJ Cruiser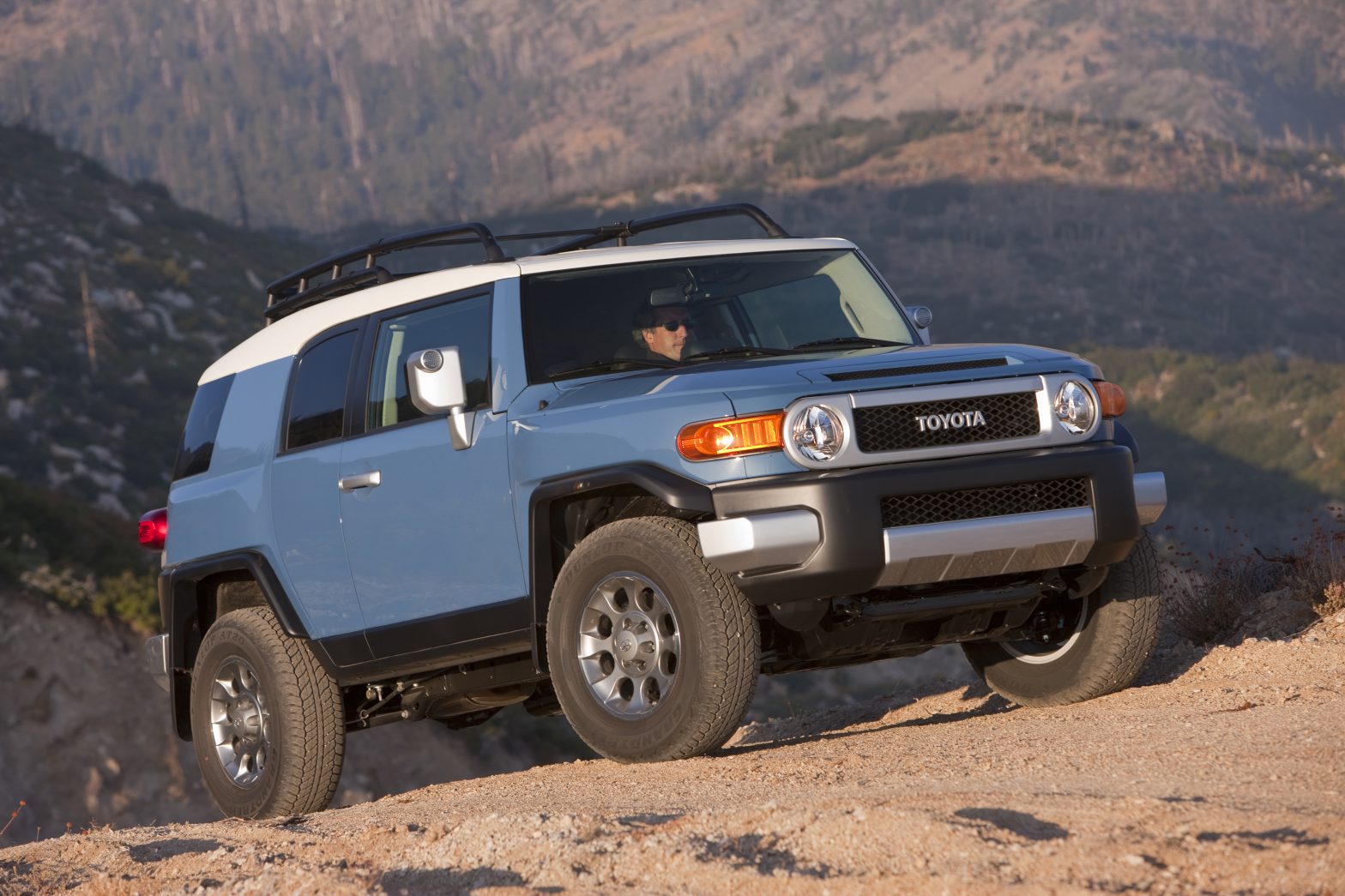 I attended the launch event for the 2012 Jeep Wrangler only a few short months before are Toyota FJ Cruiser loaner arrived at the office. What strikes me about the FJ is how it drives so differently than the Jeep, while still being almost as capable on the trail.
For a start, the FJ features a considerably firmer suspension, especially when compared to the Wrangler Rubicon. It's an easier vehicle to drive down the road, in that it feels more pinned down, and less prone to sudden surface imperfections or changes. At the same time, its size is an issue. It feels wider and taller than a Wrangler, and is therefore more difficult to place on the road.
The biggest knock that I'd have against the FJ is that it doesn't feel very powerful. Off the line acceleration is decent, but at speed, there just isn't enough shove. On top of that, it doesn't have a particularly pleasant sounding exhaust note.
—Brandon Turkus, Test Fleet Manager
I like a few things about the FJ Cruiser. I enjoy the elevated ride height and being able to see over other cars without feeling like I'm going to tip over at the next curve. I like the sparse, simple interior and the upright windshield (with three wiper blades!). The roominess is nice, and I enjoy the cave-like feeling inside. It's also nice to know that it's capable of driving over obstacles, rather than around them.
I'm not in love with the exterior styling. It has a weird blend of angles and curves that look a bit cartoonish to me, and the white roof doesn't help. Visibility is a pretty big problem in the FJ, and, like Brandon mentioned, it is hard to know exactly where your corners are. The big mirrors, though, are helpful. I could nitpick about some other details, but those are the biggest downers for me.
But then I look at the price tag. 26 grand doesn't feel like a lot of cash for a decent-sized, capable off-roader from a reliable brand, even though I'd probably still rather have a Wrangler for less money. Still, the FJ Cruiser continues to grow on me, but I think what I'd really like would be an FJ Cruiser with a shorter wheelbase and a body-colored roof.
—John Beltz Snyder, Production Editor
Pros
Capable and comfortable both on- and off–road
Firm-ish ride makes for better stability
Jeep Wrangler starts a lower price
Cons
Large size makes it difficult to place on the road
Questionable styling
There's no a lot of content to be had inside the cabin