Preview: McLaren 12C GT Sprint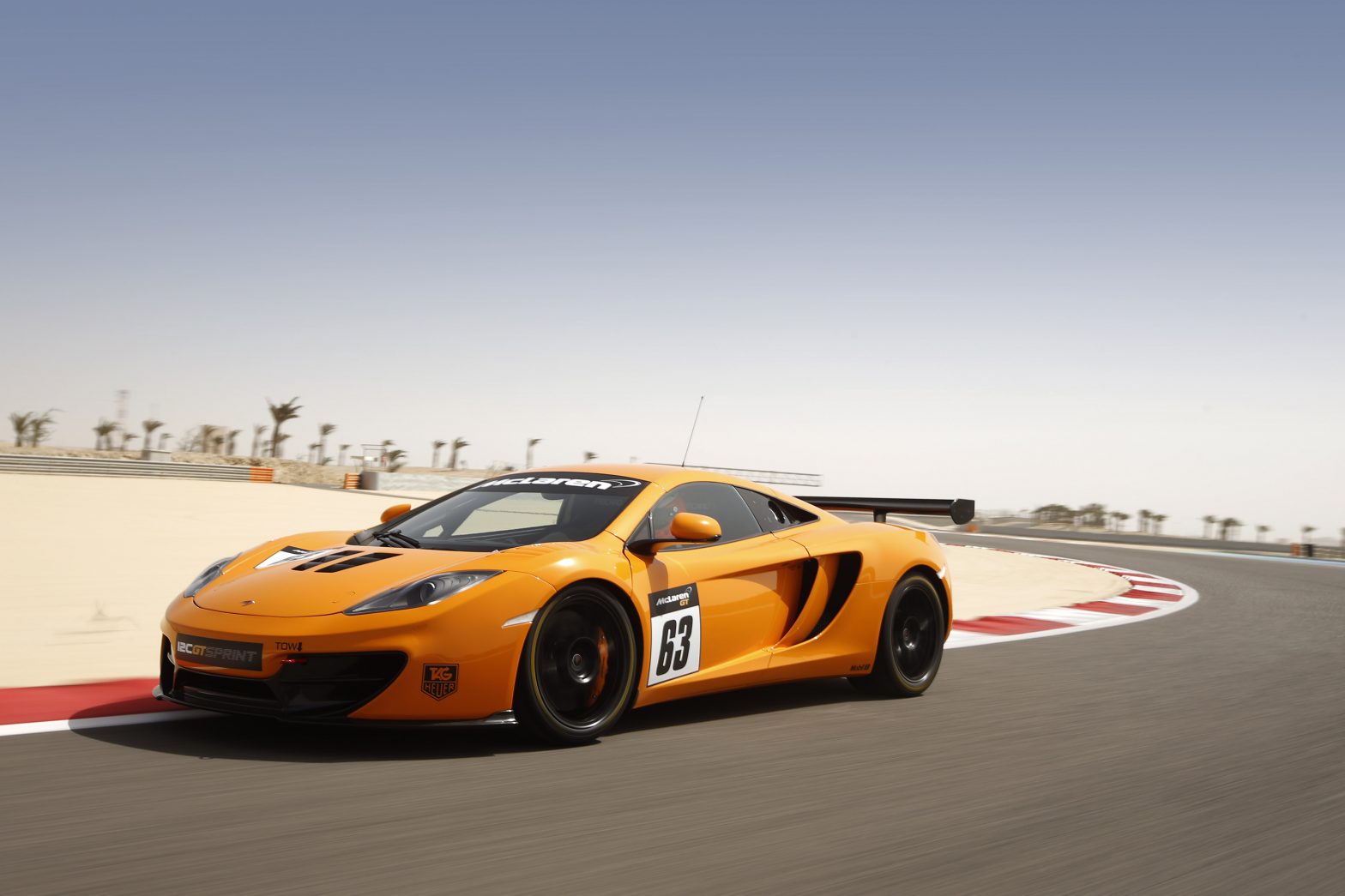 Are you in the market for a
McLaren 12C
that you can't legally drive on public roads? (That actually sounds amazing, doesn't it?) McLaren GT—the brand's racing car division—has introduced the 12C GT Sprint for its debut at Goodwood Festival Of Speed.
The McLaren 12C GT Sprint uses the same biturbocharged 3.8-liter V-8 as the road car, producing 616 horsepower. That power goes to the rear wheels via a seven-speed dual-clutch transmission. The real added benefits in the GT Sprint come from the handling, aerodynamic, and cooling upgrades.
The suspension of the 12C GT Sprint has been tuned and lowered by 40 millimeters (about 1.6 inches). Proactive Chassis Control, Brake Steer, and McLaren Airbrake systems have been calibrated specifically for on-track driving. The car has also been fitted with 19-inch OZ wheels racing slick tires from Pirelli. Carbon ceramic brakes are on hand to slow the car down in a hurry.
The 12C GT Sprint also uses three handling modes, which control damping, roll stiffness, and ESP settings.
This new version has an updated bumper, and a hood inspired by the
12C GT3
. Extra venting and a radiator borrowed from the GT3 improve cooling. Also available is a Computational Fluid Dynamics aero package, which includes a carbon fiber rear wing and front splitter, polycarbonate windshield, and other lightweight components.
Inside the car, the GT Sprint has all the necessary safety upgrades to make it suitable for racing on the track. It features a roll cage, fire extinguisher system, HANS-approved racing seat, and six-point harness. To help keep the driver cool, the 12C GT Sprint features a lightweight version of the standard air conditioning system. The racing-optimized display is surrounded by a carbon fiber dash, and a McLaren GT-developed wheel is on hand to steer the car through the corners.
To start, a batch of 20 examples will be delivered this year. Pricing hasn't been nailed down yet, but McLaren says it will start below £200,000 (about $298,000).
Scroll down for more details in the press release, below.
McLAREN GT SHOWS TRACK FOCUS WITH 12C GT SPRINT
Track-only variant of the 12C announced
Lowered ride height with Pirelli racing slick tyres
Optimised aerodynamic package with enhanced cooling
Enhanced chassis tuning to deliver a GT racing experience
McLaren GT is to produce a new high performance variant of the 12C, named the 12C GT Sprint, designed to offer further enhanced handling through optimised aerodynamics and track focus.
The track-only model signifies the continued development of the 12C model, and bridges the gap between the 12C, itself fully accomplished on both road and track, and the all-out racing 12C GT3 and 12C GT Can-Am Edition models. It has been designed and developed by McLaren GT, the race car building arm of the McLaren Group, and retains many of the unique systems from the 12C road car, on which it is based.
Built around the lightweight carbon fibre MonoCell chassis, and with developments to systems such as ProActive Chassis Control, (PCC), Brake Steer and the McLaren Airbrake, the latest model from McLaren GT has been honed to deliver a more track-focused GT racing experience whilst retaining the balance and precise characteristics much praised in the road car.
Generating 625PS, the optimised 3.8-litre twin turbo engine includes a unique oil system, and cooling system which features a 12C GT3 developed central front radiator. The GT Sprint retains the 12C's seven speed twin clutch gearbox.
The PCC suspension system has been tuned and recalibrated to suit the cars lower ride height and racing slick tyres, providing a firmer and more circuit-orientated setup. The 12C GT Sprint has three unique handling modes which allow the driver to select their preferred damping, roll stiffness and ESP settings.
Externally, the 12C GT Sprint features optimised aerodynamic and cooling upgrades. At the front is a more aggressive front bumper, GT3-inspired bonnet with radiator exit ducts and front wing louvres. Lowered by 40 mm, the 12C GT Sprint is fitted with track-focused braking system with carbon ceramic (CCM) brake discs. Tyre changes are made easier through an on-board air jacking system and centre-locking 19-inch OZ wheels, shod with Pirelli racing slick tyres.
Inside the cabin, the 12C GT Sprint is fitted with an FIA-approved rollcage and integrated fire extinguisher system. A fully adjustable HANS-approved, lightweight composite racing seat fitted with full six-point harness provides the optimum driving position, while an air-conditioning system is retained, albeit a lightweight version, offering added comfort.
A carbon fibre dash houses the race developed digital display and key vehicle controls which interface with a McLaren GT developed steering wheel.
Further enhancements are available through a range of bespoke options including a CFD (computational fluid dynamics) developed aerodynamic package including carbon fibre rear wing and front splitter, and further lightweight components including a polycarbonate windscreen.
The 12C GT Sprint, finished in heritage McLaren Orange as standard, will make its world premiere at the 2013 Goodwood Festival of Speed.
Further details will be announced in due course, but an initial batch of 20 cars will be delivered in 2013, available from McLaren retailers at a price point below GBP £200,000*.