Driven: 2012 McLaren MP4-12C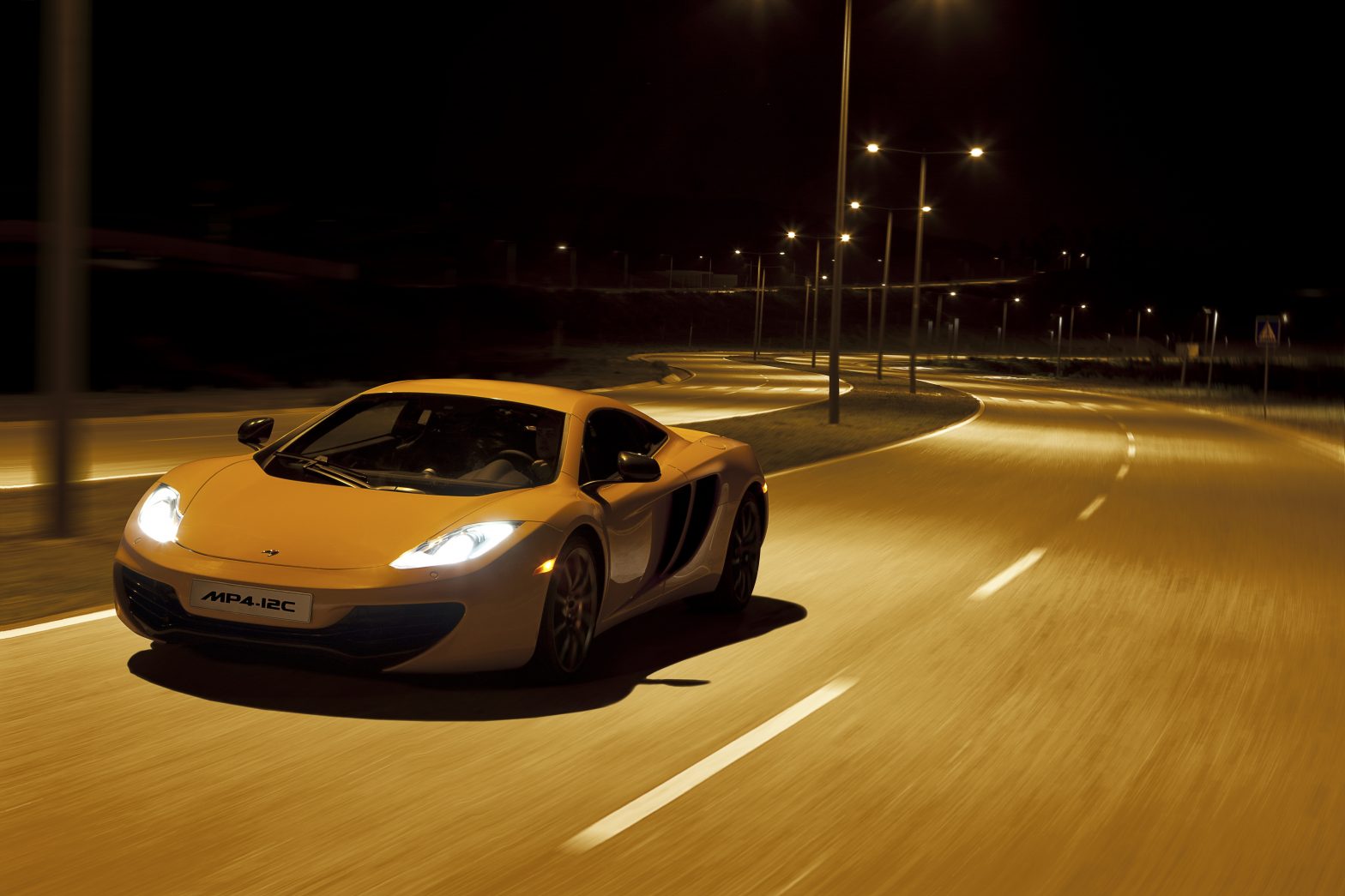 We can't think of any bigger supercar rollout this year—maybe this decade—than the stunning McLaren MP4-12C and we've just been among the very first to drive it on track and road. Trust us right up front: you're going to like this chapter in British high-performance history for years to come.
As only McLaren and Ferrari have had contending teams in Formula 1 every season since 1966, it was about time McLaren came out fighting on the streets and at weekend clubsport venues as well. And, hardly a surprise, the MP4-12C proves completely capable of knocking Maranello (and Stuttgart, for that matter) from the top steps in anyone's annual Performance Car Of The Year voting.
The newly named McLaren Automotive, under the leadership of Sir Ron Dennis and his crack staff, is not about to do things by halves. The boss himself told us before our drive, in fact, that we should prepare ourselves for driving "the best handling sports car in history."
That might seem an easy statement to doubt, but throughout the full range of driving conditions experienced on the day—dry and sweaty track conditions, various local roads, comfort and track configurations for the car—we came away knowing that McLaren has achieved a major breakthrough, by anyone's measure.
First off, McLaren has succeeded in bringing a variety of million-dollar-exotic-car technologies into the V-8 supercar segment, all of which pay huge dividends. Primary among these features is the chassis itself. The all-carbon-fiber MonoCell main section can boast rigidity traits Ferrari and Porsche only dream of, at a total weight of just 165 pounds. If an owner ever runs out of talent on the weekend, repairs are comparatively simplistic as the front and rear aluminum structures bolt on and off. Exterior panels, built using composites and aluminum, are easily replaced and cost considerably less than the carbon-fiber alternative.
Do we love the exterior? Almost entirely, yes. Though, if we're picky, the unabashed massive side air intakes do distract the eye a bit, and the rear fascia at times looks like it came from a different car. Both of these sections are designed with purpose, of course. Engine radiators are mounted longitudinally and right alongside the engine in back, so those side intakes keep everything very cool with all that gushing wind. Then in back, the Air Brake integrated with the rear wing shoots bolt upright when under the hardest braking and then falls back down just as quickly once no longer needed. While up, it blocks the rear view to perfection.
The interior is another clever deal. The center tunnel can be so narrow because several functions have been moved to the outer armrests. This also moves the human flesh ballast to the middle of the car, which naturally improves the car's dynamics. There is also a lower center of gravity and yaw point in the MP4-12C than in any Ferrari or Porsche.
The deftly engineered, cantilevered winged doors are good show, but it's the McLaren ProActive Chassis Control (MPCC) that steals the day. It's a bit awkward to say this, but we've never felt anything like it—and we really like it—along with the challenge it puts forward to any competitors.
On the left of the narrow center console is a dial with an "H" for "handling," which sets the suspension, steering, and electronic stability control between normal, sport, and track modes. A similar dial on the right has a "P" for "powertrain" that offers the same modes for throttle/engine response, gearshifts, as well as management of the engine and exhaust tone inside the cabin. Those lovely sounds are piped in to the driver via an acoustics tube from the intake plenum.
MPCC is a revelation in chassis dynamics, simply put. With no assistance from any heavy, stiffening cross braces fore or aft, the adaptive dampers with electro-hydraulic roll control quite literally bring the cornering capabilities of an Ariel Atom to this upper segment. We feel the four wheels keeping tires to the tarmac—nineteen-inch front, twenty-inch rear—and any nosedive and rear squat are removed from the equation.
But then this system doesn't take away one bit from interstate comforts, especially when we point both the H and P dials to Normal. When cruising is needed, the MPCC dampers are accommodating in an everyday driver manner.
The new, all-UK built, 3.8-liter biturbo V-8 sits directly behind us as we poke Engine Start. From there on it's a blur of great driving promises delivered. At the host track for this special drive in southern Portugal, the demands made on us and the MP4-12C were nonstop.
With 592 horsepower ready to be called up at a peak 7000 rpm, and an accompanying 443 pound-feet of torque in the middle revs, curve entries and exits were sensationally easy and, frankly, quicker than we imagined ourselves capable of. The MPCC is to credit, of course, plus rear-wheel Brake Steer that brakes the inside wheel if necessary to help keep us on trajectory. On exit from all the tight bends, Brake Steer also jumps in to minimize time-wasting wheel spin. Result: the MP4-12C is always going where we're aiming.
And the seven-speed, rocker-arm actuated, Seamless Shift Gearbox is always up to the task with—yes—seamless shifts, especially in the higher revs when on track. Pre-Cog is an F1-borrowed bit that gets the next gear, up or down, poised for action. This then makes the actual moment of the shift we want instantaneous. We could do with a bit more loudness from the twin exhausts, but a sport exhaust is available, which helps. A lustily screaming Italian she is not.
The 570-horsepower Ferrari 458 Italia hits 3042 pounds at its lightest. The lightest trim 592-horsepower McLaren MP4-12C comes in at 2868 pounds dry. And the Macca is more rigid structurally, has a more compliant feeling high-tech suspension, and the exact same fore/aft percentage of weight distribution as the Italia (42.5/57.5). The McLaren is also a half-inch to an inch smaller in all dimensions versus the Italian, except in wheelbase where it is almost an inch longer. All the same, cabin space is no problem even for the tall driver. And there's even 5.1 cubic feet of cargo space to hold everything you own if you're a very small creature!
But the sheer speed numbers tell a story, too. With optional Pirelli P Zero Corsa tires on a fine track day and dressed in lightest livery, McLaren estimates the MP4-12C can get to 62.5 miles per hour (100 kilometers per hour) in just 3.1 seconds. In quite un-ideal conditions in Portugal, our best automated launch on normal tires and without all the lightness bits added was 3.5 seconds. Stopping via the large carbon ceramic brakes and the spectacular rear integrated Air Brake flap on our test cars was just as confidence-inspiring as the acceleration.
Where the McLaren simply blows all comers away, however, is in acceleration to 125 mph (200 km/h). Whereas the Ferrari 458 declares 10.4 seconds (though is capable of better admittedly), the MP4-12C in hottest trim does this in just 8.9 seconds, leaving only the hugely more expensive Bugatti Veyron faster. These numbers beat even the best Ferrari Enzo performance. And all the while the MP4-12C's fuel efficiency and air-preserving CO2 ratings are unapproachable in this class. Going by the European cycle for now, mpg comes to an average of 20.1 combined per US gallon, and the MP4-12C produces less CO2 per horsepower than a Toyota Prius hybrid. This latter fun fact is a hardcore testament to the engine's high specific output.
In this first partial year of MP4-12C manufacture, 1000 units will come from Woking to satisfy all world markets. In the US, where roughly one-third of all volume will be shipped, the waiting list is now officially at the magic 18 months for any new orders, and first deliveries start by early September 2011. British and western European customers start driving in mid-May.
Expectant owners are entitled to watch their car get built day after day via internet if they like. After delivery, MAC has created a McLaren Owner Experience that can help the fortunate few stay fortunate and fast on track days. You may have to get over to Woking to get this treatment, though, but seeing the MTC facility is believing.
We're at the sunset of one supersport epoch and just getting started on the next. At the very least, we bless McLaren for really dicing things up and making the kings of the segment nervous as hell.
2012 McLaren MP4-12C
Engine: Biturbocharged V-8, 3.8 liters, 32v
Output: 592 hp/443 lb-ft
0-60 MPH: 3.0 sec (est)
Top Speed: 200+ mph (est)
Weight: 2868 lb
Base Price: $231,400
On Sale: September 2011