Overview: 2015 Ford Mustang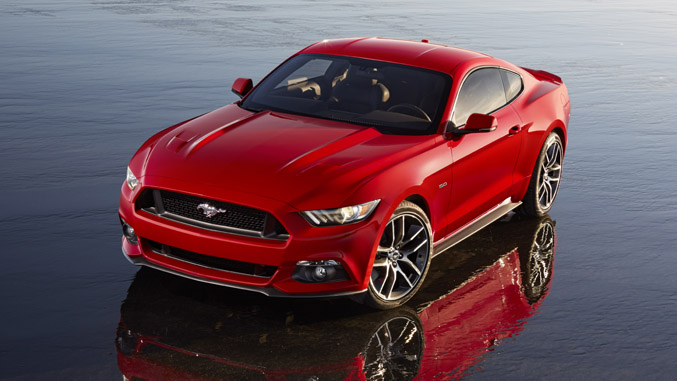 This is the overview page for the 2015 Ford Mustang. This page will be updated regularly with specifications and other relevant information, as well as links to videos and reviews. Check back here for the latest information on this vehicle.
PIREVIEW
With five decades of heritage and over 9 million examples sold, the Mustang has become an American institution. It's long been known that Ford was planning something big for 2015, the Mustang's 50th anniversary. In recent months, rumors and speculation about the new car hit a fever pitch, but aside from the occasional spy shot of test mule cars clad in extensive camouflage, details about the new pony car have been achingly scarce. That ends today.
Clearly, Ford is well aware of how much is riding on the success of the new Mustang. What you see here is the culmination of years of research and development based on a symphony of factors affecting the new car. Perhaps the most pivotal of these factors is Ford's plan to take the new Mustang into global markets. That plan touches nearly every aspect of the new pony car, from the exterior styling and interior refinement to the powertrain and suspension. While the merits of the aesthetic changes are open for debate, there's no argument that nearly every alteration made to the mechanicals of the new car stand to make this a significantly more engaging vehicle to drive than its predecessor.
Outside, the new Mustang has clearly been developed to fall closer in line with the rest of its Ford brethren while still retaining the "vibe" that makes a Mustang a Mustang. Whether or not Ford has accomplished that is a largely subjective exercise. You either love the new look or you don't, and while it's no surprise that some people are slow to adapt to change, the initial reaction to the redesign may have been a little more divisive than what Ford's designers had hoped for.
However, in terms of proportions, the new car features a wider rear track that has been stretched from 62.1 to 64.9 inches and an overall height which has been reduced by 1.4 inches while still maintaining the 107.1 inch wheelbase of the outgoing car. This, combined with the new styling elements, results in a Mustang which looks noticeably more capable and athletic than the 2014 model.
While Ford had hinted in the past that retro-inspired design found in the outgoing model would be largely absent this time around, the designers also made sure to retain elements of its heritage as well. From the traditional triple taillight configuration and the LED headlight "gills" that echo the slats found adjacent the headlights on the original Mustang, to the new fastback roofline, there's certainly still some legacy to be found in the new car.
Get inside the new Mustang and you're treated to an interior which has been given an extensive overhaul as well. Ford says that aircraft design played a large role in the inspiration for the new cockpit, and it certainly shows. With a more purposeful layout, modernized look and a big step forward in terms of material quality, the new Mustang looks like it may set a new standard for interior refinement in this segment.
But the improvements aren't just skin deep. While Ford has yet to release performance numbers for the V6 and V8 motors, both bring with them notable improvements over the versions found in the current car, so it's safe to expect a modest bump in output for both motors. Perhaps the biggest news on the powertrain front is the addition of a third engine option – a biturbo, 2.3 liter EcoBoost four cylinder mill, expected to generate about 305 horsepower and 300 pound-feet of torque. Much like the F150, this new EcoBoost trim level will be slotted above the base model. All three motors will be mated to either the Getrag six-speed manual gearbox carried over from the current car or a six-speed automatic transmission, which now also sports paddle shifters.
In terms of suspension, the solid rear axle of the outgoing model – loved by drag racers and largely detested by almost everyone else – has finally been put out to pasture. In its place is now a fully independent setup, and its addition necessitated a major revision of the front suspension as well, which now utilizes a double-ball-joint independent setup with MacPherson struts. Ford says it expects the new Performance Pack equipped GT to outperform the current Boss 302 model on the track.
Stopping power will see a serious upgrade as well. GT models equipped with the Performance Pack will now be fitted with 15-inch rotors mated to six-piston Brembo calipers up front and 14-inch rotors with single-piston calipers in the rear. All other models in the Mustang range will also see significant braking upgrades over the systems found in their outgoing counterparts as well.
While the breadth of information we currently have is fairly extensive, there's a handful of key figures we're still waiting on. Weight (which is rumored to have dropped by as much as 200 pounds), official performance numbers, fuel economy and pricing are all blanks we're waiting for Ford to fill. However, with the car not expected to find its way into showrooms until late 2014, it may be some time before all those details come to light.
Make sure to check out our footage from today's reveal, as well as Ford's introduction video and press release, below.
Update: 2015 Ford Mustang Official Specs Revealed
The pony car wars show no signs of letting up any time soon. While the new
Dodge Challenger
, and particularly the 707hp
Hellcat
variant, have been stealing the limelight as of late, Ford has just announced the official specifications and output figures for its
all-new Mustang
, which is set to hit showrooms later this year.
As the Mustang moves up the ladder in terms of refinement, both through more standard content and its long-awaited move to a fully independent rear suspension from the solid-axle design that's been a staple of Mustangs since the car debuted in 1964, many have worried that the car would gain quite a bit of weight for the 2015 model year.
It's true that the Mustang has packed on a few pounds, but thankfully the numbers revealed are small enough to be largely negligible. The base Mustang, equipped with the V6 – which now outputs 300 horsepower, strangely down 5hp from last year's model – with the automatic transmission weighs just 12 pounds more than the outgoing model at 3530 pounds, while the biggest weight gains are seen in the GT model, up 87 pounds to 3705 when equipped with the manual transmission, or 3729 with the automatic gearbox, there a gain of 54 pounds.
While weight gain in performance vehicles is rarely a welcome sign, Ford points out that the power-to-weight ratios actually improve for 2015, albeit by a rather small amount. The 5.0-liter V8 in the Mustang GT is now officially rated at 435 horsepower and 400lb-ft of torque, up 15 ponies and 10 pound-feet from the 2014 model, and should make the Mustang's minimal weight gain largely unnoticeable. The 2.3-liter turbocharged EcoBoost four cylinder engine, a new offering for 2015 and the first time a turbo has been installed by the factory in a Mustang since 1986, officially outputs 310 horsepower and 320lb-ft of torque, slotting it in between the base V6 model and the GT in the Mustang portfolio.
Pricing is now also out in the wild, with the base V6 model priced at $24,425, the EcoBoost coming in at $25,995 and the GT starting at $32,925, all of which include the $825 destination charge.
Horsepower Unleashed – Motivating the All-New Ford Mustang with Improved Power-to-Weight Ratios
— 5.0-liter V8 headlines all-new Ford Mustang lineup with 435 horsepower and 400 lb.- ft. of torque and improved power-to-weight ratio
— New 2.3-liter EcoBoost® brings turbocharging and direct injection to Mustang with 310 horsepower and 320 lb.-ft. of torque – best-ever power density from a Ford engine
— Manual transmission provides smoother shifting than previous Mustangs; automatic transmission features steering wheel-mounted paddle shifters and downshift rev- matching
DEARBORN, Mich., July 17, 2014 – The all-new 2015 Ford Mustang offers three great engines including a standard 300-horsepower V6, a brand-new 310-horsepower EcoBoost® or an upgraded 435-horsepower V8. Each powerplant is available with either a manual or automatic transmission that makes the pony car a great all-around performer – no matter how the equipment is mixed and matched to suit any individual driving style.
The fewer the pounds a car carries for every unit of horsepower generated by the engine, the quicker and nimbler it feels, making power-to-weight ratio a key measure of performance. A recent study by Autoblog of cars currently available in the U.S. market puts Mustang at the top of the charts in power-to-weight ratio for all three price categories a customer can specify.
Mustang extends its lead further for 2015 with the EcoBoost-powered fastback now carrying fewer than 11.4 pounds per horsepower; Mustang GT has as few as 8.52 pounds per horsepower.
Less is more, EcoBoost comes to Mustang
The addition of a new 2.3-liter EcoBoost engine brings turbocharging to the Mustang powertrain lineup. This engine was designed specifically for Mustang, to meet the needs of drivers looking for outstanding performance and fuel efficiency.
The geometry of the EcoBoost intake manifold and turbocharger housing has been optimized to provide better breathing and higher output in Mustang. Producing 310 horsepower and 320 lb.- ft. of torque, the 2.3-liter EcoBoost engine fits the bill for a true Mustang powerplant – with the highest power density yet from a Ford engine.
"This EcoBoost engine delivers the healthy output Mustang drivers expect, regardless of the car's speed," said Scott Makowski, EcoBoost powertrain engineering manager. "It delivers where a Mustang driver expects it to – with a broad, flat torque curve and great driveability under any conditions."
The newest member of Ford's global EcoBoost engine family, the 2.3-liter continues to take advantage of state-of-the-art technologies including direct fuel injection, twin independent variable camshaft timing and turbocharging to produce big-engine power and torque with improved fuel efficiency.
The 2.3-liter EcoBoost is the first Ford engine to use a low-inertia twin-scroll turbocharger that provides quicker boost response while enabling lower emissions and improved efficiency. The cylinder head features an integrated exhaust manifold that separates the inner and outer pairs of cylinders into each of the two inlet passages to the turbo.
Keeping the exhaust pulses separated from the next cylinder in the firing order virtually eliminates mixing losses and maximizes the pulse energy to the turbine wheel. The result is similar performance to a more complex twin-turbocharger configuration, meaning quicker turbine spin-up and torque delivery when the driver needs it for passing maneuvers.
The separated exhaust ports also enable the exhaust valves to stay open longer for reduced pumping losses that improve specific fuel consumption compared to a single-scroll turbocharger configuration.
With a compact mill generating nearly 135 horsepower per liter and more than 139 lb.-ft. of torque per liter – powering a performance car whose drivers are more inclined to use it – ensuring engine durability was critical. Enhancements to the Mustang EcoBoost engine to withstand the added stresses include:
— Forged-steel crankshaft
— Piston-cooling jets
— Steel piston ring carriers
— Premium bearing materials
— Upgraded valve seat materials
— Forged-steel connecting rods
— High-pressure die-cast aluminum cylinder block with ladder-frame bearing caps
— Deep-sump, die-cast aluminum oil pan
The beating heart of a pony
No Ford Mustang engine lineup would be complete without a great V8 engine at its core. The 5.0-liter V8 powers into a new generation with a host of upgrades that help it breathe better, especially at higher engine speeds. Many of these changes are derived from lessons learned in developing the special-edition 2012 Mustang Boss 302.
Getting air into the cylinders and exhaust out is key to generating more power and torque from any engine. That has been the focus in the development of this V8, which features:
— Larger intake valves
— Larger exhaust valves
— Revised intake camshafts
— Revised exhaust camshafts
— Stiffer valve springs ensure valves close completely at high rpm
— New cylinder head casting – revised ports provide straighter path to the valves for less
restrictive intake and exhaust flow; combustion chamber modifications accommodate
larger valves
— Sinter forged connecting rods are lighter and more durable for high-rpm operation
— Redesigned piston tops – deeper cutouts clear the new larger valves
— Rebalanced forged crankshaft to support higher-rpm operation
These upgrades have boosted output of the V8 to 435 horsepower and 400 lb.-ft. of torque.
A new intake manifold includes charge motion control valves to partially close off port flow at lower engine speeds. This increases the air charge tumble and swirl for improved air-fuel mixing, resulting in better fuel economy, improved idle stability and lower emissions.
The variable camshaft timing on the intake side now has a greater range of adjustment available thanks to mid-lock phasers. This enables better optimized control of the valve timing over a broader range of engine speeds and loads for improved fuel economy and emissions.
Shifting gears
More than most drivers, Mustang owners like to take control and shift for themselves. Whether they select a fully manual gearbox or the updated automatic transmission, the experience will be better than in any previous pony.
The manual has a new shift linkage design for easier engagement and improved precision. The shift lever is now positioned closer to the driver and away from the cupholders, creating a clear path for shifting.
Mustang blends outstanding all-around performance and everyday usability. Drivers who prefer to let the car handle the shifting during their daily work run, but who still want to take control when the roads get twisty, will appreciate the new steering wheel-mounted shift paddles with rev-matching downshifts – now standard with the SelectShift® six-speed automatic transmission.
The automatic also features a redesigned case with cast-in ribs that help make it stiffer and reduce weight. Internally, clutches are optimized and operating temperature increased to reduce friction. The output shaft is now supported by a ball bearing that enables a top speed of 155 mph for Mustang GT.
With a choice of powertrains to suit driving preferences and lifestyles, the new Mustang has cutting-edge technology under the hood to match its modern design. Yet regardless of engine choice, the car remains quintessentially Mustang.
###
About Ford Motor Company
Ford Motor Company, a global automotive industry leader based in Dearborn, Mich., manufactures or distributes automobiles across six continents. With about 183,000 employees and 65 plants worldwide, the company's automotive brands include Ford and Lincoln. The company provides financial services through Ford Motor Credit Company. For more information regarding Ford and its products worldwide, please visit http://corporate.ford.com.
Ford Mustang Marks 50 Years with All-New Sleek Design, Innovative Technologies and World-Class Performance
All-new sophisticated design clearly inspired by 50 years of Mustang heritage evolved to attract wider array of customers and expand global market availability
Mustang now available with three engines offering a broader power of choice – a more powerful 5.0-liter V8, a 3.7-liter V6 and an all-new fuel-efficient 2.3-liter EcoBoost® engine
Mustang sets new performance and dynamics benchmarks for the brand with world-class handling, more precise steering control and enhanced ride comfort
The next chapter in the life of the iconic pony car begins today as the all-new Ford Mustang – loaded with innovative technologies and delivering world-class levels of performance – is simultaneously revealed around the globe in six cities on four continents.
"Ford Mustang inspires passion like no other car," said Raj Nair, Ford group vice president, global product development. "The visceral look, sound and performance of Mustang resonates with people, even if they've never driven one. Mustang is definitely more than just a car – it is the heart and soul of Ford."
Mustang's impact goes well beyond the 9 million-plus cars sold in its 50 years of continuous production. It has made thousands of appearances in film, television, music and video games, and is the world's most-liked vehicle on Facebook. For the first time ever, Ford will bring Mustang to customers in key parts of Europe and Asia.
"We crafted this car with the goal of creating a contemporary interpretation of Mustang – an American automotive icon that symbolizes optimism and freedom for millions of people around the world," said Jim Farley, executive vice president of Ford global marketing, sales and service and Lincoln.
All-new shape, yet unmistakably Mustang
The clean-sheet design of both Mustang fastback and convertible evokes the essential character of the brand, retaining key design elements – including the long sculpted hood and short rear deck – with contemporary execution.
"You only get one chance to make a first impression, and when you see this car you immediately see a Mustang strong and true," said Moray Callum, Ford executive director, design, The Americas.
Several key design features define the all-new Mustang, including:
– A lower, wider stance with a reduction in roof height, and wider rear fenders and track
– The return of Mustang fastback with a sleeker profile enabled by more steeply sloped windshield and rear glass
– Three-dimensional, tri-bar taillamps with sequential turn signals
– Contemporary execution of the signature shark-bite front fascia and trapezoidal grille
Mustang convertible drivers will appreciate the standard multilayer insulated cloth top that gives the car a more upscale appearance and a quieter cabin. The new top lowers twice as fast as before, and has a sleeker profile when folded for open-air motoring.
The information and controls an active driver needs are all readily accessible in the aviation-inspired cockpit, which is executed with the highest degree of craftsmanship ever found in a Mustang. Large, clear instrumentation puts vehicle information right in front of the driver in the roomier cabin, while improved ergonomics and tactile switches and knobs provide better control. The added width and a new rear suspension contribute to improved shoulder and hip room for passengers, and a more usefully shaped trunk can accommodate two golf bags.
The Mustang experience
The way Mustang looks, drives and sounds is key to the visceral experience that makes drivers just want to get in and hit the road. With more options to choose from, there is a Mustang to fit any lifestyle. The upgraded V6 and V8 are joined by an all-new 2.3-liter EcoBoost® engine that brings state-of-the-art technology to Mustang.
Mustang GT continues with the latest edition of the throaty 5.0-liter V8, now featuring an upgraded valvetrain and cylinder heads that yield more than 420 horsepower and 390 lb.-ft. of torque. A new intake manifold improves low-speed breathing for better fuel economy, idle stability and emissions.
"This EcoBoost engine delivers where a Mustang driver expects it to, with a broad, flat torque curve that pours out when you stand on it for easy passing or hustling down a twisty road," said Dave Pericak, Ford Mustang chief engineer.
The Mustang EcoBoost engine uses direct injection, variable cam timing and turbocharging to deliver plenty of usable performance and projected segment-leading fuel efficiency. A unique intake manifold and turbocharger housing enable it to deliver the performance Mustang drivers expect with output projected at more than 305 horsepower and 300 lb.-ft. of torque.
With at least 300 horsepower and 270 lb.-ft. of torque on tap from the standard 3.7-liter V6, even the most accessible Mustang delivers the performance customers expect.
Drivers will appreciate smoother shifts from the updated manual gearbox, while a reworked automatic transmission features new steering wheel-mounted shift paddles for drivers who want the choice between convenience and control.
Most nimble pony ever
When life throws drivers a curve, the all-new Mustang sets new handling benchmarks for the brand, delivering world-class dynamics and ride quality.
"We already set a very high standard for Mustang's dynamics with Boss 302, and our goal was to go above and beyond that with this new car," said Pericak.
Mustang features all-new front and rear suspension systems. At the front, a new perimeter subframe helps to stiffen the structure while reducing mass, providing a better foundation for more predictable wheel control that benefits handling, steering and ride.
The new double-ball-joint front MacPherson strut system also enables the use of larger, more powerful brakes. This is expected to be the best stopping Mustang yet, with three available brake packages.
At the rear is an all-new integral-link independent rear suspension. The geometry, springs, dampers and bushings all have been specifically modified and tuned for this high-performance application. New aluminum rear knuckles help reduce unsprung mass for improved ride and handling.
Smarter than your average pony
The all-new Mustang features a significant amount of innovative technologies providing drivers with enhanced information, control and connectivity when they want it. From Intelligent Access with push-button start to SYNC® and MyKey® in every Mustang built, plus available Track Apps, MyColor gauges and new Shaker Pro audio system, drivers will be able to customize their time behind the wheel.
The feeling of freedom and confidence Mustang instills in its drivers is amplified when they can take control of how the car behaves. On a twisty back road or a weekend track day, the driver can tap the toggle switches on the console to quickly adjust steering effort, engine response, and transmission and electronic stability control settings using the available Selectable Drive Modes to create the perfect Mustang at any time.
The advanced new Ford-developed stability control system is tuned to maximize Mustang's dynamic capabilities. When the time comes to turn up the wick at the track, Mustang GT includes standard launch control that enables drivers to achieve smooth, consistent starts every time.
When it's time to back off and relax for the drive home, available advanced driver-assist features including Blind Spot Information System with cross-traffic alert and adaptive cruise control can help ease the load, while SYNC AppLink™ lets drivers control their smartphone apps to listen to their favorite form of entertainment.
50 years of Mustang
April 17, 2014, marks the 50th anniversary of the introduction of the original Ford Mustang and each 2015 model celebrates the milestone with a badge on the instrument panel that includes the galloping pony logo and the words "Mustang – Since 1964." Mustang will continue to be built in the United States at Flat Rock Assembly Plant.
"From day one, we knew if we were going to build a new Mustang, we had to do it right," said Pericak. "We built a new Mustang from the ground up that is quicker, better-looking, more refined and more efficient, without losing any of the raw appeal that people have associated with Mustang for half a century."