Driven: 2014 Audi S6 S-tronic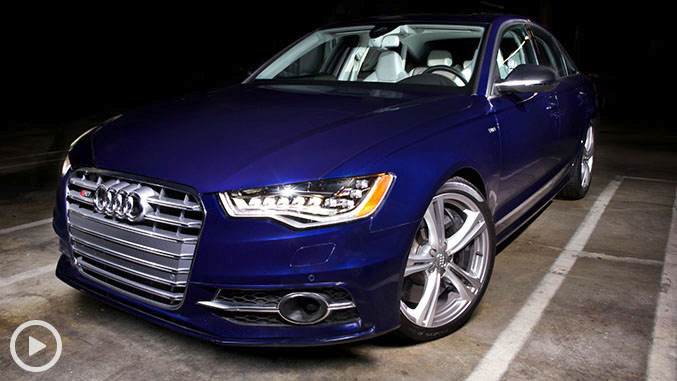 When Audi unveiled a new S6 last year, a car which eschewed a pair of cylinders and gained more efficiency in the process, many were surprised to discover that its sporting capabilities had increased despite factors that would normally point in the opposite direction. We recently spent a week with the mid-sized Audi to see if those numbers, along with the new car's plethora of technological features and overall retooling, added up to a better S6.
What's the idea behind the Audi S6, and who might want a car like that?
For American buyers looking for a sportier version of the A6, the S6 is the only game in town as the
RS6
is, sadly, not available on this side of the pond. As you might expect, the S6 gets sharper handling, uprated brakes, a more lively drivetrain, and a sportier appearance than the A6 on which its based.
Those also considering the Mercedes Benz E-Class, BMW 3-Series and the Cadillac CTS would be wise to also include the Audi in their cross shopping lists as well, as the S6 offers its own unique take on the sports sedan formula which could find favor with a number of potential buyers.
How does the Audi S6 handle?
Sitting 1.2 inches lower than the A6, the S6 feels substantially more dynamic than the standard car but not at the sacrifice of a non-compliant ride quality. As we've observed with many high performance Audi vehicles in recent memory, turn-in is quick and fairly precise, though the steering weight and feel of our tester was noticeably light and distant, despite the inclusion of Audi's speed-sensitive dynamic power steering assistance. It's a characteristic which makes the S6 easy to drive during a commute, but it comes at the cost of precision and confidence when piloted along a demanding road at spirited speeds.
Fortunately most gripes about the Audi's steering are largely negated by the S6's copious grip and flat cornering, along with well balanced weight distribution and standard adaptive air suspension. It's an overall package that isn't lacking for capability, but does have a tendency to keep the driver at a distance from exactly what the car is doing beneath him or her.
How does the drivetrain perform?
For 2013, the S6 ditched the Lamborghini-derived, naturally aspirated 435hp 5.2-liter V10 and swapped in a biturbocharged, 4.0-liter V8 which outputs 420 horsepower and 406lb-ft of torque – a change in displacement, aspiration, and horsepower that normally would not bode well for enthusiasts, though it does yield a substantial 25 percent increase in fuel efficiency.
While the V10's racecar-like wail is absent, the V8 has a fairly lustful – if slightly muted – soundtrack of its own, and Audi continues to impress us with their ability to dial out turbo lag almost entirely. Moreover, the new engine's torque delivery improves on the outgoing motor in a fairly dramatic fashion, and translates to a 0-60 sprint that's more than half a second faster than the outgoing model's.
Coupled with Audi's seven speed S-tronic dual clutch transmission, the S6 provides an admirable amount of thrust when the throttle is called upon, and Audi's DCT still remains among the best in terms of operation during demanding driving, offering seemingly instantaneous shifts and near-clairvoyance in the software's ability to predict what the driver wants when left in automatic mode. If we had one bone to pick with the S6's drivetrain, if would be that while Audi offers the driver a choice of driving modes, throttle response even in the sportiest of settings was a bit on lazy side of things, and intermittently slow to respond with the amount of enthusiasm that we'd anticipated.
How comfortable is the Audi S6?
With its standard adaptive air ride suspension, the S6 excels in isolating the passengers from harshness over rough pavement while maintaining flat, stable handling characteristics over road undulations and cornering, even in the softest of suspension settings.
Cabin quietness is superb, and perhaps a little too well executed for its own good, as we rarely heard much from the turbocharged V8, even with the exhaust dial to the Dynamic setting while charging up Angeles Crest highway. But for those seeking sanctuary from the outside world when driving, the S6 most certainly delivers on that promise.
The S6 is equipped with some fairly sharp looking buckets, but these seats appear more sport-oriented than they actually are, and are clearly designed more with comfort in mind than rather than optimal bolstering and support for hard cornering. However, given the majority of everyday use that a typical S6 will likely see, it's not hard to find the logic in this decision.
Infotainment duties are dealt with via Audi's MMI interface, which incorporates a rotary dial and a smattering of buttons to control navigation, phone and audio controls on the 7 inch center display. We're still slightly baffled by Audi's resistance to include a standard USB port in their vehicles, and the S6 is no exception to that rule, though Audi does offer proprietary cables to connect various specific devices to the MMI interface, such as the 30-pin iPod connector we found in the center storage compartment. The display itself is vibrant and easy to read, but we can't help but wonder if the entire system would be improved upon with a touch screen interface rather than one that forces the driver to look down at the center console to find the appropriate button for the command they seek.
How are the design, materials and fit when you see the car in person?
As we've mentioned previously in our reviews of the
RS5
and
RS7
, subtle sportiness is clearly a design goal at Audi. The S6 is particularly adept at hiding most of its capability, though enthusiasts will probably realize something's afoot when they notice the 20 inch wheels, lowered stance and quad-tipped exhaust out back. Aside from these visual cues and a marginally more aggressive body kit, there isn't much here to discern this car from a standard A6, and for those who're fans of flying under the radar, that's probably welcome news. Externally, it's a handsome car to be sure, but not one that's likely to stick out in a crowd.
Luxury interior appointments continue to be an area where Audi excels, and there isn't a square inch inside the S6 that doesn't look and feel high quality, with an aesthetic that manages to be simultaneously elegant and sport-oriented without edging toward gaudy territory.
Anything else?
With strong competition from the Cadillac CTS Vsport, as well as all wheel drive offerings from both BMW and Mercedes Benz available in the segment, Audi no longer has an easy task of differentiating itself from its competitors as it did not so long ago. But for those willing to dig beyond the stats sheet, the S6 remains a compelling option for its comfort, performance, legitimate all weather capability, and Audi's continued approach to the sports sedan design that remains all its own.
2014 Audi S6 S-tronic
Price: $73,400 (base), $81,470 (as tested)
Engine: 4.0-liter biturbocharged V8
Output: 420hp / 406lb-ft
0-60mph: 4.6 seconds
Fuel Economy: 17 city / 27 highway / 20 combined
On Sale: Now