Driven: 2014 Audi RS5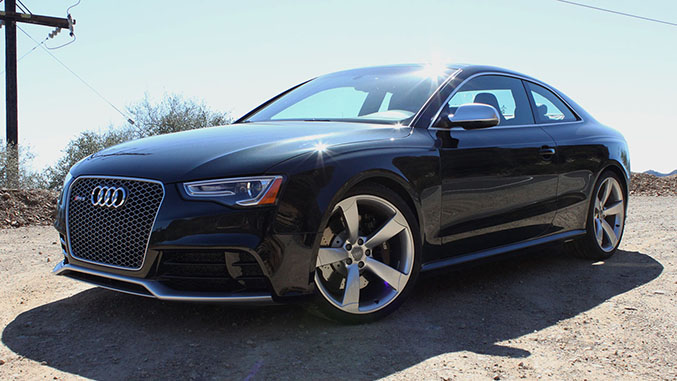 It's been a while since we last spent some time with the sharpest iteration of Audi's A5 sports coupe. As such, we thought we'd reacquaint ourselves with the RS5, see how things have progressed in the interim, and get a better sense of what it's like to live with it in the real world.
Style
The last time
we got behind the wheel
of the RS5 coupe was shortly after its announcement for the 2011 model year. Since then the A5 has undergone a minor facelift and a few updates to keep things fresh, and those changes have in turn been applied to the RS5. Overall though, the general presentation of the car remains largely unchanged. It's still a well proportioned, handsome coupe – but one that can also easily fly under the radar of all but the most astute motoring aficionados. Some might find its subtleties a little too pedestrian, and the design of the RS5, in regards to its capability, is distinctly understated.
However, the Audi doesn't keep it all a secret if you know what to look for. 20-inch 5-spoke wheels only partially conceal the big RS5-adorned brake calipers, an automated rear deck lid spoiler reveals itself once things get up to speed, and a low hanging front fascia with massive air inlets suggest a healthy motor underneath the hood. So, while the RS5 might not make the uninitiated swoon at the mere sight of it, those in the know, will know.
Comfort
Inside the RS5 is a fine place to be. The Audi's seats have the desirable effect of feeling as though you're sitting in them as opposed to on top of them. Side bolstering is adequate, though during more aggressive sprints through twisty roads, we did long for a bit more shoulder support. Material quality is what you'd expect from a sports coupe that nearly crests $80,000 – Nappa leather, aluminum, and carbon fiber serve their intended purpose and provide a decidedly premium feel to the entire presentation. The chunky, flat-bottomed steering wheel is perfectly sized, offers a wide range of adjustability, and simply feels great to hold. Leg room is ample for front passengers and passable for those in back, while headroom should be a non-issue for anyone under 6'8" or so.
Drivetrain
Audi's 4.2-liter naturally aspirated V8 has made its way into a number of their performance vehicles over the last few years, and for good reason. Here in the RS5 it makes 450 horsepower and 317 lb-ft of torque, revs to a face-melting 8250 rpm, and can get the RS5 to 60 mph from a standstill in under four seconds. It also yields a great soundtrack, though we have to wonder how much of that sound is actually coming out of the tail pipes of the car versus and how much it is simply being manufactured by the stereo, as the engine note gets louder in the cabin when the car is put into Dynamic mode despite the lack of an active exhaust system.
The RS5 features a seven speed "S tronic" dual clutch transmission, and as far as paddle-shifted gearboxes go, you'll have a tough time finding a better one in a road-going vehicle. Shifts are nearly instantaneous, and with such an lofty redline it rarely protests a requested downshift. Left to its own devices on a demanding road, the DCT also has the uncanny ability to predict just the right gear to set up the car properly for oncoming turns, and hardly ever required our intervention to yield desirable results during our spirited driving sessions.
Ride and Handling
With a curb weight of nearly 4000 pounds, it's surprising just how sprightly and agile the RS5 feels. While the predominant trait of the Quattro all wheel drive system has traditionally been understeer, revealing that tendency will almost never occur outside of the at-limit handling requirements of a race track. On the street, the RS5 is poised and inspires confidence.
One of the notable changes that the RS5 has undergone since our first drive is the introduction of electronically assisted power steering. It's a variable weight affair, meaning that at low speeds – like those in a parking lot, for instance – steering weight is nearly effortless, but so long as the driving mode is set to Dynamic, the steering will progressively get heavier as the car gets up to speed. From a conceptual standpoint this seems like a great idea, but in use we found ourselves never truly knowing what to expect from the wheel when setting up for a turn. In an ideal world, we'd have the option to turn off the variability and simply adjust the weight to a static setting.
Strangely, the RS5 does not offer an adaptive damping option on US-spec cars, and it translates to sport-tuned suspension setting that might be too harsh for some to tolerate on a daily basis. To our tastes the ride quality was not a deal breaker, and its prowess when pushed hard and maneuvering at speed more than make up for some minor unpleasantness over pockmarked road surfaces.
The RS5's exotic "wave" style brake rotors certainly look the business, but in use their performance was not especially awe inspiring. However, pedal feel remained consistent throughout all of our drives in the RS5 and never exhibited any signs of fade.
Technology
Audi's infotainment system employs a design which is strikingly similar to BMW's iDrive system in that a plethora of buttons along with a rotary knob dictate the lion's share of user interaction with Audi's technology. In some ways it beats BMW's system at its own game, with some commonly used features more logically executed. However, there are some faults here which are definitely worthy of note.
The complete lack of a USB port in a new premium vehicle in 2014 is inexcusable, and instead offering two SD card slots, a SIM card slot and a proprietary interface which lacks support for modern smartphone connectors simply does not make up for it. The menu navigation, which requires left clicks to go right and vice versa, is frustrating and generally unintuitive to use – though it does earn some points for outright simplicity. Despite offering a Google Earth visual overlay on top of its system, navigation also looks and sounds noticeably dated. Finally, the optional 14 speaker, 505 watt Bang & Olufsen sound system was described by a passenger as sounding "like a boom box was mounted on the dashboard." Efforts by your author to remedy this last issue via the audio controls yielded little result. Perhaps it goes without saying, but we were a bit underwhelmed by the RS5's technological offerings.
Bottom Line
Starting at $69,600 with an as-tested price of $78,320, the Audi RS5 will inevitably be cross shopped by BMW M3/M4 and Mercedes-Benz C63 AMG buyers, with each one of those cars offers a unique take on the sports coupe formula. Those who lust for raucous amounts of torque, adaptive damping, and manual gearboxes could potentially find a more ideal pairing elsewhere. However, the Audi's high revving V8, Quattro system and fantastic dual clutch transmission clearly make the strongest argument for the RS5. If you're a fan of all wheel drive stability, fast launches and understated good looks, the Audi most certainly delivers as expected.
2014 Audi RS5 Coupe
Price: $69,600, $78,320 as tested
Engine: 4.2-liter V8
Output: 450 horsepower, 317 lb-ft of torque
0-60 mph: 3.9 seconds (est)
Fuel economy: 16 city / 23 highway / 18 combined
On sale: Now