Review: 2023 Bentley Continental GT Mulliner W12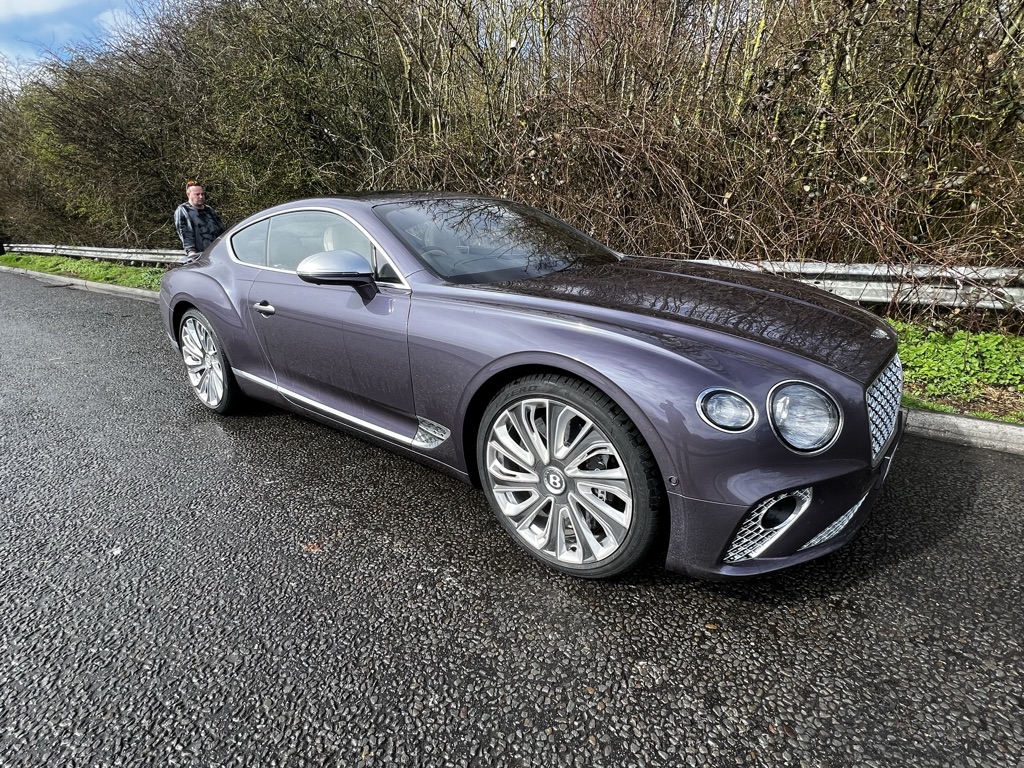 After Bentley announced the end of production for their magnificent W12, we had to get one last ride: the 2023 Bentley Continental GT Mulliner W12 enters stage right.  First impressions count, and you cannot help but be impressed as you see the bold 'B' logo and the sleek looking lines that somehow manage to make each Bentley obviously from this brand.
The Bentley Continental GT Mulliner W12 is an exceptional luxury vehicle that is engineered to offer the ultimate driving experience.  The minute you sit in the seat you know you are about to experience something quite special, from the cooled or heated seats to the deep piled carpets, which most homeowners would be proud of!  Add in the multi-function massage seats and heated steering wheel and you really begin to experience the epitome of Bentley.
Performance
The Continental GT Mulliner is equipped with a 6.0-litre twin-turbocharged W12 TSI engine with 650 brake horsepower and 664 lb-ft of torque.  This engine is paired with an 8-speed dual-clutch automatic transmission that delivers accurate and smooth gear changes.  0 to 60 mph is reached in just 3.5 seconds and has a top speed of 208mph which, for a car which weighs 6,008lbs (2.72 tonnes) is really quite impressive.
The car also comes with an active all-wheel-drive configuration which provides excellent traction and stability for any surface that you maybe travelling along.  The suspension system is adaptive and will adjust to different driving modes offered.  There are four modes Sport, Bentley, Comfort and Custom.  Custom enables you to choose your preferences from the setting available to enhance your ride further if you desire this.  That being said, I feel that the Bentley engineers will have adopted the best rides in the pre-selectable settings.
Design
The Continental GT Mulliner has an exciting sleek and elegant design that exudes luxury and sophistication.  The classic exterior gives the car a modern and sporty look, while the chrome accents and signature Bentley grille add the much expected class and elegance which is synonymous with the brand.
The interior is where the car particularly shines.  It is spacious, comfortable, and luxurious, with premium leather upholstery, wood veneers, and high-quality materials used throughout.  The seats are plush and supportive, and the cabin is insulated from outside noise, providing a serene and relaxing driving experience.
Full of Surprises
Upon initial inspection you see a host of chrome switches and buttons nestled around the gear stick (naturally automatic – one doesn't change one's own gears!).  Above this is a long wood effect panel stretching across ¾ of the dashboard.  Minimalistic, I thought, but I admired Bentleys ideology not to cram in screens, and buttons as is the wont of most car manufacturers these days.
However, when you turn on the engine, a section of the aforementioned 'plain' panel flips over like a control panel in a James Bond car, to reveal a touchscreen system with all the bells and whistles, Apple CarPlay, HDD navigation, Wi-Fi streaming… the list goes on.  All this you would expect in a luxury car.
But… what you wouldn't expect is that there is a third face to this panel – imagine a huge Toblerone bar with three faces that flip automatically when you press a button.  The third facing is an Analogue Face – featuring a compass, outside temperature gauge and a chronometer.
Features:
The Continental GT Mulliner is packed with features that make it one of the most advanced luxury grand tourers on the market. Some of the notable features include:
12.3-inch touchscreen infotainment system that is intuitive and easy to use
10-speaker audio system that delivers crystal-clear sound
Panoramic sunroof that provides stunning views of the sky
Heads-up display that projects important information onto the windshield
360-degree camera system that provides a bird's-eye view of the car's surroundings
Experience
Overall, the Bentley Continental GT Mulliner GT W12 is an exceptional luxury grand tourer that combines performance, design, features, and driving experience in a single stunning package.  It truly is a masterpiece of engineering and a testament to Bentley's commitment to excellence.
Currently, if you purchase a new Bentley you have 3 audio options: standard, a Bang and Olufsen system, or a premium Naim Audio system.  I experienced the Naim option with a whole host of great technologies.  The Naim for Bentley premium audio upgrade option in this car is a touch over £6.5k – which for the quality of the sound system is a bargain – I'd challenge you to find a system this good for this price!  The flip side is you need another £275k for this model.
As the magnificent W12 now exits stage left, I reflect how pleasurable the Continental GT Mulliner is to not only drive, but experience.  Bentley is synonymous with great engineering and that shows through in spades.  The Continental GT Mulliner is even more impressive which allows the purchaser to create a truly unique space.  This edition includes diamond quilted panels and seats and a choice of luxury veneers, among an endless list of possibilities.