Driven: 2013 Lexus LS460L AWD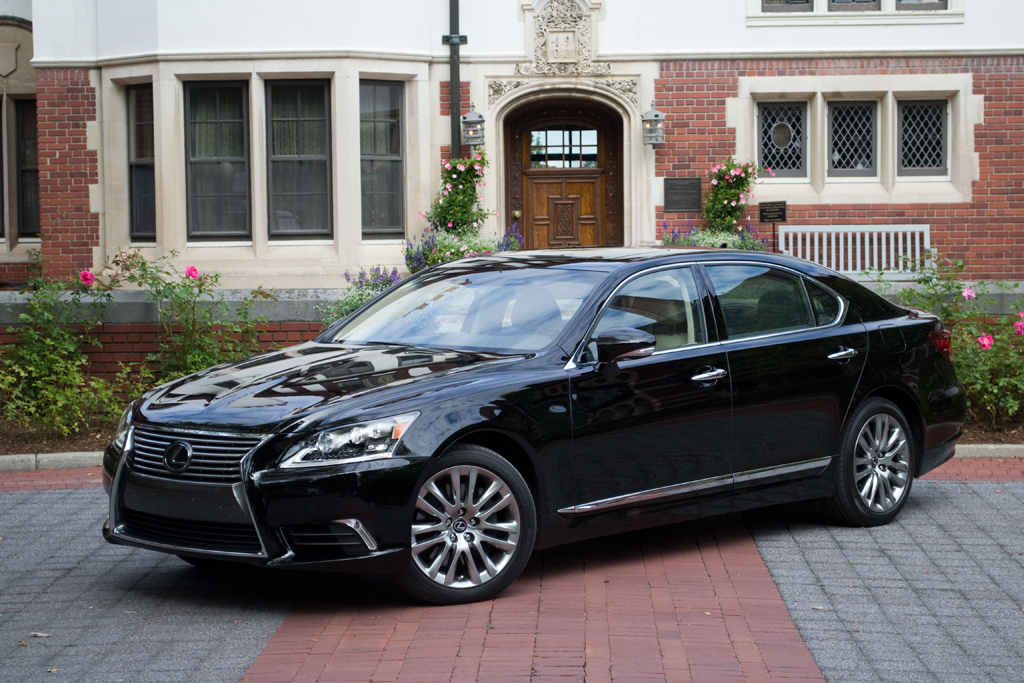 —Birmingham, Michigan
Generally, we review our cars from the driver's seat. This makes sense, as reviewing a car requires that we, um, drive the car. So how have we managed to find ourselves in the back seat of the new Lexus LS460, feet up, and getting a Shiatsu massage from the lovely Kimberly (that's what we called the car, and its associated massaging backseat)? Because for a healthy number of LS buyers, this back seat is where they'll spend a goodly portion of their drive time. Ah, the burdens of the One Percent.
There is no shortage of options when we're talking about executive limos like this. Mercedes-Benz, BMW, and Audi all make some very compelling vehicles. As much as we like the S-Class, 7-Series, and A8, though, were we getting chauffeured about, we'd have a very tough time ignoring the Lexus LS.
That's because of the lengths that Lexus goes to in isolating its occupants from the outside world. This is a spookily quiet vehicle, thanks in no small part to a coefficient of drag of .26, or roughly equal to aerodynamic manipulators like the Nissan GT-R and Toyota Prius. Wind noise is virtually non-existent at any legal speed. Road noise is similarly well handled, with a negligible level of tire roar. Impact noises register, but only if driving around in complete silence. Even listening to NPR at a low volume is enough to drown out suspension noises.
The ride itself is unsurprisingly plush. With a standard independent suspension and an optional air suspension, the few cars that go down the road as smoothly as this LS have a Flying B or Spirit of Ecstasy on the nose. Bumps and imperfections are rarely transferred to the cabin, as the LS soaks up potholes with aplomb. What sets the Lexus apart from its luxury competitors is that it feels so planted. Switch an A8 or a 7-Series to Comfort mode, and it exhibits a noticeable degree of vertical motion as the dampers soften up. The LS, though, feels bolted to the road in a reassuring and highly satisfying way.
Now, before we dive too deeply into what it's like to ride and drive in the LS, let's talk about what's been changed for 2013. Most noticeable is the "spindle grille" that's been appearing on every new Lexus since the GS. It looks good in person, but we're beginning to notice a problem. During our tech presentation, it was mentioned that the spindle grille creates a brand identity, to the point that even some of the folks handling the event misidentified a new RX (itself being a recent recipient of the spindle grille) that was coming down the road as a 2013 LS.
A strong brand identity is fine and all, but if we're buying a brand's flagship luxury sedan, we don't want it to be confused with a soccer mom's crossover. That being said, this little identity issue is the biggest issue the LS exterior sheetmetal faces. It's a very handsome, if rather conservative, design.
The interior sees a treatment that brings it into line with the GS and ES, featuring a strong, straight dash. This is perhaps the best iteration of Lexus' current interior design, due in no small part to the materials used. Leather and wood dominate, with tasteful levels of chrome. Plastic use is kept to a minimum, featuring mainly on the buttons. There's also a noticeable level of craftsmanship here. It doesn't feel quite at the level of a bespoke Bentley or Rolls-Royce, but for the price point it feels decidedly warmer and more personable than the competition. People chat about how great Audi's interiors have been over the past several years. We think they should get into a Lexus.
The actual driving environment is, despite the LS mission, rather driver-oriented. The driver's seat is a standard 16-way setup while passengers get 12-way adjustability. It's not the craziest seating setup we've ever seen, and it's possible that Lexus could have gone further in offering a range of adjustability, but we had no issues getting comfortable.
These seats are almost perfectly balanced between offering comfort and support. The wheel is the three-spoker that we've been seeing from Lexus for some time now. It's of a smaller diameter than the last LS, and feels just a bit out of place for that. If we're helming a big luxury yacht, having a smallish sports steering wheel just feels odd.
The engine for the LS is a 4.6-liter V-8, with 386 horsepower and 367 pound-feet of torque. Yes, those numbers seem low, especially compared to the force-induced engines from BMW, Audi, and Mercedes-Benz (445/480 for the 750i, 420/440 for the A8's new 4.0T, and 429/516 for the S550). The LS holds a distinct advantage over the Germans, though, thanks to its low, 4277-pound curb weight. That number is anywhere from 300 to 500 pounds lower than the competition, allowing the Lexus to claw back some speed. Still, our LS will take 5.4 seconds to hit 60, while the force-induced Germans can all get there in 4.8 seconds. Not great if outright speed is a concern.
In a practical setting, the available power feels perfectly adequate. There's enough grunt to get up and going, with a decidedly tough mid-range punch. Still, there was never a set-us-back-in-our-seat moment with the LS. It lacked that proverbial gut punch that comes with the turbocharged powerplants in the German competition.
Of course, speed is really of a secondary concern to the LS buyer. What's important about this engine is that it's rather quiet, regardless of engine speed. It can be heard, but the sound feels largely disconnected from the actual driving experience. We can see the benefits of this in a luxury setting, but would really liked to have heard something like the wonderful induction noise that was in the GS.
As important as the way the LS drives is, it's equally important to note how it takes care of you. For 2013, all LS models feature something called Climate Concierge. Climate Concierge essentially monitors the body temperature of a passenger and figures out how much heating and cooling the seats need to do. It also can manage the heated steering wheel, delivering just enough warmth for the driver's mitts on a cold morning. The system can easily be overridden using the standard HVAC controls, and can be set independently based on passenger preference. It's a very cool system, and one we look forward to testing more extensively in the near future.
For 2013, Lexus has made significant strides with its flagship LS. The model boasts some new tech, a newer look, and all the same old features that made us fall in love with the last generation. There is no shortage of contenders at this high of a price point, making shopping a difficult task.


In particular, there are more sporting options than the LS. We'd have a particularly hard time ignoring the Audi A8 and BMW 7-Series. If you can get by without the overt sportiness of the competitors, though, ultimate comfort awaits with the Lexus LS.
2013 Lexus LS460L AWD
Engine: V-8, 4.6 liters, 32v
Output: 386 hp/367 lb-ft
0-60 MPH: 5.4 sec
Weight: 4277 lb
Fuel Economy, City/Hwy: 16/24
Base Price: $74,000 (est)
On Sale: Fall 2012