Driven: 2012 Honda CR-V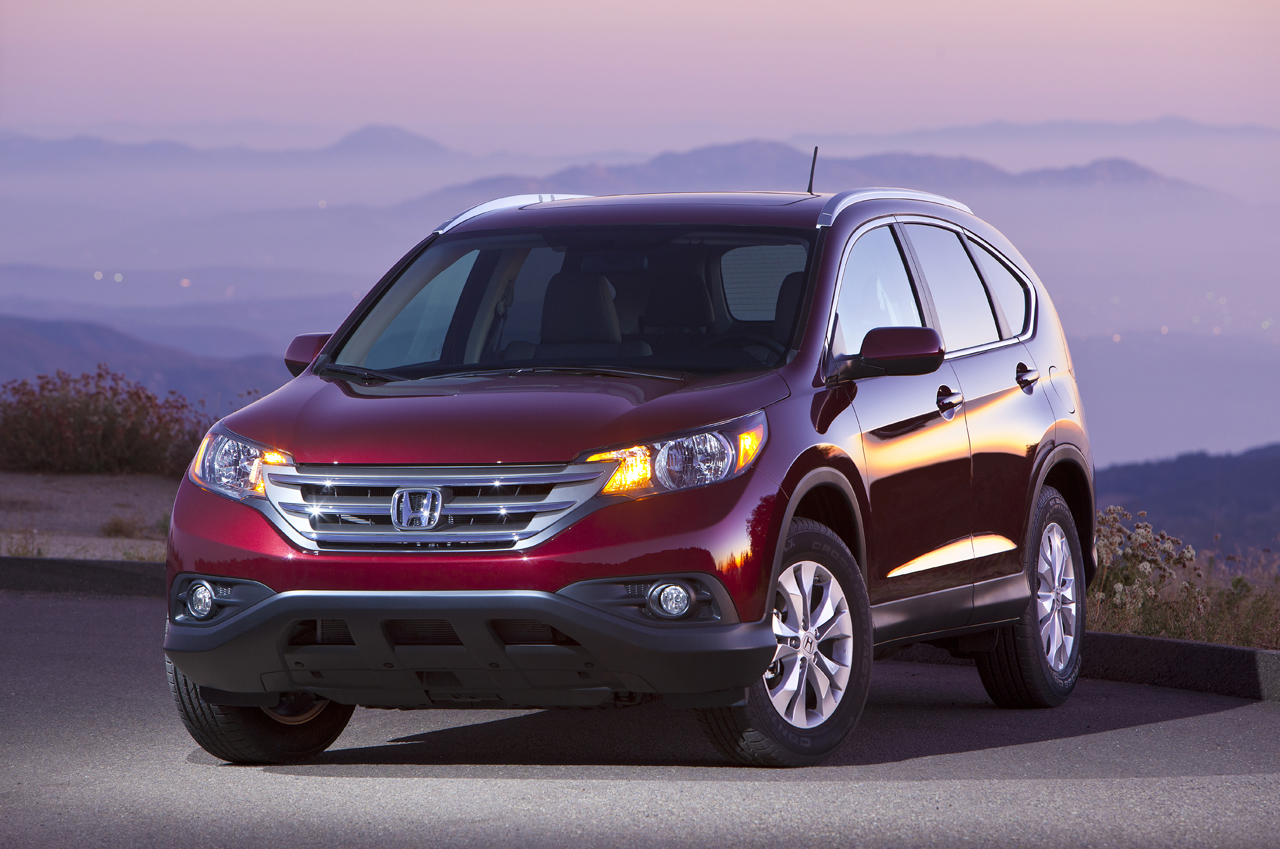 —Carlsbad, California
The old phrase, "If it ain't broke, don't fix it," has been taken to heart by Honda. After leading crossover/SUV sales from 2007 to 2010 with the third-generation CR-V, the Japanese automaker seems to have the pulse of this market's buyers. Honda knows customers want a reliable, efficient, affordable, and stylish vehicle, and the third-gen model managed to pull that off with ease. The question is: will the new fourth-generation CR-V manage quite as well?
While the rest of the market has embraced direct injection, start-stop technology, turbocharging, and dual-clutch transmissions with six, seven, or eight forward gears, the CR-V is coming to market with a standard 2.4-liter VTEC four-cylinder. It features multi-port fuel injection, and is naturally aspirated. The only way to shut it off is to remove the key. The sole transmission is a torque-converter-equipped five-speed automatic. Based on this, you'd be forgiven for thinking the CR-V is a bit old fashioned, and Honda is a bit out of touch. But when your product performs this well in the marketplace, you don't mess with a proven formula.
The new CR-V's sheetmetal is a prime example of this philosophy. It's a nice evolution of the current car, with some sharper angles, and a bit more visual flair. In the greater context of the segment, it's a restrained design, especially compared to the Kia Sportage and Hyundai Tucson. It doesn't offend though, looking good from just about every angle (we are partial to the rear three-quarter though)
It's a similar story inside, where a revised dash now features an i-MID display, a la 2012 Civic. If you've been in any Honda products over the past few years, you'll be familiar with the CR-V's layout. The materials look and feel competitive, but we'll need to wait for the new Ford Escape before we hand the best interior award to the CR-V. There are more curves than the previous car, but it seems to work well, offering a nice respite from the angular exterior design. The seats look and feel unchanged from last year. This means a pair of comfortable front thrones with a second-row bench. The seats deliver enough adjustability (and are aided by tilt/telescopic steering), and are quite comfortable for a long stretch of driving.
Before we get to the powertrain, we mentioned that this 2.4-liter doesn't use direct injection, stop-start, or turbocharging, and that it's shifting is handled by a standard automatic. Why? According to Honda, it has a reputation for reliability, and it isn't about to gamble that on a fairly new technology. Also, Honda's customers haven't demanded any of this advanced tech, so why deliver it? We don't necessarily buy that though. This seems to be more a move to keep the CR-V affordable in its segment, which is an admirable goal. That doesn't mean we wouldn't like to see a CR-V with some more modern powertrain technology though. Honda made its bones as a technology leader, no?
By using a tried and tested powertrain, Honda has made sure that it can get the absolute most out of the crossover in terms of reliability, performance, and economy, while still making it affordable. Sure, it doesn't make much more power or torque than the current CR-V (185 horsepower and 163 pound-feet of torque for the fourth-gen, 180 horsepower and 161 pound-feet of torque for the third), but a jump in economy from the 21 city and 27 highway of the EX-L all-wheel-drive model to the 22 city and 30 highway of the new EX-L all-wheel drive is still fairly impressive. Those numbers could be better if the CR-V's new Econ mode is activated, but since the EPA doesn't perform testing in anything but normal mode, we'll need to wait to test a CR-V around Metro Detroit to get an idea of realistic mileage.
On the road, the 2.4-liter isn't oppressively slow, but don't plan on getting anywhere terribly quickly, either. The bulk of the engine's power comes on above 3000 rpm; still, initial acceleration isn't too bad. The sound, normally a highlight of Honda engines isn't too inspiring. The exhaust note manages to be a bit too loud for this segment, but without being melodious, either.
We're not sure about the CR-V's lack of a more powerful engine though, as most all of the competitors in the small SUV/CUV segment offer either a V-6 (Toyota RAV4) or in some cases a turbocharged four-cylinder (Kia Sportage, 2013 Ford Escape). Honda claims there's no customer demand for more power, but we have to admit that the new CR-V would be a fine platform for the underutilized 2.3-liter turbo found in the Acura RDX.
The 2.4-liter worked well with the standard five-speed automatic (the sole transmission for 2012), delivering quick upshifts and well-timed downshifts. The overall experience wasn't unpleasant, but regardless of the road that we were traversing, we just felt too cut off from the whole experience of driving the car. It was a sensation that we should have gotten used to.
As the standard bearers for reporting on driver involvement in every vehicle (even very mainstream, small CUVs) we have real concerns about the limited feedback on offer from the CR-V steering experience. This is simply a very uncommunicative steering rack, with a rather startling lack of effort, too. The CR-V is actually in a pretty rare class for modern cars here, as this type of zero-effort steering is something we remember from generations past, and not that which we'd expect from a 2012 model. Navigating parking lots with just a finger on the tiller won't be a problem, for sure, but there's so little overall feel that at-speed driving suffers a lack of confidence.
These issues were compounded when Honda loaned us a 2011 CR-V for the sake of comparison. The old car still made use of a hydraulic rack-and-pinion system, and while it was hardly Lotus Elise-like in the amount of feedback it delivered, it was drastically better at communicating than our 2012 tester.
Thankfully, the suspension is more communicative than the steering, despite the rear suspension's damper capacity being increased by ten percent. Honda was able to achieve this added feedback and softer suspension by increasing the static rigidity of the CR-V's body, with torsional rigidity up nine percent. These changes result in a ride that is decidedly more comfortable than the 2011 model, without sacrificing outright handling ability. Body motions were par for the course, not disrupting the driving experience until we really threw the CR-V into a turn.
The CR-V isn't the most enthusiast-oriented vehicle we've ever tested (that's obvious, right?), but it does considerably better on the comfort end of our grading scale. Visibility is excellent from all quarters, and a standard back-up camera is a nice feature, which should make tight spaces easier to deal with.
In terms of space, the cargo area on the new CR-V is 1.5 cubic feet larger (35.7 versus 37.2), and features a trick one-touch lever that stows the second-row seats.
As we said, the CR-V's ride is quite comfortable. It felt planted during highway cruising, and did a fine job of soaking up the bumps and ripples of the freeway. Acoustically, road noise was quite well controlled, but as we said, the engine note intruded a bit more than we'd like.
Driver controls as a whole for the CR-V were about average for the segment. Certainly anyone who's been in a modern Honda should be at home but will not be surprised by a lot of new toys. We're still waiting for the navigation to get a prettier wrapper, but it does function quite well.
If you aren't a driving enthusiast (there's nothing wrong with that, we promise), than the Honda CR-V is probably going to sound like a pretty great deal to you. It's a smooth, comfortable, economical, nicely appointed vehicle that just happens to be an all-wheel-drive CUV. If you thrive on feedback from your vehicle and want an involving driving experience though, than this small Honda just isn't for you.
VS: Toyota RAV4
In terms of interior refinement, the CR-V has the aged RAV4 licked. It feels more modern, is better laid out, features more tech, and is overall a nicer place to spend time. The Toyota's four-cylinder is noisier than the Honda's, but it boasts ten more pound-feet of torque.
The CR-V also features a more balanced ride than the RAV4. The Toyota driving experience is more isolated, while the Honda's (despite the steering) feels more lively and willing to be thrown about.
VS: Hyundai Tucson
For a start, the Tucson's styling is certainly more polarizing than the somewhat generic CR-V. That carries over to the interior as well. Both cars boast a pleasant blend of materials, and look quite good. We have to give the edge to Honda though, as the overall cabin experience (attractiveness, quality, NVH) is just a bit better than the Korean.
Power is a bit of a trade off with these two. The Honda boasts nine more horsepower, but five fewer pound-feet of torque (185 horsepower and 163 pound-feet versus 176 and 168). The thing is, that power is standard across the CR-V line. You need to upgrade to either the Tucson SE or Limited to get the extra power. Otherwise, you'll be stuck with 165 horsepower and 146 pound-feet of torque from a 2.0-liter four-pot (as opposed to the beefier Honda 2.4).
2012 Honda CR-V EX-L AWD
Engine: Inline-4, 2.4 liters, 16v
Output: 185 hp/163 lb-ft
Weight: 3545 lb
Fuel Economy, City/Hwy: 22/30 mpg
Cargo Capacity: 70.9 cu ft
Base Price: $29,000 (est)
On Sale: December 15, 2011