First Look: 2013 Cadillac XTS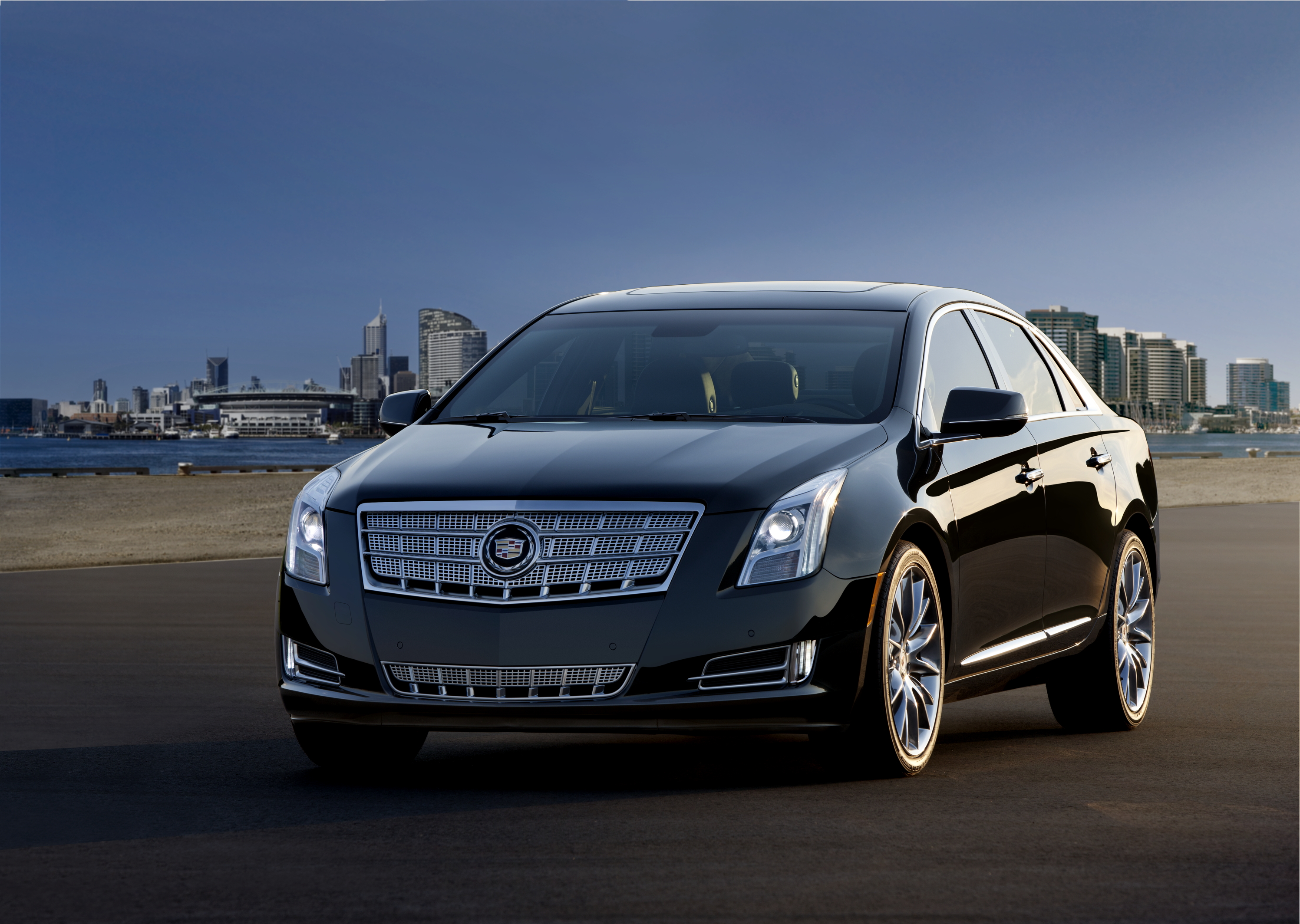 Cadillac's 2013 XTS marks the latest evolution of the Arts and Science design language. The XTS pulls it off well, smoothing out the right areas, while maintaining the trademark creases along the hood and doors.
Unfortunately for traditionalists, this isn't a V-8-powered rear-drive beast. Instead, the XTS uses the same 3.8-liter V-6 found in the CTS, Camaro,
SRX
, and other GM products. Power will be distributed to all four wheels through a Haldex all-wheel-drive system and a six-speed automatic transmission.
What it lacks in outright speed, the XTS makes up for with comfort and technology. The front suspension is the HiPer strut system pioneered by the Buick Regal GS, while Magnetic Ride Control adjusts damping at all four corners. To slow things down, Brembo brakes come standard. Other techie features include Cadillac's new CUE infotainment system that comes on a huge eight-inch display. That screen is part of a 12.3-inch reconfigurable cluster that handles all HVAC, vehicle information, and entertainment options. A pair of Enhanced Safety Strategy packages deliver even more content, including adaptive cruise control, lane departure warning, blind spot assist, and a heads-up display.
The 2013 XTS will hit showrooms in the Spring of 2012, with pricing to be announced at a later date.
Please scroll down for the official press release from Cadillac.
2013 Cadillac XTS Introduces a New Formula for Luxury
LOS ANGELES – Cadillac unveiled the 2013 XTS today, the newest addition to the Cadillac luxury sedan lineup. It arrives in showrooms in the spring of 2012 as the most technologically advanced production car in the brand's history.
Larger than the CTS, the new XTS delivers the space, elegance and dramatic presence that are Cadillac signatures, but with entirely new and technically advanced methods tuned for a new generation of luxury customers. It also marks the debut of CUE, a comprehensive in-vehicle experience that merges intuitive design with auto industry-first controls and commands for information and media data.
In addition to the CUE interface and connectivity, many other advanced technologies are integral to the new XTS. It will be the only luxury sedan with standard Magnetic Ride Control – the world's fastest-reacting suspension. Advanced technologies that enhance vision are available as well.
Positioned directly above the centerpiece CTS family in Cadillac's revamped lineup, the new XTS features a 3.6L direct injection engine and advanced all-wheel drive system, marking a shift to more-efficient performance in a spacious luxury sedan.
"The Cadillac XTS represents a new formula for luxury, driven by advanced technology," said Don Butler, vice president of Cadillac Marketing. "XTS showcases the evolution of our Art & Science philosophy, merging the best technical ideas with the continued refinement of Cadillac design."
Cadillac CUE is the highly customizable user interface that exemplifies XTS' blend of advanced technology and artistic design. The heart of CUE, which stands for Cadillac User Experience, is the standard eight-inch (203 mm) screen in the "center stack," the faceplate below the screen and the steering wheel controls. CUE features several industry firsts, including capacitive-touch control with proximity sensing, gesture recognition and natural voice recognition.
Available exclusively on the XTS is the 12.3-inch (312 mm) reconfigurable cluster. It features vibrant graphic displays showcased among four driver-selectable themes, ranging from minimal to extensive information. And while it is the prominent element in the XTS' technological character, CUE is part of a more comprehensive and layered approach to the car's design, capabilities and performance
"The more you look, the more layers you see in XTS," said Butler. "They aren't always apparent to the eye, but they build on one another in important ways to reinforce the car's strength of design, comfort and driving experience."
Highlights include:
Advanced Haldex all-wheel-drive system with electronically controlled limited-slip differential
Magnetic Ride Control, rear air suspension, HiPer Strut front suspension and Brembo brakes – all standard
Standard 19-inch wheels and available 20-inch wheels
Direct-injected 3.6L V-6 with lightweight features, including integrated cylinder heads/exhaust manifolds
Capless fuel tank filler for easier, cleaner refueling
Folding rear-seat headrests that enhance rear visibility
Safety Alert Seat that vibrates to alert the driver
Intervening braking system that lessens or avoids potential collisions
Short- and long-range radar systems that support:
Adaptive Cruise Control
Front and Rear Automatic Brakes
Rear Cross Traffic Alert.
The XTS is also the most-spacious Cadillac sedan, tailored to provide roominess in a more efficiently sized package. It offers more interior space than midsize luxury cars and comparable to full-size sedans, particularly in the rear seat area, where it has 40 inches (1,016 mm) of rear legroom. That's about four more inches than the BMW 5 Series, and Mercedes-Benz E-Class and about two more inches than the Audi A6 – and comparable to larger sedans.
And when it comes to trunk space, the XTS is in a league of its own, with 18 cubic feet (509 L), exceeding both midsize and full-size competitors – more than Audi A6 and A8L, BMW 5 and 7 Series and Mercedes-Benz E- and S-Class. For XTS customers, the cargo advantage means room for five or more suitcases.
Technology reinforces multidimensional design philosophy
XTS' hardware and spatial dimensions are the foundational layers that support a new level of surface detail. Multidimensional exterior and interior elements, including the grille, headlamps and new use of accent lighting, coalesce to give the XTS a presence and attention to detail unlike any Cadillac that has come before it.
"The XTS' technology is woven into its design in ways that affirm the driving experience is of primary importance to a new generation of luxury customers," said Clay Dean, design director and Cadillac brand champion. "This is the new expression of luxury at Cadillac and it shows in the multilayered details, authentic materials and unprecedented connectivity."
CUE, for example, represents the pinnacle of technology, but it is being showcased using a subtle and sophisticated interior appearance that blends with other features to create a soothing and inviting feel. It offers more capability and driver-selectable choices than ever before from Cadillac, but the center stack has only seven buttons – four of them for the radio. That's less than half the controls found on the center stack of the typical car.
"Technology helps the XTS deliver more with less," said Dean. "Choreographed interior lighting and other unique features tailored to individual driver preferences complement CUE to create an exceptionally refined and advanced ambience."
The XTS' surface details also convey a more-nuanced design philosophy, with elements that support the long, sleek proportion that is a welcome return to Cadillac. They bring forward more beauty and elegance with refined, graceful forms and surfaces working harmoniously with established Cadillac linear forms. It is a car that conveys the next step in Cadillac form and surface vocabulary.
"It is a bold, elegant design and also very efficient in the ways it encompasses passengers and cargo," said Dean. "It's a new proportion for Cadillac and a new era in luxury."
The XTS Platinum is the fullest expression of Cadillac's multidimensional philosophy, with features that include a chrome/satin-chrome grille finish, polished 20-inch aluminum wheels with chrome inserts, a fully wrapped leather interior with Alcantara headliner and more.
Advanced safety features based on 'control and alert' strategy
The XTS' technology fundamentally supports a suite of advanced safety features, based on a "control and alert" strategy that extends the vision around the vehicle. It helps drivers identify potential crash situations and even intervenes when a crash threat appears more imminent, employing layers of visual, audible and tactile (vibration) alerts, depending on the alert feature.
The alerts are designed to identify obstacles with sufficient warning to give the driver time to react and make changes – including the Safety Alert Seat feature, which vibrates either the left or right side of the driver's seat cushion, depending on the location of the impending concern. The intervening features, including Automatic Collision Preparation, take over if the threat appears more immediate or the driver does not react to previous alerts.
Two levels of control-and-alert protection are offered in the XTS' Enhanced Safety Strategy (ESS) packages.
ESS I includes:
Lane Departure Warning
Forward Collision Alert
Safety Alert Seat
Side Blind Zone Alert
Rear Cross Traffic Alert
Reflected LED display.
ESS II includes all ESS I content plus:
Head-up display (in color)
Front and Rear Automatic Brake
Adaptive Cruise Control
Automatic Collision Preparation
XTS also features OnStar as standard. OnStar service also includes myCadillac and OnStar myLink mobile apps, which offer vehicle information and OnStar services via the customer's smartphone.
AWD and Magnetic Ride Control support new driving experience
A layered approach to the driving experience relies on new and established technologies – all rooted in a stiff structure. The body is infused with strategically placed ultra-high-strength steel for strength and crash protection and serves as the foundation for the advanced-chassis system.
A smart Haldex all-wheel-drive system – with an electronic limited-slip differential that splits torque between the rear wheels – complements an advanced HiPer Strut front suspension and standard Magnetic Ride Control real-time damping to give the XTS sure-footed, confident and comfortable ride and handling traits. A linked H-arm design with "air springs" comprises the rear suspension.
HiPer Strut is based on the MacPherson strut front suspension design and features dual-path top mountings that separate the transfer of spring and damper loads to the body structure. It improves ride-and-handling characteristics in four significant ways:
Provides more linear and communicative steering through improved camber control
Improves impact isolation on bumps and rough surfaces
Reduces torque steer
Improves vehicle sensitivity to tire irregularities and wheel imbalance.
Magnetic Ride Control delivers precise body motion control – "reading" the road every millisecond and changing damping in just five milliseconds. It replaces conventional mechanical-valve shocks with electronically controlled shocks filled with a magneto-rheological fluid containing minute iron particles. Under the presence of magnetic charge, the iron particles align to provide damping resistance almost instantly.
StabiliTrak electronic stability control is standard on all models, along with variable-effort steering and Brembo four-wheel disc brakes with four-channel antilock brakes – all features that add important layers of control to the driving experience. Like Magnetic Ride Control, XTS borrows the Brembo braking technology from Cadillac's V-Series of high performance models.
Horsepower for the XTS comes from an advanced 3.6L V-6 that's known by its "LFX" engine code. It is rated at an estimated 300 horsepower (224 kW). Lightweight features help reduce overall weight for greater efficiency and a more favorable front-to-rear weight balance. Examples include a composite intake manifold saves approximately 5.5 pounds (2.5 kg) over the weight of a comparable aluminum intake and an integrated cylinder head/exhaust manifold design that saves approximately 13 pounds (6 kg) per engine.
The LFX engine is matched with the Hydra-Matic 6T70 six-speed automatic transmission with tap-shift control.
The XTS will begin production in Oshawa, Ontario in spring 2012.
About Cadillac
Cadillac has been a leading luxury auto brand since 1902. In recent years, Cadillac has engineered a historic renaissance led by artful engineering and advanced technology. More information on Cadillac can be found at media.cadillac.com.
# # #
2013 CADILLAC XTS PRELIMINARY SPECIFICATIONS
Overview
Model:
2013 XTS FWD/AWD
Body style / driveline:
front-drive/all-wheel-drive, front-engine, four-door, five- passenger sedan
Construction:
integral
EPA vehicle class:
full-size sedan
Manufacturing location:
Oshawa, Ontario
Engines
Type:
3.6L V-6 VVT DI
Displacement (cu in / cc):
217 / 3564
Bore & stroke (in / mm):
3.7 x 3.37 / 94 x 85.6
Block material:
aluminum
Cylinder head material:
cast aluminum
Valvetrain:
DOHC with four valves per cylinder; continuously variable valve timing
Ignition system:
individual coil-on-plug; individual cylinder knock control
Fuel delivery:
direct injection
Compression ratio:
11.5:1
Horsepower (hp / kW @ rpm):
300 / 224 @ 6800 (est.)
Torque (lb.-ft. / Nm @ rpm):
264 / 358 @ 5300 (est.)
Recommended fuel:
regular unleaded
Emissions controls:
dual close-coupled catalysts and single underfloor catalyst; variable valve timing, evaporative system
Estimated fuel economy (city / hwy):
FWD: 17/28, AWD: 17/27
Transmission
Type:
Hydra-Matic 6T70 six-speed automatic
Application:
3.6L V-6
Gear ratios: (:1):
First:
4.48
Second:
2.87
Third:
1.84
Fourth
1.41
Fifth:
1.00
Sixth:
0.74
Reverse:
2.88
Final drive ratio:
2.77
Chassis / Suspension
Suspension (front):
Hi Per strut coil-over-spring; twin-tube dampers with gas-charged valving; monotube Magnetic Ride Control struts
Suspension (rear):
Linked "H"-arm with air shocks and Magnetic Ride Control
Steering type:
hydraulic power; variable-effort rack-and-pinion
Steering ratio:
15.3
Steering wheel turns, lock-to-lock:
2.64
Turning circle (ft / m):
38.7/11.8
Brakes
Type:
split, dual-circuit four-wheel-disc with power assist
Rotor diameter x thickness (in / mm):
front: 13.6 x 1.2 / 345 x 20 (vented)
rear: 12.4 x 0.9 / 315 x 23 (solid)
Wheels / Tires
Wheel size and type:
19-inch painted aluminum with chrome inserts
19-inch polished aluminum
20-inch premium-painted aluminum
20-inch polished aluminum with chrome inserts
Tires:
P245/45R19 all-season blackwall
P245/40R20 all-season blackwall
Dimensions
Exterior
Wheelbase (in / mm):
111.7 / 2837
Overall length (in / mm):
202 / 5131
Overall width (in / mm):
72.9 / 1851
Overall height (in / mm):
59.1 / 1501
Track (in / mm):
front: 61.7 / 1567
rear: 62 / 1576
Curb weight (lb / kg):
FWD: 3995/1812, AWD: 4180/1896
Interior
Seating capacity:
5 (2 front / 3 rear)
Headroom (in / mm):
front: 39 / 990
rear: 37.8 / 960
Legroom (in / mm):
front: 42.1 / 1069
rear: 40 / 1016
Shoulder room (in / mm):
front: 57.9 / 1470
rear: 56.3 / 1430
Hip room (in / mm):
front: 55.1 / 1400
rear: 54.3 / 1379
Capacities
EPA interior volume (cu ft / L):
122.2 / 3458
Passenger volume (cu ft / L):
104.2 / 2949
Cargo volume (cu ft / L):
18 / 509
Trailer towing maximum (lb / kg):
1000 / 454
Fuel capacity (gal / L):
18.6 / 70.5 (FWD)
19.5 / 74.0 (AWD)
Engine oil (qt / L):
5.5 / 5.2
Cooling system ( qt / L):
9.9 / 9.4
Note: Information shown is current at time of publication.