Driven: 2012 Audi A7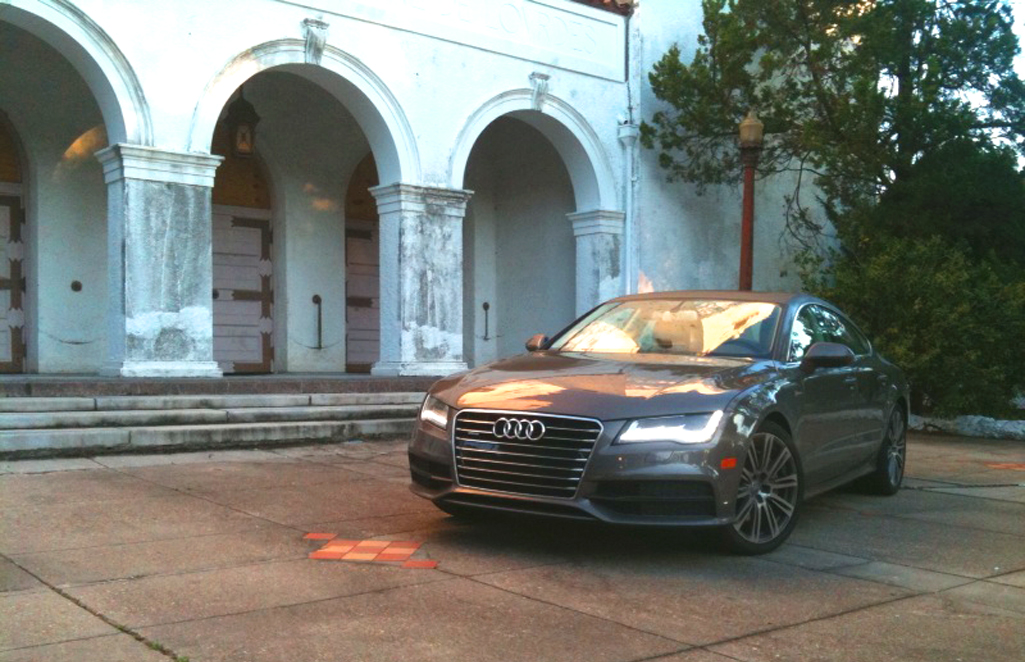 With one of my best friends' wedding celebrations taking place in New Orleans, Louisiana over a June weekend, I was desperate to turn the trip into an excuse for a great road trip, and a travelogue story. The problem is that I wouldn't be traveling alone on this trip, but bringing along my fiancée who was a little hesitant to take off from work for an extra day of just driving (something I have no problem with, as I kind of drive for a living). Of course, in this world of blistering new technology, there had to be a solution.
"No problem," I told the slightly skeptical Molly, "I'll get us a car that has mobile internet, so you can work from the road just like you'd work from home."
Thankfully, after making promises of cars with wildly futuristic technology to my hardworking life partner, the good folks at Audi were able to come through with a solution: the all new 2012 A7 equipped with Audi Connect. Audi's in-car internet system would allow us to connect up via a 3G signal, wherever we went. The "Mobile Office" plan was thus enacted, and we prepared to drive simultaneously to NOLA and to The Future Of What Is Possible. A can't-miss plan.
What follows then is my travelogue, written part on the road and part after the fact, of the trip, the A7, and the life of a young professional on the go.
130 Miles
We leave from our Ann Arbor, Michigan HQ with great expectations for what we'll be able to accomplish from the road—aside from just killing miles that is. My sample session, using Audi Connect to write and blog from the road, in and around the office, was a complete success. I see no problem then, with telling Molly that she should cut out of work a little bit early so we can get some real miles under our belts before the dark/hungry/sleepy time of day sets in for real.
As we head south out of Michigan and cross the Ohio border, our Mobile Office stumbles a bit, right out of the gate. Just as it is with notoriously fickle cell phone service, our A7's 3G signal downgrades to a 2G one, and then to none at all, and then bounces back, and then drops, etc. As I sit here now, still fifty miles north of Dayton, Ohio, we're completely without a working signal—just like a regular car. Sigh.
Of course even without the somewhat finicky 3G signal, I'm still being kept in good stead by my Peak power inverter. This handy cup-holder-ready device plugs into either of the Audi's two 12v outlets, and lets me plug in my standard three-prong power cord for my laptop. Considering my Mac's battery life is down to an hour or so, that's a good thing. Looks we'll have no problem keeping up with offline work during our "work day" tomorrow, even if the internet is tough to come by.
Got to go, my 3G signal just perked up again—Facebook calls.
250 Miles
Stopping for gas and dinner just outside of Cincinnati, Ohio after taking over the driving duties for the last hundred miles or so. The forecast called for rain during most of our trip this evening, and hasn't disappointed so far—we've been getting absolutely dumped on while passing out of the last quarter of Ohio.
A couple of notes of refinement about Audi Connect here: basically this system works just like your typical 3G phone. Where as earlier I kind of thought my connection was completely dead when "2G" lit up, we've figured out that the data is actually still flowing, it's just that it's flowing pretty slowly. Considering that even standard websites are designed with ultra-fast connection speeds in mind—and mobile versions these sites are optimized for slower speeds—the long load times make complete sense.
The higher-stress heavy-rain driving experience did serve to show me just how seamlessly integrated all of the A7's systems are, too. MMI has always been fairly non-intrusive to use, and here I've been able to easily sort through tracks on my connected iPhone, or switch back to Sirius radio browsing, all while keeping both hands solidly on the tiller. The easy-to-reach thumb roller switches are a godsend when the weather is tough like this, but you still don't feel like listening to your standard driving playlist anymore.
Another random point: more navigation systems should integrate speed limit data like the Volkswagen and Audi guys do. This is something I don't think about when I'm testing cars in Michigan (where I pretty much always know the speed limit), but it's a huge help when you're jumping from limit to limit in different states, and different zones through cities. Completely relying on it is foolish—there are a lot of construction zones out there—but it's a boon, nevertheless.
455 Miles
So I got my second wind after dinner and a couple of caffeinated beverages, and managed to drive until about quarter of one in the morning, putting us in the home of the Chevrolet Corvette for the evening—Bowling Green, Kentucky.
Stopping in Bowling Green makes me feel guilty in my car-guy soul. I've been by this way more times than I care to count, and I've never done the factory tour, never seen the Corvette museum, never done much more than tell Molly, "They make Corvettes here!" A word to the wise: she knows, stop telling her this.
The A7's trip computer is confirming that the 3.0T is returning just about exactly the fuel economy that was promised by the EPA rating on the window sticker. The car is rated for 28 miles per gallon on the highway, and I've managed 27.7 mpg for our first four-hundred-plus miles (on the more direct, one-day drive home I manage 29.9 mpg). Our almost entirely highway route, with some stop-and-go stuff during the deluge and a few dozen miles screwing around off of the highway, has led to an average speed of 68 miles per hour, too.
It always feels good to stop south of Ohio when I'm driving into the "South," like I've really made progress. Hell, considering the maniacal police force and 65 mph speed limits, it always just feels good to get out of Ohio in general. (Go Blue.) Just around 600 miles to drive tomorrow before we reach lovely NOLA.
608 Miles
We just blasted through Nashville and the rest of Tennessee this morning, completely avoiding rush hour traffic through the city by leaving pretty early. I'm hoping there are readers out there that get as geeked as I do about "making good time" even when you don't have any real deadline.
Beautiful weather and the relatively twisting highways of this area have decreased our gas mileage, but wildly increased my fun level. Our A7 doesn't have the optional paddle shifters, which is too bad, but the combination of well-sorted gear ratios, good automatic shift logic, and the ability to shift via the gearlever allow me to have some fun anyway. The car's 3.0-liter supercharged V-6 is absolutely good for some thrills, and offered more than enough torque to get where I wanted, when I wanted in this kind of high-speed driving.
This trip wasn't one that offered much in the way of typical Winding Road driving, with tight roads and good handling sections, but it's fair to say that the A7 wouldn't have struck me as particularly knife-like on those. In the mold of a good European grand touring car, however, this Audi excels. High-speed cornering is both capable and smooth with massive grip from the Quattro system, and stability in a straight line is fantastic. The huge wheels on our S-line trimmed car compromised the ride quality just a bit, but overall I found the A7 to be an excellent all-around machine.
Once again passed the sign for Nervous Charlie's, a roadside attraction that sells gasoline, liquor, and, of course, fireworks. Keep your lighter in your pocket.
Alabama And Mississippi
For the next four hundred miles, I drive and Molly works tirelessly in the back seat "command center." With iPhone and laptop charging via the inverter, internet access flowing wirelessly wherever we go, and the smooth, fast ride of the A7 moving us forward, she's actually able to get a full day's worth of work in. In fact, with the environment of the A7 being quite a bit less distracting than that of her dude-infused startup office, she actually manages to be a bit more productive than usual, despite the aforementioned lapses in 3G service. Chalk one up for the mobile office, then.
Of course, the real use case for this mobile office idea, at least as I see it, doesn't have a lot to do with emailing your way from one side of North America to the next. Unless they happen to be nutty car writers like me, chances are good that most people that can afford an A7 will be highly likely to fly if the distance is great—business class is a pretty good mobile office these days, too. But I do think there are a lot of professional people who'll find a major boon with Audi Connect. Real estate agents, consultants, sales people, anyone that sees a lot of inter-city travel over the course of the day or week, will likely have some use for a tech-forward mobile desk that can carry their business around with them. Add in the cargo hauling capacity of the liftback Audi—which is pretty massive, by the way—and you've got an insanely versatile connected space.
Oh, and if you're driving your "space" down Highway 59 in Mississippi, you can drive really fast, too—70 mph speed limit and no cops. Sometimes I love the South.
New Orleans, Louisiana
I lived in New Orleans for just long enough that it still feels just a little bit like coming home when I drive through the suburban slog and into the city itself. We arrive just before dinnertime and it's crazy hot (based on my Michigan perceptions and an eight-hour drive today in perfect air-conditioned comfort).
The already congenial locals are, everywhere I drive, waving, or staring, or asking questions about the Audi. In a theme that will continue for our whole long-weekend visit and drive home, people are amazed and obsessed with the styling of the A7. Many of my friends comment on how cool the Dakota Gray Metallic (sort of a grayish brown) paint is, and all dig the overall silhouette and massive wheels. Twenty-inch rollers may not be ideal for ride comfort, but they sell the hell out of the car, that's for sure.
In an often-swanky town like New Orleans, the A7 fits right in. I expect to see more than a couple taking shade under the magnolia trees lining prominent driveways by the time I next return.
And, of course, the city, and the wedding party, and all the friends come together to make as memorable a weekend as I've had in quite some time. The fact that the Audi A7 was able to serve as a missile-like workstation, grand-touring carryall, and old-friend astonisher only made a great trip greater. Laissez les bons temps rouler.
2012 Audi A7
Engine: Supercharged V-6, 3.0 liters, 24v
Output: 310 hp/325 lb-ft
0-60 MPH: 5.4 sec
Top Speed: 130 mph
Weight: 4210 lb
Fuel Economy, City/Hwy: 18/28 mpg
Base Price: $59,250
On Sale: Now