Driven: 2010 Toyota Prius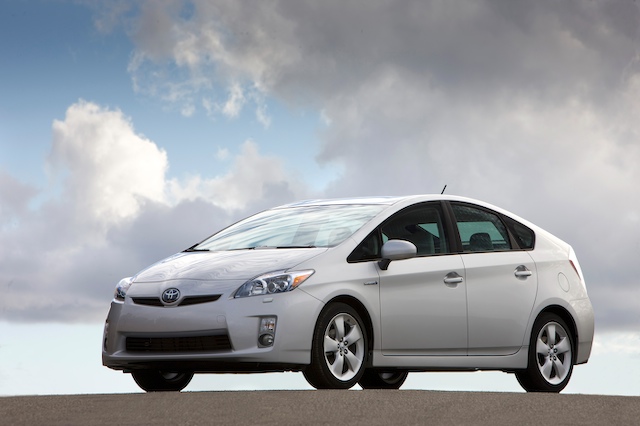 It has become almost passé to criticize Toyota products for being rather soulless, yet utterly effective, to drive. Prius, especially in the ubiquity that it has earned in its last generation, has toiled famously under the "appliance" descriptor—serving up masses of consumers with a high-mileage, low-effort driving experience. And while enthusiast-minded detractors everywhere may take issue with the very notion, the good people at Toyota Motor Corporation are well aware of their cars' snoozing reputation and are far more willing than one might expect to create a different identity for their brand.
We mentioned it with the launch of the Venza—and suffered through the subsequent cries of being off our rockers—but Toyota seems to be making an honest effort at imbuing its product with a measure of steering weight and feel. The last Prius might have had the same sensory reward as Pole Position's tiller, but the new car has taken up the challenge of providing its drivers with something slightly meatier to hang onto in a corner. While bowling through some of Napa's bending, hilly roads we found Prius to have a very satisfying return on steering inputs, with a rack that was quick enough to keep pace with a moderate thrashing of switchbacks, hairpins, and faster banked turns. Much like Venza, the Prius helm never feels naturally actuated (there's no doubt that a great deal of boosting and electronic fiddling has gone into the development), and has a distinctly not nice deadness at dead center, but it still goes about the process of steering the car with an unexpectedly playful nature.
Let us be perfectly clear here, before we lose all credibility as a publication aimed at enthusiastic drivers; the new Prius has not become an enthusiast-driving machine. Too-skinny tires (great for fuel economy) scrabble a bit for real grip when pushed, the car's body flexes and rolls under cornering loads, and acceleration is well shy of brisk even in the most sporting of driving modes—more on that below. That said, Toyota has taken care to create a much more lively experience than could be had in the previous Prius, creating a car that is at least capable of amusing the average driver, while letting them keep a cleaner conscience than ever before.
It would be hard, in good faith, for us to review the 2010 Toyota Prius without some mention of fuel economy, despite the fact that it may be the one message that most readers have already heard, loud and clear. Since the car's debut in Detroit this January, Toyota has been trumpeting its expected combined fuel economy number of 50 miles per gallon to anyone within earshot. True to form then, the Prius launch event wouldn't have been complete without something like the, slightly informal, hypermiling challenge that Toyota PR posed to the assembled group of motoring hacks. We'll just dispense with the dramatic buildup and tell you that our final fuel tally was a slightly jaw-dropping 70.9 mpg over the route of mostly suburban stop and go traffic, but that number only occurred as a result of a maddeningly slow average speed of 29 miles per hour. That's crawling along as if in a school zone, including portions freeway driving, for what ended up being perhaps the least interesting 30 miles of driving that your author has ever encountered.
What was really interesting about the afternoon's exercise though, was that none of the "normal" drivers on the road that day seemed to care about our snail's pace. To them, it must have seemed, we were just another enthusiastic Prius driver. A revelatory notion, and one that means drivers of this next-generation hybrid are in for some tiny fuel bills.
Our hard-earned mpg number was also achieved using the two blandest of the car's four distinct driving modes—Eco and EV. As one might guess by its initials, EV is an all-electric mode of operation for Prius, which is only usable with the battery in a fairly full state of charge, below roughly 20 mph or so, and for just one mile. Toyota engineers contend that EV mode might be employed for periods of driving when one may not want any excessive engine noise, presumably when pulling into a driveway after an especially late night at the office, but we'd wager it was included in the Prius package simply as a mild ego stroke for the ostentatious minority of the Green Driver set. Eco might be the setting that most drivers pick on most occasions in the real world, as it allows for more frugal throttle management than in the default setting, but with enough on tap to get up to highway speeds and cruise comfortably. The power mode allows for the most enthusiastic driving styles by far—fully unleashing the power available through Prius' bigger 1.8-liter engine. The sporting setting also gives greater throttle response between 30 and 50 mph, and generally gives the car the sort of response time one would associate with an average gas-powered midsize sedan. It's worth noting that we still managed to come home with a reading of just over 50 mpg, even after the aforementioned hilly driving loop was completed totally in power mode.
In addition to imbuing the car with a more dynamic character and far superior fuel capacity, Toyota has done a great job in furthering the tech cred of its signature hybrid. We were particularly impressed with the functionality of the Touch Tracer display system, which provides a heads-up display of the steering wheel-mounted controls, showing which particular button your thumbs are on at any given time, thus allowing for more time with eyes spent firmly facing the road. Well done Toyota.  Further creature comforts were to be found in the backseats, which are far roomier in the noggin area thanks to the peak of the roofline being strategically moved backwards. The seats themselves (front and rear) were a bit soft and flat—perfect for casual cruising but lacking in any real lateral support.
In all, the 2010 Prius is safer, faster, greener, roomier, and more technologically advanced than ever before. It's a car that should do phenomenally well at retaining current Prius owners as customers, while moving the goalposts just enough to entice a few more buyers at the fringes as well. The Prius achieved new icon status with its last new model—a fact that won't be lost with this fresh face.