Driven: 2009 Saleen Dark Horse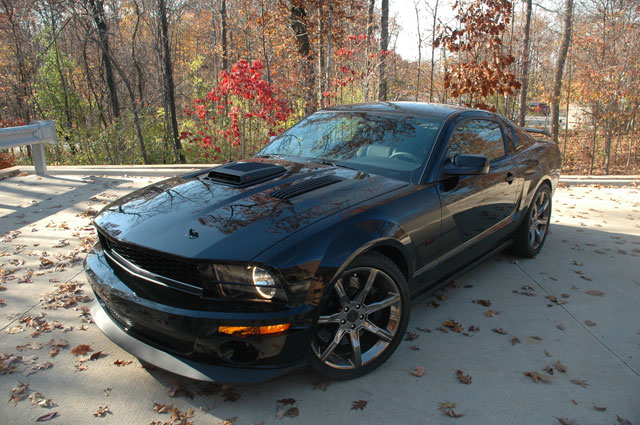 For one reason or another, the Winding Road and NextAutos fleet has been graced with a whole lot of Mustangs over the past few months. Whether it be a simple GT, a stock Shelby, or a tuned up Roush, we've driven them all. However, nothing seems to compare to our latest Mustang iteration: the Saleen Dark Horse. This car boasts 620 horsepower, 600 pound-feet of torque, and a sub-four-second zero-to-sixty time, making it the baddest Mustang we've driven to date. Still, with a limited production run of only twenty-five cars, the Dark Horse will only be experienced by a select few, and we're happy to have been part of that lucky group.
Click through the post to read our full impressions of the Saleen Dark Horse.
Chris Paukert
Editor-in-Chief
With all the Mustangs we seem to corral at our Ann Arbor offices, you'd think that someone on our staff is a certified Blue Oval pony car nut. The truth is, I suspect that exactly none of us have ever seriously contemplated Mustang ownership, although after the many varietals we've experienced this year, that may be beginning to change for some of us.

At near-as-dammit to six figures, I figure you have to be a pretty committed (and well-heeled) Mustang collector to pick up a Dark Horse, as it would doubtlessly be cheaper to build a similar beast piecemeal in your own backyard. Still, given the extremely limited-edition nature of this model and how well it's finished, it's hard to say that it isn't worth it.

Performance-wise, this Mustang is more refined than I would have expected given its big horsepower and torque figures and live-axle construction, but that isn't to say that putting the power down is uneventful. On the contrary, straight-line performance is flat-out stonking, and both the noise and the velocity are appreciably different from the less powerful, less costly Roush, Saleen, and FoMoCo Mustangs we've sampled as of late. Better still, this car can actually handle corners surprisingly well, though judicious throttlework is a must, and putting down the power can get downright spooky after even the lightest of precipitation.

At this sort of money, the Dark Horse can only reasonably be judged against a Corvette ZR1 or a Dodge Viper, and I'm not sure how well the Saleen stands up in terms of either an everyday drive (ZR1) or as a trackday weapon (ZR1 or Viper—outside of a drag-strip, anyway). Still, given that they're only building 25 of these things, the Dark Horse is more of a specialty collector's proposition, and as such, it's one hell of a sendoff for the current Mustang bodystyle. It also has more beans (and is much more exclusive) than Ford's in-house GT500KR, so that can't be a bad thing.

All-in, the Dark Horse is my favorite tuned Mustang I've driven this year by at least a furlong, both in terms of sheer performance and styling (it has a certain Knight Rider sans fromage quality, not unlike the Roush BlackJack). Shame about the price, though.
Reilly Brennan
General Manager
It's clear to me now. The best high-performance Mustangs aren't sold by the Ford Motor Company—even including Shelby. With factory-backed warranties and access in nearly every state in the contiguous 48, it's my opinion that Saleen and Roush are pushing the envelope and exploring the edges of Mustang performance in a way that really gets me going. As they should, they're spending time that Ford simply can't in order to make the product better than it was originally intended.

Over the previous few months, we've had the pleasure of testing different "hopped up" Stangs. All sorts of Roush and Saleen Mustangs with great names have appeared here. The Roush BlackJack was a personal favorite (in name and in performance), while this Saleen Dark Horse is certainly no shrinking violet. It's arguably the most extreme form of Mustang you can buy with a warranty.

The sell for the Dark Horse is twofold: it has supercar top speeds and it has well over 600 horsepower. If you're going to buy a supercar Mustang (as opposed to building one yourself, which is what most people would do if given those numbers as a benchmark), it's a clear and direct path. All you need is about $100,000—the kind of money that likely won't tempt a Ferrari owner but could possibly flirt dangerously as an alternative for the Corvette ZR1 buyer.

Don't expect refinement—or a clean driving record—in the Dark Horse. Power down in any gear and you can see the top of the engine (supercharger) flex through the Super Shaker hood scoop. It's really one of the more visceral Mustang experiences available today—and likely one of the more distracting ones. Even with Saleen's reworked suspension I don't feel like I'm entirely one with the earth. With hardly any time before I have to upshift and this great big rumbling and whining supercharged V-8 engine filling my brain with greatness, just what am I to do?

It would be difficult to drive this every day, but with a limited edition (twenty coupes, five convertibles) we expect most of these will end up on blocks or taken out rarely to the drag strip.
Steven J. Ewing
Production and Test Fleet Manager
The Dark Horse is one of the most powerful cars I've ever driven. With a supercharged V-8 engine producing 620 horsepower and a live axle rear-wheel-drive setup, I didn't expect this car to be easy to drive, though I was pleasantly surprised by how smooth it felt at highway speeds and how manageable the power was around town. The Dodge Viper SRT-10 has twenty fewer horses than the Saleen and it feels like an absolute brute on the road. Then again, the Dark Horse still uses traction- and stability control systems — you can't find those on a Viper. The best part of this car, though, has to be the absolutely intoxicating sound that the supercharger emits. The stock Ford sound system isn't anything to write home about, but it's not needed when you have the sound of 620 raging horses filling the cabin.

When I drove the Roush Stage 3 BlackJack a few weeks ago, I fell in love with the five-speed short-shift manual transmission on that car, but in all honesty, I much prefer the six-speed setup in the Dark Horse. The shifter has a bit more spring to it, allowing for quicker shifts without the Roush's signature notchy feeling. The fact that you can hit "go directly to jail" speeds in only third gear is really quite astonishing, though the car never once felt unmanageable or unruly.

Saleen only plans to make a total of twenty-five Dark Horse Mustangs — twenty coupes and five convertibles. At a retail price around the $95,000 mark, it's a damn fine alternative to a Viper. However, I can't think of a reason why anyone would *need* 620 horsepower on a daily basis, and I'd rather save some money and grab a hotted-up Mustang from Roush (or even a lesser Saleen H302) instead.
Seyth Miersma
Senior Editor
The second day that I had Saleen's Dark Horse to take home, I dropped by my girlfriend Molly's office to pick her up after work. She had mentioned to her office neighbor (a bit of a car guy) that I was going to be driving a "really fast" Mustang that weekend, so he came out to take a look at the car. We pulled the pins on the hood to take a look at the supercharged V-8 and took the opportunity to run the engine a little without the aural constraints of the front deck. Within 60 seconds of flooring the throttle a few times—and enduring the blast of innumerable decibels in the process—a small parade of coworkers had scurried out of the office to see what the hell was happening out there. Such is the draw of the Dark Horse.

I drove the Saleen for four days straight, in the wet and in the dry, day and night, on winding back roads, and long stretches of unbroken highway. Alternating between abject terror and loosed, heroic glee, I found out how to get myself in to quite a lot of trouble, back out, and back in—all within a span of minutes some times. In many ways the car felt a lot like the other super-performing Mustangs we've had in the last few months. There is, I'm now convinced, a level of power at which one stops being able to make subtle distinctions in drive impressions and starts to merely "hang on." But the Dark Horse carries with it the additional psychological strain of knowing that it is the most powerful production Mustang ever and one of only 25 that will ever be built. (Heady stuff to ponder when you're piling into a bend at well-over the posted limit, hoping against hope that there's a straight unfurling at the other end.)

The acceleration is blinding at most any speed and in virtually every gear, though the thrust available at highway speeds is utterly absurd. For all of its huge power, the Saleen will handle with reasonably predictable behavior (note: predictable = tail out all the time) as long as the roads are dry. It's incredibly stiff; utterly flat through corners, and amazingly juttery over broken surfaces. The six-speed manual transmission feels as if it's been machined from a single piece of metal, with an extremely mechanical feel, and stiff, short throws that loosen up just a bit once the car has warmed through. Steering feel is similarly burly, though a thicker-rimmed steering wheel wouldn't go amiss here.

The car is an utter animal. Unforgettable.
Nate Luzod
Art Director
A standard Mustang GT's exhaust note is pretty beefy and the Roush upgrades sound even better, but the Dark Horse is transcendent. Heads turn and wildlife scatters with the slightest tap of the throttle. For those of us less comfortable with being "that guy" seat time in the Dark Horse could be embarrassing — but if anyone is looking in our direction they'll probably stare long and hard at the oh-so-sweet exterior modifications before taking note of the driver.

Dark Horse, as the name might suggest, looks like it belongs in a comic book — but in a grown up, aggressive way. The dark, monotone palette combined with angular accents almost gives the car an armored look. This vibed well with the way we felt driving the car, which is practically untouchable.
2009 SALEEN DARK HORSE
Engine: Supercharged V-8, 5.0 liters, 24v
Output: 620 hp/600 lb-ft
Transmission: Six-speed manual
0-60 MPH: 3.9 seconds (est.)
Weight: 3645 lb
Price as Tested: $99,995