Driven: 2009 Ford Escape XLT V-6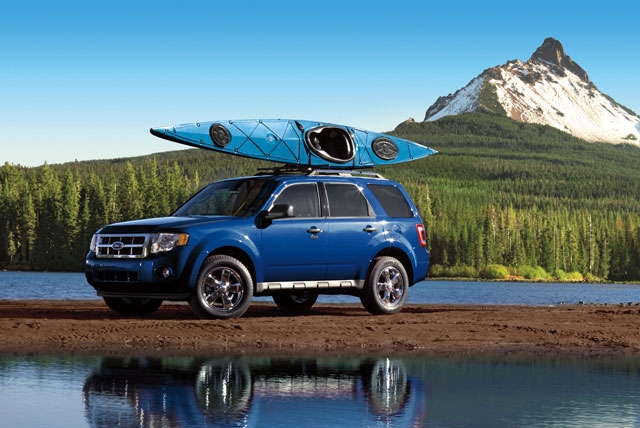 By: David E. Davis, Jr.
One of the more ubiquitous sights on the American Road is the Ford Ranger pickup. It is handsome, in a hard-working, rectilinear way, and you don't see many that appear to have suffered neglect or abuse. Now the Ford Escape (and Mercury Mariner) SUVs join the Ranger pickup in its ubiquity. Not only do you see a lot of them, and not only do they look good, they are good. They may be the class-leader of the compact SUV category.
We drove a 2009 Ford Escape 4×4 to New Albany, Indiana the other day. It was sitting in my parking place at eight in the morning, and I threw my stuff into the back, adjusted the seat, and set out for New Albany, by way of Cincinnati and Louisville. The gauge indicated just less than three-quarters of a tank, and not a huge tank, at that. We cruised at seventy-five and eighty, and enjoyed plenty of passing power. When we arrived at our destination, the Escape still had fuel for exploring Louisville and New Albany, studying one another from opposite sides of the Ohio River.

The car handles and holds the road at least as well as the better sedans in its price class. It appears to be quite compact from the outside, but there's a surprising amount of space inside for people and gear. I genuinely enjoyed it, although I was somewhat embarrassed by the great rectangular expanse of chrome radiator grille that dominates the Escape's front end. This car was fully equipped—everything from four-wheel drive to GPS—and its sticker stated the asking price as $32,564. It is safe to assume that in these parlous times, the factory price is purely hypothetical, a convenient place to start the negotiations.
The Ohio/Kentucky/Indiana junket was the opening shot in ten days of very satisfactory driving experience. A new 2.5-liter four-cylinder engine will probably be the big seller as fuel prices continue to fluctuate. Our test car had the six-speed automatic transmission, and a more powerful yet fuel-efficient 3.0-liter V-6 engine with 20 percent more horsepower. The 240-horsepower V-6 is equipped with i-VCT and ETC along with new cylinder heads, intake and exhaust cams, injectors, intake and exhaust manifolds, and pistons. Other fuel-efficiency measures, such as refined aerodynamics and new low-rolling-resistance tires, also enhance fuel economy while contributing to a quieter interior.
The first time I refueled, I was pleasantly surprised to open the gas flap and find no gas cap, thanks to the so-called "Easy Fuel" refueling system. This seems to be a company-wide innovation that really does take a lot of fussiness out of the refueling process.
Ambient lighting and cruise control are standard on all Escape and Mariner models, as  are anti-lock braking and Ford's AdvanceTrac with Roll Stability Control. AdvanceTrac with RSC measures vehicle motion about both the yaw and roll axes. The braking system of the Escape and Mariner also incorporate improvements. Development efforts focused on enhancing initial brake responsiveness and making further fine-tuning calibrations for the ABS, resulting in better brake feel and shorter stopping distances.
This is a handy compact SUV with a lot of charm. We drove it hard under all conditions and it never failed to impress. We liked it so much that we invited friends and associates to ride in it, and it did daily "Let's take my car to lunch" duty. We enjoyed every minute and mile that it was in our custody, and we'd be happy to own one.