Driven: 2009 Mercedes-Benz R320 Bluetec Diesel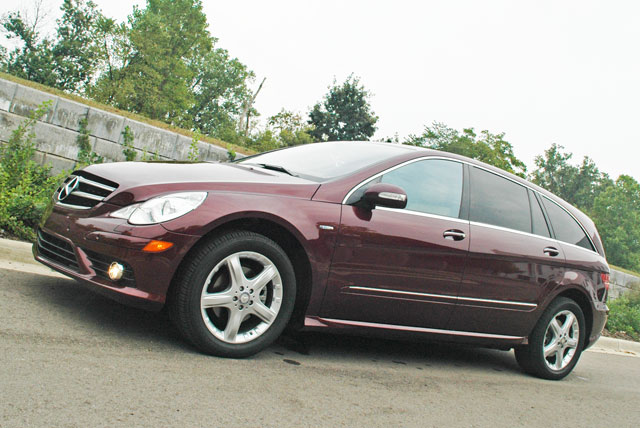 For 2009, Mercedes-Benz has outfitted all of its diesel vehicles with the latest in Bluetec technology. First pioneered in the E320, the ML-, GL-, and R-Class now get the cleanest version of Benz's oil-burning 3.0-liter V-6. This engine is good for 210 horsepower and an extremely useful 398 pound-feet of torque. However, we were rather skeptical if this would be enough power to move the large R-Class family hauler with enough spirit to keep our enthusiast hearts beating. What we found was a rather pleasant people mover with ample power and a comfortable, luxurious interior perfect for long drives.
Chris Paukert
Editor-In-Chief
Walking up to our R-Class, I could almost here the advertisement's breathless callout: "Are you iconoclast's iconoclast? Have we got the car for you!" If there's a less-mainstream car available on the U.S. market from a mainline automaker, I have yet to find it. Say "Mercedes" to your fellow American consumer, and they'll probably conjure up images of a luxury sedan, a coupe, or perhaps an SUV, doubtlessly loaded-up with a good deal of power, a mess of leading-edge technological doodads, and more than a whiff of snob appeal. They don't picture homely purple diesel minivans.

That's something of a shame, because as far as these things go, this is a honey. If you can get past the ungainly front end and its wretched headlights (Q: Is it possible for a designer to be nearsighted and farsighted at the same time?), this is actually a very nice vehicle, and it's a heck of a sleeper executive limo. There's plenty of space inside (with borderline Maybachian levels of leg room available in the second row), lots of creature comforts, and a torque-drunk Bluetec diesel underhood. There are precious few better long-distance family vehicles out there.

A couple of niggles: Presumably to keep soccer moms from spilling their bowls of orange slices and coolers full of Gatorade when they unleash the V-6's mountain of torque, Mercedes has calibrated the throttle pedal to have an annoyingly slow step-in. That is, there is what feels like a couple inches of pedal travel where almost nothing happens. Wait for it…wait for it… whomp! This I could do without. Get underway, however, and there's passing power aplenty from the reasonably muted (but clearly diesel) engine hammering away from somewhere out there beneath the pointy and ugly.

Similarly, the fuel economy struck me as a bit disappointing. In my travels, the trip computer indicated I was averaging around 23-24 miles-per-gallon in moderately enthusiastic, largely around-town driving. That's not a bad figure considering the size and scope of R-Class, but I still expected better.

On the whole, though, there was little to complain about. The R-Class is a unique and capable package that occupies a niche of one in America. The diesel engine's refinement and power suits this vehicle well, and the driving experience is very car-like and friendly. Sadly, with America's growing aversion to minivans and without the proper context of a showroom full of A- and B-Class models, Vitos, and so on, this Mercedes is unlikely to graduate into anything approaching a volume seller in the States.
Reilly Brennan
General Manager
You tell yourself time and time again to stop judging books by their covers, but the temptation is too great. We've just been trained for good reason, mostly to trust that sense of visual intuition we all possess. But, doing so can have grave consequences, like missing out on a really good car just because you think it has funny headlights.

That was the spot I put myself into with the Mercedes-Benz R-Class. Some three years after its debut I had never spent any time in one and just blindly assumed that it wouldn't appeal to me.

Of course, I was dead wrong. The R-Class will never be a competitor for a hot wagon, so leave all your visions of RS6 Avant comparisons at the door. But, viewing the entire experience from a passenger-centric point of view, the R-Class is a winner. Check out these selfless qualities:

Gobs of leg room for your passengers: If I ever had to work from the road in a mobile office, I can't think of a better way to travel than in the back seat of this thing. Not only is the legroom incredible, it's a lot more comfortable than sitting in the back of a truck-based SUV.

Incredibly functional rear and third row access: the second row pops up and forward to allow for easy egress and aggress for the third row. This increased space makes for happier passengers.

Gadgetry: Double rear-seat independent LCD screen with remote and headphones.

From a driver's point of view the R-Class excited a lot of us in the office because of its deliciously torque-friendly diesel engine. Some of the typical Mercedes complaints popped up, however, including steering feel that is perhaps a bit too light in our hands.
Steven J. Ewing
Production and Test Fleet Manager
Seeing as how this was my first experience with the Mercedes R-Class, I wasn't sure what to expect right off the bat. I originally assumed that our R320 test car would drive like an overweight minivan with some added torque thrust from its diesel engine, and after spending a couple of nights with the R, my original thoughts weren't too far off. However, what I didn't expect was how much I really enjoyed driving this Bluetec Benz.

Initially, there isn't a lot of power to quickly move you from a stop, but buyers of the R-Class are not looking for a performance vehicle, and if the are, they might want to scan their local M-B dealers for a leftover R63 AMG. The R320's V-6 only produces 210 horsepower, though it is indeed made up for with the almost 400 pound-feet of torque that pushes you forward from very low revs in each gear. This is the same engine used in the E, ML, and GL Bluetecs, though it feels slightly underpowered—yet realistically adequate—in the R-Class. Highway passing only requires a slight nudge of the gas pedal and, if you're so inclined to do so, the steering wheel-mounted paddle shifters allow you to quickly blip down through the gears to make full use of the horsepower and torque combination.

In true Mercedes fashion, the interior is made up of high-quality leather and plastics that not only look good, but feel good, as well. If I were to be the rear-seat passenger on a cross-country drive, I'd want to be in an R-Class, what with its leather bucket seats in the second row, DVD players mounted to the back of the front seats, and sunshades that add an extra level of tinting to the side windows and the giant panoramic sunroof. This is really a luxurious ride. The third row isn't quite as comfortable, but there's still adequate legroom and headroom.

What it comes down to with the R-Class is price. Most middle-class moms will do just fine with a Honda Odyssey, but for those who need that extra step of luxury and style, the R-Class is a fantastic way to drive and be seen. The Bluetec engine offers an added note of fuel efficiency, too (though not altogether stunning at a quoted 18/24 miles per gallon). Still, for those who have to have the best, this R-Class is a winner.
Seyth Miersma
Senior Editor
The R-Class may be a bit of an odd duck and a rare sight—at least on the roads I frequent—but it remains a surprisingly enjoyable steer considering its sort of upper crust minivan pretensions. The Bluetec diesel seems to be a natural fit in this application, giving a healthy dose of shove to a weighty vehicle, and providing seamless speed and passing power on the freeway. I put roughly 600 miles on our R320 tester, driving to, back from, and all around the greater Chicago metro area, and found the friendly confines of the big Mercedes to be a fine respite from the drudgeries of the travel. I also managed to average (according to the trip computer) a little better than 27 miles per gallon in driving that was skewed about 80/20 highway to urban, not bad for a three-row vehicle.

Stopping by the folk's place for a birthday I also had a chance to ask my kid-toting relatives what they thought of the MPV in terms of real world utility. Each mom interviewed said that it was almost too nice for kids, and wondered at how they'd get by with no sliding doors in back. Everyone also seemed of the same mind when it came to the looks of the low-slung hauler, saying that they were much more impressed with the job M-B did on the interior than the exterior. A hard point to argue.
Nate Luzod
Art Director
The R-Class is every bit as luxurious as you'd expect from a Mercedes-Benz. Perhaps even more so, on account of the utterly capacious interior that I feel we only see in the S-Class. The inside is the stuff you dream about on long road trips: perfectly accessible, usable, comfortable and oddly luxurious (odd, in that our typical perception of a minivan is anything but). The functionality of a crossover paired with the quality of a Benz isn't something we see much of, but it's something I wouldn't mind seeing more of. It's too bad luxury marques seem to have focused solely on SUVs for family needs rather than minivan-type things. Perhaps they wouldn't have gone so dramatically out of style had this not been the case.

The steering felt a bit heavy and on account of its Bluetec diesel the acceleration wasn't anything like awe-inspiring, but for a van I find this perfectly acceptable. I'd much rather have the endurance and MPGs of a proper diesel than a hot 0-60 time to scare my family with.

As far as crossovers go, I'm hard-pressed to find any fault in the R-Class. While the price tag may place it well out of reach for the average working family, the privileged few should absolutely consider it for a great family hauler.
2009 MERCEDES-BENZ R320 BLUETEC
Engine: Turbo-diesel V-6, 3.0 liters, 24v
Output: 210 hp/398 lb-ft
Transmission: Seven-speed automatic
Top Speed: 138 mph (est.)
Weight: 5092 lb
Fuel Economy, city/hwy: 18/24 mpg