Driven: 2009 Mercedes-Benz C300 Sport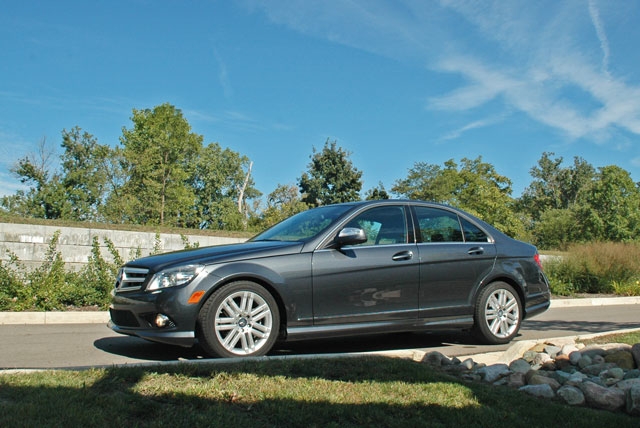 After spending some time with Mercedes' hot-burning C63 AMG, we thought it apt to give the rest of the C-Class range a shot to see if the new Benz C can all-around top other premium sport sedans like the BMW 3-Series and Lexus IS. While we did enjoy our C300 Sport, we found the $45,000 as-tested price a little high, especially when a BMW 335i offers better performance for a more reasonable price. Still, much of the blame for the hefty price tag is down to heavy treading on the options list…

Chris Paukert
Editor-In-Chief
Perhaps I'm still enduring a performance hangover from guns-blazing C63 AMG we had a while back, but despite having the same shape and basic genetic makeup, this (rightfully) feels like an altogether different vehicle—one that I wasn't always in-tune with.

Mind you, it's still terribly accomplished, with a well-resolved interior and an exterior shape that at once looks aggressive and premium. But with just 228 horses in its stable, this C300 doesn't really warrant Benz's "Sport" designation in my book, with what feels like a 0-60 miles-per-hour time in the mid-sevens and a default stability control intervention point that's set to "early-and-often."

As good as the seven-speed automatic is, I would definitely prefer a row-it-yourself gearbox to make the most of the power on offer. Of course, not everything issued from Europe needs to be a sport sedan, but given that this is fitted with the "Sport" package (aero bits, grille, seventeen-inch staggered width alloys, "sport suspension and braking system," interior frosting), I would like a bit more driver engagement, both in terms of the throttle response and steering feel.

It's worth saying at this point that I think Mercedes' all-in-one Command user interface has really come into its own. I think I prefer this interface to any of the others currently available from the competition (that includes Infiniti, Audi, and BMW—although in fairness, I haven't experienced the latest iDrive incarnation in the 2009 7-Series for myself). It's quite intuitive in use, and the controller itself has a high-quality feel and action.

Uneventful acceleration aside, this C300 enjoys the sort of well-calibrated, rattle-free ride, firm seats, and sober interior (especially in this color palate) that recalls the "bank vault" Benzes of yore. Given the automaker's very public battle with quality lately, that's probably as good a message as any to start with.

Don't get me wrong—I do think there's a lot to like about this C300. But the loin-stirring C63 stole my heart, and this one only made it beat a smidge faster.
Reilly Brennan
General Manager
Now that the C-Class has an interior and exterior that matches or beats that of a BMW 3-Series and Lexus IS (don't think so? Let me know in comments), you're going to have to think long and hard about why you actually buy a car. If your monthly payments are always earmarked for driving machines, you're likely not reading this review anyway. The fattest part of the entry luxury curve—those buyers who want a lot of show and maybe a little bit of go—will find another layer of confusion as they pick their next $35,000 sedan. The C300 is very good for those buyers who are shopping with a high priority on design, interior quality and curb appeal.

Having driven the C63 AMG a few weeks back, I was surprised to see a lot of what I loved about that car found in this "base" model C300 Sport. Of course, the 451-horsepower V-8, demon body kit and hip-hugging seats are gone (along with a host of other bits and pieces related to going and stopping in a most expeditious manner). But, you never feel like you're in a stripped down model in the C300. It's a Mercedes, after all. The large-face grille and Gehry-esque interior are all here. The brakes are surprisingly good. The power isn't magical by any means, but for freeway merging and scooting around traffic it's serviceable.

It's common for people to beat up on the C-Class because it's not a "sports sedan." Let them complain all they want—from stem to stern there's little evidence that the car was supposed to be a replacement choice for the manual-driving 3-Series buyer (C63 AMG would take umbrage with that, of course). For most buyers of the C-Class—who seek a true luxury car without the trappings of curb weight and overall length of a bigger sedan—there's little reason to look elsewhere.

Oddly, one could argue that the new 3-Series has one of the most "sporting" design aesthetics in the segment, which belies its luxury panache. It's a clever game. And we must admit—we all love a hologram.
Seyth Miersma
Senior Editor
The C300 is a fine car, balanced, adequately luxurious, and a great standard-bearer for Mercedes-Benz after a longish period of sliding public opinion about the automaker. The C-Class isn't going to overwhelm anyone with its power or speed, though I'd be hard-pressed to say that I ever found myself needing any additional grunt, despite wanting it on a number of occasions. Thankfully the fine steering and composed chassis mostly made up for the lack of outright thrust in most cases. There is also a bit more room for passengers than can be found in BMW's 3-Series, should that be a concern for buyers. Our example was optioned out to a rather immodest 45 grand or so, a figure for which we'd hope the car would feel just a little bit more special. Keep a clear head when furnishing your C-Class and you can walk away with something a bit more reasonable though.
Steven J. Ewing
Production and Test Fleet Manager
I really like the new C-Class. Though I wish that the base C300 had some more power, the way this car makes use of the minimal 228 horses is what's most impressive. The engine in no way feels inadequate, though I'm sure that true enthusiasts might shell out some extra money for a C350 Sport or even a top-dollar C63 AMG (meow!). The C-Class is one of the most attractive cars in this class — especially in Sport guise — and it makes me wish that the base BMW 3-Series would strut its stuff a little more.

In all, the C-Class is really good car, and its shortcomings in performance are easily made up for with its style and interior refinement. Then again, I must take into consideration the nearly $45,000 price tag of our test car. For that kind of money, I'll stick with a BMW 335i, what with its twin-turbocharged six-cylinder engine. Still, for those who must have the Mercedes, the C300 is never a bad choice.
2009 MERCEDES-BENZ C300 SPORT
Engine: V-6, 3.0 liters, 24v
Output: 228 hp/221 lb-ft
Transmission: Seven-speed automatic
0-60 MPH: 7.1 seconds
Top Speed: 130 mph (limited)
Fuel Economy, city/hwy: 18/25 mpg
Price as Tested: $45,590