Comparison: 2012 Jeep Grand Cherokee SRT8 vs. 2011 Porsche Cayenne S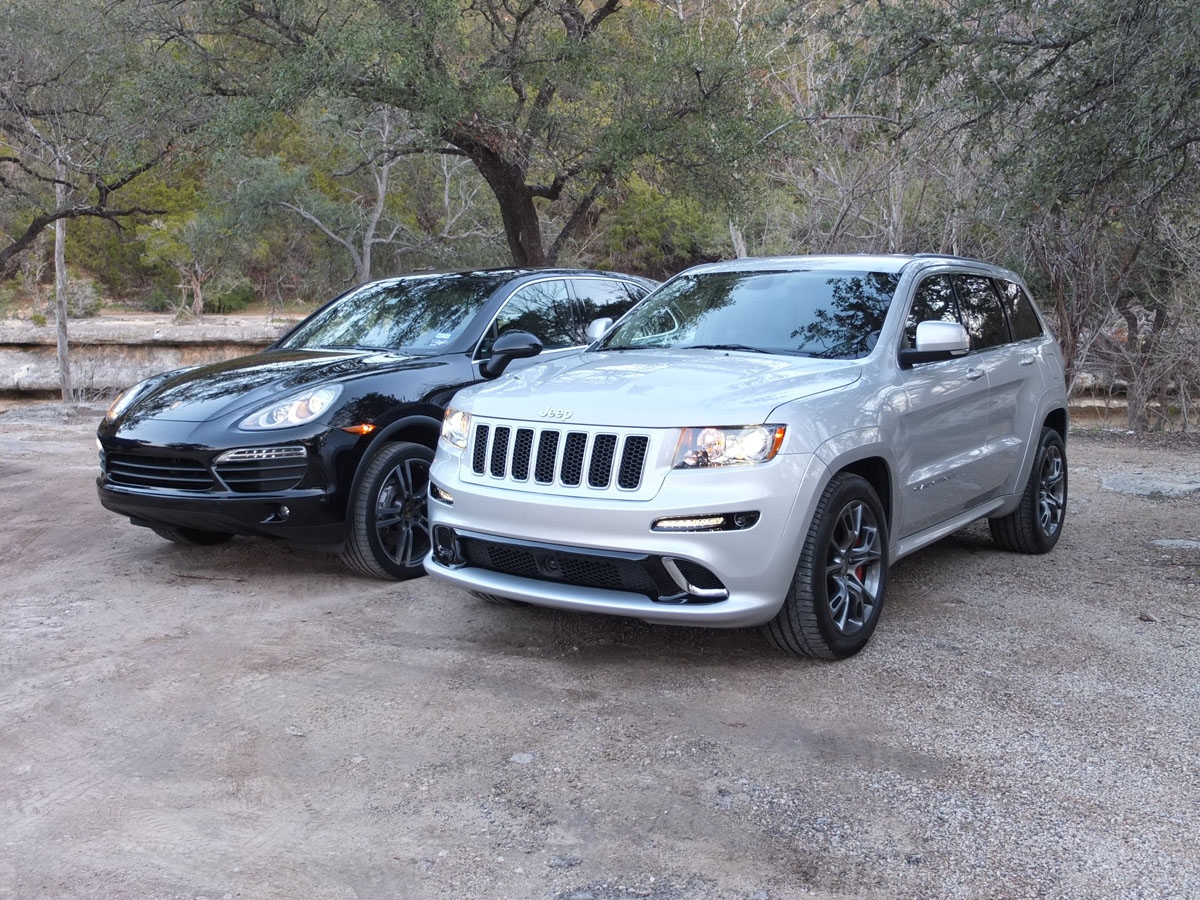 —Austin, Texas
It is rare that we find a road test summarized by a switch. But when we climbed into the Jeep Grand Cherokee SRT8, we looked down and sure enough, there it was: The Knob. Jeep has seen fit to equip the SRT8 with a control that offers settings labeled Tow/Snow/Auto/Sport/Track, a range of conditions that pretty much covers everything we want to do with a steering wheel in our hands.
We've long recognized that there is a seductiveness to the idea of a single vehicle that can do it all. Imagine, as many of you no doubt have, a vehicle that is enjoyable to drive, can carry more than one passenger in comfort, has enough space to haul stuff from Lowe's to your house, can tow a boat or a race trailer and looks classy enough to take downtown to be dropped off at the valet stand. Such vehicles have an economy of thought and an American pragmatism to them.
We have, however, long been concerned that the endeavor to be a jack-of-all-trades usually had the clichéd result. Let's face it, it is hard to make a vehicle big enough to tow well and light enough to deliver sports car handling. In fact, it is impossible at the current state-of-the-art, and perhaps always will be, given the pesky nature of the laws of physics. But, with crossovers and SUVs having represented a large chunk of the market for more than a decade (now about one-third of vehicles sold), manufacturers have had plenty of time to roll out several generations of technology and to segment the market with finely honed precision, getting every closer to this Swiss Army knife ideal.
And so it is that we found ourselves in the company of two distinctly sporting SUVs, one from Jeep that sports a 6.4-liter Hemi, and the other the second-generation SUV from fabled sports car maker Porsche. While Jeeps and Porsches don't often find themselves being compared (despite our repeated requests for a Rubicon/959 head-to-head), the Grand Cherokee SRT8 and the Cayenne S are more similar than you might expect. The Jeep has a base price of $60,960 and the Porsche crosses the UPC scanner at a base of $65,000 (of course, the Jeep comes close to maxed out at that price, with our tester at $62,880, while Porsche offers a dizzying array of options with the result that our test configuration had an MSRP of $83,655).
Both of these cars have powerful V-8 engines, with the Jeep delivering 470 horsepower and 465 pound-feet of torque to pull 5150 pounds. The Porsche gets by with "only" 400 horsepower and 369 pound-feet of torque, which fortunately has to move a mass of just 4553 pounds. In a moment of inscrutability, Chrysler says towing is "not recommended" with the SRT8, although a towing package is offered and there is that aforementioned knob. As a reference, other Grand Cherokees are rated at 5000-pound towing capacity. The Cayenne S is rated at 7700 pounds when towing. Overall both the Jeep and the Porsche are 191-inches long, with the Grand Cherokee using a 115-inch wheelbase and the Cayenne S measuring 114 inches between the wheels.
Those similarities indicate that real buyers might rationally cross-shop these two cars. Before doing so, they might ask if the driving dynamics are similar. We'd summarize, if asked, that both these cars are more fun to drive than we expected, and we'd also mention that the driving experience is quite different depending on which wheel you get behind.
Differences are to be expected, of course, because the technology behind each vehicle is distinctive, despite their basic similarities in form factor. While we could mention a whole bevy of these, let us stick to a few. First, the drivetrains are really quite different. The Jeep has a big displacement, iron-block OHV unit running through a five-speed automatic transmission. The Porsche uses a smallish 4.8-liter aluminum overhead cam engine running through an eight-speed autobox.
The result, as you might anticipate, is that the SRT8 feels quite punchy and torquey off the line, while the Porsche moves along nicely but requires a bit more right pedal to really jump. And even then, the Porsche doesn't feel or sound as potent either off the line or accelerating from typical running speeds. Don't misunderstand, the Porsche gets out of its own way rather well, but the Jeep just feels stronger at low revs. This low-rev behavior significantly colors the experience of these cars, because each transmission does its best to keep revs under 2000 rpm so that fuel economy doesn't completely plummet. That means that when you get on the throttle, especially rolling on partial throttle, the engine has to run up from fairly low speeds and here the Hemi has an advantage.
That said, once the Cayenne's motor gathers some speed it can pull the car right along. 0-60 comes up in 5.6 seconds, which puts it in company with the BMW 335i, or the Honda S2000, or the Acura NSX (for historical comparison). Even so, the Jeep will do 0-60 in 4.8 seconds, reflecting the observations made above coupled with the fact that the Jeep is no weakling as revs rise. We should note at this point that both cars come with quite usable paddle shifting systems, so that drivers can, if they wish, keep revs in the optimal band for acceleration.
The real point here, though, is not about imitating Top Fuel cars, but about feel. For those of you who love the sensations of a potent drivetrain, the Grand Cherokee SRT8 does Porsche Cayenne S one better, and you won't need a stopwatch to tell. For those of you who mainly want enough juice to avoid that sluggish feeling, both of these vehicles are more than adequate.
Now, you may be waiting for the other shoe to drop as we reveal the handling inadequacies of the Grand Cherokee. Except that isn't what we're going to do. Because, actually, the suspension setup on the Jeep is pretty darn entertaining. It has plenty of roll stiffness coupled with lots of tire, with the result that you can move quite quickly on the street. More importantly, the SRT8 is rather fun in this mode; it doesn't feel like it is constantly fighting you or that you have to bring a professional level of mastery along to tame its ill behavior. Now, certainly, a heavy, tall car is never going to turn like a Radical or a Caterham, or even a 370Z. If that's what you want, you need a two-vehicle solution: a sports car and, probably, a pickup. But if you want your daily driver to be enjoyable on the twisty bits, well, we think the Grand Cherokee SRT8 will more than do the job.
We could be well satisfied with the SRT8's handling, but extensive time in the Cayenne S has shown that Porsche has moved SUV handling a least a step beyond even the very good benchmark set by cars like the SRT8 or even the
BMW X5M
. Our test car had the full package of Porsche suspension goodies, and that may have been the reason. Porsche offers several interesting technologies to make an SUV more like a sport sedan, and feel smaller and lighter than it is. First, it has an air suspension system, which allows the Cayenne to be run in Sport mode at a lower ride height. Porsche also offers its Porsche Dynamic Chassis control, which is an active anti-roll system (leading to a less-compromised ride, with more roll stiffness than is practical with a passive system). Then there is Porsche Active Suspension Management, which varies shock valving according to road conditions and can be set to three basic modes: comfort, normal, and sport. Finally, there is Porsche Torque Vectoring, which applies braking to the inside rear wheel on corner entry to aid in rotating the car.
The amazing thing is that all this technology feels rather seamless in its application. The Cayenne enters corners willingly, but then hunkers down and hangs on in a way that feels tenacious, stable and fluid. Driving the Cayenne with this setup makes you realize how many heavy (4000- to 5000-pound) sporting cars are rendered inert by all the stiffening required to control the mass at hand. The Cayenne, by contrast, feels much more like a live dance partner than a mannequin.
Of course, the do-it-all brief of these vehicles also extends to comfort. Since we tend to have sports cars as our natural point of reference, we tend to think both the Jeep and the Porsche are positively sybaritic in their luxury. Certainly the SRT8 comes with a host of luxury features that befit its pricing. The Cayenne takes a different approach, giving you the option to get almost any gizmo known to man (or to skip them), but extracting a price for many of the things lux-lovers will want. We admire the German approach, but others will find this restricted access (to use a popular twist of phrase) frustrating.
When it comes to ride quality, we think the jury will be split. The Jeep is quite firm, though we generally didn't feel that it often crossed the line into harsh territory. That said, our testing was done in Texas where road surfaces are above average. The Porsche has a somewhat smoother ride, though even in comfort mode, the Cayenne won't be confused with an electro-marshmallow like the Audi A8 on broken surfaces. Again, from our sporting perspective, both of these vehicles ride very well, but we'd suggest avoiding SUVs in general if ride quality is your top priority.
A bigger contributing factor to driving enjoyment, in our minds, is the way these cars track at speed. On the highway, we would say the Jeep has good directional stability, though it isn't nearly in a league with the greats, like the Nissan GT-R. The Porsche is somewhat better, and is a rather civilized highway cruiser. The difference here probably comes down less to chassis dynamics and more to on-center steering feel, where the Porsche is just a tad more direct.
We also view seating as a major comfort factor. The SRT8 has firm yet supple and well-bolstered seats that were comfortable mile after mile. We thought these were very slightly bested by the Porsche offering (and our tester had the base seats, though in our experience optional 2000-way adjustable chairs aren't always better). We think most people, who after all aren't making constant comparisons, would likely enjoy the high quality furniture in either vehicle, and that personal preference will be the over-riding element if you get concerned about such things.
As a final comfort comment, we thought the size of the rear seating compartments and real cargo areas of both cars was solidly in Goldilocks ("just right") territory. Passengers have ample leg and headroom, and quite large boxes can be shuttled hither and yon. We are naturally mindful that, if these cars got any bigger, the dynamic joys mentioned above would be at risk of evaporation. If you're looking for size-related quibbles, really only the step-in height might be a cause for complaint (though the Porsche can be lowered to a special "formal gown level" to get around this issue).
As you can see, we were quite pleased with the overall capability of these very sporting SUVs. They drive well, look pretty sharp, are comfortable and they can haul quite a bit. In these days of rising gas prices, the biggest area where they come up short on the "do-all" mandate is fuel economy. We got around 15 miles per gallon in the Jeep and 18 mpg in the Porsche, in a mix of city, suburban, and highway driving. In the end, you really can't have it all, but these cars show that you can come close.
We were also pleasantly surprised with how well the Grand Cherokee SRT8 held up in comparison with a new platform from Porsche. And this isn't because the Porsche is a weak, throwaway offering from Stuttgart. In fact, we think the new Cayenne is a honey. But, the Jeep Grand Cherokee SRT8 can hold its head high in a real-world comparison with some very advanced German engineering.
2012 Jeep Grand Cherokee STR8
Engine: V-8, 6.4 liters, 16v
Output: 470 hp/465 lb-ft
0-60 MPH: 4.8 sec
Weight: 5150 lb
Fuel Economy, City/Hwy: 12/18 mpg
Base Price: $60,960
2011 Porsche Cayenne S
Engine: V-8, 4.8 liters, 32v
Output: 400 hp/369 lb-ft
0-60 MPH: 5.6 sec
Weight: 4553 lb
Fuel Economy: 16/22 mpg
Base Price: $65,000