Driven: 2010 BMW X5M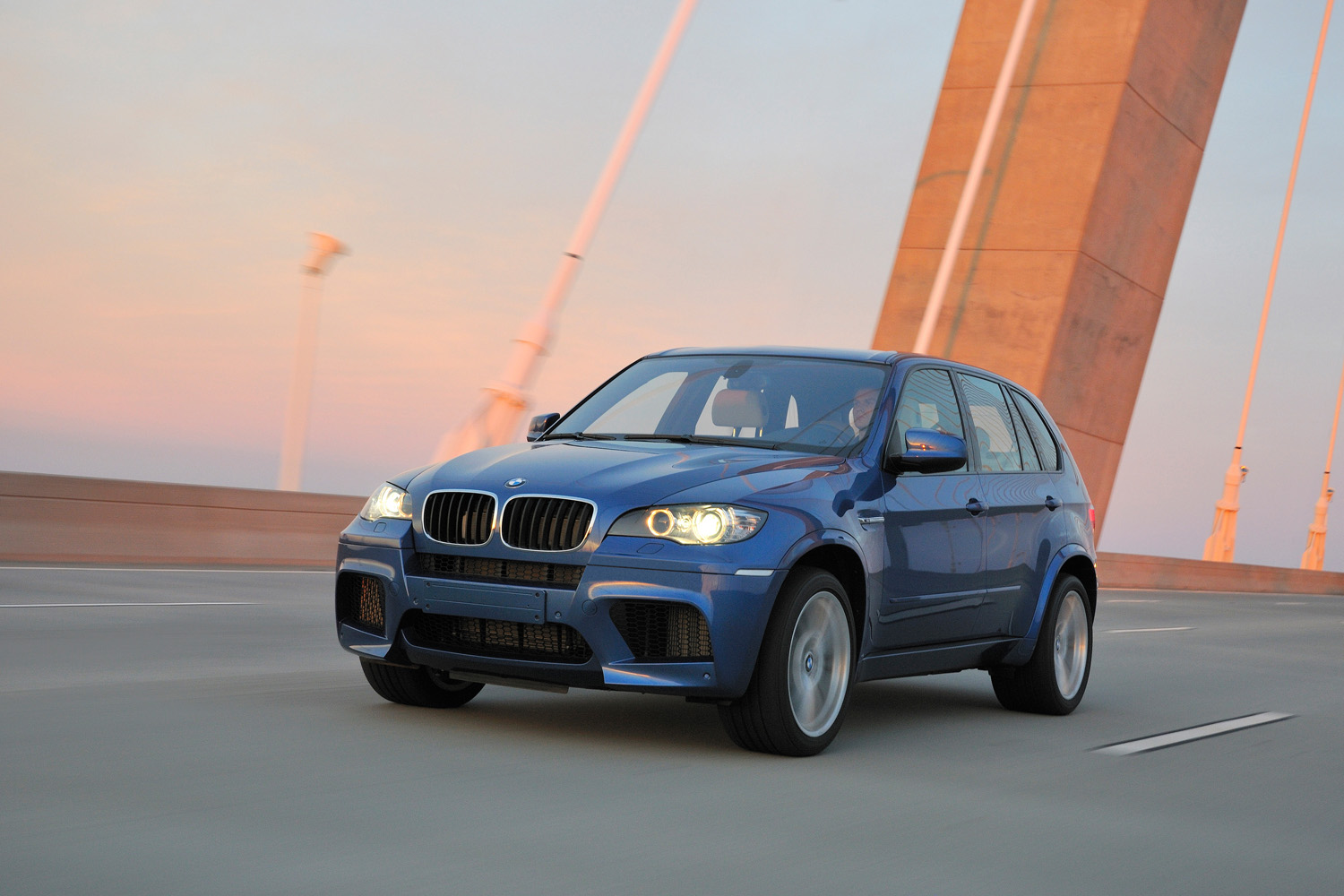 —Ypsilanti, Michigan
If a nonsensical vehicle like the Porsche Cayenne Turbo S tickles your fancy, you may want to leave space on your bedroom wall for another drool-worthy pinup. This, ladies and gentlemen, is the BMW X5M. It has 555 horsepower, it runs a tuned version of BMW's xDrive all-wheel-drive system, and it costs $85,400—that's a whopping $40,900 less than the starting price of Madam Cayenne. And if you immediately think to yourself, "Well, clearly this is because the Porsche is a superior vehicle," you'll want to think again. The X5M is as good to drive as it is hard to comprehend.
When BMW introduced its latest M-badged creations—in both X5 and X6 guises—we weren't sure what to think. And while we've now driven both of the beastly crossovers, they still don't make a whole lot of sense to us (just like the turbocharged Cayennes). But while the Porsche is only minimally impressive, what with its somewhat disconnected driving experience, the X5M (and X6M, alike) is really honed in as a true driver's car. The Ultimate Driving Crossover, if you will.
We've spoken before about our love for BMW's latest 4.4-liter, twin-turbocharged V-8, which in its standard form produces 400 horsepower and 450 pound-feet of torque. The X5M uses this same powerplant, though total output numbers have been upped by 155 and 50, respectively. This is a truly impressive mill, with tons of power on tap in the low end of each gear (the torque thrust is delivered as low as 1500 rpm), and a really linear feeling to the overall acceleration. There's a huge rush of power right off the line that never seems to let up. It feels more like a naturally aspirated V-10 rather than a boosted V-8. And while the X5M is indeed a portly thing, weighing in at 5368 pounds, it will still sprint to 60 miles per hour in just 4.5 seconds. That's as quick as an M3 Coupe.
In the bends, the X5M continues to shine. The steering does feel a bit heavy at times, though we greatly appreciate the use of speed-sensitive power steering in this regard. It never feels disconnected or like there's too much play in the wheel, but instead is sharp and crisp, especially at initial turn-in. Through a corner, the big BMW is very balanced with minimal body roll and tons of available grip on hand. This is due, in part, to the large twenty-inch wheels that measure ten inches wide in front and eleven out back. And though the big V-8 up front is a heavy motor to carry around, the X5M still manages a near-perfect weight distribution of 51.7/48.3 percent front/rear. Other driving aids like M-tuned dynamic stability control and brake cornering control keep things in line, as well.
Another commendable trait of the X5M is its six-speed automatic transmission. This tranny is totally different from the seven-speed DCT of the M5 and M6, but it feels like there are two clutches working together for flawless shifts. Quick gear changes are continuously executed, and we very much enjoyed moving through the cogs via the steering wheel-mounted paddles (right to upshift, left to downshift—the way it should be).
A key thing to note about the X5M is that even though it's fast, smooth, and really involving in terms of overall driving experience, it's still a big, heavy vehicle, and long stints of hard driving will prove to be very tiresome to the driver. It's not an effortless machine, this X5M, and we rather like it.
No big interior changes have been made on the M versus a standard X5, save the standard addition of a sport steering wheel, second-generation iDrive integration, and some M badges. The front seats could stand to be a bit more supportive—adjustable side bolsters would easily do the trick here—but aside from that, it's simple BMW goodness in the cabin.
So while the X5M doesn't necessarily make a whole lot of sense right off the bat, we can see how an enthusiast would warm up to this beast as a daily driver. Sure, it's extremely fast and entertaining to drive, but we must also remember that the good-to-use crossover traits of the X5 are still on hand. There's tons of room inside, it's four-season friendly (though you'll definitely want to opt for snow tires in the cold-weather months), and if you really wanted to, you could tow with it. Would we drive one every day? You bet. But for eighty-five large, we'd rather have a two-car garage with more nimble machines on tap. Still, would-be Cayenne Turbo buyers would be smart to stop by the BMW dealership before making a final purchase decision.
2010 BMW X5M
Engine: Twin-turbocharged V-8, 4.4 liters, 32v
Output: 555 hp / 500 lb-ft
Transmission: Six-speed automatic
0-60 MPH: 4.5 seconds
Top Speed: 155 mph (electronically limited)
Weight: 5368 lb
Base Price: $85,400
Price as Tested: $89,875