Driven: 2012 Porsche Panamera S Hybrid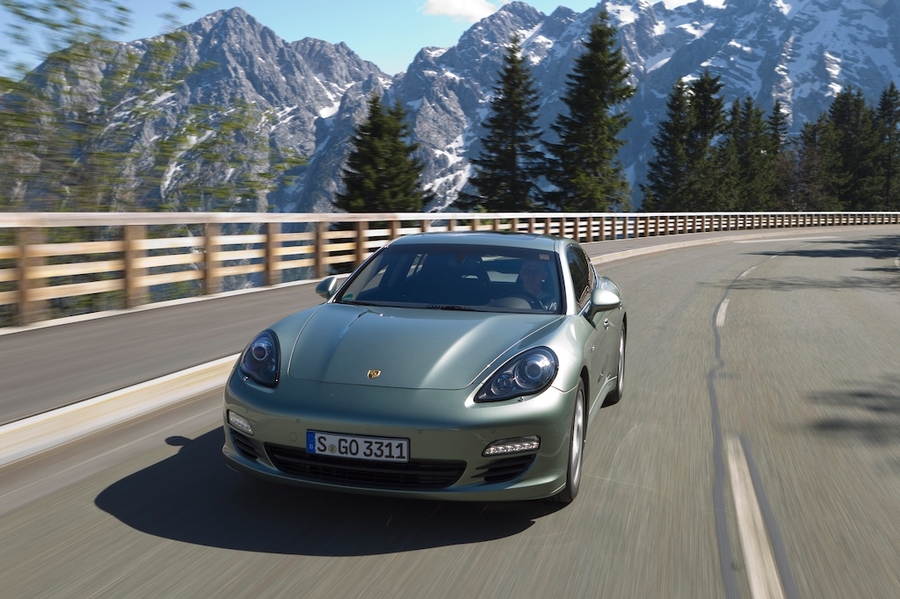 —Salzburg, Austria
Imagine the saucer-eyed wonder when we pulled over following the first 56-mile "mpg challenge" section of our Porsche Panamera S Hybrid drive and discovered a miles-per-US-gallon average efficiency of 31.8. We were smooth and watchful of our typical Porsche enthusiasm, yes, but the landscape around Salzburg in Austria is not exactly board-flat. We were honestly expecting to be impressed by anything over about a 23 mpg city/highway average.
So, 31.8 mpg is really possible in the San Francisco Bay area, Denver metroplex, or New York City's five boroughs, while driving a 375-horsepower, 4365-pound, four-passenger luxo-liner that claims to get to 60 mph in as fast as 5.7 seconds, with a top speed of 168 mph. That'd make this Panamera the world's fastest luxury hybrid four-door.
Ever since the first "type 955" Cayenne SUVs rolled off the line at the Leipzig, Germany, factory, many have whined greatly about the ruining of the Porsche brand. Now add the "type 970" Panamera lineup from the same joint in the former DDR and those same people, together with a whole new flock, are very vocal about what they don't like.
And yet the Cayennes and Panameras keep chugging off the line, accounting for over 70 percent of total Porsche sales worldwide. Last we checked, it has taken the 997 911 a mind-boggling 29 versions of itself just to maintain enough enthusiasm to hold on to 25 percent of total Porsche annual volume.
And wait till the sure-to-be-hot Cajun arrives; the 911 percentage will surely dip to around 15 percent of the total or less. That's weird to think of.
Questionable Investment Or Just Plain Worth It?
Long story shortened, this is the new-age Porsche car company. There are many more overt tie-ins with other Volkswagen Group family members, for one thing, and these will grow to be more and more over the following years. For now, in the Panamera S Hybrid, we see the popular Audi-engineered supercharged 3.0-liter V-6 TFSI engine, here with the same 329-horsepower rating as in the current S4, the first Audi that carried this great motor.
Curb weight is at 4365 pounds versus the 395-horsepower, V-8-equipped Panamera S's 3968. While the Panamera S starts at $89,800, the S Hybrid comes in at $95,000, so on a strictly pound-for-pound basis the S Hybrid is the better value. But then we look around more seriously and we're paying more money for a slower car that weighs more. And though you might have the green-coolness credentials you desire the moment you land an S Hybrid Pornomera (especially in the shown Crystal Green Metallic), you'll suffer inside to know that the 1.7-kWh, 46-horsepower, 155-pound battery pack under the rear cargo floor isn't even the ultra-chic lithium-ion variety, but common everyday nickel metal hydride.
The same NiMH thing somewhat baffled us in the Cayenne Hybrid because Porsche is no doubt lithium-ion bound in short order. Further, a used NiMH Porsche hybrid is going to more than likely prove absolutely sales proof in 2013. Conclusion: these current Porsche hybrids are for the ultra-rich who don't much care about that resale issue. And 26 percent of worldwide Panamera S Hybrid sales should be in the US, by far the largest market.
Driving A (i.e. This) Porsche
North America will be getting the Touring and Sport versions of the Panamera S Hybrid, the former built for comfort, the latter, yes, for (relative) speed. Our tester was pretty much a Sport trim with optional Nineteen-inch low rolling resistance Michelin Pilot Sport tires—255/45 R19 (100V) front, 285/40 R19 (103V) rear. Though not the sportiest setup of rubber to the road we can imagine, the set did respectably well in the myriad uphill and downhill curves.
It's best to keep the suspension and steering et al. in Sport mode just because body roll is naturally minimized and the steering turn-in gets nearer to Porsche sharpness that we expect. Leave the whole situation in the more comfort-oriented default mode and the car—with the longer-geared eight-speed Tiptronic S automatic—feels understandably casual in comparison to practically everything expected of a Porsche.
Front/rear weight distribution here is 51/49 and in the slightly more technical sections of road the Panamera S Hybrid does tend to embrace its understeering nature, but it's all actually more neutral than anything else. Exhaust sounds from the unexceptional looking four-tip pipes in back is nothing much to write home about. Which comes as absolutely no surprise, of course.
Braking is not an overly exceptional experience either on the S Hybrid Panamera, front compound disc diameter being just 14.2 inches with six-piston calipers, while in the rear it goes to 13.0-inch discs and four pistons per. They do the stopping and regenerating of the batteries in able fashion, but we were feeling around for a little more authority via the pedal for this tree-hugging behemoth.
In the end, at least starting from after our mpg challenge run, we knew it was a Porsche we were driving only because of the interior—a design choice you can always discuss, but which can only be termed exquisitely finished. For all of the other important sensory stimuli, this is a Volkswagen Group big idea car that happens to be a Porsche.
How To Drive Green And Fat
First off, North American Panamera S Hybrids will probably not ever get to the combined 31.8 mpg we weaseled out of our Euro unit, mainly because our cars cannot cold-start silently in electric-only mode. The supercharged V-6 must ignite because our catalytic converters need to get heated right away in order to be effective.
You'll probably find ways to get to our number if you really have at it. Leave all climate controls switched off, barely nudge the accelerator leaving all stops, do not ever engage the Sport button, and leave the E-Power button lit whenever you reach suburbs, cities, or stop-and-go rush hour. Throughout, the eight-speed Tiptronic S behaves just fine in the aforementioned "green ambition" settings, short-shifting to the overdrive seventh or eighth gear as soon as possible. Top speed happens in the 1:1 sixth gear.
We do want to, as soon as possible, drive for a day in this hybrid without a single care for being green. We doubt it would get anywhere near the estimated numbers, remaining regularly in "boost" mode with the full combined 375 horsepower and 428 pound-feet of torque at hand an awful lot of the time. There would prove most likely very little time for the almighty "sailing" mode of hybrid cruising—sort of the holy grail of this tech, where little or no energy is being used from any source.
The New Porsche Company
Do we love this new Porsche car company quite so much as we know we want to? That's a sensitive and highly subjective issue. Seeing those 29 versions of the 911, with around a quarter of them questionable in their hardcore pertinence, has been disconcerting.
But then getting used to the big units (Cayenne and Panamera) has been so much harder with the Porsche brand experience than it has been with any other premium company branching out into new segments. Still, sitting and clouding along in our Panamera S Hybrid tester in gorgeous western Austria, we were part of the new Porsche on its truest home turf, and honestly all was well with the world. At least this hybrid treatment holds up much better for us than the notion of a massive SUV hybrid making the world a better place. That Panamera S Hybrid has so many everyday uses versus the Cayenne as well.
Touches To Touch-Up
Why does the Tiptronic S steering wheel with horrible thumb-knuckle shift toggles still exist? And how can Porsche carry on offering the excellent paddled steering wheel as a cheeky option? It's sincerely compromising for a company to carry on creating little profit nooks that should simply be standard fare on all their non-manual cars.
We miss the seven-speed PDK versus the sort of humdrumming eight-speed automatic used on the S Hybrid. The explanation is thoroughly simple: the eight-speed is lighter by a touch and will allow the green Porsche to be as green as possible in those long-legged higher gears. More importantly, too, the PDK has torque-handling concerns when it comes to this full-parallel hybrid setup and the automatic is like a rock.
Why the "S" in the name? Good question. Spokespeople simply replied that it could either be "supercharged" or "sporting," or "special," or what you wish. Trouble is that it has nothing at all to do with the V-8 Panamera S.
The 11.8 cubic feet up to 40.7 cu. ft. cargo capacity is down 3.9 cu. ft. versus the non-hybrid Panamera range. Still, all in all pretty vast inside there for a supersized 928 body. It's all extremely usable, too.
When Do We Get Ours?
In November, so they say in Stuttgart-Zuffenhausen. Expectations are for a younger and more educated crowd to nab the Porsche Panamera S Hybrid—must be that cost-per-pound logic all those apparently dumber older people don't naturally glom to so much.
2012 Porsche Panamera S Hybrid
Engine: V-6, 3.0 liters, 24v with electric motor
Output: 375 hp/328 lb-ft
0-60 MPH: 5.7 sec (est)
Weight: 4365 lb (est)
Fuel Economy, City/Hwy: 31/30 mpg (est)
Base Price: $95,000
On Sale: November 2011